Product Description
GROHE Rapid SL – installation system with flush plate in Alpine White
For a stable, reliable mounting system for your wall-hung toilet that is also super-easy to fit, opt for the GROHE Rapid SL 2-in-1 installation set for wall-hung toilets. The steel frame is certified to hold loads of over 400 kg for ultimate stability and it can be installed in front of a solid wall or stud wall in next-to-no-time thanks to the GROHE QuickFix system, which requires no tools to connect hose, inspection shaft and water supply. The GROHE EcoJoy dual flush system is kinder to the environment, reducing water consumption by up to 50%. Noise transmission to the building is kept to a minimum thanks to GROHE Whisper technology, engineered with low-noise fittings and separate plumbing. The set comes with an attractive Skate Air flush plate in a stylish Alpine White finish. If required, please purchase the 3855800M wall brackets.
with flushing cistern GD 2 , 6 l - 9 l
Consisting of:
Rapid SL element for WC (38 528 001)
Skate Air flush plate, alpine white, vertical installation (38 505 SH0)
Technical Information
CAD Data
Spare Parts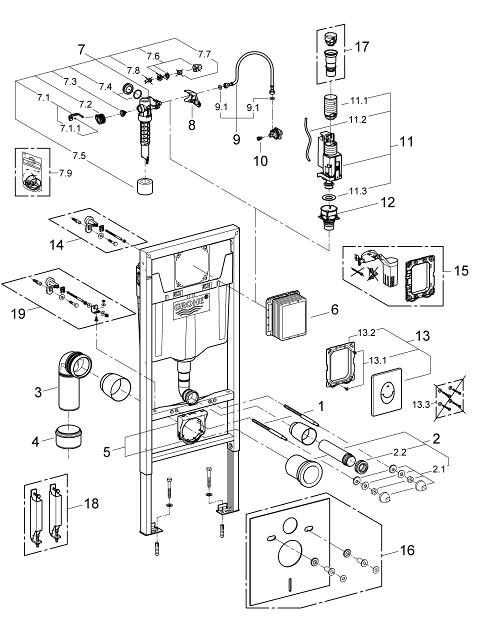 Pos.-nr.
Prod. description
Order-nr.
* Optional accessories

1

Threaded bolt

4276400M

2

WC inlet and outlet connecting set

37311K00

3

PP-outlet bend Ø 90 mm

42327000

4

Reducer

42242000

5

Support for outlet bend

42243000

6

Inspection shaft

66791000

7

Filling valve

37095000

8

Support device

42246000

9

Connecting hose

42233000

10

Headpart

42385000

11

Dual Flush discharge valve AV1

42320000

12

Valve seat for GD2

42315000

13

Flush plate

38505SH0

14

Wall brackets

3855800M*

15

Retrofit set

38796000*

16

Set for noise protection

37131000*

17

4.5 l adapter for GD2

42333000*

18

Accessory

38779000*

19

Xtra wall brackets, flexible placing

38733000*
Warranty Information
GROHE Guarantee
GROHE products are designed to be both visionary and innovative with quality always guaranteed. Purchasing GROHE products means your investment is perfectly balanced in terms of quality, technology and design with sustainable production.
The 10 years plus Manufacturer's Guarantee
GROHE shall grant guarantee services to the end consumer in accordance with the terms and conditions set forth below for all products supplied to the end customer under the GROHE brand, which are tagged as products to which the "Grohe 2 years plus Manufacturer's Guarantee" is applicable.