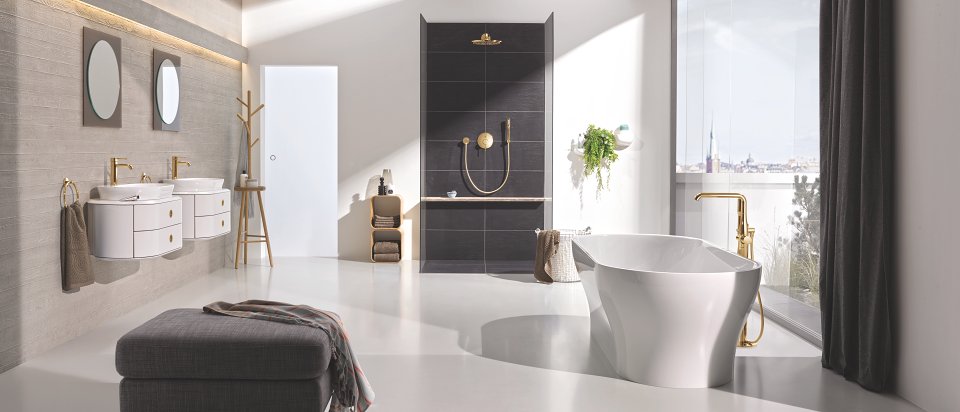 Cool Sunrise taps, showers and sinks in your home
Spice up your home with Cool Sunrise taps, showers, and sinks. Cool Sunrise will bring a classic touch to your spaces with its elegant, sophisticated, golden look. Whether it be for your bathroom or kitchen, you will find our full range of products including taps, showers, sinks and more in this lovely golden color. When displayed in a single-material dark-colored environment, these products will shine with a gem-like effect. These gold-colored taps come in both brushed and shiny models. With the glossy Cool Sunrise taps, you can evoke a sense of sophistication, while the brushed Cool Sunrise taps will bring a modern yet vintage look.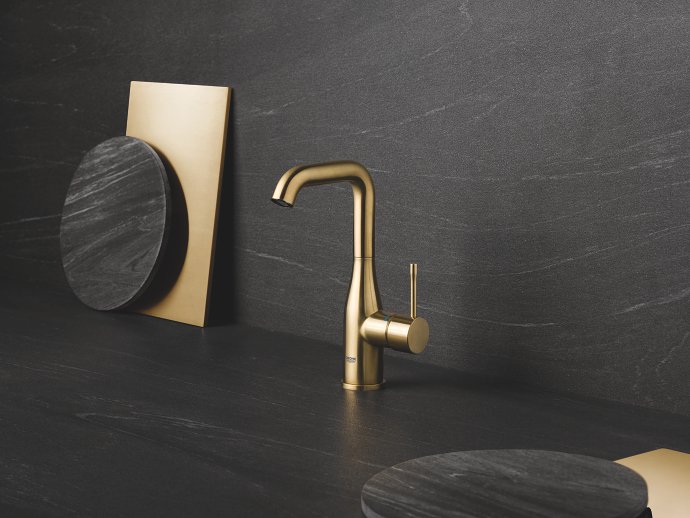 Getting the most out of Cool Sunrise taps, showers, and sinks
Cool Sunrise gold-colored taps, showers, and sinks are best used to accentuate a room by contrasting them against dark, light, or white interiors. An all-dark interior will create the most striking contrast. Start by painting the canvas of your room black by using dark stone tiles. To ensure that the contrast will be subtle, use tiles that are more of a black-grey and avoid distracting patterns. Now it is time to build upon this luxuriously dark foundation with black shiny materials as well as black textiles, furniture, and accessories to complement the contrasting effect. Cool Sunrise gold taps, showers, and sinks will add the final flourish to your work of art.
Accentuating gold products with furniture and accessories
Any furniture or accessories placed around the space should match the interior. Imagine a black-bottled skincare set surrounding a gold basin tap subtly highlighting it with its shiny black packaging. How about black spa towels draped elegantly over a bar near the basin, not to draw eyes towards them but to blend into the luxurious materials of the space, and a plush black carpet placed in front of the basin welcoming you towards the gentle glow of Cool Sunrise.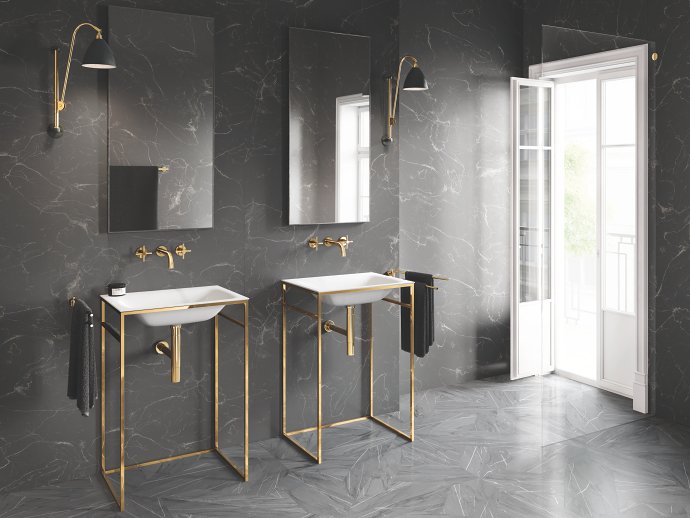 Illuminating your space
Lighting is where beauty meets function. From basic lights to natural and decorative lighting, there are many ways to illuminate your room while also adding your own personal signature. You can use natural lighting with window blinds to create shadow effects and decorative lights for a subtle touch that reflects your space. In the case of decorative lighting, choosing a product with dark glass will help it fit into the all-dark-material space and make the light bulb the focal point, allowing you to add more character to the room without drawing attention away from the gold taps, showers, and sinks.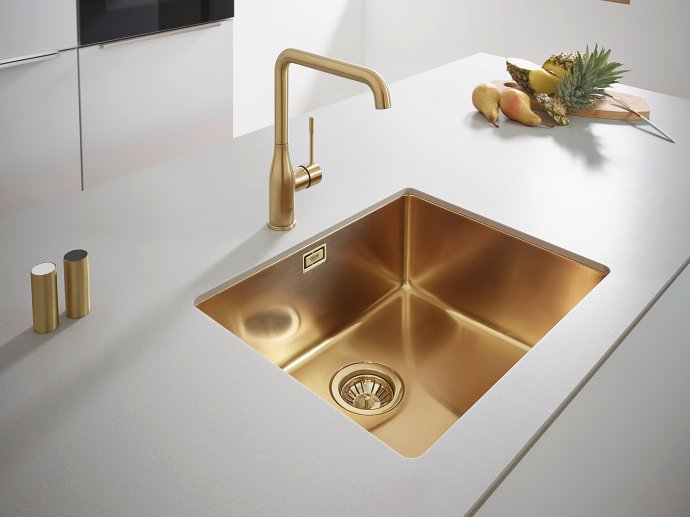 PVD finish on cool sunrise GROHE taps, showers and sinks
Thanks to the PVD finish, you can rest assured that the surface of our products is top quality. You may be wondering what that is. PVD (physical vapour deposition), also known as thin-film coating, is a process in which a material is vapourised and then deposited on the surface of the product, creating an extraordinarily thin coating of pure metals, metallic alloys, and ceramics. This enhances both the product's appearance and its durability. We guarantee that no harmful chemicals are used in our PVD technology.
Where to buy
Ready to take the plunge? You can find both showroom and installer locations on our website. With our easy-to-use interface, you can search by location and get an overview of the results in a displayed map. Already have an idea of what you're looking for? You can also apply filters to search for more specific products or to define whether you are looking for a showroom or a shower toilet experience centre. Come check out our website and give your interiors the elegant finish they deserve with GROHE Cool Sunrise.