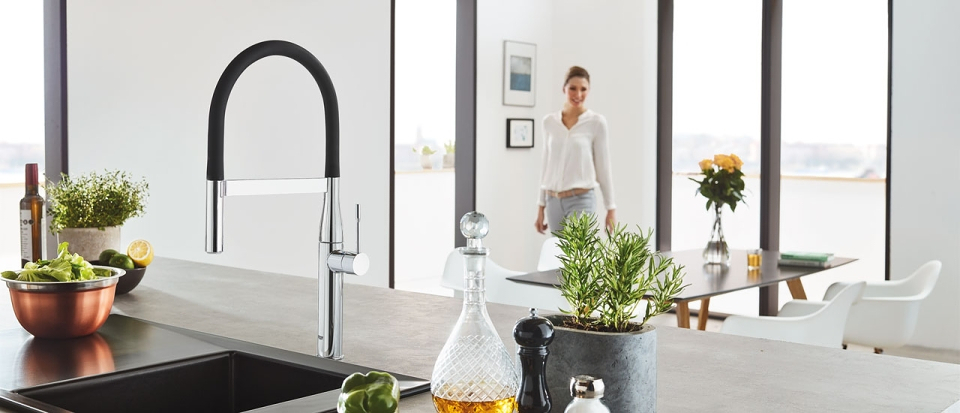 Your Complete Kitchen Taps Buyers Guide
There are lots of decisions you need to make when it comes to buying kitchen sinks and taps as they play an essential role in making your kitchen stand out and making work for you. Hopefully this guide will help you choose the products that best suit you and your kitchen space.
Things to consider beforehand:
Functionality of product
Your Budget
Your kitchen layout
Choosing your design and colour
Installing process
Considerations
Water Pressure
The water pressure in most areas of the UK is quite low. By identifying the plumbing system in your home, you can make an informed decision about the product that is best suited to your water pressure. You may wish to install a pump, or alternatively there are products that are suited to low pressure.
Placement
The second issue to consider is the placement of your taps. It is all well and good choosing the exact spot you want your new tap to sit. However, you need to consider how it will be connected to the water pipes. Also consider the practicalities of their placement; will a high, rounded spout design be practical under a low kitchen cabinet, for example?
Kitchen Taps
When designing a new kitchen, it can be easy to overlook the smaller details such as the tap. But there's actually a surprising choice of kitchen taps available in an variety of different styles including contemporary and traditional, as well as finishes such as chrome and black to enhance any décor and kitchen space.
Although it's great to have such a wide range to choose from, this can make your decision a little challenging. So, if you're looking for a new kitchen tap, but not sure where to start, well, you can start here.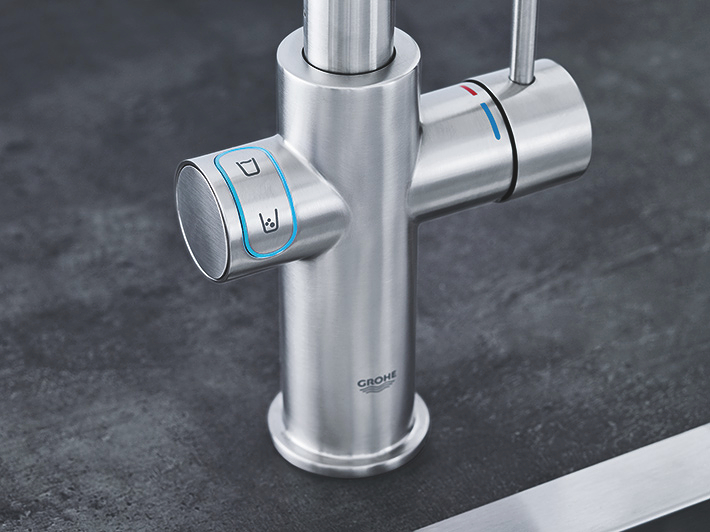 GROHE Water Systems
Are you interested in equiping your kitchen with one of our top of the range water systems? Read through our brand new buyers guide to see the benefits of each and how each work.
It includes:
GROHE Red
GROHE Blue
GROHE Blue Pure
Pull Out vs Spring Taps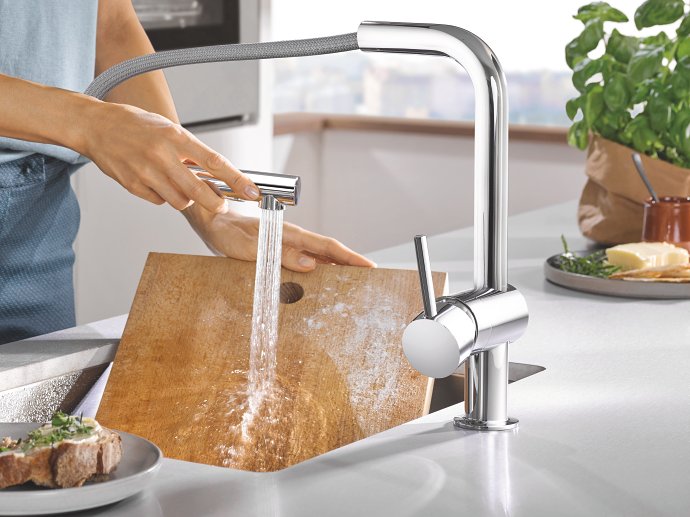 Pull Out
If you're after the highly functional kitchen tap, then pull-out taps are an option to be considered. Pull-out taps have a nozzle on a long hose that can be pulled out from the body of the main tap and can be used to conveniently fill larger pots, to rinse dishes or reaching every corner of your sink while cleaning. Pull-out taps are great for washing up and rinsing surfaces or utensils and are very useful in a busy kitchen.
GROHE also offers pull-out feature in GROHE Essence, Zedra and Eurosmart ranges, to mention a few. Pull-out taps can offer different spray patterns controlled by a button on the hose. For instance, a dual spray has two setting to choose from – a standard laminar spray or a powerful jet spray - perfect for achieving a multitude of kitchen tasks with ease!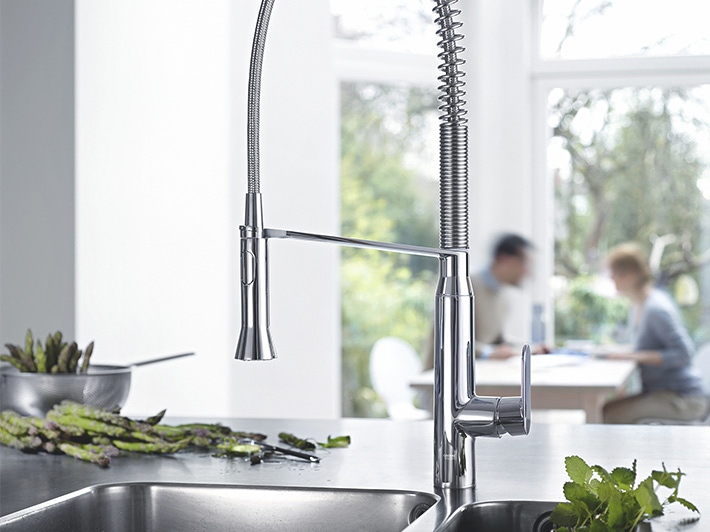 Spring
For ultimate functionality, the GROHE K7 is a striking professional-style kitchen tap featuring a 360° turnable spring arm for an impressive operating radius. The solid metal spray with retractable hose allows for easy switching between mousseur and spray function, whilst the tap's crisp architectural styling makes it a design feature in itself
Enhance your kitchen's performance and look with Essence Professional, featuring a 360° spring arm and EasyDock M magnetic docking system, ensuring smooth docking of the pull-out spray head when you are done. Featuring GROHFlexx technology, the flexible and hygienic santoprene hose is not only easy to clean, but is exchangeable and comes in a number of colour finishes to choose from.
Other Kitchen Buyers Guides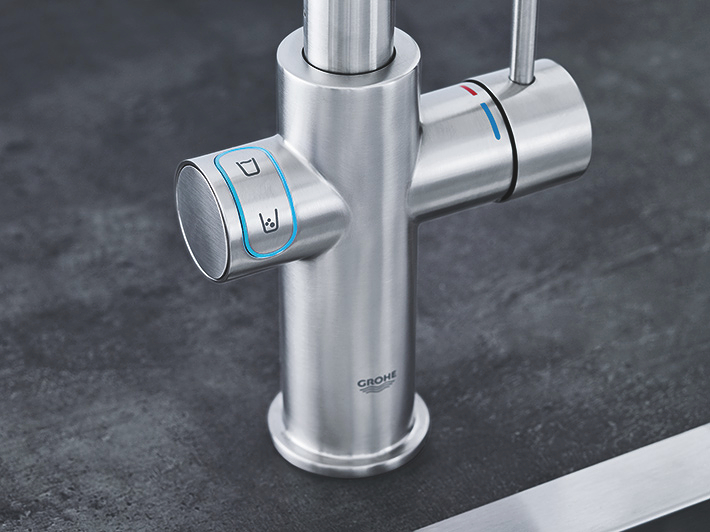 Water Systems Buyers Guide
Are you interested in equiping your kitchen with one of our water systems? Read through our brand new buyers guide to see the benefits of each and how each work.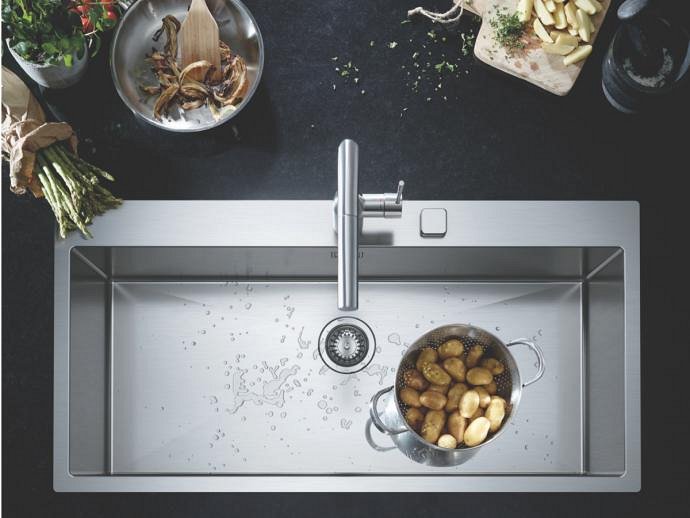 Kitchen Sink Buyers Guide
The kitchen sink is an essential finishing touch for your complete kitchen design. With various different materials and designs to choose from take a look and decide which style works best for you.