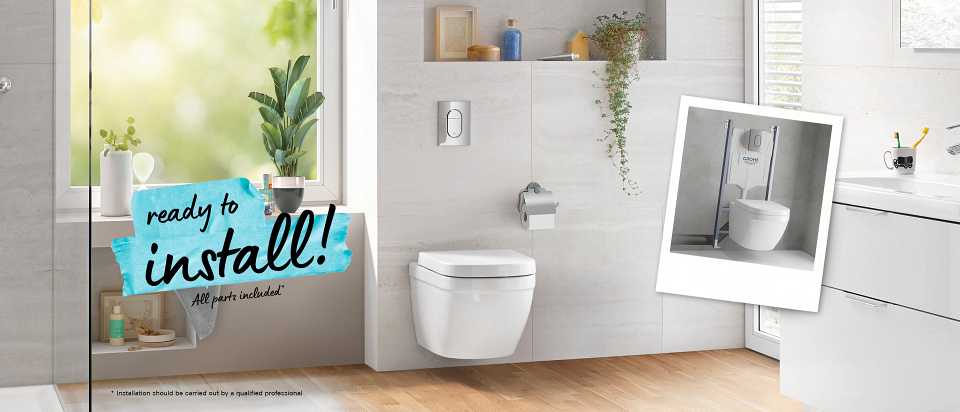 GROHE SOLIDO ALL IN ONE
A wall-hung WC is certainly an asset to any modern bathroom – both aesthetically and hygienically! But finding the right one can be a hassle! Some uncertainties arise: Which components do I need? Do they fit together? Do I miss something for a proper installation? You can relax now: With GROHE SOLIDO ALL IN ONE everything is included and perfectly matching. All you need to do is to choose your preferred design and the features that suit your needs.
THE CHOICE IS ALL YOURS
Nowadays, the demands for cleanliness and hygiene are greater than ever! And the toilet plays an important role in our daily personal care – a topic where you should not make any compromises.
When buying a new toilet, you face several challenges: Which look fits my bathroom, classic or modern? Which level of comfort do I need, basic or luxury? Is flushing noise an irritant? Do I purchase an eco-friendly product? With our broad selection of GROHE SOLIDO ALL IN ONE, you'll easily find the right model for your preferences and budget – all meeting our standards for quality, design, technology and sustainability.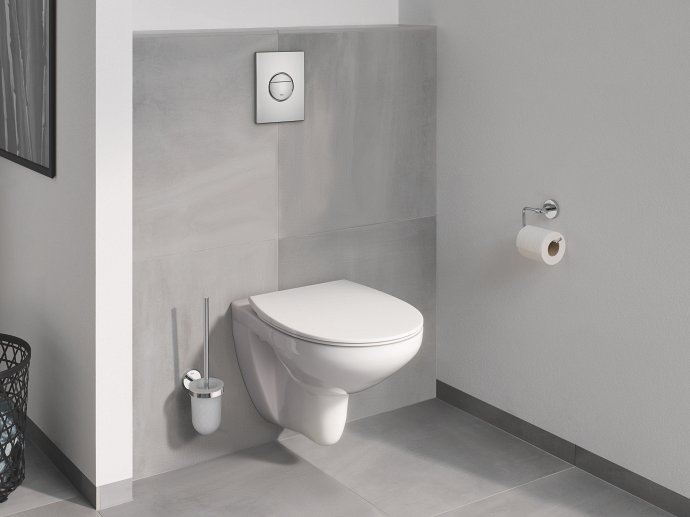 SMART DESIGNS, SMART FEATURES
Discover various combinations of GROHE sanitary ware and choose from our chic ceramics. For example, opt for an elegant, wall hung WC bowl from our Euro Ceramic collection. This series is equipped soft-edge technology, and just makes life easier and better. The Triple Vortex flush creates a strong and comprehensive swirl while being considerable quieter. Hygiene and swift maintenance are embedded in the design thanks to the toilet bowl's rimless design.
Or go for the sophisticated shape of the floating toilet bowl from the Start Edge series (coming soon). These toilet bowls are designed to fit perfectly in a sleek, minimalist bathroom.
Is your space not that big? Either choose a specially made GROHE Euro compact WC or the GROHE Bau WC. The latter is versatile and fits into every bath- and cloakroom due to its compact and contemporary shape. It can also be combined with the manual bidet seat for extra hygiene at an affordable price.
Triple Vortex Flush
THE POWER OF THREE: CLEAN AND SILENT
GROHE's innovative Triple Vortex flush sustems creates a powerful but silent vortex of water that swirls to cover and clean the whole of the bowl. Three water outlets in the bowl create a powerful vortex effect that leaves nothing behind. Every corner of the bowl is covered and cleaned. Despite its power, this effective system is unlikely to splash and has low water consumption, with a dual flush option that uses just 5l of water and only 3l for a short flush.
COORDINATED COMBINATIONS – READY TO INSTALL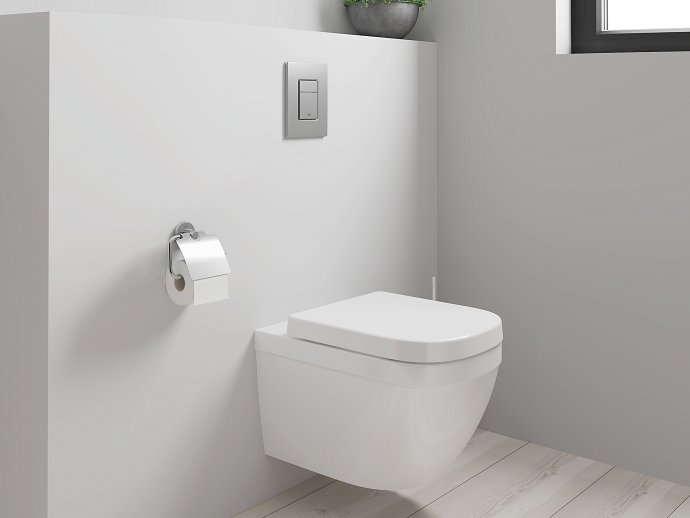 WALL-HUNG CERAMICS​
GROHE is proud to offer a wide range of wall-hung designs, packed with clever features to help you not only get the best looking but also the most suitable and sustainable WC. We claim a perfect fusion of design and technology to enable higher hygiene with rimless as standard, quieter flushing, space-saving solutions and even a bidet functionality.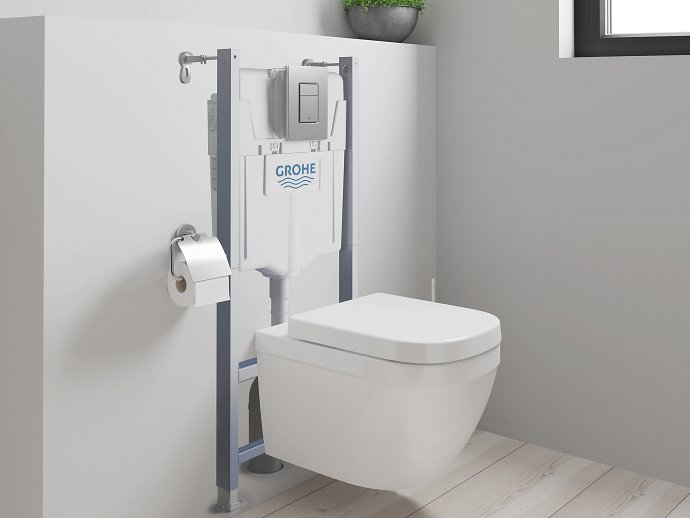 WALL-HUNG FRAMES
The GROHE wall-hung frames – mounted either in front of a solid wall or inside a stud wall –are built to last, supporting up to 400 kg, fitting perfectly to all GROHE wall-hung toilets. The GROHE SOLIDO ALL IN ONE also include WC with seat and lid, flush plate, mounting brackets and all the fitting to make installation possible.
GROHE SOLIDO ALL-IN-ONE: INSTALLATION VIDEO
Watch the step-by-step installation of a GROHE SOLIDO ALL-IN-ONE – carried out by a professional.
WHICH DESIGN LOOKS SUIT YOUR BATHROOM?​