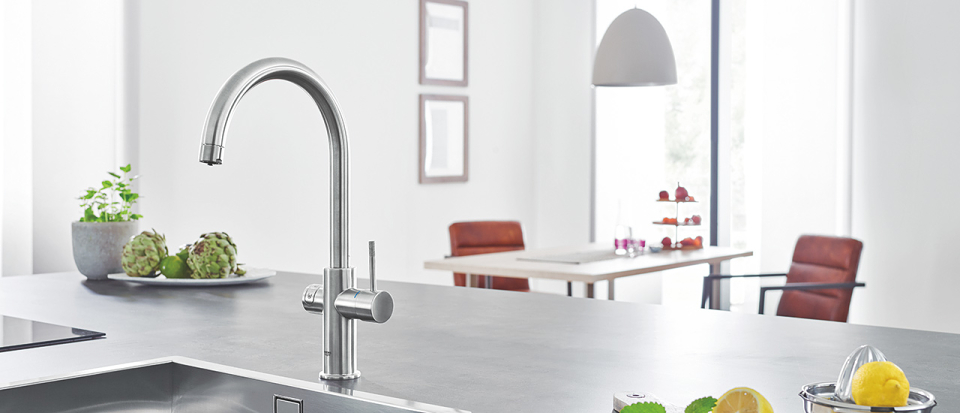 Your Complete Water Systems Buyers Guide
There are lots of decisions you need to make when it comes to buying a kitchen tap as it plays an essential role in making your kitchen stand out and making work for you. Hopefully this guide will help you choose the products that best suit you and your kitchen space.
Things to consider beforehand:
Functionality of product
Your Budget
Your kitchen layout
Choosing your design and colour
Installing process
Chilled Taps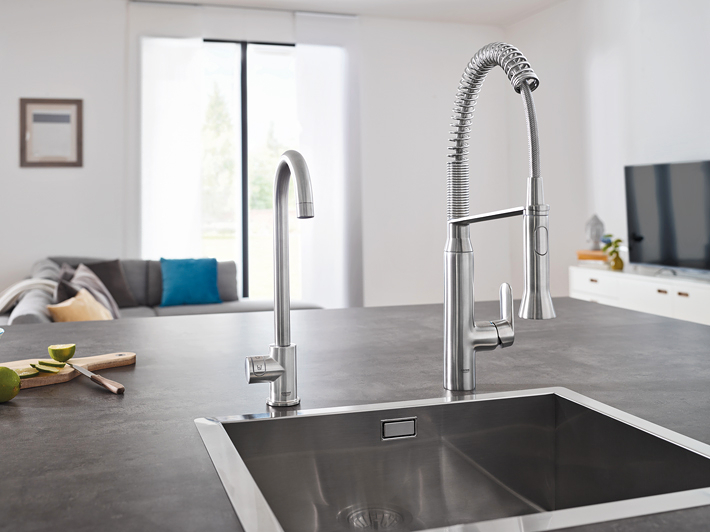 GROHE BLUE HOME
Are you interested in having pure and refreshing filtered or sparking water at the touch of your hands? If yes, then the GROHE Blue Home may be the option for you. The GROHE Blue Home offers instant still or sparkling water straight from your kitchen tap. Not to mention, you get all the benefits that come with any classic GROHE kitchen tap.
It might seem obvious, but in a world that is slowly sinking in a sea of plastic water bottles, you dont have to be part of the problem anymore. GROHE Blue Home has the answer: unbottled pure water, directly from the tap.
GROHE Blue Home uses a cooler, C02 bottles and a filter to provide you with the different options. These are easy to install, and even easier to maintain. The filter capacities range from 600l to 2500l. While the C02 bottles have a 60l capacity meaning both wont require regular replacements. However, when that time comes, it is very easy to replace those bottles using our video tutorials.
| Key Benefit | Explanation |
| --- | --- |
| Saving the planet | Did you know, it takes an astonishing 7 litres of water just to produce a single litre of bottled water? Not to mention the CO2 emissions. When you choose GROHE Blue Home that means a huge reduction of 61% compared to bottled water. |
| Get more space in your kitchen | Space: we'd all like to have more of it. And in the fridge it's in especially short supply. Try squeezing enough water bottles in to keep the family going for a weekend. Thank goodness GROHE Blue Home delivers chilled water on demand. |
| Make life simpler | Avoid wasting your time going to buy fresh water, when you can have it at home at any time of the day. |
| No packaging | It might seem obvious, but in a world that is slowly sinking in a sea of plastic, the issue of the practically indestructible plastic bottles is becoming more urgent than ever. GROHE Blue Home has the answer: unbottled water. |
| Great investment | GROHE Blue Home system can be repaid in an average of just 20 months. Saving 58 pence per litre. |
| Great taste | GROHE's Blue Home taps come with three options for users to choose from, alongside still, chilled, and filtered water, there is also a semi-sparkling and full sparkling; option to cater to all tastes. |
| Stay healthy | Experts recommend that we drink at least 2 litres a day. And yet with GROHE Blue it's so easy and pleasurable to draw a glass of refreshing water that many people find themselves returning for more. And with the optional magnesium+ filter, you can add more of this important mineral to your diet. |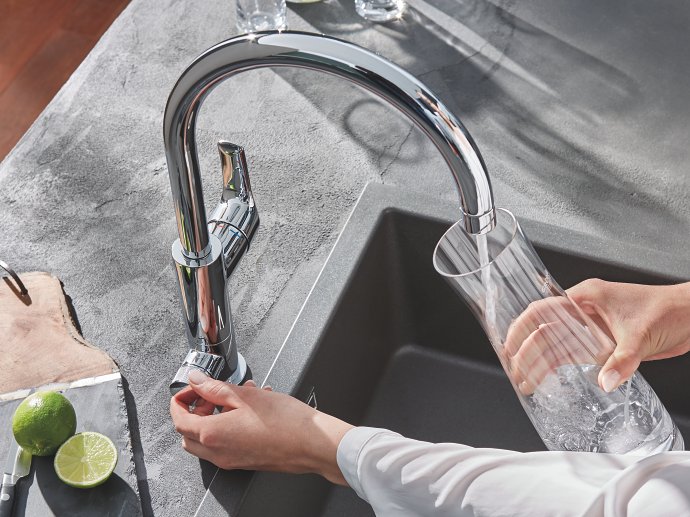 GROHE BLUE PURE
The GROHE Pure Blue is a wonderful option for those that love the taste of natural water. This tap uses GROHE Blue filter technology to turn ordinary tap water into fresh water, removing all substances that can impair the taste. Finished in GROHE StarLight chrome, the tap has separate internal waterways – one for filtered water and the other for unfiltered water.
The GROHE Blue filter cartridge can purify up to 3000 litres of water and can be replaced in just a few steps. It delivers a pure, refreshing taste experience with no aftertaste of chlorine or bad odor.
Hot Taps
| Key Benefit | Explanation |
| --- | --- |
| Safety First | Our first commitment is to your safety. That's why GROHE Red comes with a unique, failsafe child lock. |
| Less waste | You only take the exact amount of hot water you need, so you save on water and energy consumption. Just think how often you re-boil the kettle. Each time you press the knob again, that's all going on your electricity bill as well. That doesn't happen with GROHE Red. Also, no need for the clutter of a kettle. |
| Create your own hotspot | The slim GROHE Red boiler is available in 2 sizes and fits neatly under the sink – freeing up precious space on the work surface |
| A tap that complements all others | You may already have a high-end tap in your kitchen. If so, and you don't wish to replace it, then the GROHE Red Mono is the perfect solution. The smaller-sized Mono supplies kettle hot water only and fits perfectly alongside your existing tap. In a choice of two elegant spout shapes. |
| Great taste | GROHE Red comes equipped with high-performance filters. They use a five-step filtration process to remove even the slightest trace of impurities from thewater–while retaining all the important minerals that benefit your health. Beyond guaranteeing an unparalleled taste experience, the filter fulfils another important function: by filtering out limescale, it ensures that the boiler can perform perfectly over its long lifetime. |
| Pot Filling Action | It has a useful pot-filling function that allows up to 3 litres of kettle hot water to be drawn off at once. Great for a spaghetti feast or anything else where a lot of hot water is needed at once. And once the pot-filler function is operating, you can take your thumb off the button – leaving you with both hands free for holding heavy pots. |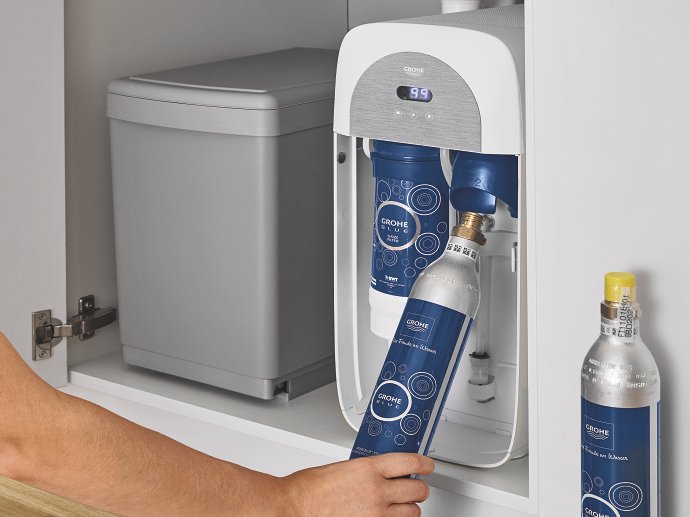 Where to order filters, C02 bottles and more
You can reorder filters, C02 bottles and other accessories on our webshop.
Other Kitchen Buyers Guides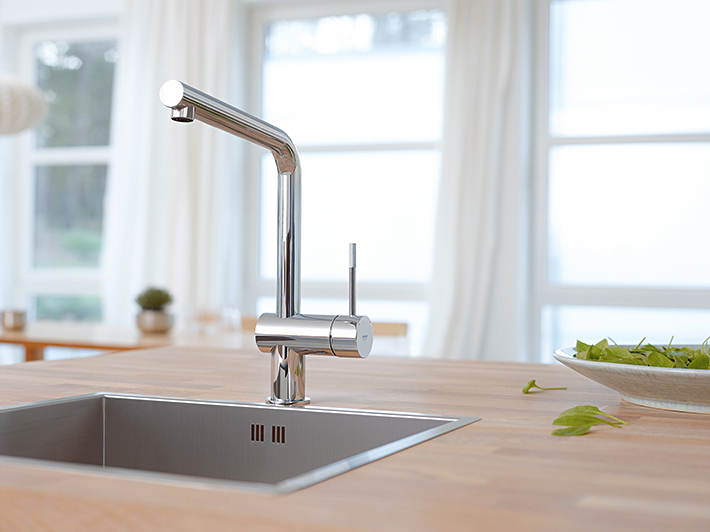 Kitchen taps Guide
Are you interested in equiping your kitchen with one of our standard taps? Read through our brand new buyers guide to see the benefits of each and how each work.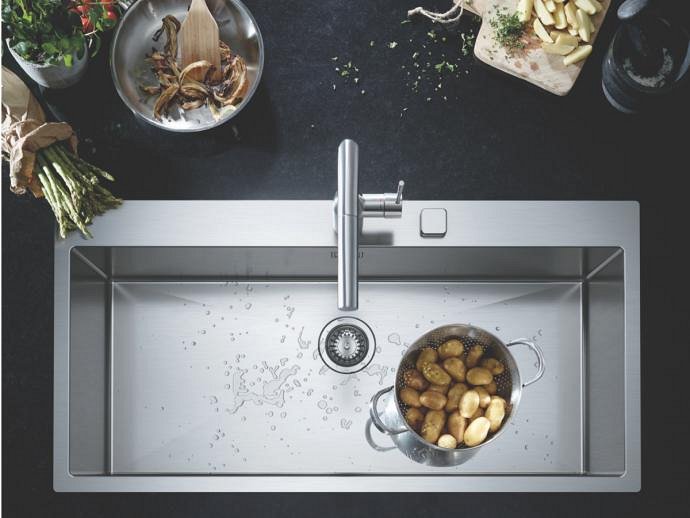 Kitchen Sink Buyers Guide
The kitchen sink is an essential finishing touch for your complete kitchen design. With various different materials and designs to choose from take a look and decide which style works best for you.