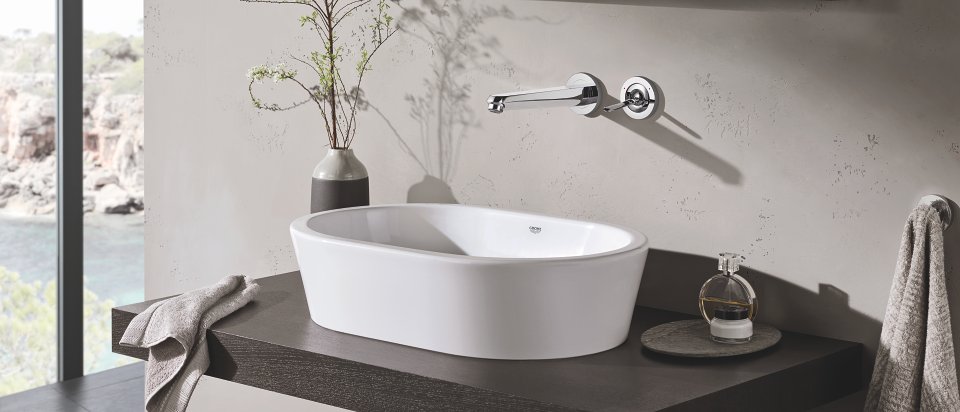 Washbasin
The wash basin is an indispensable part of your bathroom. Washing your hands, brushing your teeth, you'll find yourself at your sink a few times a day. GROHE has a range of beautiful sinks in different sizes, colours and designs that also combine beautifully with our sink taps and other accessories. Browse our collections and be inspired - your dream bathroom is within reach!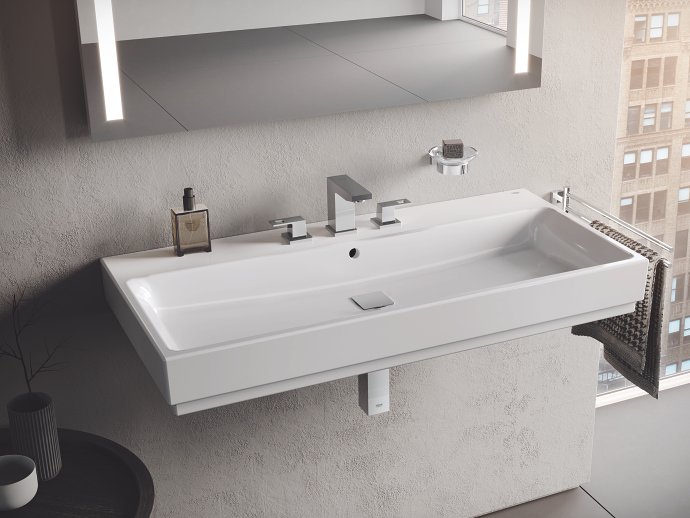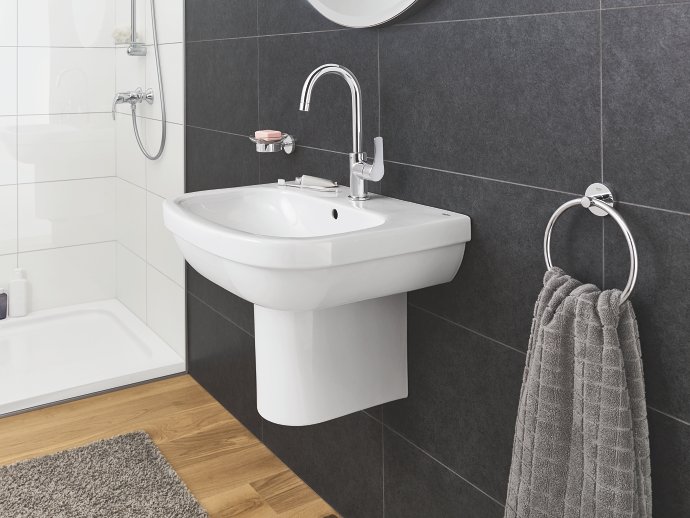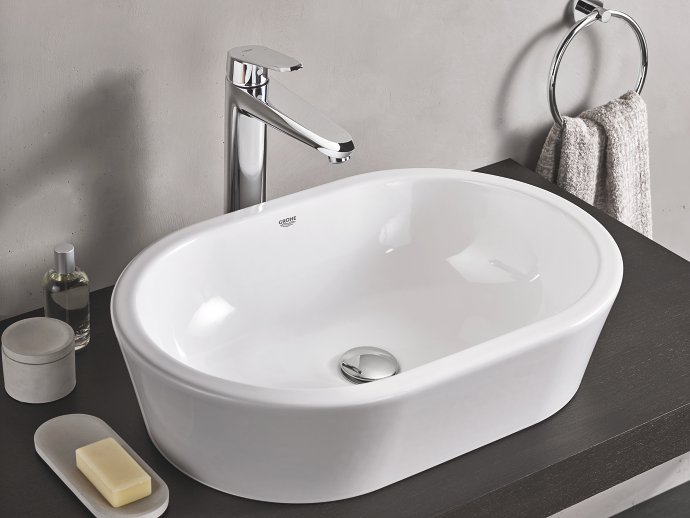 Washbasins in various designs
GROHE has several ceramic collections that allow you to design your own bathroom according to your own taste and preference. For lovers of cubist shapes and clean lines, the GROHE Cube Ceramic Collection is a must. Whether you prefer a bowl or a built-in washbasin, it's all possible. You can combine any basin with different tap lines and other bathroom elements such as the toilet or bath tub.
The GROHE Essence Ceramic Collection is perfect for turning your bathroom into a real home spa. The natural and subtle lines of the countertop sink will transform your entire bathroom into a space for relaxation and contemplation that you will enjoy every day.
Is your bathroom a hive of activity in the early morning? Then browse through the GROHE Euro Ceramic collection. The distinctive shapes and different sizes of the Euro Ceramic basins make designing a practical, comfortable bathroom easier than ever. Made from the best materials and designed with your lifestyle in mind, Euro Ceramic has everything you need for a functional bathroom the whole family can enjoy. Even better, the distinctive style of Euro Ceramic is available at a reasonable, attractive price.
The GROHE Bau Ceramic Collection is versatile and flexible. Its soft, rounded shapes and modern look make it suitable for many rooms. It makes it easy to create a cohesive look in your bathroom. Bau Ceramic is made from the best materials and designed for comfort and performance; you can choose, for example, extra large basins or, if space in your bathroom allows, two built-in basins side by side.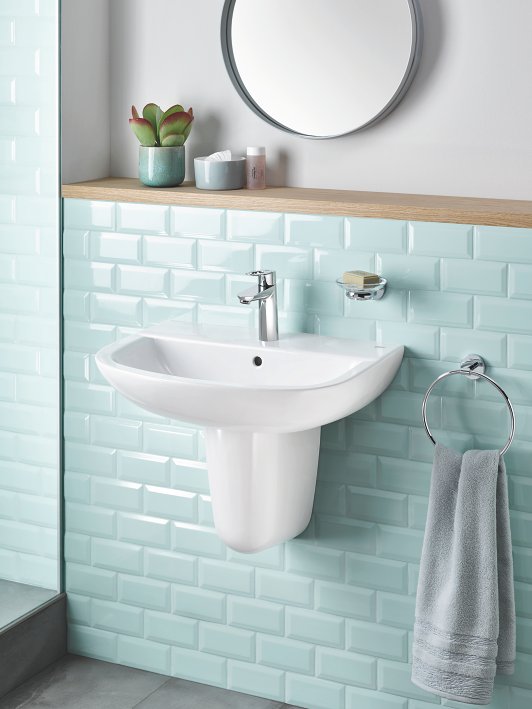 Complete your bathroom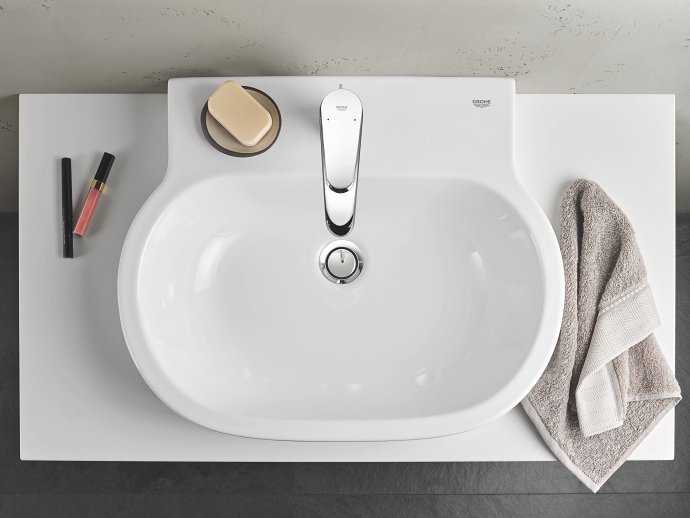 Matching tap and accessories
In order to give your bathroom a coherent and harmonious appearance, you should of course match your new wash basin with a matching tap. In a modern bathroom mixer taps are now standard, but if you prefer a tap with two separate handles for hot and cold water, we have plenty of choice. You can also opt for a handleless mixer. All GROHE basin mixers are available in different design styles and colour finishes so you can match the mixer to your new sink. Complete the look with accessories such as soap dispensers, toothbrush holders and towel rails or hooks. Not only decorative but also functional and in matching design.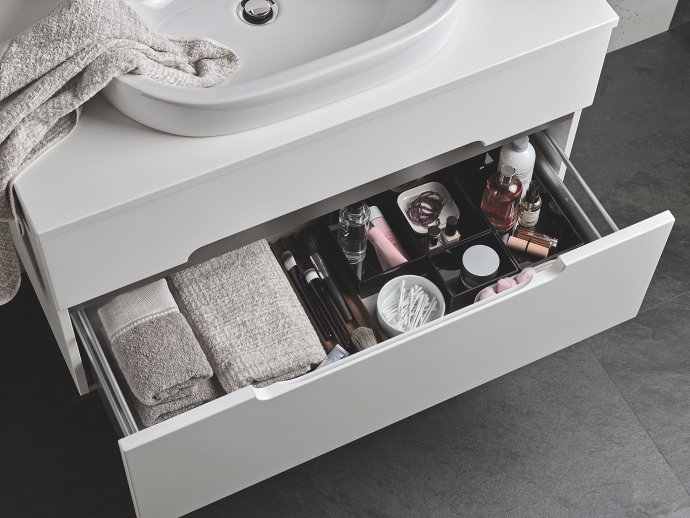 Matching bathroom furniture
You can of course choose a pedestal sink under your washbasin, but our washbasins also combine perfectly with Burgbad bathroom furniture. Depending on the amount of storage space you need for towels and bathroom products, you can adjust the size of the furniture to your personal preference and vary the number of drawers or shelves. The furniture is available in different colours and materials and you have a wide choice of options. For example, go for a hanging unit so it is easy to keep the bathroom floor clean, or combine the sleek Cube Ceramic sink with a unit on aluminium legs for a modern, industrial look in your bathroom. You can do anything you want!
Durable and guaranteed time-proof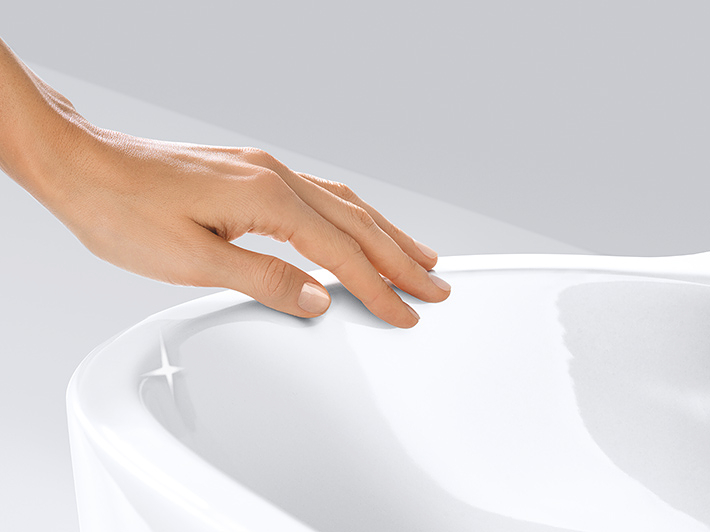 GROHE washbasins not only look fantastic, they are also naturally designed for optimum ease of use and are also time-proof. The PureGuard anti-stick surface with its antibacterial action ensures that the ceramic remains radiantly white and that bacteria and deposits have no chance. Your sink is easy to clean and will be an eye-catcher in your bathroom for years to come.
Whatever you choose, GROHE can help you find the sink in the size, style and shape that best suits your personal preferences and bathroom.