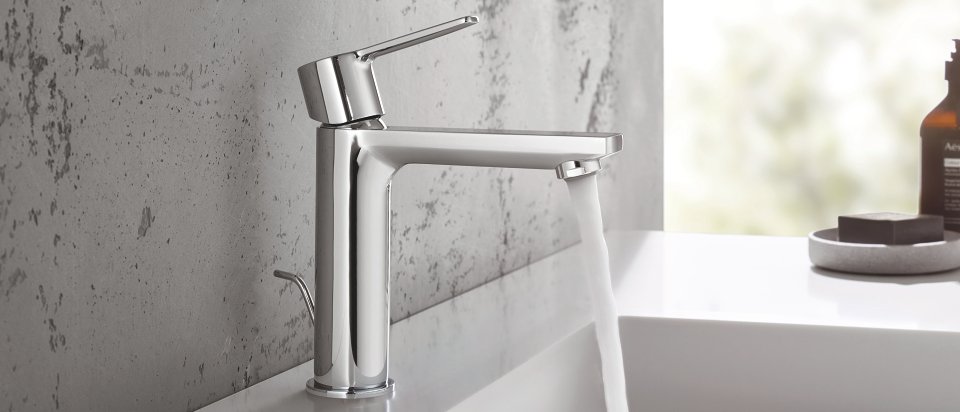 Washbasin faucets
We use the wash basin faucet every day. But that doesn't mean it has to be boring - quite the contrary! At GROHE, our aim is to bring true beauty and comfort to your bathroom. Our range of basin mixers is designed to achieve this goal. Browse our collections and be inspired - your dream bathroom is within reach!
Basin taps for every conceivable application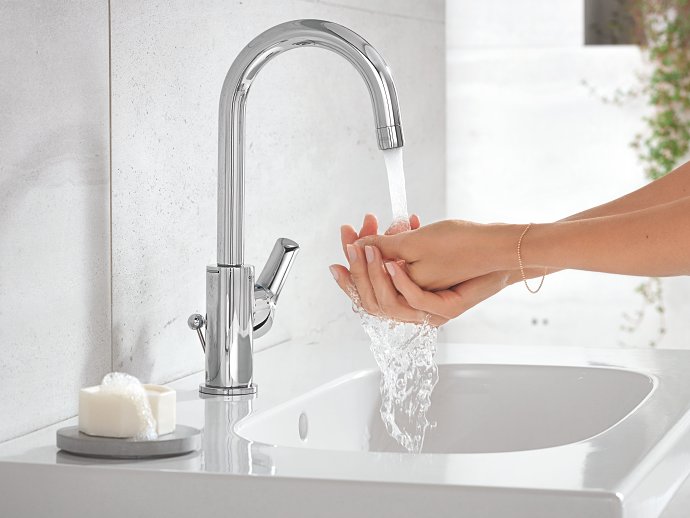 No matter what kind of sink you have, what your specific installation needs are or what style you like, GROHE has the right sink faucet for you. From tall taps to wall-mounted taps and taps for countertop wash basins. So we're sure you'll find the ideal product.
In the modern home, single lever basin mixers are now the standard. High quality and reliable, yet simple and easy to operate GROHE single lever mixers such as the Eurostyle Cosmopolitan are an excellent choice for almost any bathroom. In addition, we offer several sensor faucets for your sink to give your bathroom a futuristic touch.
If you prefer the traditional approach of separate handles for hot and cold water, we also have the best options for you. For a little extra style and flair, we offer two- and three-hole basin mixers. These combine the familiarity of two separate handles with the comfort and convenience of a modern mixer. The Atrio basin mixers are a great example of this.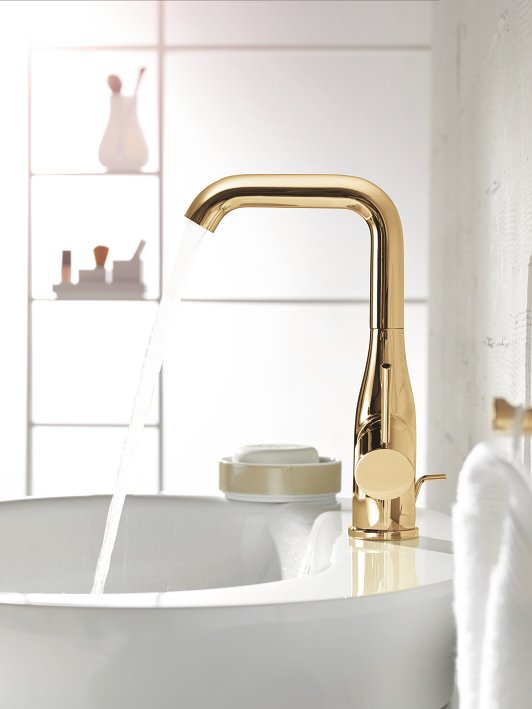 Choose your style from our design collections
When it comes to bathroom design, we realise that in addition to function, design is a crucial aspect. That's why we offer you extensive design collections to choose from when looking for a new mixer for your sink or basin. They each have their own character and aesthetic style, such as Cosmopolitan or Contemporary, which allows you to tailor your entire bathroom to your personal taste.
Fans of minimalist design will, for example, find a connection with the Lineare collection through the combination of two basic shapes: the cylinder and the rectangle. They are perfectly suited for the modern bathroom. The Grandera collection, on the other hand, appeals to people who prefer timeless, classic designs with a touch of extravagance.
Small bathroom? No problem! Even if you have a small sink, or just prefer a small design, you can still enjoy these wonderful collections. GROHE offers you enormous flexibility, you are free to choose the size of your faucet, from an extra small one to extra large ones. Read more about all the sizes GROHE can offer here.
View all basin mixers series here
Benefits of a GROHE basin mixer
Easy to install thanks to the GROHE QuickFix installation system
Impressive variety of installation and style types, suitable for virtually any application. Including single lever mixers, sensor taps, wall-mounted taps, 2-hole basin taps and 3-hole basin taps, and much more
Available in different design styles and colour finishes, so you can create your ideal bathroom
A combination of leading technologies ensures that your basin mixer is guaranteed to work perfectly for a long time
Leading technology in your basin mixer
Like all GROHE products, our basin mixers set the standard for modern bathroom design. Our collections offer a wealth of features and technologies designed to enhance your comfort, extend the life of your faucet, save water and much more. GROHE bathroom taps make it easier and more convenient than ever to set your desired water flow and temperature. Whenever you use our taps, it's always hassle-free. Below we list just some of the leading technologies in our bathroom taps.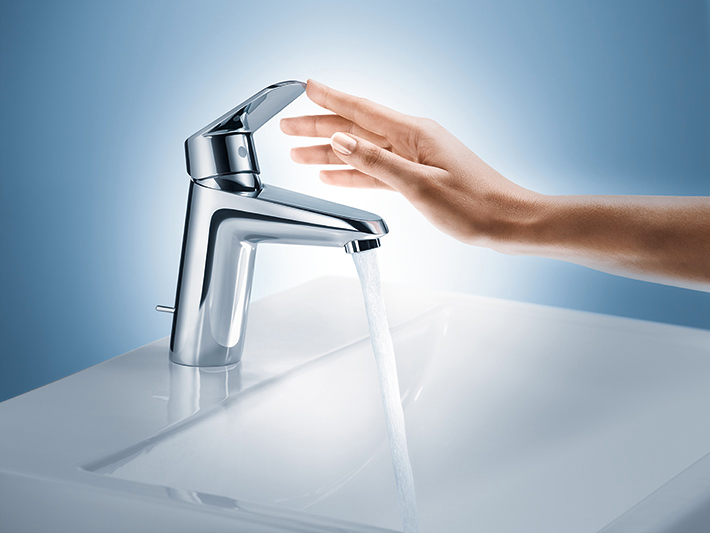 GROHE SilkMove
The feeling you get when you operate a GROHE mixer is exceptional. GROHE faucets are known for their smooth operation. As you change the temperature, one ceramic disc glides effortlessly over the other with absolute precision. Thanks to GROHE SilkMove, the faucet responds immediately to your movements and will continue to do so throughout its lifetime. The cartridge is the nerve centre of any faucet, containing the ceramic discs.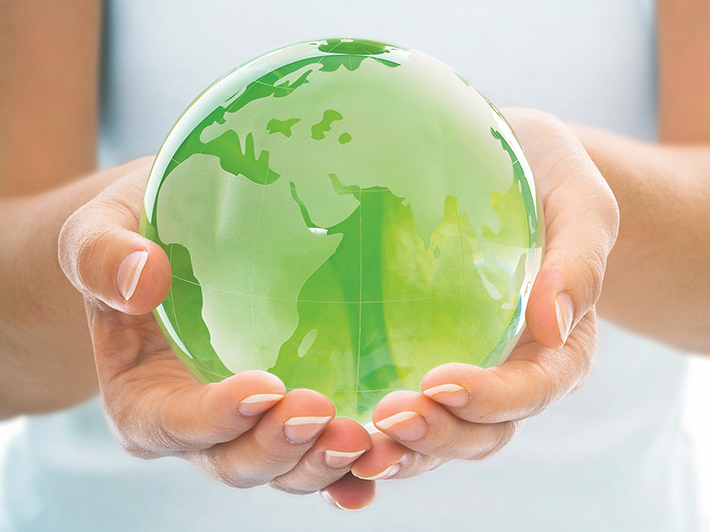 GROHE EcoJoy
Less water. Perfect water flow. Products with EcoJoy, such as the Eurosmart basin mixer, are specially designed to reduce both water and energy consumption. The best thing about EcoJoy? It doesn't mean a reduction in performance at all. GROHE technology reduces water consumption by more than 50% while still providing perfect water flow.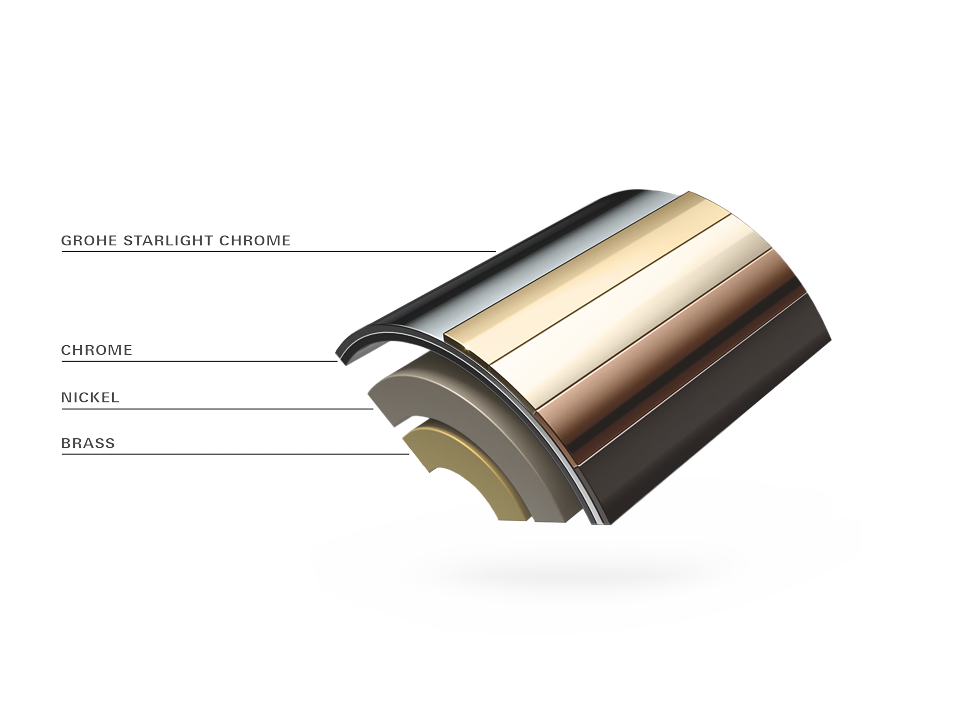 GROHE Starlight
The use of StarLight technology on the surface of our taps ensures that they retain their beautiful shine for years. The finish of our products is designed to be extremely resistant to dirt and up to ten times more resistant to scratches, making them extra durable and easy to maintain. In addition, StarLight is available in the entire colour spectrum of the GROHE range, as well as in matt or shiny chrome finishes.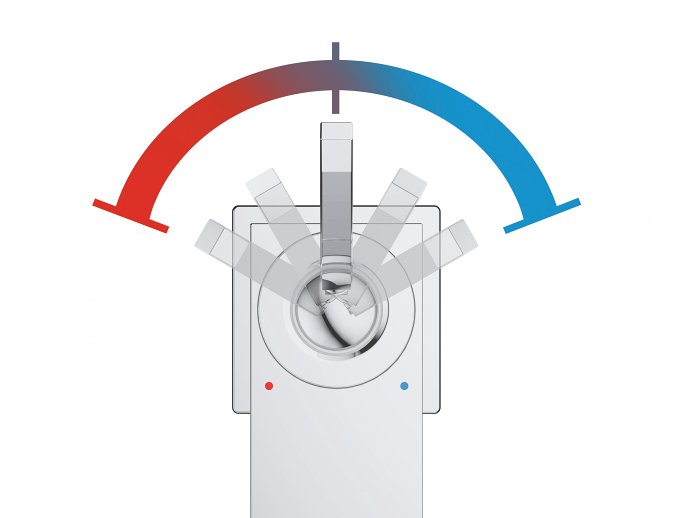 Feathercontrol
Effortlessly control the temperature and water volume of your faucet. As with SilkMove, the GROHE FeatherControl cartridge gives you ultimate precision and control when using our joystick basin mixers, such as the Eurodisc Joy. The ultra-modern coated ceramic discs and innovative seal guarantee silky smooth operation and wider flow and temperature control.