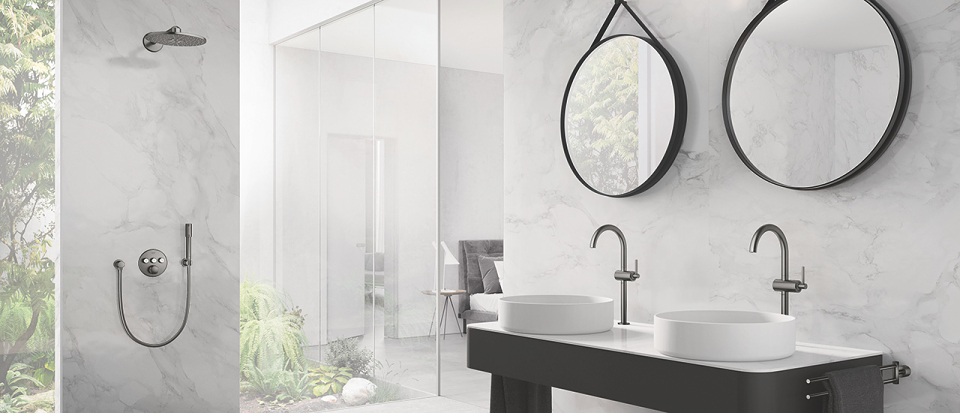 Inspirational colors - Hard Graphite taps
Kitchen and bathroom fittings are an essential part of our everyday lives. When we turn on a tap or shower, we know that water will flow out that we can use to wash our hands, wash our hair, etc. And by choosing GROHE products, you can rest assured that you're investing in high quality solutions which will perform reliably for you each day. But just because they carry out a vital daily function, doesn't mean they can't be a source of inspiration in your home as well. GROHE is already well known for combining optimum function with impeccable style in its kitchen and bathroom fittings. But we've challenged ourselves to take this style to a whole new level and we've achieved this with our eye-catching range of Colors that make these everyday, functional products even more exceptional. Colors like GROHE Hard Graphite for example, with its stunning anthracite look.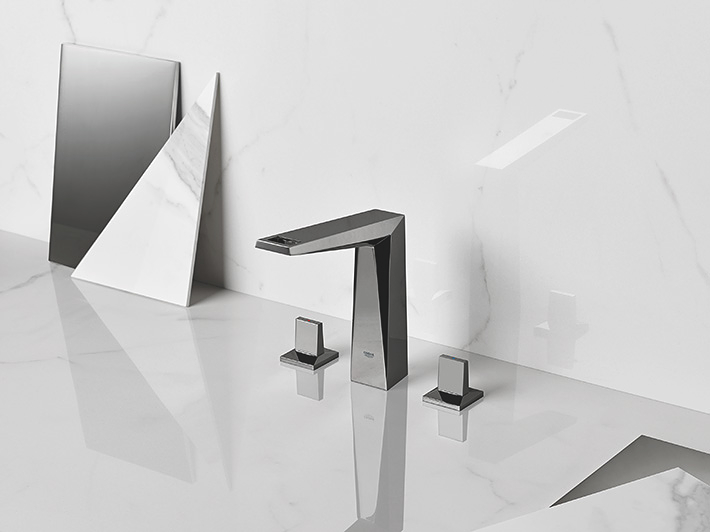 Brushed or polished?
This striking anthracite color comes in two finishes: shiny GROHE Hard Graphite and Brushed GROHE Hard Graphite. Whether you choose the brushed or polished version, each finish is so versatile, it will beautifully complement a whole range of interior styles. Pair it with white marble and pure white bathroom fittings for a contrasting look, or blend it in if you prefer, with light wood tones or concrete. Whatever setting you choose, GROHE Hard Graphite taps, showers, sinks and accessories will bring edge and elegance to your dream bathroom or .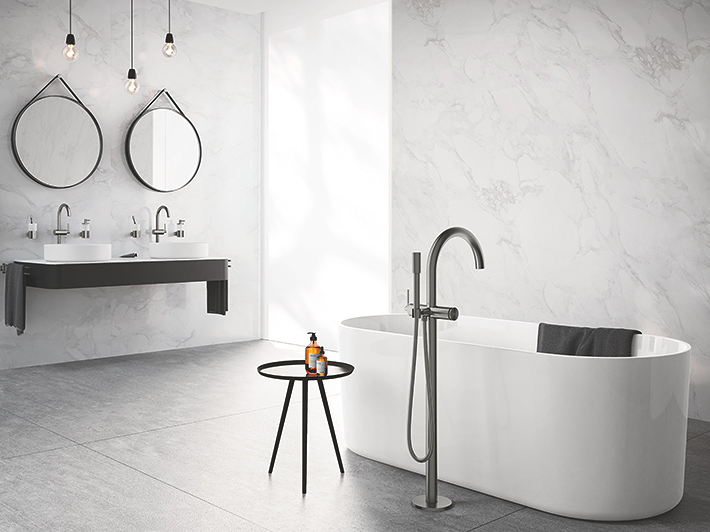 Create your own urban style
Both Shiny and Brushed GROHE Hard Graphite embody a modern, urban style that is also sophisticated and timeless. By choosing GROHE, you already opted for cutting-edge products which push boundaries with their innovative technologies. Push the boundaries of your home's interior design too, by choosing this inspiring color to create a bold, signature look for your kitchen or bathroom. Why play safe, when you can shape the future of water with GROHE?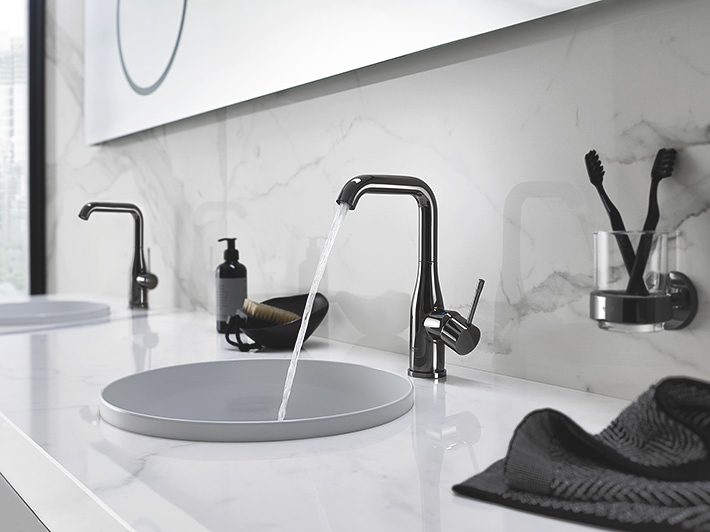 Hard Graphite products -
a black and white issue?
A white marble setting with pure white bathroom fittings would highlight the balanced proportions of these dark grey taps and accessories, making them stand out as an elegant feature. You can emphasise the contrast effect even more by using different shades and textures of black accessories and even black matte tiles. Enhance the look by maximising any natural light and adding clear, white lighting and mirrors.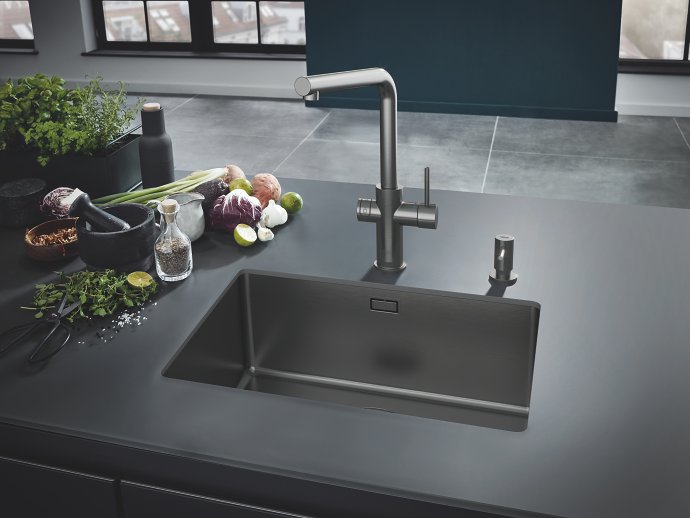 Better to blend?
If you prefer a more blended look, GROHE Hard Graphite can still be the solution for your signature interior. The Colors will look equally inspiring in tone-on-tone environments, where shades of a single color are layered together, and in mid-tone environments such as concrete or light wood. Camouflage or contrast? The choice is yours.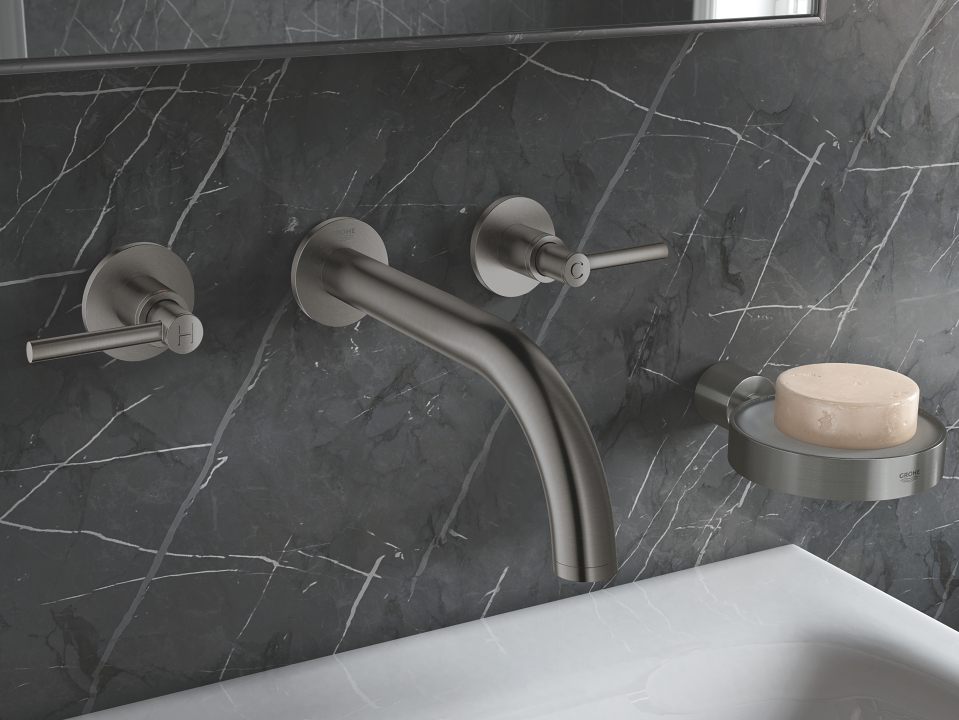 Brilliant colors, built to last
GROHE anthracite taps and accessories will not only look beautiful in your kitchen or bathroom, they are also built to stay that way, thanks to our high-end coating technology. PVD, or Physical Vapour Deposition, is a process used to give kitchen and bathroom fittings a finish that leaves the color looking exceptional and adding extra robustness to each product. The coating makes the fittings 10x more scratch resistant than chrome and makes the surface 3x harder. This means your bathroom and kitchen fittings will remain looking as stunning as the day they were installed. So, your sophisticated look won't lose its edge.
Over to you
Whether you're planning a bathroom, cloakroom, or kitchen, we think you'll love the look of our beautiful Hard Graphite and Brushed GROHE Hard Graphite taps, showers, sinks, and accessories. Take the time to enjoy browsing our whole range of products. Then it's over to you: create your ideal interior with our inspirational Colors, to stimulate your senses and add a unique flair to your home. You can find both showroom and installer locations on our website.