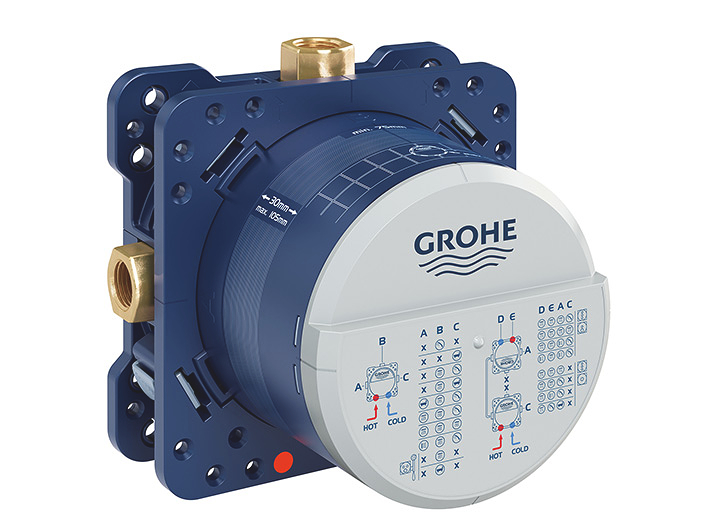 At GROHE we are continually looking for new and better solutions.
Our experts in the fields of design and engineering constantly strive to achieve more effective and efficient ways to control water and more beautiful ways to transport it. To give our customers more possibilities to enjoy water. And our installers and planners are constantly coming up with better and more effective ways of working with it. GROHE SmartControl Concealed and the GROHE Rapido SmartBox together offer a huge number of benefits. Stay with us to find out more.
Simply obvious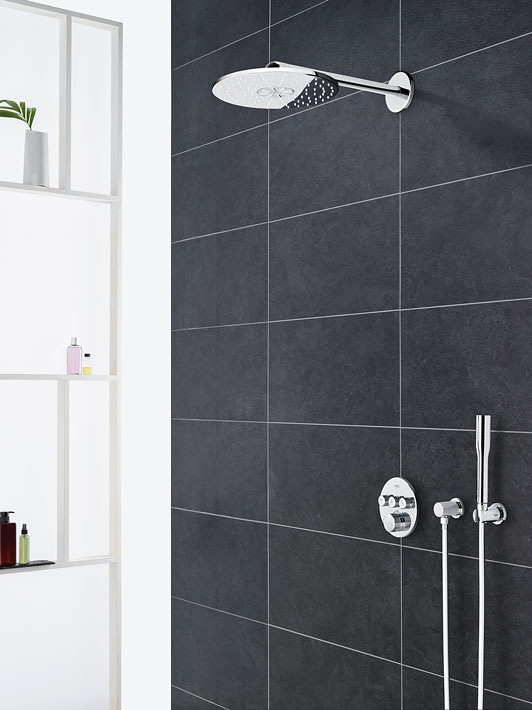 The hidden advantages of concealed technology
Space is a valuable commodity and often in short supply. It becomes a challenge for planners and installers to use it effectively. No easy task, especially in the shower area where space is often at a premium.
With its hidden installation and e xceedingly slim design, GROHE SmartControl Concealed offers more space under the shower without compromising on functionality or comfort. It also offers additional benefits of a practical kind: cleaning it becomes faster and more convenient, thanks to the flat, streamlined design.
Flexibility of design: GROHE SmartControl Concealed also offers a multitude of design variants. A wide selection of suitable trim sets and showers ensures that the style chosen for the bathroom e xtends seamlessly into the shower area. Concealed technology: more in it for you.
Simply more advantages technology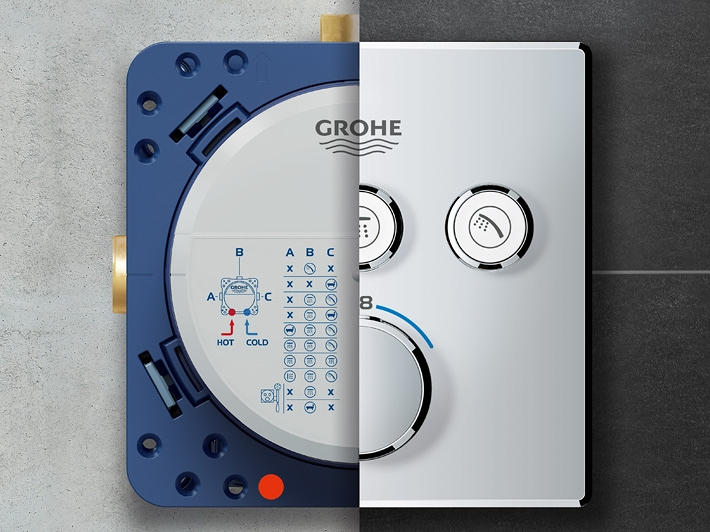 Control up to three shower functions for a better shower experience
Intuitive operation and perfect control of water volume through SmartControl
Concealed technology and elegant super slim design – 43 mm – for more space under the shower
One rough-in runs up to three shower/bath filler functions with just one trim
Efficient piping thanks to bottom inlets
Wall plates adjustable by six degrees
Only 75 mm minimum installation depth
Optional service stops for retrofit
Always compliant with retrofit backflow protection
Easy job-side mounting, no bench vice needed
Less is much more – one plate does it all technology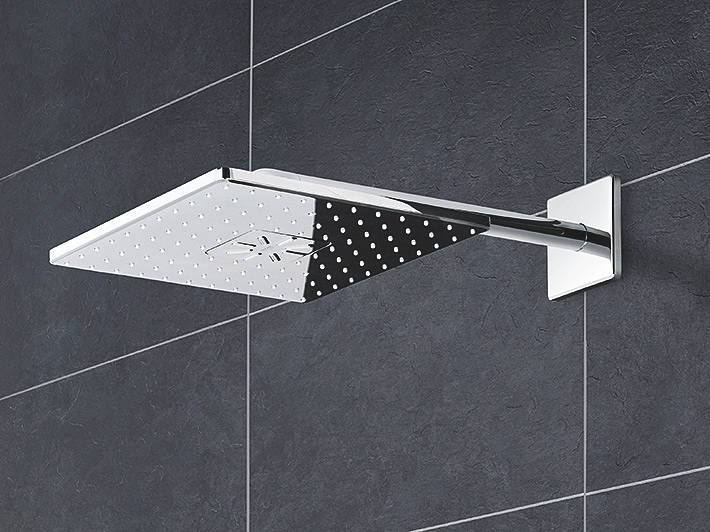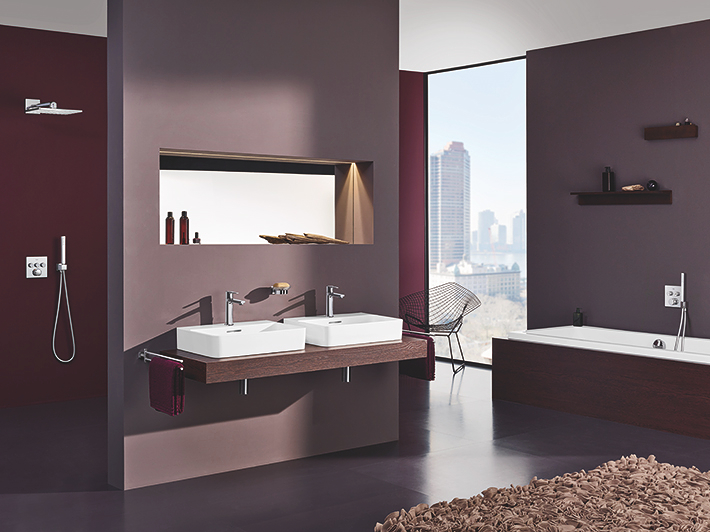 Control up to three showers with just one trim one plate does it all technology
Today's trend is for a multiple shower experience that offers more than simple bath/shower combinations. The downside is that for this to work, you need two rough-ins and two trims to control a hand shower and a two-spray head shower: up until now.
GROHE Rapido SmartBox and GROHE SmartControl Concealed make it simple. With just one rough-in and one trim, it is possible to enjoy two head shower functions simultaneously. Featuring up to three SmartControl valv es plus thermostat or mixer in one trim, GROHE SmartControl Concealed means half the work for three times the showering pleasure.
The pleasure of using two head shower sprays is enhanced by the Rainshower 360 and the new Rainshower 310 head showers. Designed to be the perfect match, they deliver an unmissable shower sensation.
Turn up the volume – or down if you prefer one plate does it all technology
GROHE SmartControl offers not just a choice of shower sprays, but also the precise control of water flow. GROHE SmartControl features an integrated volume control for an individual shower experience. A simple push of a button starts or stops the desired shower. And just a turn of the dial allows for precise control of water volume. Thanks to the clear symbols on the buttons, operating them is simple and intuitive.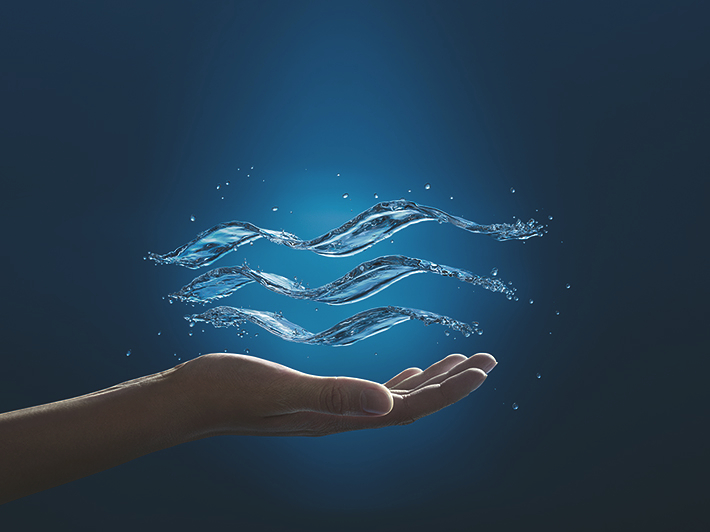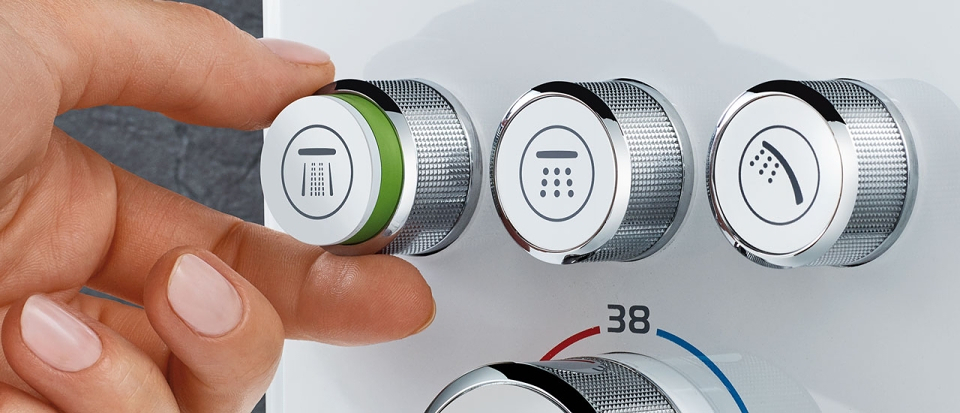 Slim is the new beautiful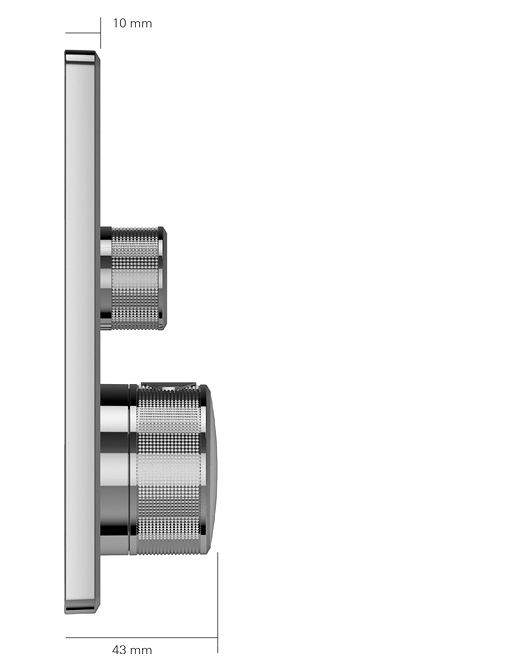 Control up to three showers with just one trim one plate does it all technology
43 mm total outreach
No matter what the installation depth of the rough-in is, the total height of the trim never exceeds 43 mm. The GROHE SmartControl Concealed combines space-saving convenience in the shower and slim good looks.
Thinner wall plates
With a height of only 10 mm, its super slim design makes the GROHE SmartControl Concealed wall plate both elegant and space saving.
Hidden sealing system
The GROHE SmartControl Concealed has an integrated sealing system, completely eliminating water behind the wall.
Symbols can be changed
The control knobs come with a range of different symbols, representing the different shower options. These symbols are clear and recognisable and their functionality distinct. They can be individually configured and also easily exchanged if required.
Round or square
GROHE SmartControl Concealed comes in two different forms – round and square. It also comes in two stylish finishes: classic chrome and, for a subtly elegant design statement, moon white acrylic glass. Each variant fits perfectly to its matching GROHE design line.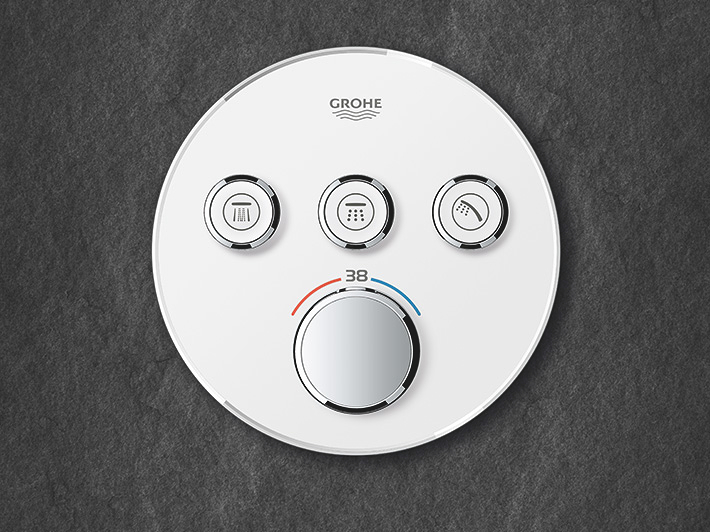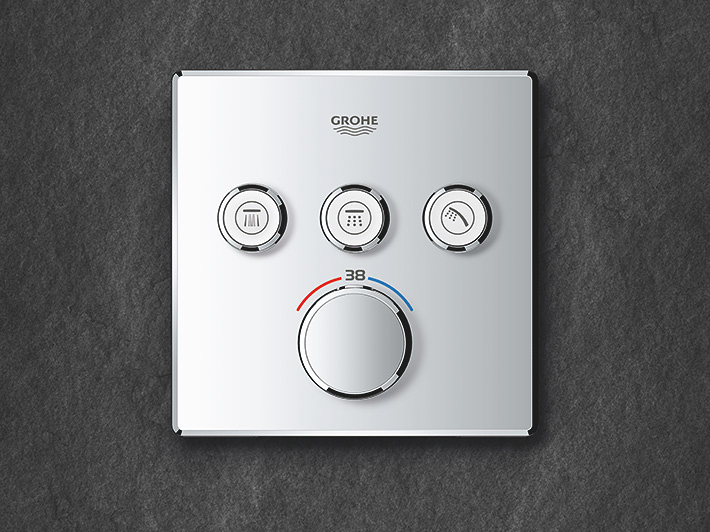 Simpler installation: An in-depth look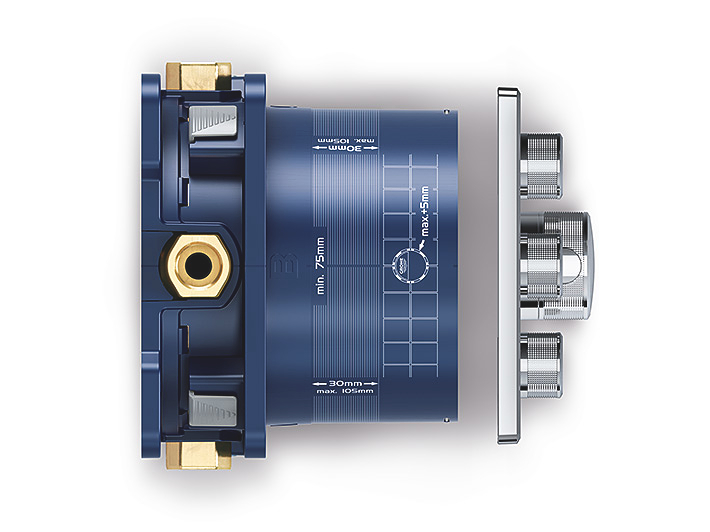 Fits in every wall - even thin ones
With an installation depth of only 75 mm, the GROHE Rapido SmartBox fits into every kind of wall, even particularly narrow ones. And it can be installed faster and more easily into brick walls.
The rough-in that's always on the job
Easy job-side mounting – leave the bench vice at home GROHE Rapido SmartBox is the smart innovation that enables fast and easy installation of rough-ins. Thanks to brass outlets, which are readily accessible, the rough-in can be mounted using an adjustable spanner or pipe wrench, allowing for efficient, on-site installation.