Product Description
GROHE Rapid SL installation system for urinals – reliable, swift and easy to fit
For total security and comfort the GROHE Rapid SL installation system for urinals is swift and simple to fit. The steel frame is certified to hold loads of up to 150kg for ultimate stability and fitting takes next-to-no-time thanks to the GROHE QuickFix system. The installation system comes complete with GROHE Rapido U technology which facilitates both manual and infra-red activation. To install this system, please purchase the 3855800M wall brackets.
1.13 and 1.30 m installation height
for manual actuation or Tectron
infra-red electronic 6 V or 230 V
for on-the-wall installations or studded walls
height adjustable fitting connections
HT-outlet bend Ø 50 mm
fixing bolts M8, with fixing device
for the ceramic
inlet connection and inlet connecting set
water group with stop valve
flow pressure min 0.5 bar
operating pressure max 10 bar
flush aid
functional unit checked ex factory
water supply connections ½" outer thread
connecting box for mains supply 230 V
installation box with gasket
inspection shaft incl. protection during
construction phase
for on-the-wall installation please order wall brackets 38 558 00M (sold separately)
Technical Information
CAD Data
Spare Parts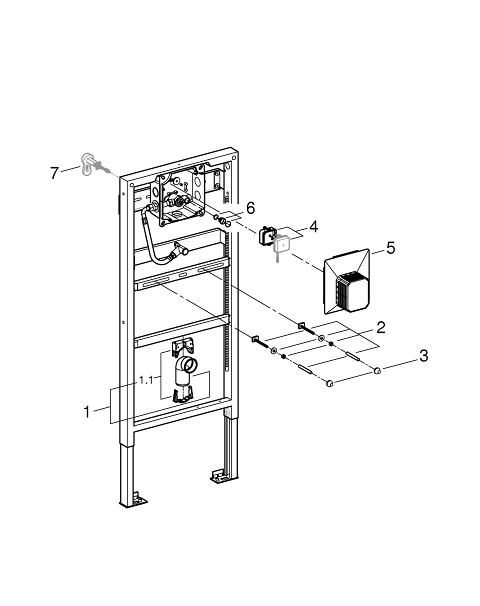 Pos.-nr.
Prod. description
Order-nr.
* Optional accessories

1

Outlet elbow 2"

42943000

1.1

Holder for outlet elbow

42236000

2

Threaded bolt

43078000

3

Fixation

4307500M

4

Transformer connecting box

42279000

5

Inspection shaft

66838000

6

Supply stop

43392000

7

Wall brackets

3855800M*
Warranty Information
GROHE Guarantee
GROHE products are designed to be both visionary and innovative with quality always guaranteed. Purchasing GROHE products means your investment is perfectly balanced in terms of quality, technology and design with sustainable production.
The 10 years plus Manufacturer's Guarantee
GROHE shall grant guarantee services to the end consumer in accordance with the terms and conditions set forth below for all products supplied to the end customer under the GROHE brand, which are tagged as products to which the "Grohe 2 years plus Manufacturer's Guarantee" is applicable.