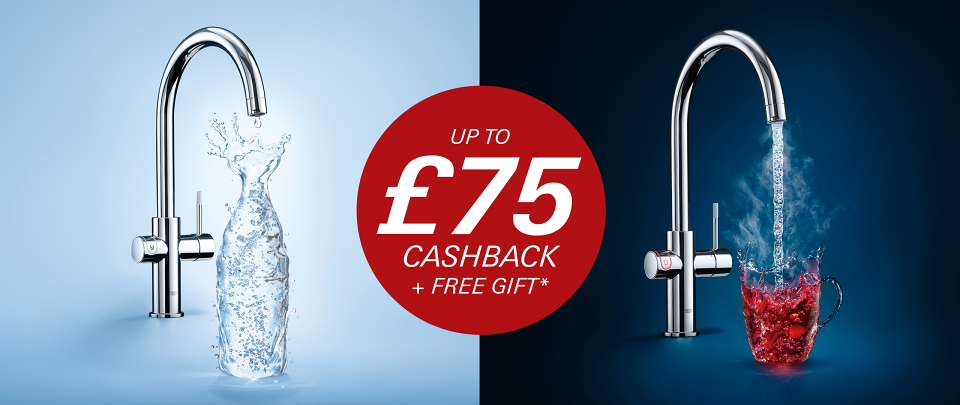 SPECIAL OFFER : CLAIM UP TO £75 CASHBACK AND A FREE GIFT ON GROHE WATERSYSTEMS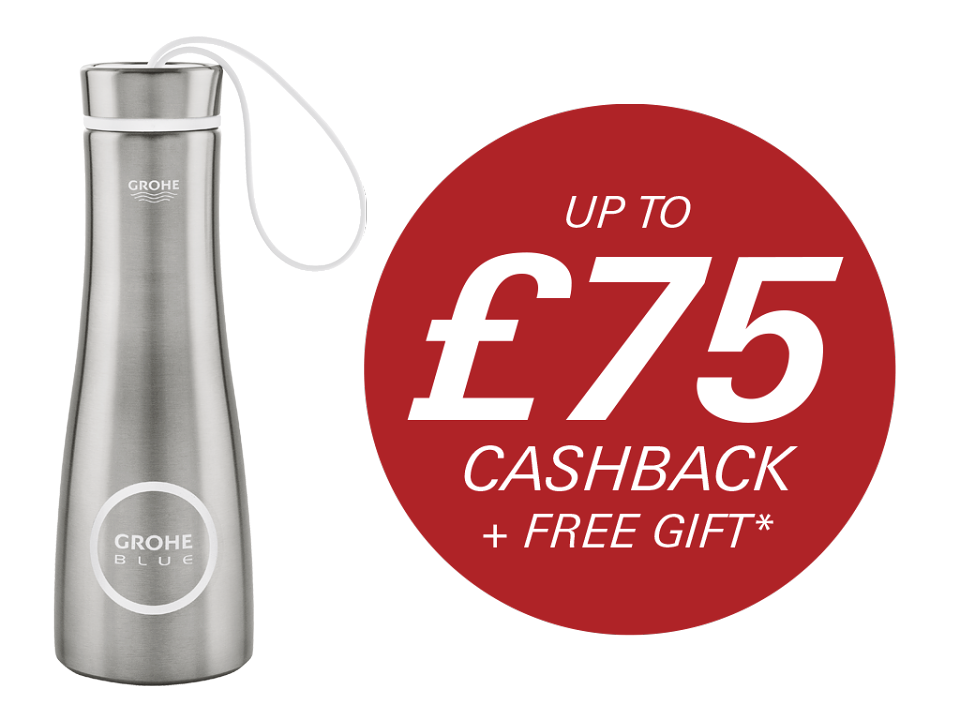 We are now offering up to a £75 cashback and a FREE gift - gifts range from a metal water bottle to a glass carafe and glasses set. The gift choice depends on which model you purchase.
All you have to do to receive this is purchase your chosen qualifying GROHE WaterSystem and complete the cashback claim form on our website to receive your cashback amount.
Offer on purchases made from 1st September 2020 until 31st January 2021. All claims must be made by 28th February 2021. Proof of purchase is required.
KETTLE HOT OR FILTERED, CHILLED AND SPARKLING
We live in an instant world. So why wait for perfectly chilled, sparkling or kettle hot water? GROHE Water Systems with GROHE Blue and GROHE Red deliver perfect taste and kettle hot water straight from the tap.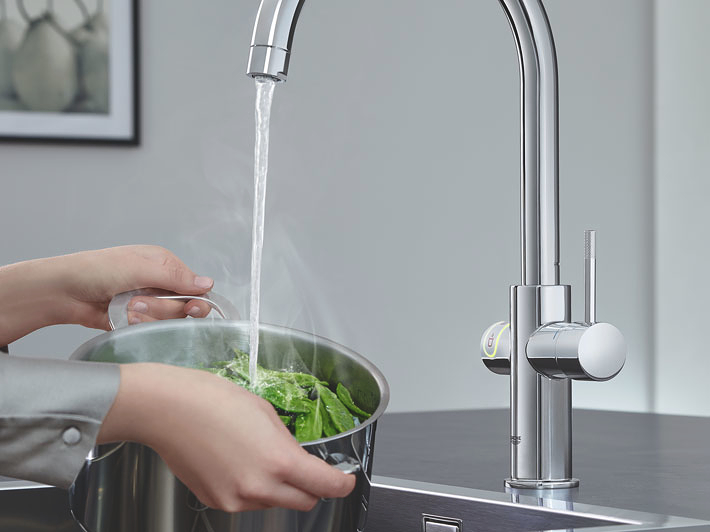 KETTLE HOT WATER
Instant filtered kettle hot water for an exceptional taste without the clutter of a kettle.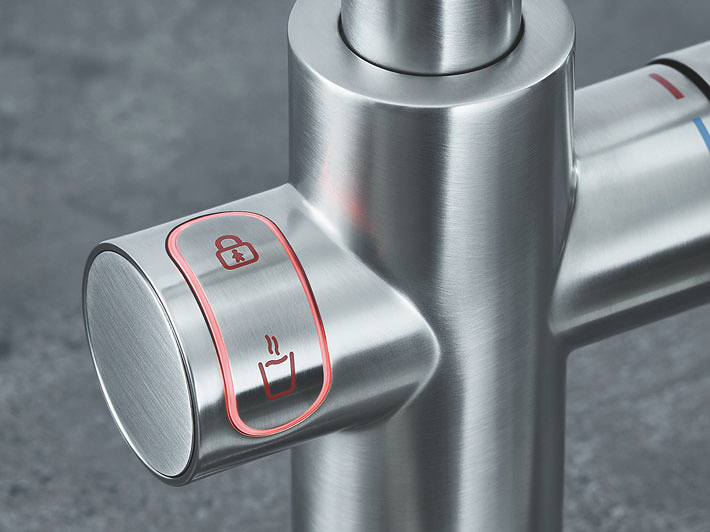 SAFETY FIRST
Our first commitment is to your safety. That's why GROHE Red comes with a unique, failsafe child lock.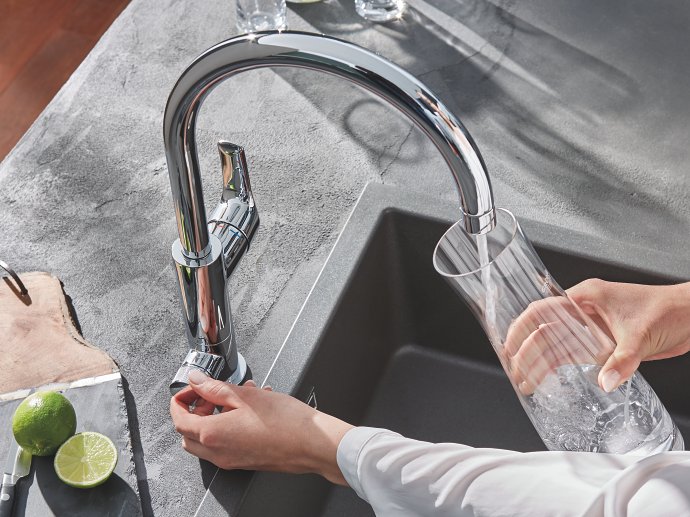 PERFECTLY CHILLED
Chilled water on demand at the right temperature - how refreshing is that?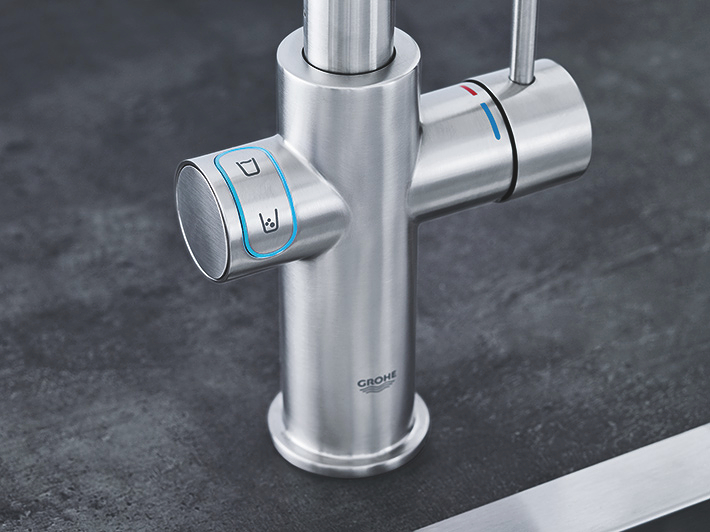 GUARANTEED TASTE
Five stage filtration: Great tasting water even in hard water area.
Amount
Product
SKU
Gift
£75
Blue Professional Mono C-Spout in Chrome
Blue Professional Mono C-Spout
Blue Professional L-Spout in Chrome
Blue Professional L-Spout
Blue Professional C-Spout with pull-out spray in Chrome
Blue Professional C-Spout with pull-out spray in Supersteel
Blue Professional L-Spout with pull-out spray in Chrome
Blue Professional L-Spout with pull-out spray in Supersteel
31302002
31302DC2
31347003
31347DC3
31325002
31325DC2
31326002
31326DC2

View Product
View Product
View Product
View Product
View Product
View Product
View Product
View Product

GROHE Blue glass carafe with Stainless Steel lid, 1L + GROHE Blue water glasses (6 pieces) 250ml
£50
Red Mono C-Spout with medium boiler
Red Mono L-Spout with medium boiler
Red OHM sink C-Spout with medium boiler
Red Duo C-Spout with medium boiler
Red Duo L-Spout with medium boiler
Red Duo L-Spout with medium boiler
Red Duo C-Spout with large boiler
Red Duo C-Spout with large boiler
Red Duo L-Spout with large boiler
Red Duo L-Spout with large boiler


30060001
30329001
30058001
30058DC1
30341001
30341DC1
30328001
30328DC1
30340001
30340DC1


View Product
View Product
View Product
View Product
View Product
View Product
View Product
View Product
View Product
View Product


GROHE Red Thermo drinking bottle in Stainless Steel, 450ml
£50
Blue Home Mono C-Spout in Chrome
Blue Home Mono C-Spout in Chrome
Blue Home Duo L-Spout in Chrome
Blue Home Duo L-Spout in Supersteel
Blue Home Duo C-Spout in Chrome
Blue Home Duo C-Spout
Blue Home Duo U-Spout in Chrome
Blue Home Duo U-Spout
Blue Home L-Spout with pull-out spray in Chrome
Blue Home L-Spout with pull-out spray in Supersteel
Blue Home C-Spout with pull-out spray in Chrome
Blue Home C-Spout with pull-out spray in Supersteel
Blue Home U-Spout with pull-out spray in Chrome
Blue Home U-Spout with pull-out spray in Supersteel
31498001
31498DC1
31454001
31454DC1
31455001
31455DC1
31456001
31456DC1
31539000
31539DC0
31541000
31541DC0
31543000
31543DC0

View Product
View Product
View Product
View Product
View Product
View Product
View Product
View Product
View Product
View Product
View Product
View Product
View Product
View Product

GROHE Blue Thermo drinking bottle in Stainless Steel, 450ml
£25
Starter Set Mono Filter Tap in Chrome
Starter Set BauCurve Duo Filter Tap in Chrome
Starter Set EuroSmart Duo Filter Tap in Chrome
Starter Set Minta pull-out Duo Filter Tap in Chrome
Starter Set Minta pull-out Duo Filter Tap in Supersteel
30387000
30385000
30383000
30382000
30382DC0




View Product
View Product
View Product
View Product
View Product
GROHE Blue Thermo drinking bottle in Stainless Steel, 450ml