Product Description
The new GROHE Red Mono kitchen tap is the handy source of instant kettle-hot water
The GROHE Red Mono pillar tap is the ideal kitchen helper as it gives water heated to 99° straight from the tap – so you can get ahead of time. Designed to sit next to your GROHE Blue or standard kitchen tap, the pillar mixer has a minimalist, slim design. The water is perfect for making tea and coffee, but also filling pots and preparing meals. The boiling water function is activated via the child-safe touch buttons. The high L-shaped spout makes filling pots easy, and it has a selectable swivel range of 0°/150°/360° for total flexibility. Safety is paramount with this product – the mixer features an automatic, illuminated GROHE ChildLock function operated via the touch buttons. Rated A for energy efficiency, the boiler can also be switched to Holiday Mode, where the temperature is limited to 60° C. Instantly providing up to 3L of heated water, the boiler is made of titanium for excellent corrosion protection and the tap's dazzling, durable GROHE StarLight chrome finish will stay pristine for years to come. The GROHE Red filter also reduces limescale and heavy metals in the water, prolonging the life of both tap and boiler. Customers may want to also purchase the Coldfill Mixing Valve (40841001) to replace your low-pressure kitchen tap, which mixes mains water with boiling water to give you immediately warm water too, meaning no waiting for water to heat up, and less water wasted.
Consisting of:
GROHE Red Mono pillar tap
monobloc installation
L-spout
GROHE ChildLock push buttons for kettle hot water
TÜV certified triple electronic safeguards against accidental
activation of boiling water
GROHE StarLight chrome finish
insulated tubular spout
swivel area 150°
connection for GROHE Red boiler
GROHE Red boiler M size
reservoir for kettle hot and hot water
3 litre 99° C kettle hot water
4 litre total capacity
required inlet pressure: 1-7 bar
with flexible connection hose and outlet for kettle hot water
CE approved
power supply 230 V 50 Hz
power consumption 2100 W
standby power consumption 15 W
energy efficiency class A
GROHE Red filter set
for protection of the boiler from limescale
Capacity 600 L at 20° dKH
5 phase filter
flow rate measuring unit
Technical Information
CAD Data
Spare Parts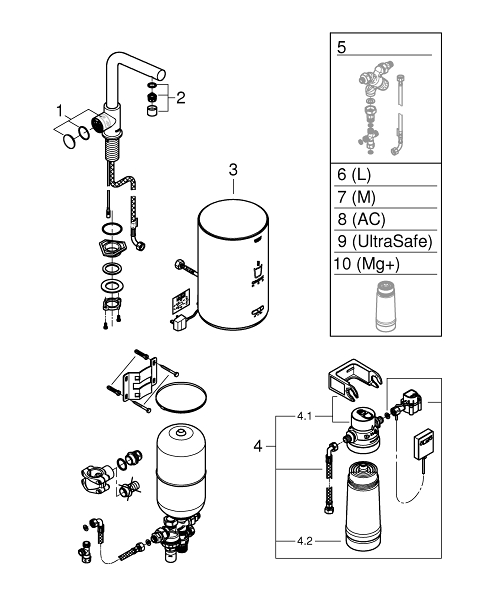 Pos.-nr.
Prod. description
Order-nr.
* Optional accessories

1

Operating unit

46997000

2

Mousseur

13999000

3

Boiler Size M

40842001

4

Filter with filter head

40438001

4.1

Filter head

64508001

4.2

Filter S-Size

40404001

5

Mixing valve

40841001*

6

Filter L-Size

40412001*

7

Filter M-Size

40430001*

8

Activated carbon filter

40547001*

9

UltraSafe filter

40575001*

10

Magnesium+ filter

40691001*
Warranty Information
GROHE Guarantee
GROHE products are designed to be both visionary and innovative with quality always guaranteed. Purchasing GROHE products means your investment is perfectly balanced in terms of quality, technology and design with sustainable production.
The 2 years plus Manufacturer's Guarantee
GROHE shall grant guarantee services to the end consumer in accordance with the terms and conditions set forth below for all products supplied to the end customer under the GROHE brand, which are tagged as products to which the "Grohe 2 years plus Manufacturer's Guarantee" is applicable.
Products and accessories for the installation