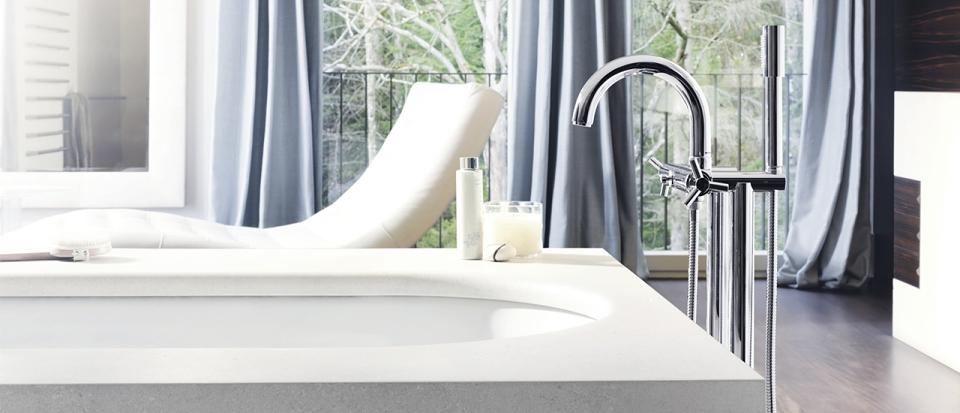 Floor-mounted Bath Spouts & Bath Taps
Our range of floor mounted bath spouts and bath/shower mixers are the perfect accompaniment to today's contemporary freestanding bathtubs.
Once the tub of choice for traditional style bathrooms, the freestanding bathtub has seen a rise in popularity in recent years as the bathroom continues to evolve into a lifestyle space. Unlike a standard bathtub, which is normally located in the corner of the room, a freestanding bathtub can be located anywhere you wish.

Design freedom
A floor-mounted bath spout or mixer tap lets you choose the exact location of your bath, giving you the freedom to plan your bathroom without compromise.

The perfect finish
For an immaculate life-long shine, our chrome floor-standing bath spouts and bath/shower mixers feature GROHE StarLight® technology which resists dirt and tarnishing.
Floor-mounted Bath Spouts for freestanding Baths
Pure. Minimalist. Striking. The simplicity of our chrome bath spouts makes them the perfect choice for modern freestanding bathtubs. A floor-mounted bath spout is the tap of choice for today's modern bathroom. Sculptural and elegant, they add an eye-catching detail to a freestanding bathtub.
Taps for freestanding bath spouts
As the bath spout is a freestanding piece in its own right, it does not incorporate a tap. To control the flow of water choose a concealed shower mixer tap or thermostatic mixer tap in coordinating design.
Floor-mounted bath/shower mixer taps offer a complete solution for freestanding baths. Unlike bath spouts, which require a separate mixer tap to control the water flow, floor-mounted bath/shower mixers incorporate a tap with a bath spout and a hand-held shower head. Whether you like the minimalist styling of a bath spout, or the added features of a hand shower, we have a solution to meet your requirements.
Recommended product ranges