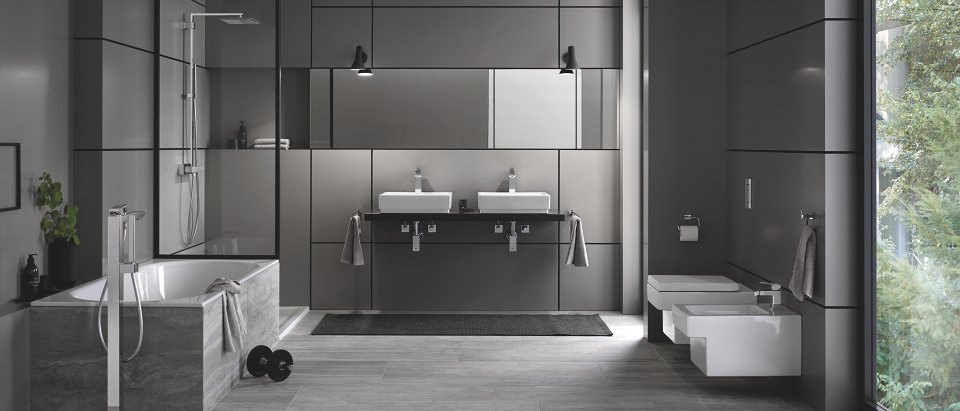 FIND YOUR PERFECT BATHROOM SUITE WITH GROHE
Imagine: You finally finished installing all the fixtures for your dream bathroom, only to discover that the tap is actually too tall for the basin you selected, meaning that you end up splashing water all over the place every time you wash your hands. What you hoped would improve your bathroom experience has turned something as simple as washing your hands into a daily nuisance.
Luckily, when you fit a bathroom suite with GROHE, you won't run into these problems. GROHE's full bathroom solutions not only factor in the aesthetics of each individual element of the bathroom suite, but also how they function. This means that the elements of GROHE's bathroom suites look beautiful when combined and are sure to seamlessly work together as well. You won't have to worry about those annoying splashes from a tap that's too tall. Or not having enough room to comfortably wash your hands when the tap is too short. We understand that there's a lot to think about when designing your bathroom. That's why we've taken the time to carefully consider each of our products and how they interact with one another.
So what do you need to consider when selecting the bathroom suite of your dreams? GROHE has done all of the hard work for you, while still leaving you with plenty of room to express your own unique style. By focusing on which of our products fit well with each other, we've taken all of the guess-work and tediousness out of decision-making. This lets you spend more time and energy on the most fun part: the design.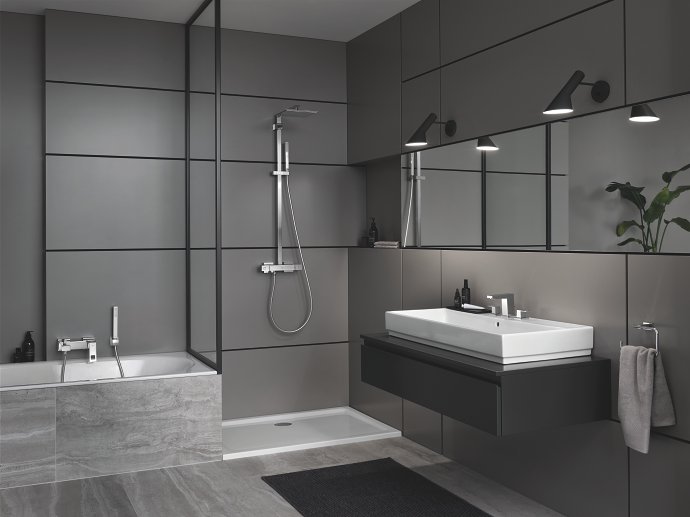 THE BENEFITS OF CHOOSING A GROHE BATHROOM SUITE AT A GLANCE
Enjoying the same dynamic architectural lines throughout your bathroom
All elements working together seamlessly
High-quality materials
Innovative technology that keeps your ceramics clean
Engineered for comfort and performance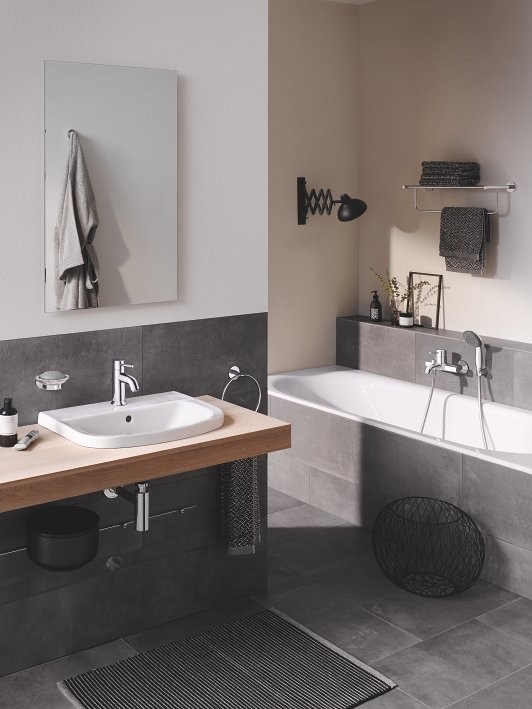 PERFECT MATCH FOR YOUR PERFECT BATHROOM SUITE
The secret behind GROHE's bathroom suites is the principle of Perfect Match. GROHE customers may feel like they're spoilt for choice when it comes to settling on one style. Perfect Match helps narrow down the choice somewhat, based on the various fixtures' styles, functionality and price points. Let's say you've (understandably) fallen in love with one of GROHE's soft-edge deck-mounted Eurosmart Basin Mixer (1/2" S-Size), but aren't sure which ceramic basin to pair it with. Well, with Perfect Match, your decision is made easy. You'll be directed to the Euro Ceramic collection, one of four ceramic collections that GROHE offers. Select the Euro Ceramic wash basin, toilet, bidet and urinal you like most for a harmonious and cohesive look to your bathroom. It's as easy as that!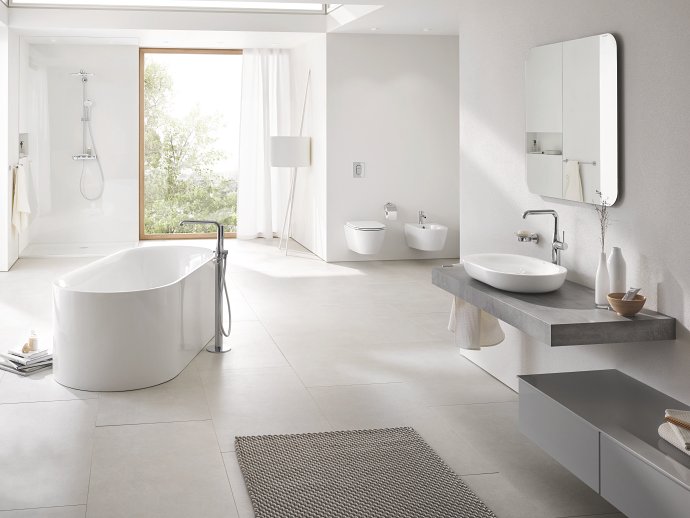 DESIGN THE BATHROOM OF YOUR DREAMS WITH FREEDOM OF CHOICE
The other guiding principle behind GROHE's bathroom suites is Freedom of Choice, best exemplified in the wide range of colour finishes GROHE offers its bathroom fixtures in. When the Grandera Basin mixer 1/2″ M-Size in chrome finish simply takes your breath away, finding the rest of your bathroom fixtures in that alluring colour is a breeze.
All of the GROHE colours are classic and timeless, meaning you're sure to enjoy them for years to come. Their longevity is true not only in terms of design, but also in function. With the physical vapour deposition (PVD) finishing technique from GROHE, the colour is made much harder and more scratch-resistant.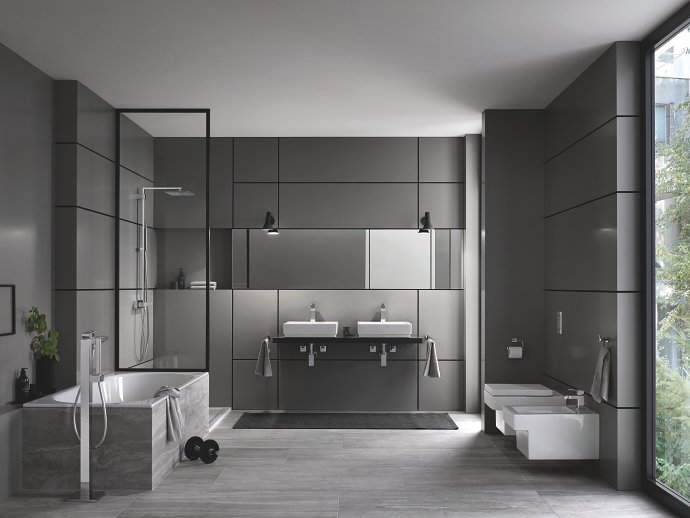 FOUR CERAMIC COLLECTIONS FOR YOUR BATHROOM SUITE
Regardless of your favourite tap fixture, you can be sure that the ceramic collection line it's matched with is going to provide your bathroom with a cohesive and harmonious look. With four high-quality ceramic collections, finding GROHE sanitary ware to match your wildest bathroom suite ideas is easy. For admirers of Cubist geometry, pure lines and crisp angles, the GROHE Cube Ceramic collection is just the thing. The Essence collection is perfect for transforming your bathroom into a personal spa. With lines that exude clarity and subtlety, it is sure to turn your bathroom into a space for relaxation and contemplation. The Bau Ceramic collection is versatile and adaptable. Its soft, round edges and modern feel make it suitable for residential and public bathrooms alike. Finally, GROHE's Euro Ceramic bathroom suite line features distinctive shapes and a variety of sizes, and allows you and your family to enjoy your bathroom fully, making it a fun and functional space in your home.

These ceramic collections not only look amazing, they're also engineered for optimal use and built to last. PureGuard anti-stick coating and anti-bacterial glazing helps the ceramic stay sparkling white, giving bacteria and dirt no chance to dull your sanitary ware. The Triple Vortex Flush is a unique flushing system which provides a better clean that's still super quiet. Rimless technology leaves bacteria nowhere to hide and makes your GROHE toilet easy to clean. The Quick Release Seat can be easily removed, also aiding in cleaning. With the Soft Close Seat, which allows the toilet seat to close gently and softly, your fingers, and those of your loved ones, are safe from harm.