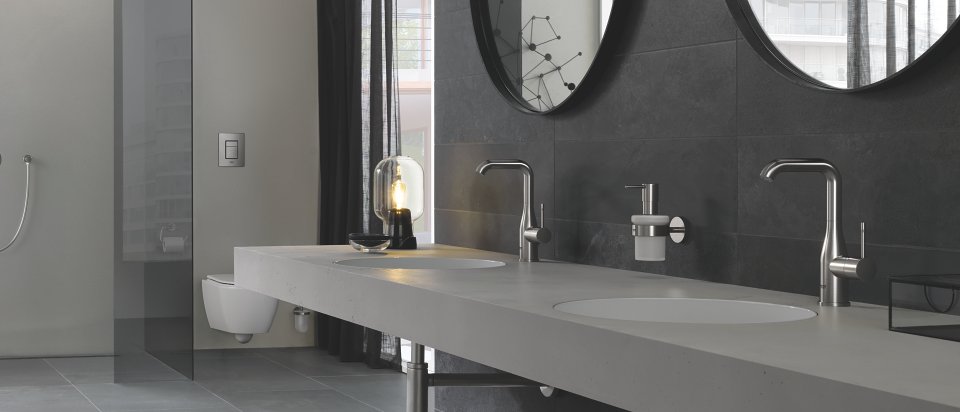 Soap dispensers from grohe: hygienic never looked so good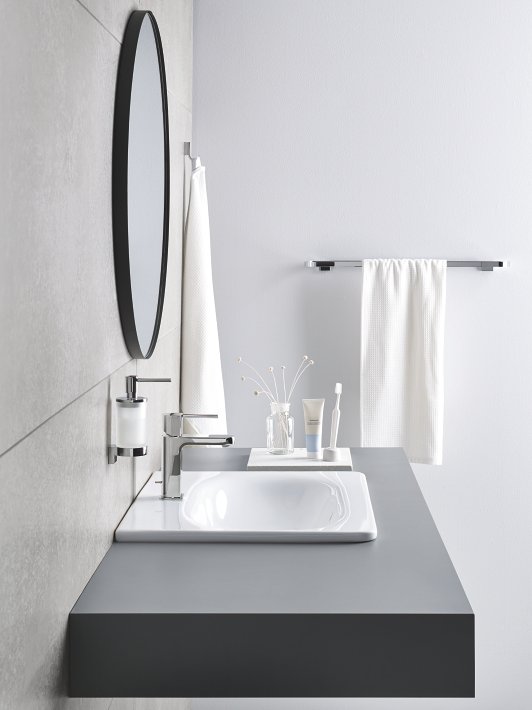 Soap is a necessity that ensures our hands (and other body parts) stay as hygienically clean as possible. This doesn't mean, however, that it can't be presented nicely. At GROHE, we have a wide selection of soap dishes for bar soap and soap dispensers for liquid soap. If you're looking for a new soap dispenser for your bathroom, you've come to the right place. Whether it's a soap dispenser with an eye-catching bottle design or a minimalistic one that's half hidden leaving only the pump section on show, you can count on GROHE to find the exact soap dispenser to match your needs and your décor.
A decorative soap dispenser is the ideal bathroom accessory to jazz up your worktop. Never before has it been so easy to upgrade your bathroom. But who says a soap dispenser is only limited to your worktop? Place a soap dispenser in the shower or even in the kitchen; their versatility knows no bounds. With bottle sizes ranging from 130ml to an impressive 500ml, you can cater for even the most generous of soap users.
These soap dispensers come in many different shapes and sizes and with high quality finishes, you know they'll stand the test of time. And because your soap dispenser is from GROHE, you can rest assured that it's crafted from the finest materials and is built to last.
A style to suit every bathroom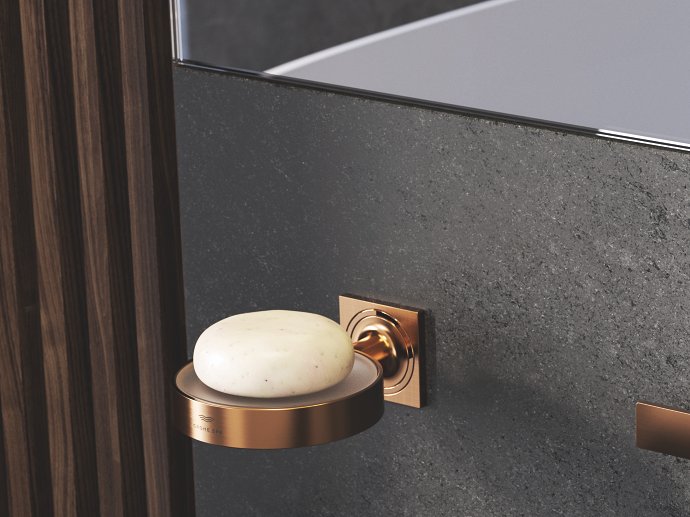 Your new bathroom is almost complete. The shower has been fitted, the toilet is in the right place and you've even thought of which toilet roll holder to buy, but has the soap dispenser crossed your mind? You might think that there aren't many varying styles of soap dispensers available, but GROHE has other ideas.
Many of GROHE's soap dispensers are made of frosted glass to add an air of mystery to the product. From the cubed, futuristic look of the Selection Cube soap dispenser, with crisp, clean lines that are perfect for minimalist bathrooms, to the soft, rounded bubble shape of the Essentials soap dispenser, your perfect GROHE soap dispenser is waiting for you.
The perfect colour and striking finish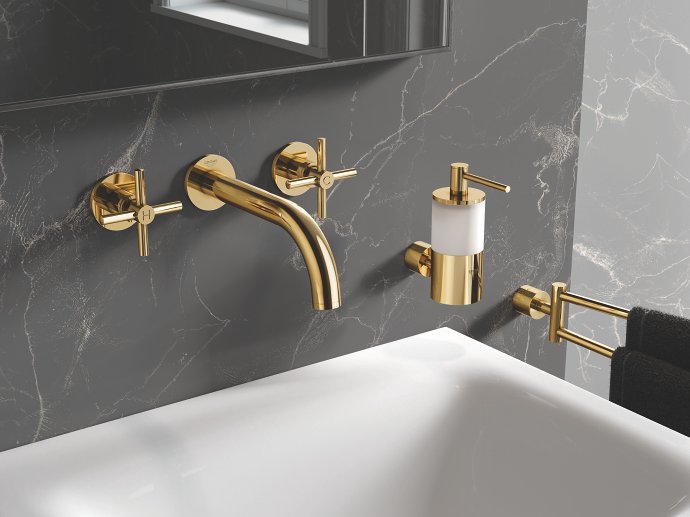 The soap dispenser's chrome pump comes in an array of colours to match whichever look you're going for in your bathroom. The pumps are available in a matt or shiny finish. The matt colours consist of brushed cool sunrise, brushed hard graphite, brushed nickel, and brushed warm sunset and flawlessly match any other matt metal in your bathroom. If shiny is more your style, choose from chrome, cool sunrise, hard graphite, polished nickel, supersteel, and warm sunset.
And because quality is so important at GROHE, we've made sure to coat the pumps in durable GROHE StarLight finish for an extra level of scratch-resistance. This finish will leave your soap dispenser looking as great as the day you bought it. To clean it, you just have to wipe with a damp cloth and voilà – good as new!
Match with other accessories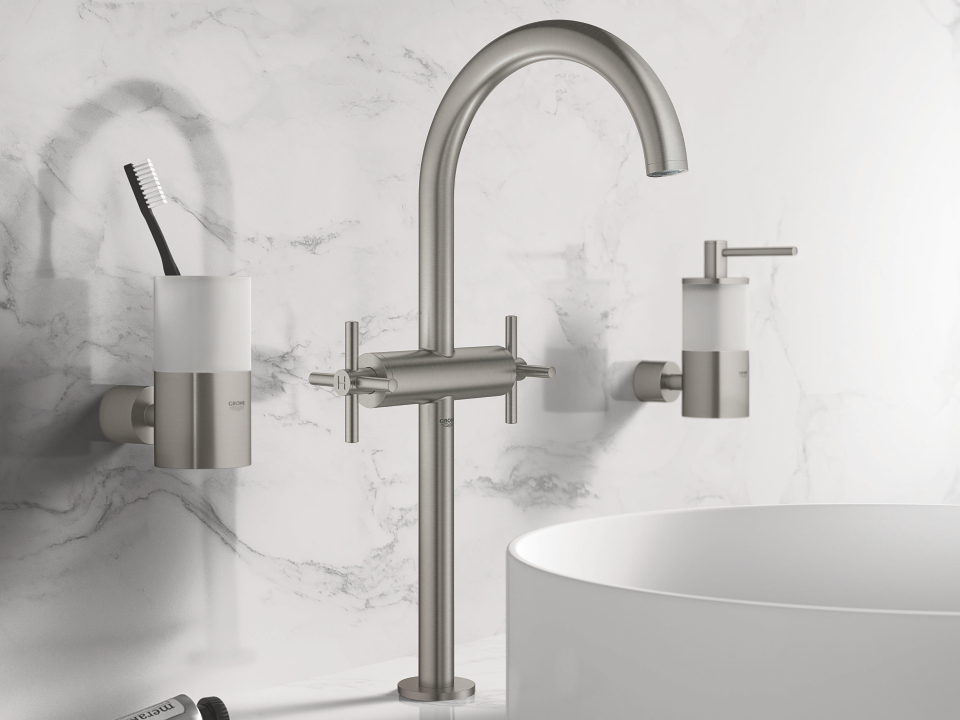 Pay close attention to the name of the bathroom soap dispenser you like. Many of our models are part of collections, meaning it's easy to match all your bathroom accessories simply by purchasing everything from the same collection. For example, the aforementioned Essentials soap dispenser has the exact same style as the Essentials Multi Bath towel rack. The Essentials bathroom collection has heaps of ideas to make your dream bathroom a reality.
Install your bathroom soap dispenser with ease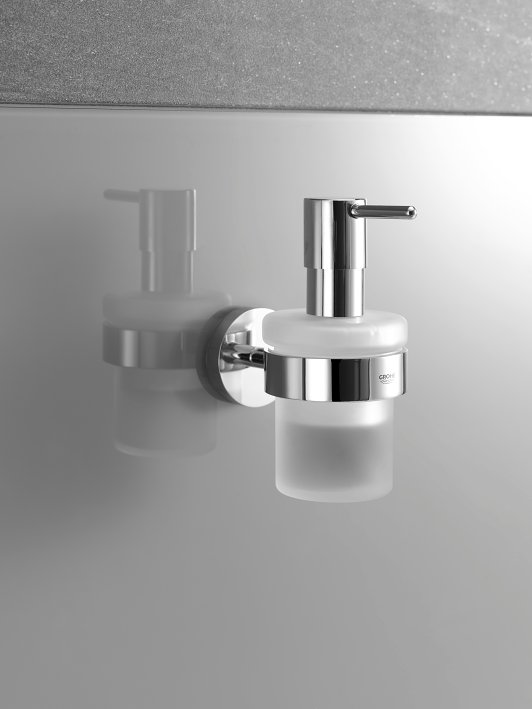 You can decide whether you'd like your soap dispenser to stand on the side of the sink or whether you'd like to attach it to the wall for a more sophisticated look. Each GROHE soap dispenser states which holder complements it, so you know which one to purchase. Some dispensers even fit into multiple holders, such as the aforementioned Essentials soap dispenser, so you can choose which of the four possible options is your favourite. The holder for the Selection soap dispenser attaches at the bottom so you can show off the whole dispenser in all its glory. Or for more stability, go for the Atrio soap dispenser, which attaches around the middle, but still looks striking.
If you've opted for a holder for your soap dispenser, then the screws or glue including made quick work of attaching the soap dispenser holder to the wall. Just follow the clear step-by-step instructions and you can't go wrong: the bathroom soap dispenser will be ready to use before you know it.
The concealed fastening means that there are no unsightly screws on show. As well as providing for a perfect finish, the concealed installation also makes the soap dispenser extra sturdy so it can withstand more wear and tear when used constantly.