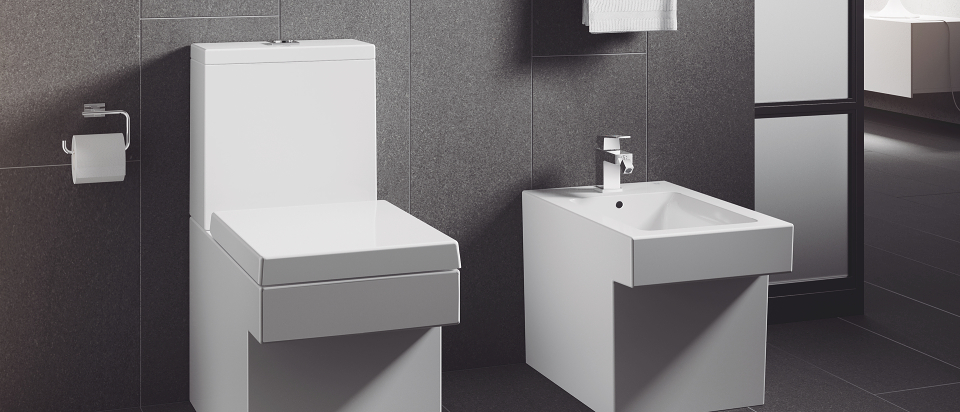 FIND THE BEST TOILET ROLL HOLDER FOR YOUR BATHROOM WITH GROHE
Do you think your bathroom looks amazing but still can't shake the feeling that something's missing?
Sometimes, the smallest details can make a world of difference, especially in your bathroom. If you're placing the toilet roll on the floor or a nearby shelf, for example, you might be spoiling the sleek modern feel you worked so hard to put together. Toilet paper is not decoration.
Start putting the finishing touches to your bathroom and maintain the minimalist style of your design with GROHE's range of toilet roll holders. With the great selection available, you'll find the exact toilet paper holder to suit your style and needs. How amazing would a sleek Atrio toilet roll holder look in your bathroom?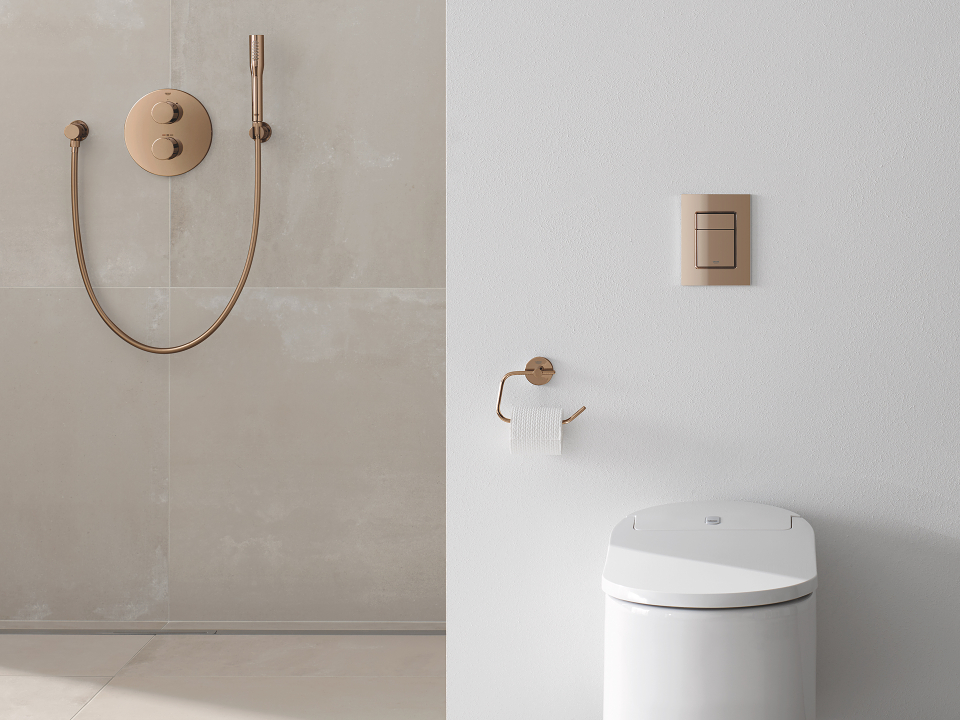 A STYLE TO SUIT EVERY BATHROOM
You might think that there aren't many varying styles of toilet roll holders available on the market, but GROHE's range will show you what this simple item is capable of.
GROHE toilet roll holders have plenty of benefits:
Made using high-quality metal
Durable and built to last
Plenty of style, colour and finish options
Right-handed and left-handed options available
Concealed fastening for a seamless look
Discover what makes the difference and find the missing piece to your bathroom design. Here's a description of some of our most popular options:
Most of GROHE's toilet paper holders, such as the BauCosmopolitan, are straight bar models where you slip the toilet roll on and off from the right. The roll is prevented from falling off unintentionally thanks to the little bend at the end of the bar, which keeps the paper in place. This kind of model is simple yet effective, giving your bathroom a modern touch while at the same time not taking any attention away from your other inspiring bathroom features.
For a more futuristic-looking style, the Allure Brilliant chrome toilet roll holder is sure to impress with its sharp, intriguing angles. It also has a 5cm-wide ledge on top, which is perfect for temporarily placing objects.
GROHE's products are designed with every kind of requirement in mind. We also manufacture models that have the opening on the left side, rather than the right side, perfect for left-handed people. This design also comes in handy when the bathroom's size or layout ends up giving few options for where the toilet paper holder can be placed.
The bar's thickness is another characteristic you can decide on. GROHE's range includes thinner models such as the Essentials toilet roll holder for a more polished look, or you could opt for a thicker bar if this is more your style.
Our range of toilet paper holders also include some models with built-in covers that enable you to modestly hide the toilet paper if you don't want it on show. Look no further than the Essentials range for this, as all its models come with a cover flap, which is light enough to not hinder use.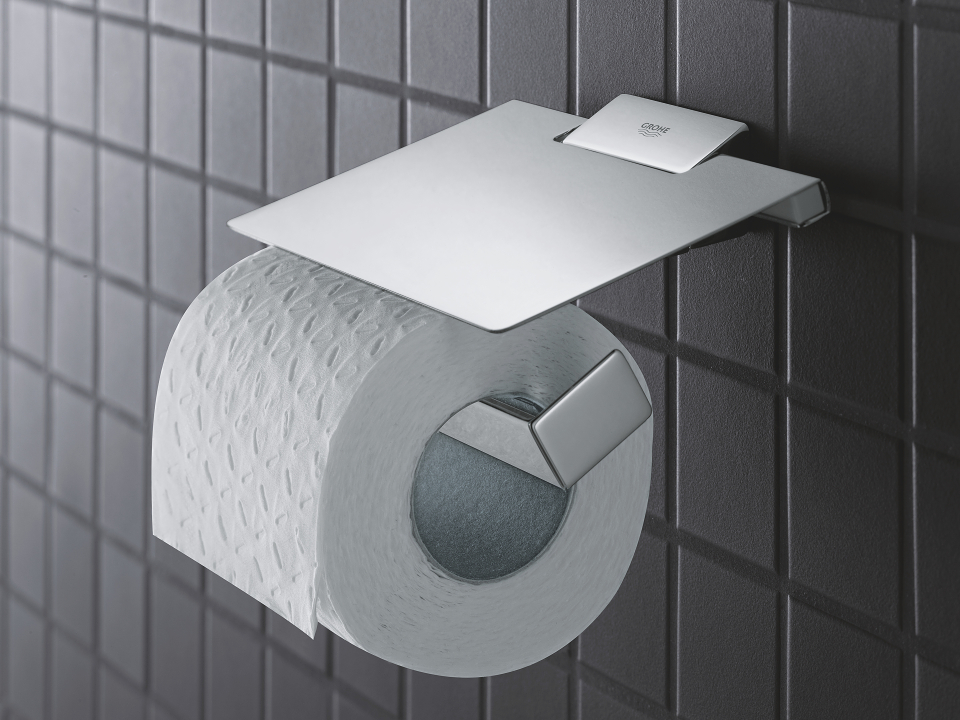 INSPIRING COLOURS AND A STRIKING FINISH
As with style, it's equally important to find the right colour and finish. If you're on the lookout for a shiny, elegant appearance, you'll find that in addition to the popular chrome toilet roll holder, there are also stunning options like cool sunrise, hard graphite, warm sunset, polished nickel, and supersteel. A little out of the ordinary is the Grandera model, which combines both gold and chrome for a unique finish.
Many of the colours are also available in a matt finish that looks just as striking. These include brushed cool sunrise, brushed hard graphite, and brushed warm sunset.
All GROHE toilet roll holders are made of high-quality metal, meaning they're durable and will still be in top condition for years to come. The GROHE StarLight finish coats every toilet paper holder, ensuring that the product stays pristine and is super easy to clean.
The Essentials range makes designing and accessorising your bathroom even easier. Just look for the range name and you'll find towel rails, soap dispensers, toilet brush sets, robe hooks and plenty of other accessories that all match. This means you don't have to search yourself for coordinating products.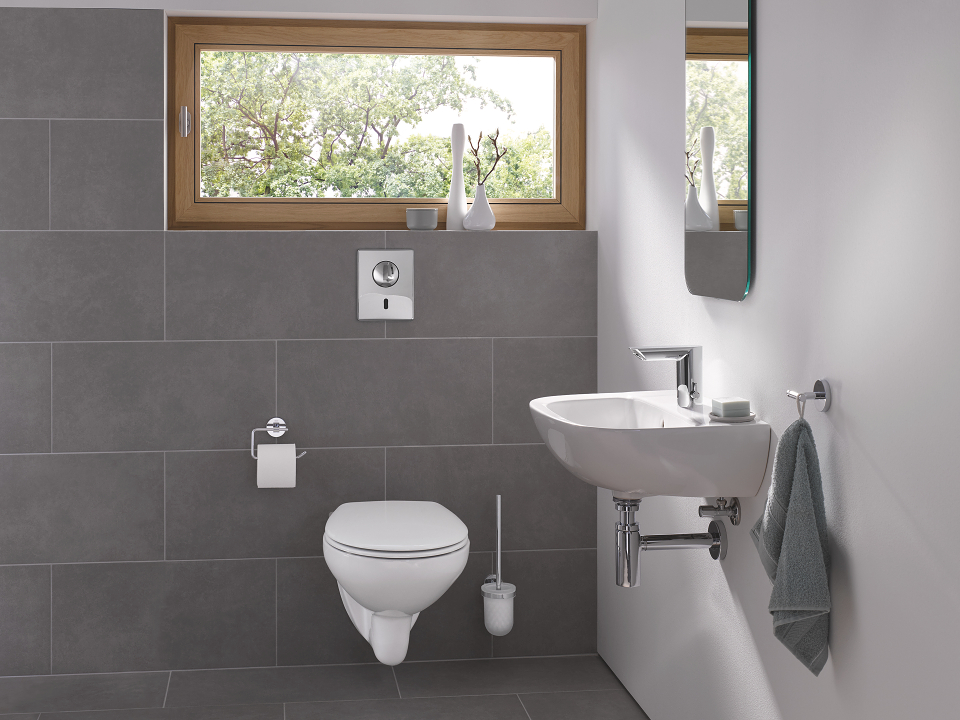 INSTALL WITH EASE FOR A PERFECT FINISH
The QuickFix installation system makes quick work of fixing the toilet paper holder to the wall. Just follow the clear step-by-step instructions and you can't go wrong: the holder will be ready to use before you know it.
In order to make the chrome toilet roll holder fit in seamlessly with your bathroom, GROHE's products have a concealed fastening, meaning no unsightly screws or dowels to be seen. As well as providing for a perfect finish, the concealed fastening also makes the holder extra sturdy so it can withstand more wear and tear.