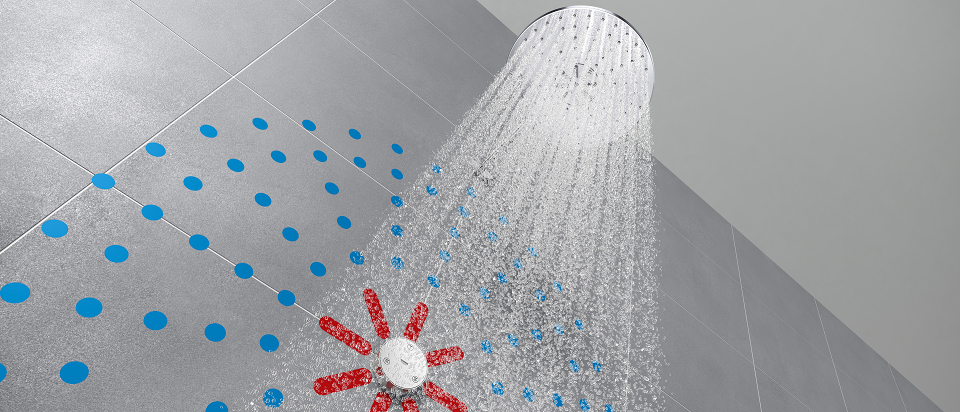 GROHE RAINSHOWER 310 SMARTCONNECT
Tastes change over time, so just because you thought that head shower looked amazing at that particular moment, doesn't mean you're going to feel the same way a decade later. Luckily GROHE's new Rainshower 310 SmartConnect head shower has been purposely designed as a retrofit solution, meaning it can be fitted onto your existing shower arm using the ball joint, saving you from having to break the wall to fit your new head shower. However, the features of the Rainshower 310 SmartConnect don't just stop there. Read on to find out what this new head shower model can offer and how it can help you upgrade your shower experience.
Find your showroom near you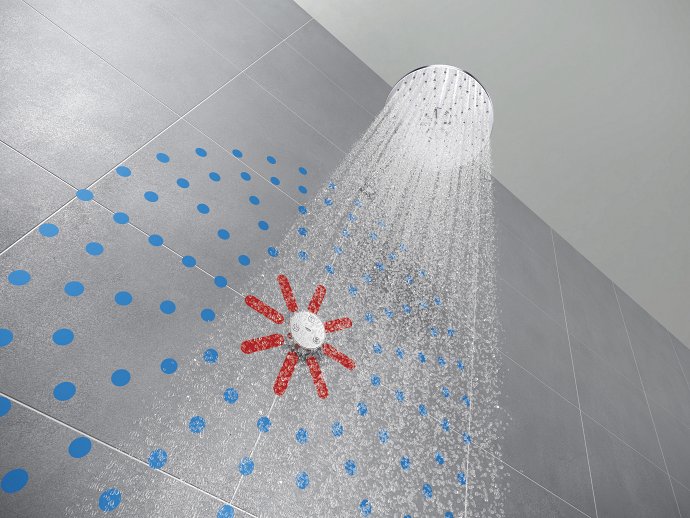 RAINSHOWER 310 SMARTCONNECT WITH WIRELESS REMOTE CONTROL
At GROHE we strive to provide the most convenient products possible to help facilitate our customers' day to day lives. This is why our new Rainshower 310 SmartConnect comes with a water-resistant wireless remote control for a digital upgrade and more comfort when showering. Instead of having to reach up to the head shower to change the spray, you simply press a button on the remote control, saving you from tired arms and water spraying in your eyes. What's great about the remote control is that you can choose where to place it (within 10m of the shower) depending on what is the most convenient height for the household. It can simply be glued on the wall if you don't want to drill any holes. Running on three AAA batteries (plus a button cell battery in the remote control), you and your whole family should be able to take remote-controlled showers for around four years (for a four-person household) before the batteries need changing.
The two luxurious spray patterns offered by the Rainshower 310 SmartConnect include:
GROHE PureRain spray for a soft and refreshing shower.
GROHE ActiveRain spray for more power to rinse out shampoo and to offer a stimulating head, neck, and back massage.
GROHE PureRain spray is the default spray, but it's possible to change the settings so you can begin your shower with the GROHE ActiveRain spray. Press down on the corresponding button for 3 seconds and simply wait for the LED light to blink to confirm that the change was successful. If you can't decide between the two spray options, why not combine the two so you have the perfect spray depending on your mood?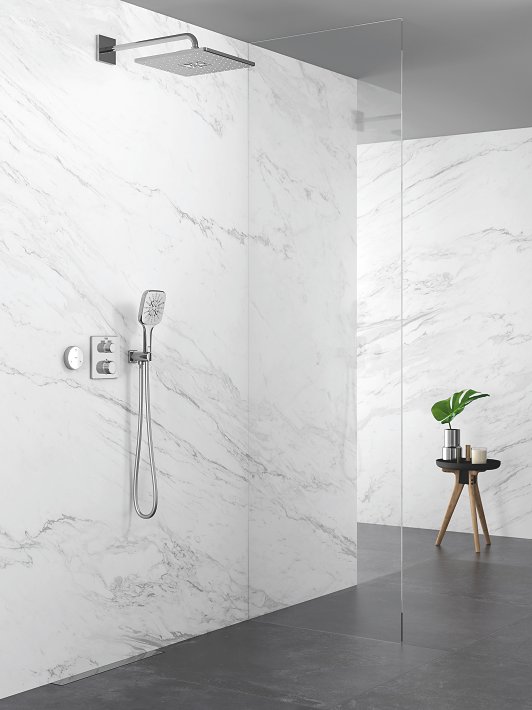 ADDITIONAL RAINSHOWER 310 SMARTCONNECT FEATURES
If you opt for the GROHE Rainshower 310 SmartConnect, you not only receive a state-of-the-art head shower that has won multiple awards for innovative design that adds a digital touch to your shower experience, but also a whole heap of further features, such as:
Anti-theft protection: It's possible to add a grub screw to the bottom of the remote control to prevent it being stolen.
GROHE EcoJoy 9.5 l/min flow limiter: This feature significantly reduces water consumption, enabling you to shower in a more sustainable way without reducing performance.
GROHE DreamSpray perfect spray pattern: GROHE DreamSpray® Technology ensures that the shower head delivers utmost precision and consistent water distribution to each individual nozzle.
SpeedClean anti-lime system: The integrated anti-lime system makes light work of cleaning the shower head nozzles. Simply wipe off any limescale that builds up with your finger.
Inner WaterGuide: This feature ensures a longer life for your shower's finish and channels hot water away from surfaces to make the shower touch-safe for the whole family.
UPGRADE TO MORE SHOWER ENJOYMENT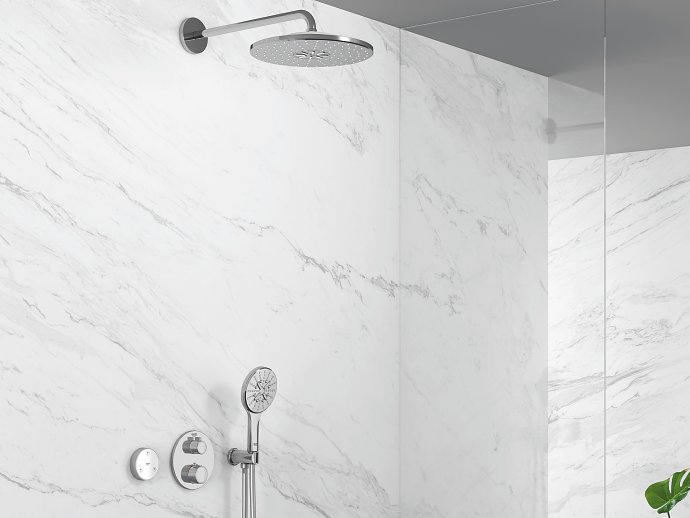 2 LUXURIOUS SPRAY PATTERNS
The soft GROHE PureRain Spray and the powerful ActiveRain can be activated separately or in combination.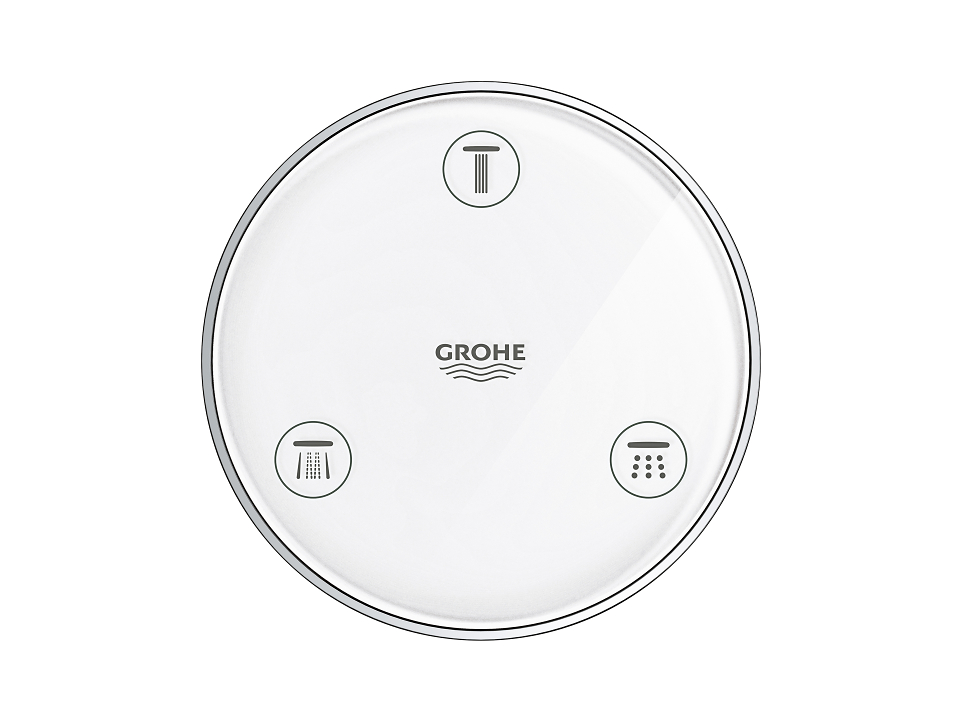 IDEAL FOR RETROFITTING
The wireless remote control can be glued or screwed to the wall anywhere in the shower, no mains connection needed.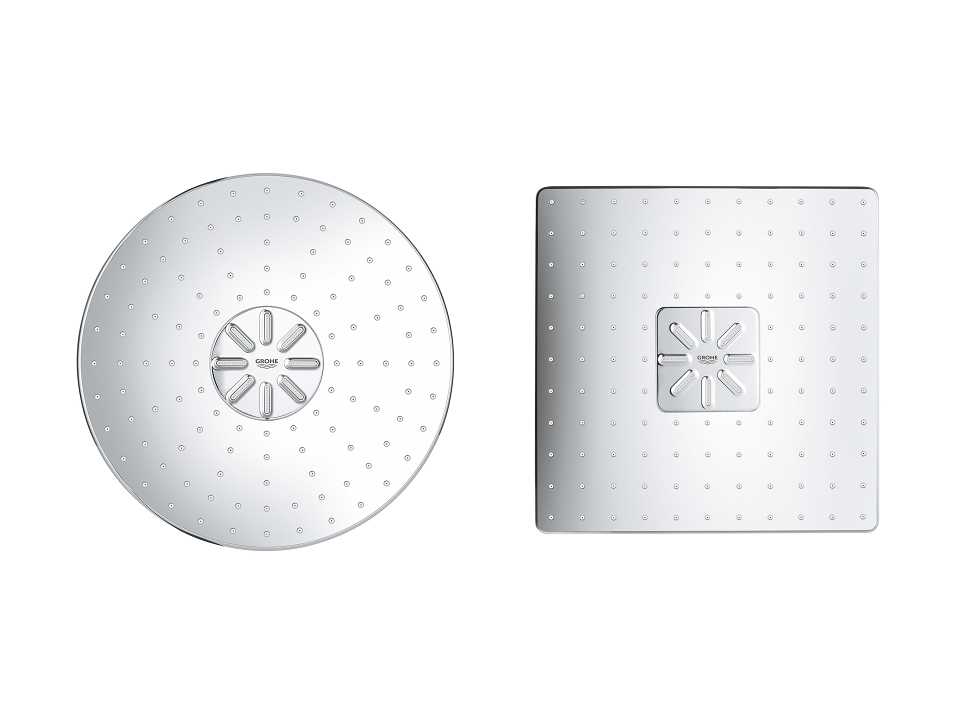 FROM ROUND TO SQUARE
Rainshower 310 SmartConnect head shower is available in two different shapes: ROUND and SQUARE to match your bathroom design.