Product Description
GROHE Rapid SL installation system for Sensia shower WCs – easy to fit, with low-noise flush and water-saving technology
Starting with a flexible hassle-free installation, this Rapid SL installation system optimized for GROHE's Sensia Arena shower toilets* was designed for maximum comfort in your bathroom. With the cutting edge GROHE Sensia WCs that perfectly combine the functions of a toilet and a bidet, you will discover a new level of comfort and hygiene. Thanks to GROHE QuickFix, the installation in front of a solid wall or inside a stud wall is swift, requiring no tools to connect hose and inspection shaft. Tested and certified to hold over 400kg, the powder-coated steel frame provides perfect stability and safety for your home. With a wall-hung toilet and an in-wall tank, cleaning your bathroom will be a breeze. Engineered with low-noise fittings and decoupled piping, the GROHE Whisper technology reduces noise transmission to adjoining rooms. The GROHE EcoJoy dual flush system will reduce your water consumption by up to 50% – saving water and money. GROHE Sensia shower toilets will revolutionize your daily bathroom routines. Combined with this installation system and the GROHE flush plate of your choice, they will be a perfect match for any bathroom interior. Please note that for mounting the small flush plate the GROHE revision shaft (40911000) has to be purchased separately. For a seamless look also check out GROHE's wide range of coordinated bathroom collections – including taps, showers, accessories and ceramics! * This installation system is also compatible with shower toilets produced by other manufacturers.
with flushing cistern GD 2 , 6 l - 9 l
with connections for GROHE Sensia
shower toilets (GROHE Sensia IGS/GROHE Sensia Arena)
for on-the-wall installations or studded walls
powder coated steel frame, self-supporting
with fixed connections
TÜV approved
2 WC fixing bolts
fixing device for ceramic
distance of fixing bolts 180/230 mm
PP outlet bend Ø 90 mm
depth adjustable
reducer Ø 90/110 mm
inlet and outlet connecting set
flushing cistern GD 2, 6 - 9 l, containing following features:
water supply required from the back
½" water supply connection including integrated
angle valve and push fit flexible hose union
inspection shaft for vertical or horizontal use
allows for flush plate to be installed vertically or horizontally.
including wall brackets 38 558 00M for on-the-wall installation
universal water connection for shower toilets Sensia Arena and Sensia IGS
concealed socket for mains supply
positioning help for electrical connection
for mounting of small flush plates please order
revision shaft 40 911 000 (sold separately)
Technical Information
CAD Data
Spare Parts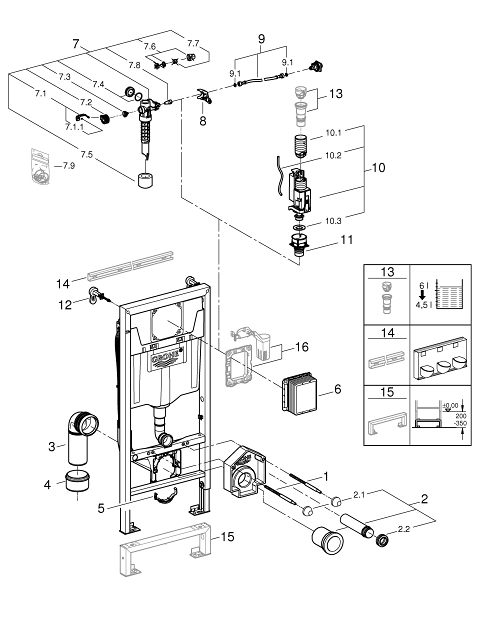 Pos.-nr.
Prod. description
Order-nr.
* Optional accessories

1

Threaded bolt

4276400M

2

WC inlet and outlet connecting set

37311K00

2.1

Basin fastening

43511SH0

2.2

Connector

37119000

3

PP-outlet bend Ø 90 mm

42327000

4

Reducer

42242000

5

Support for outlet bend

42243000

6

Inspection shaft

66791000

7

Filling valve

37095000

7.1

Lever

43734000

7.1.1

Seal

4377000M

7.2

Valve head

43536000

7.3

Membrane

4375800M

7.4

Screw cap

43735000

7.5

Valve float, 5 pcs.

4379100M

7.6

Dummy plug and escutcheon cap

37125000

7.7

Compression nut

43258000

7.8

Throttle

42356000

7.9

Set of seals

43722000*

8

Support device

42246000

9

Connecting hose

42233000

9.1

Sealing washer

0319100M

10

Dual Flush discharge valve AV1

42320000

10.1

Extension for overflow pipe

42313000

10.2

Pneumatic hose

42319000

10.3

Seal

42310000

11

Valve seat for GD2

42315000

12

Wall brackets

3855800M

13

4.5 l adapter for GD2

42333000*

14

Installation rail

37310000*

15

Extension

38629000*

16

Retrofit set

38796000*
Warranty Information
GROHE Guarantee
GROHE products are designed to be both visionary and innovative with quality always guaranteed. Purchasing GROHE products means your investment is perfectly balanced in terms of quality, technology and design with sustainable production.
The 10 years plus Manufacturer's Guarantee
GROHE shall grant guarantee services to the end consumer in accordance with the terms and conditions set forth below for all products supplied to the end customer under the GROHE brand, which are tagged as products to which the "Grohe 2 years plus Manufacturer's Guarantee" is applicable.