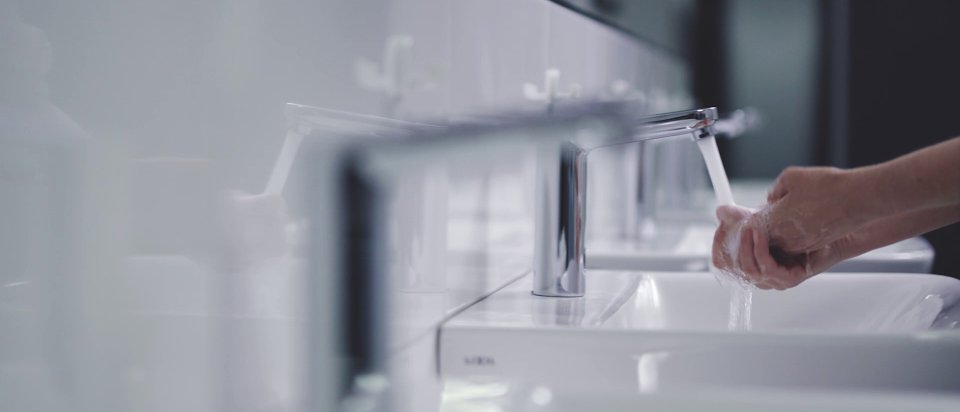 The future is touchless
For health, hygiene and reassurance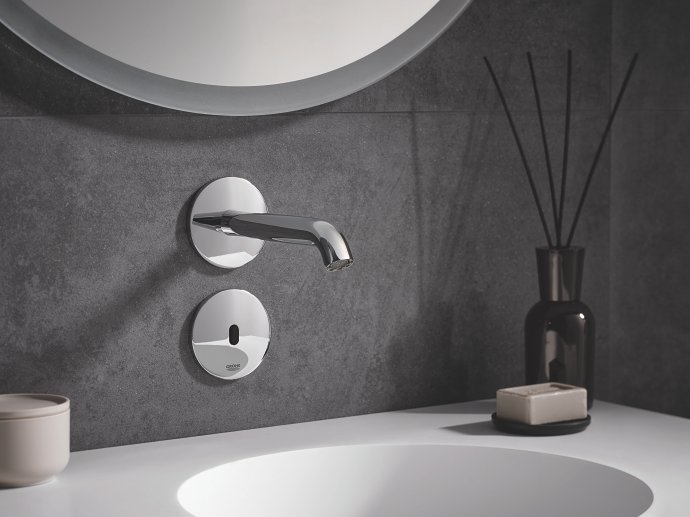 Why touchless for your projects?
Matters of hygiene and interaction have never been more important. In a world where we understand that a single touch can transmit germs, people are looking for touch-free solutions in both home and public settings. GROHE's large selection of infrared touch-free products for basins, WCs and urinals provide the ideal way to protect against germs and cross-contamination wherever we use running water.
Recent events may have made everyone more aware of the importance of hand hygiene but the benefits of touchless taps have been at the heart of GROHE's product range for many years. Our touch-free taps combine our technical expertise with infrared technology to offer precise, reliable and easy-to-use operation, accessible to everyone -young or old. Our products offer exceptional value, keeping water, energy and maintenance costs low. Our Powerbox taps even come with a self-generating power supply, ideal for settings with no or unreliable electricity. Whether it's a touch-free tap for your family bathroom or a complete installation package for a large public building, GROHE's touch-free range has the perfect, seamless solution.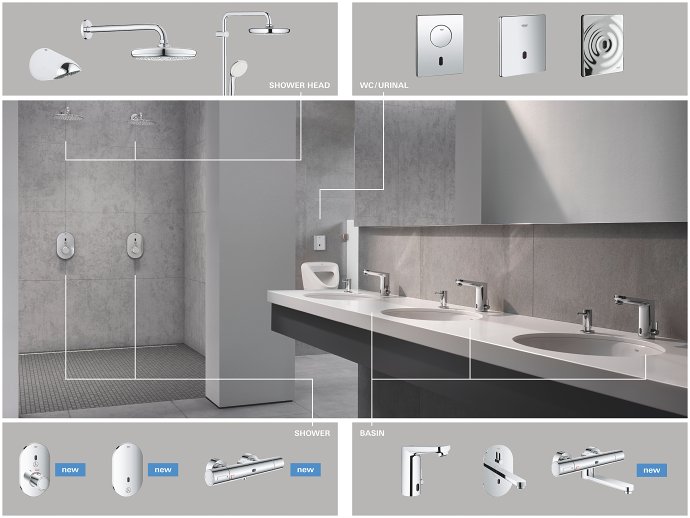 Reasons to choose GROHE touchless products
Private bathroom or public restroom? GROHE offers the same innovative touch-free technology and world-class design quality. Our infrared GROHE Eurosmart Cosmopolitan E range offers solutions for basins, showers, WCs and urinals with benefits like thermal disinfection and hygienic flushing bringing all the benefits of public bathroom-level tech to you. Whether you have a small domestic project, or are fitting out an office block, factory or stadium, GROHE touch-free solutions are here to help.
Touchless
hygiene
Hygienic hand-washing without touching the tap
Minimize transmission of germs
Automatic flushing to cut the risk of Legionella growth in periods when no water is used
Optimized inner water guide causes a significant reduction of dead space inside the tap, providing the perfect mixing ratio of hot and cold water and a minimized risk of microbial contamination
Thermal disinfection against germs such as Legionella
Sustainable and
easy-to-use
Touchless activation of the water flow with hand movement
Reliable and precise sensor technology
Automatic start-stop feature saves water as it ensures that water only flows when someone actually holds their hands under the spout
Plug-and-play installation
Installation and putting into service are straightforward – the tap is ready for use in a few minutes
Settings can be easily adjusted via remote control
Selected products with Bluetooth® can communicate with smartphones, making it easier to virtually control consumption data and set a variety of functions
Taps are available in both mains and battery operated models, with low-energy electronics ensuring a long service life of 7 years (with 150 operations per day) without changing the battery
Fit for the job
The GROHE touchless products are designed to make your installer's life easier too. Controls and settings have been designed for easy access. Activation, setting and control of all aspects of operation – from flow rates and running times to cleaning modes and setting multiple products – is intuitive to use. Everything has been engineered for easy servicing and exceptional durability, meaning all products come with a comprehensive five-year warranty.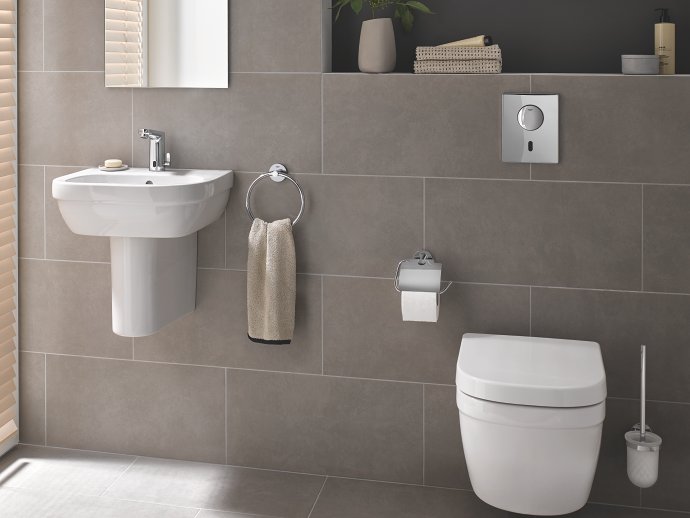 Private area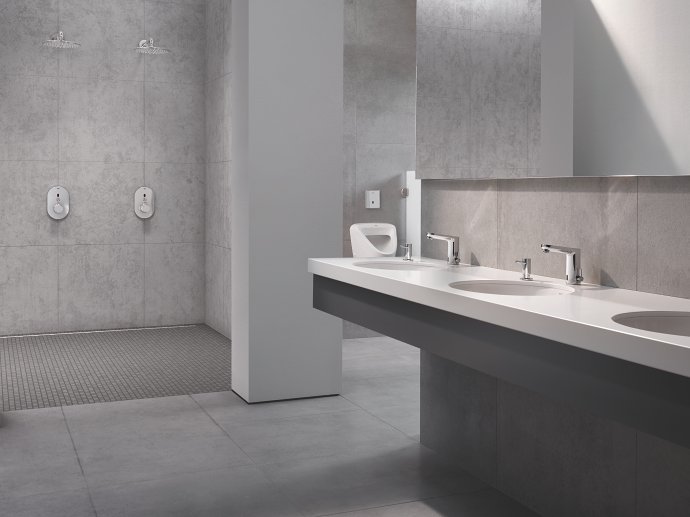 Public area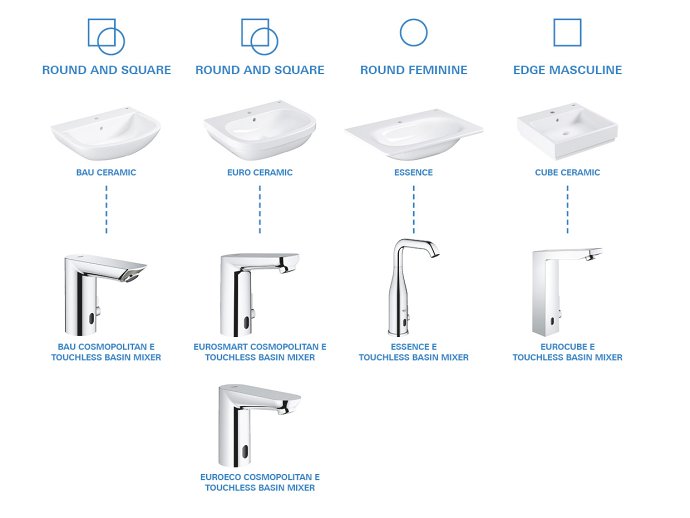 Full Bathroom with GROHE Electronics
GROHE's infrared technology isn't just for taps – we've got solutions for every point at which people interact with water, making it easy to create a seamless Full Bathroom design on any scale – from domestic to large-scale public. All united by GROHE's exemplary aesthetic and engineering standards, ensuring a consistent bathroom experience across all your facilities. Creating a single, seamless bathroom, from ceramics to taps, showers and flush plates for today's touch-free landscape is not just possible, but a pleasure with clean design and function. All GROHE's touchless products come in a range of designs, all typified by their sleek modern lines and easy-to-clean detailing, so you can be confident of finding just the right design for your project.
Safe design and hygienic cleaning
GROHE touch-free taps have been cleverly designed so that dead spaces in the tap are kept to a minimum to reduce the risk of bacteria such as Legionella from multiplying. These sensor taps are equipped with additional functions that offer even greater hygiene, including regular automatic rinsing to prevent stagnant water. A thermal disinfection mode and a cleaning mode, which temporarily deactivates the sensor for cleaning, can also be set. Also, as the tap is rarely touched, cleaning can be carried out less frequently than when using a conventional tap.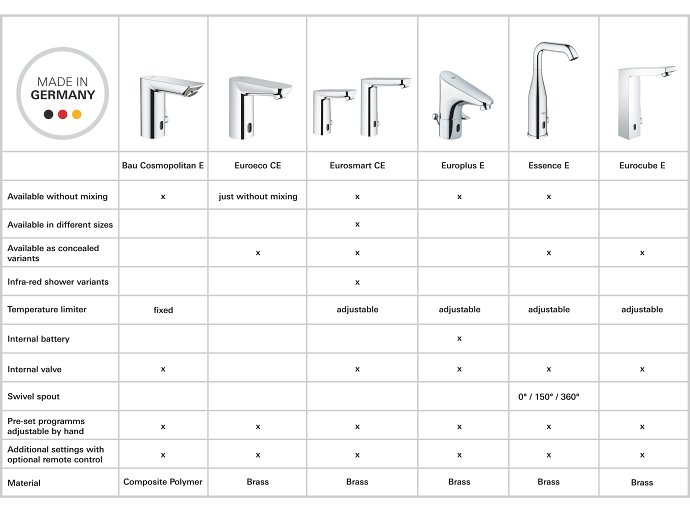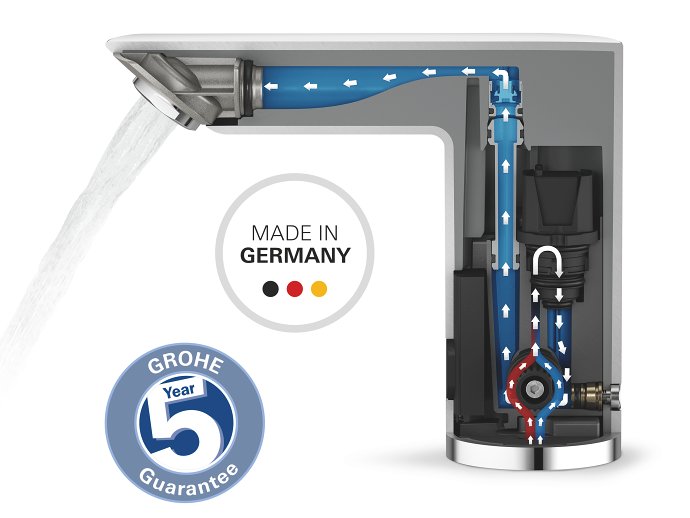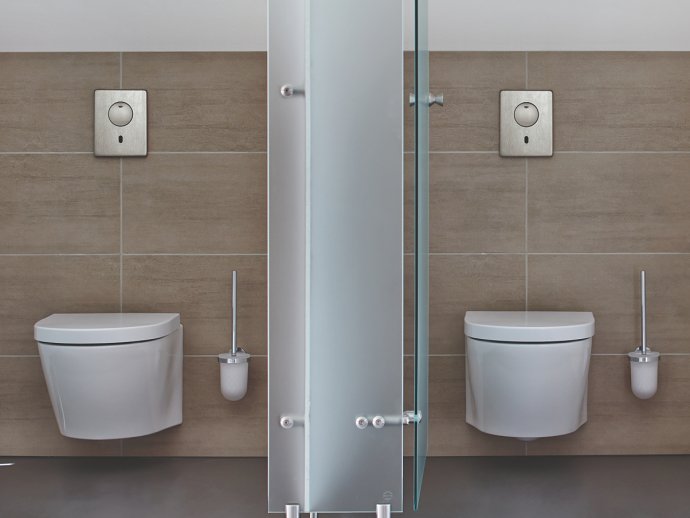 GROHE touchless flush plates for WC and urinal
Touchless activation and traditional flush at the touch of a button are combined in a unique GROHE WC plate. In normal operation, WC flushing is activated automatically through infrared electronics. The touchless technology is extremely hygienic, as no contact with the plate is required for activation. Users can also activate additional flushes at the touch of a button, if required. Manual single-flush works independently of a power supply, which means that it is functional at all times. GROHE EcoJoy technology guarantees economical and resource-conserving water consumption for flushing by using only the amount of water needed.
Become an expert for GROHE touchless products
The view on hygiene is fundamentally changing around the globe and professional guidance is needed now more than ever. Intelligent product solutions can play a key role in improving consumer health and safety - both in public and private bathrooms.
Learn more about this in the two extensive ETrainings offered on GROHE touchless products.