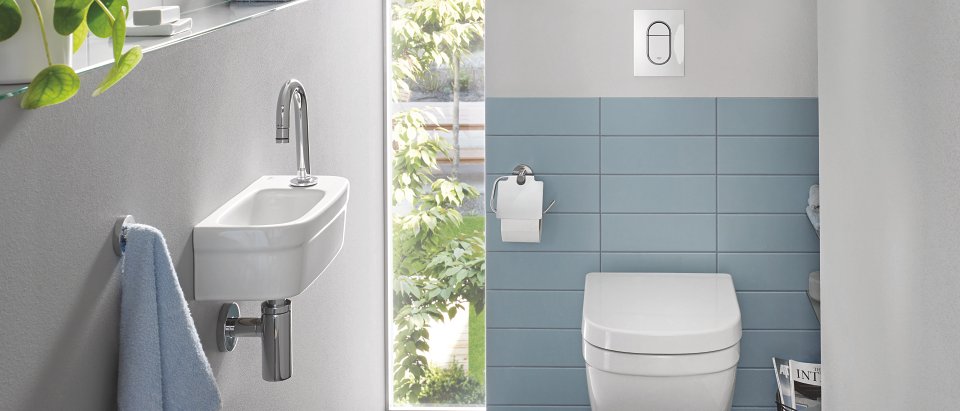 SMALL BATHROOM IDEAS FOR MAXIMUM STYLE WITH MINIMUM SPACE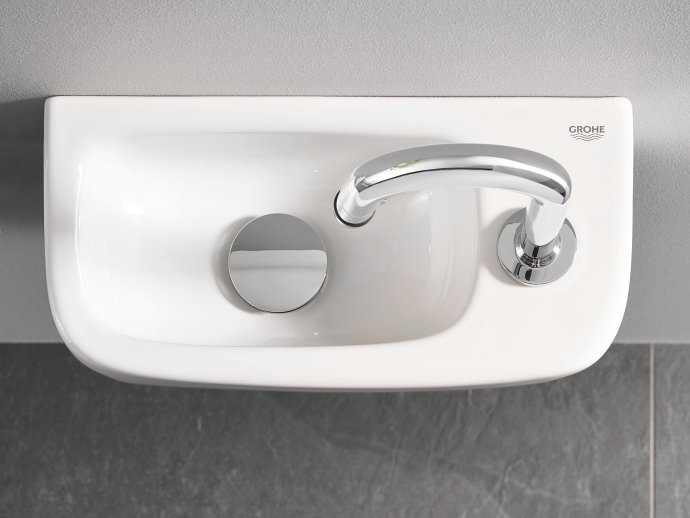 When it comes to bathrooms, bigger isn't always better. Although space is at a premium with smaller bathrooms, and you may not have room for luxuries such as a freestanding bath or a bidet, they can still pack a punch.
When you're fitting or remodelling a small bathroom, you have plenty of options to get the best out of your space and create a bathroom that is both stylish and functional. For example, simple yet clever decorative decisions, like an all-white colour scheme with plenty of lighting, can help a bathroom feel much more spacious.
Perhaps most importantly, however, is selecting space-saving bathroom fixtures and fittings. At GROHE, you'll find just that: smart solutions for small bathroom designs to help you create the bathroom of your dreams.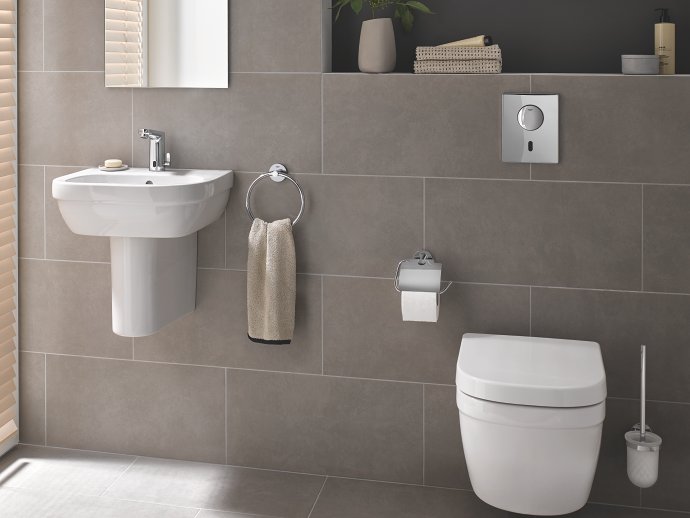 GROHE SPACE-SAVING SOLUTIONS FOR SMALL BATHROOM DESIGNS
With GROHE's bathroom solutions, compact no longer has to mean compromise. With our wide array of bathroom fittings, we provide you with a meaningful choice of styles and functionality to complement the space available to you. Whether you have a square bathroom, a narrower one, or even just a modest ensuite, you're sure to find viable options to make the best use of your space. Furthermore, you benefit from an attractive selection of materials and colors finishes, ensuring a truly individual small bathroom design.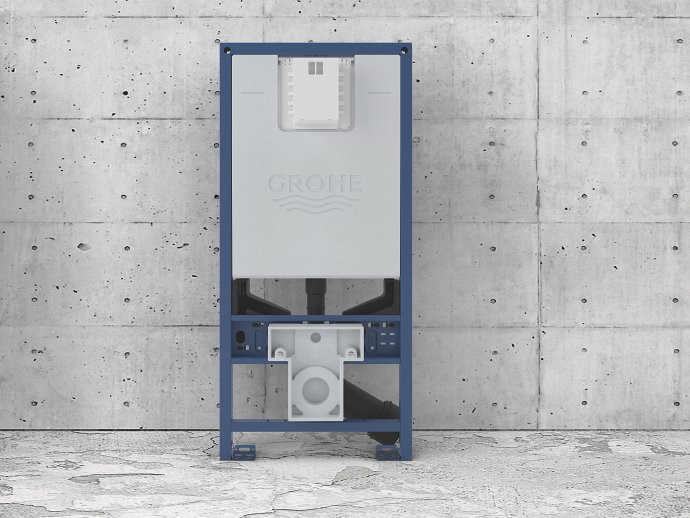 FIXING WALL-HUNG BASINS, BIDETS AND TOILETS
TOP TIP: Wall-hung fittings make your bathroom look larger and easier to clean.
Wall-hung sanitary ware is a perfect idea for small bathrooms. Choosing to fit a wall-hung toilet or sink, for example, helps make the space appear larger while also making it easier to clean the bathroom floor. With no awkward corners to attract dirt, these fittings allow you to keep your bathroom sparkling clean with ease.
Our shallow frames can be installed in studded walls and easily concealed. For example, GROHE Rapid SL frames come in a choice of four heights: 82cm, 100cm and 113cm. The smaller model is ideal if you need to locate the WC below a window.
Additionally, toilet flush button does not need to be attached directly to the cistern. This way, you can position it in the most convenient place for your bathroom. Toilet flushing can be activated electronically or manually via a wide choice of GROHE flush actuation plates, or pneumatically with an Air Button.
SANITARY INSTALLATION FRAMES FOR CORNER SPACES
When it comes to effective small bathroom design, making the most of corners is a priority. A corner installation set is available for our GROHE Rapid SL basin, bidet and WC frames enabling you to exploit the available space in your bathroom to the fullest.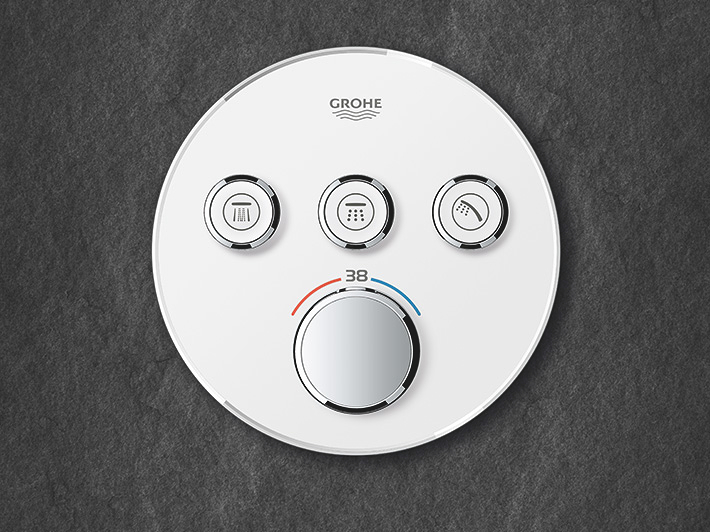 CONCEALED TAPS & THERMOSTATS
GROHE tap collections include a choice of concealed fittings for the basin, bath and shower. Wall-mounted taps paired with a concealed body, like the Eurosmart Cosmopolitan 2-hole Basin Mixer S-Size, are ideal for use with small vessel basins and save a great deal of space.
GROHE tap collections are ideal for use with small vessel basins and save a great deal of space. These also include a choice of concealed fittings for the bath and shower, like the Eurosmart Cosmopolitan 2-hole Basin Mixer S-Size.
Give yourself some more elbow room in the shower! Our range features plenty of concealed fitting options for shower thermostats, which don't encroach on the showering area due to their shallow profiles. GROHE SmartControl Concealedcombines this sleek, space-saving design with precise temperature controls for a superior shower experience.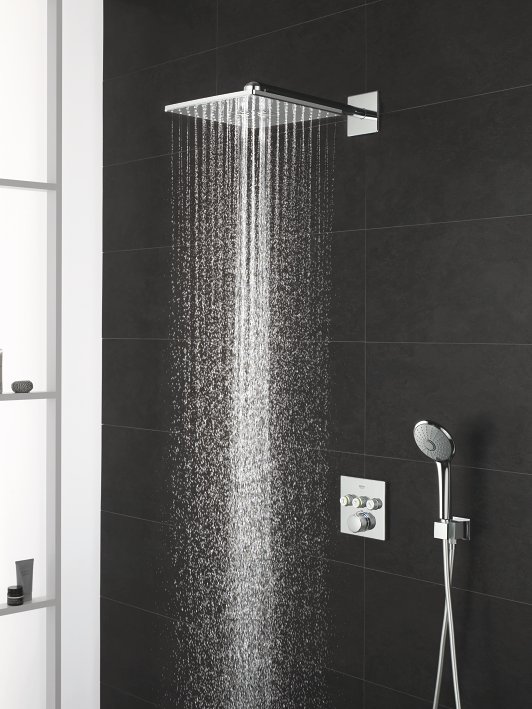 SHOWERS FOR SMALL BATHROOM IDEAS
Added functionality to enhance the user experience is what sets GROHE apart from our competitors, and our solutions for showers in small bathrooms are no different.
The shower arm on mostly all GROHE shower systems can be rotated 180˚, so even if the location of the hot and cold-water outlets means you have to place the system close to the corner of the shower, the head can be moved into a comfortable position for showering. This makes them perfect for small bathroom remodelling and retrofit projects, where moving pipe work would increase the cost of the project.
You can also opt for one of our wall- or ceiling-mounted head showers, which can be fixed directly into the wall or flush mounted into the ceiling. This includes the Rainshower F-Series models, which not only save space, but also deliver three different luxurious spray patterns.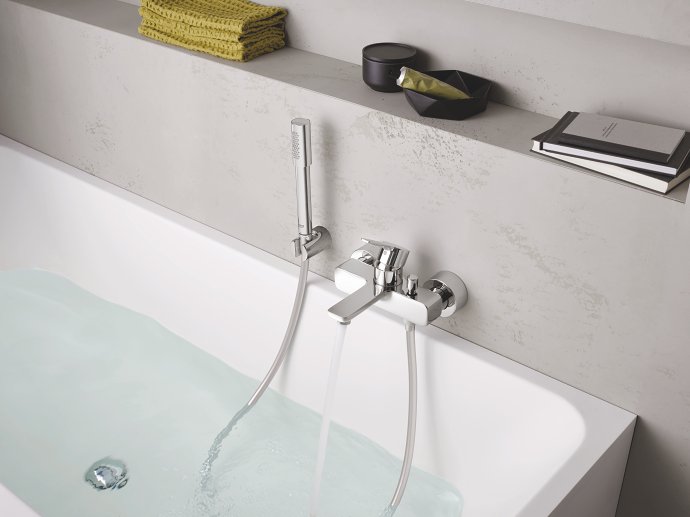 SMALL BATHROOM BATHTUB FITTINGS
You might assume that fitting a bathtub in a small bathroom is unrealistic without having to sacrifice another bathroom fitting, such as a shower. However, by combining your bath and shower, you may find you can enjoy the best of both worlds – the slow-paced relaxation of baths and the quick convenience of showers. The GROHE single-lever bath/shower mixer solutions are ideal for this purpose, combining a bath filler spout and shower hose attachment for increased flexibility.
In addition, this product is available in several different design styles, including Veris, Eurosmart, and Allure. For example, the Veris Single-Lever Bath/Shower Mixer ½" features an automatic diverter between the bath and shower function, flat wall installation, and comes in a dazzling StarLight chrome finish.