BATHTUB TAPS FOR YOUR PERFECT BATHROOM
The look of every bathroom begins with its bathtub. The right bathtub and bathtub tap fixtures can lend your bathroom an air of elegance and luxury, effortlessly. The sleek designs of GROHE's bathtub taps will help transform your bathroom into a space for ultimate relaxation and wellness, adding balance and harmony to this important space in your home.
BATHTUB TAPS AND MIXERS THAT DO MORE THAN FILL A BATH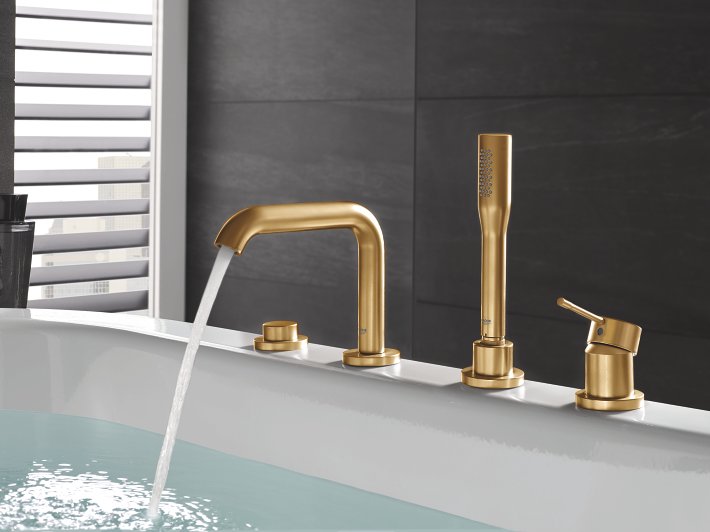 Our focus is on designing fixtures for your bathtub, whether taps or mixers, which are more than just aesthetic pieces for your bathroom. By combining innovative technology with design principles that have stood the test of time, GROHE products are made to last and use the highest quality materials.
GROHE's innovations work to provide you with an enjoyable and hassle-free bathroom experience. Precisely controlling the water flow and temperature from the bathtub tap using our single-lever options is simple with GROHE SilkMove, which incorporates Teflon® technology for friction-free performance. With GROHE Starlight, you can rest assured that the finish you fall in love with remains for many years to come. The GROHE QuickFix makes installing your new GROHE tap simple.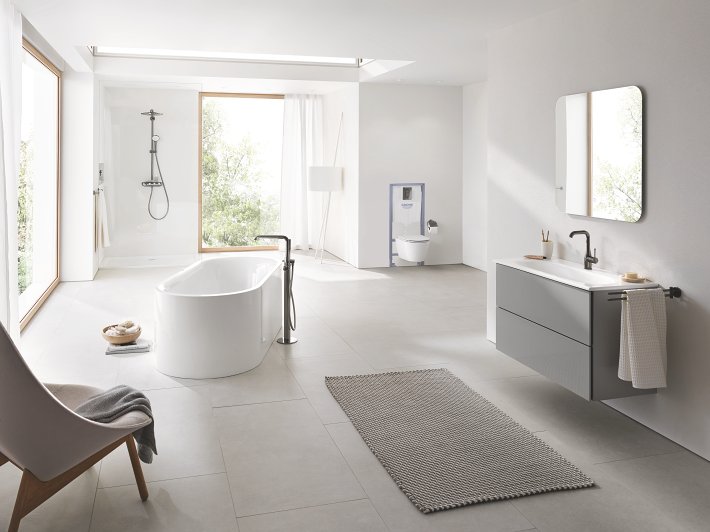 The innovations behind GROHE's thermostats take your bathtub mixer to another level. GROHE TurboStat technology is extremely sensitive and allows you to set the water temperature super quickly thanks to its use of the most advanced and precision-made cartridges in the industry. It also ensure that the temperature is kept constant throughout your entire shower. Not only does this add tremendously to your bath and shower experience, it saves water too, since you won't need to waste any time fiddling about and trying to adjust to the desired temperature. This is then coupled with GROHE CoolTouch technology, which prevents the surface of the thermostatic mixer from reaching a temperature warmer than the desired water temperature. This is achieved with a channel of cold water beneath the surface. The SafeStop button prevents children from setting the water temperature to warmer than 38°C. Such technology keeps you and your family safe from accidentally burning themselves by touching the thermostat.
COLOURS AND STYLES TO MATCH ANY DESIGN SCHEME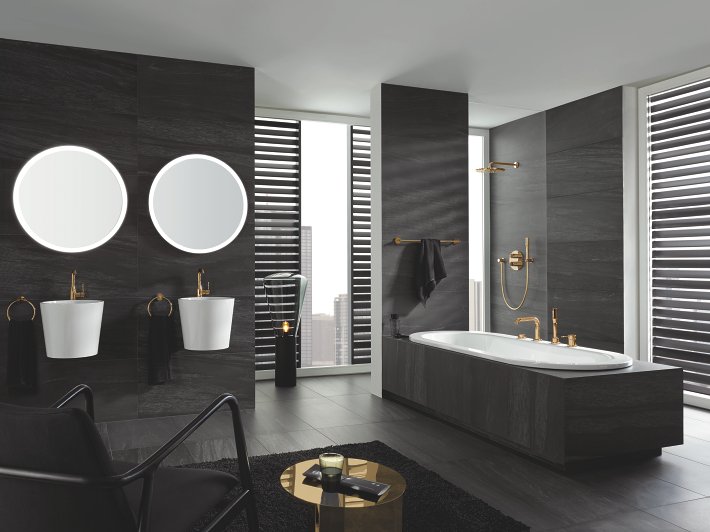 GROHE's wide range of colours and styles of bathtub mixers allows you to find the perfect fixtures to accompany your bathroom's design scheme. Whichever style you choose, the tap is sure to enhance the space, helping you place your personal signature on your bathroom's look and feel.
All GROHE Colours and finishes have been curated to follow the principle of design permanence, ensuring that the look you choose will remain appealing for years to come. The quality of the GROHE Starlight finish stems from our use of the physical vapour deposition (PVD) process, which enhances the hardness and scratch resistance of the colour, meaning you'll be able to enjoy the look of your GROHE fixtures not just in the moment, but ten or twenty years from now. To clean, simply wipe with a soft cloth and the fixture will be back to its gleaming self in no time. Maintaining your bathtub tap and fixtures has never been easier.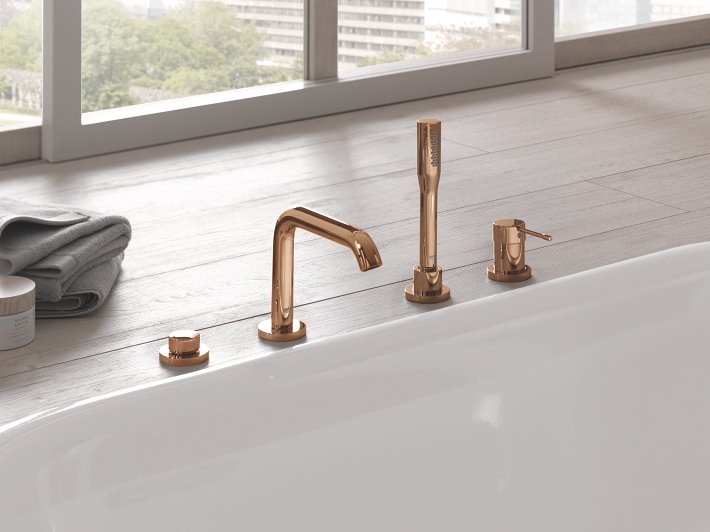 GROHE bathtub mixers are arranged into three design styles to help narrow down your decision: Cosmopolitan, Contemporary, and Authentic. Cosmopolitan lines follow a refined, minimalist aesthetic and modern design. Contemporary styles enjoy softer lines, creating a welcoming, comfortable space. The look of Authentic taps draws from classic architecture and provides a nostalgic atmosphere with decorative accents.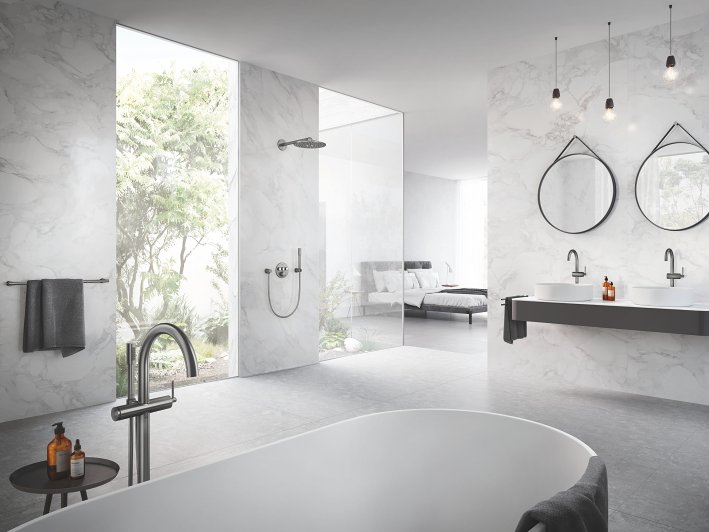 BATHTUB TAP INSTALLATION OPTIONS TO SUIT ANY BATHROOM
The styles offered in GROHE's wide selection enjoy a variety of installation types as well. Deck-mounted combinations are mounted on the rim of the bathtub or on tiles surrounding the bathtub. With this type of installation, the spout reaches over the rim of the bath, making for an elegant look. Options include three- to five-hole versions and a handshower combination to suit your bath needs. Bath shower mixers, usually mounted to the wall, make it easy to shower in the bath. These mixers can be exposed as well as concealed, or flush with the wall for a sleeker design.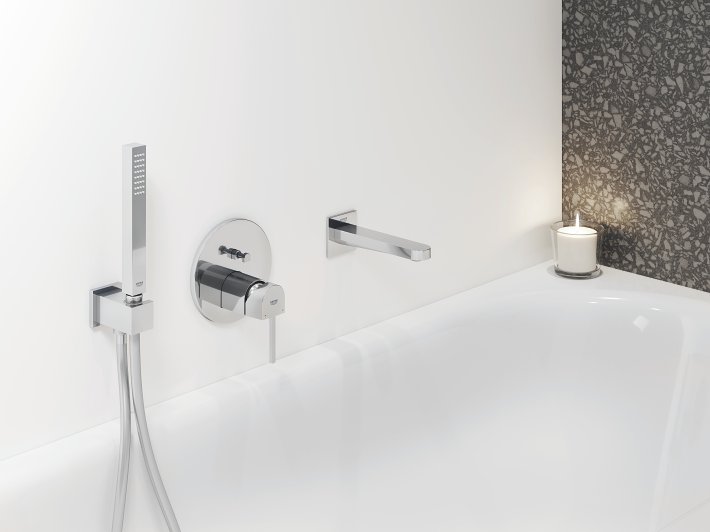 For bathrooms with freestanding bathtubs, GROHE's freestanding bathtub taps with floor-mounted installation provide an excellent match, finishing off the bathtub as a luxurious statement piece. Finally, integrated bath fillers like the GROHE Talentofill function as a tap inlet, overflow, and waste-system all in one, providing you with a minimalist design for the ultimate bathing experience.
Although the selection of bathtub mixer taps and bath shower mixers offered by GROHE is vast, all models have one thing in common: designed with care and backed by German engineering, they are sure to fill your bathroom with a sense of elegant comfort for a lifetime. Explore our offerings here or find a showroom or installer in your area.