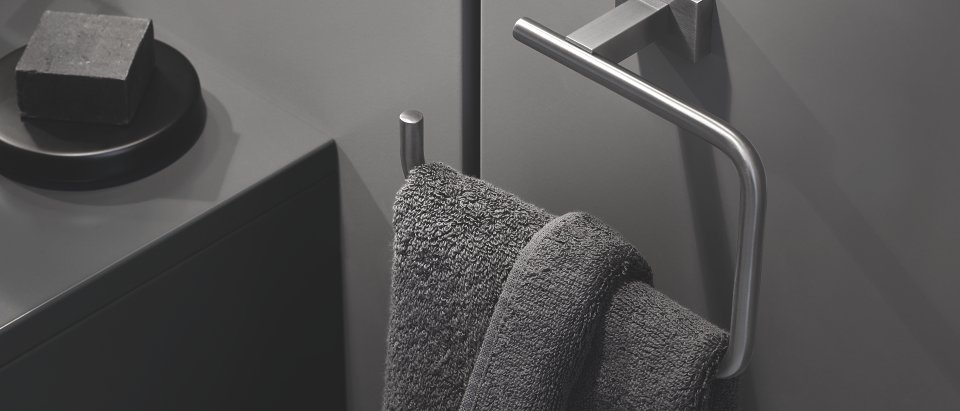 FIND THE PERFECT TOWEL RACK FOR YOUR BATHROOM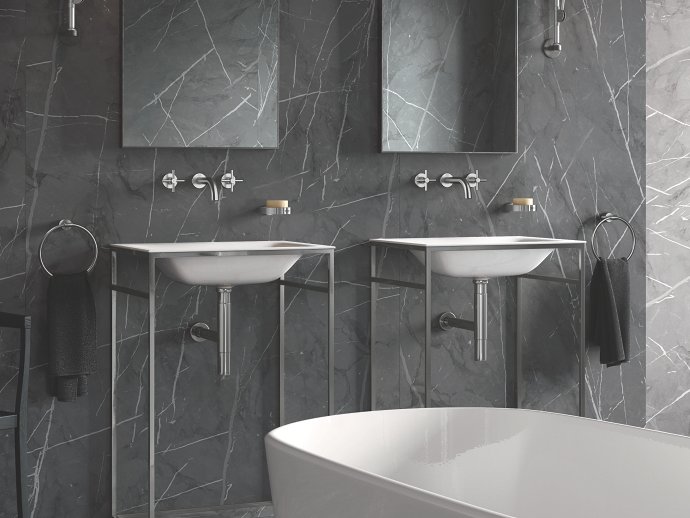 The humble towel rack: a bathroom accessory taken for granted and rarely given its due. Without one, finding a good place for our towels would be nearly impossible, not to mention that our bath towels would fail to dry properly. GROHE sees the towel rack as more than a purely functional object and understands the world of possibility behind this deceivingly simple everyday item. When a towel rack is designed to fit the aesthetics of your bathroom perfectly, it can transform into an ornament, elegantly adorning your bathroom walls.
GROHE features a wide array of towel rack designs, with different styles, finishes, sizes and functions. Carefully sculpted to be sleek and minimalistic, you're sure to find the perfect towel rack to fit the design scheme of your bathroom and the needs of you and your family.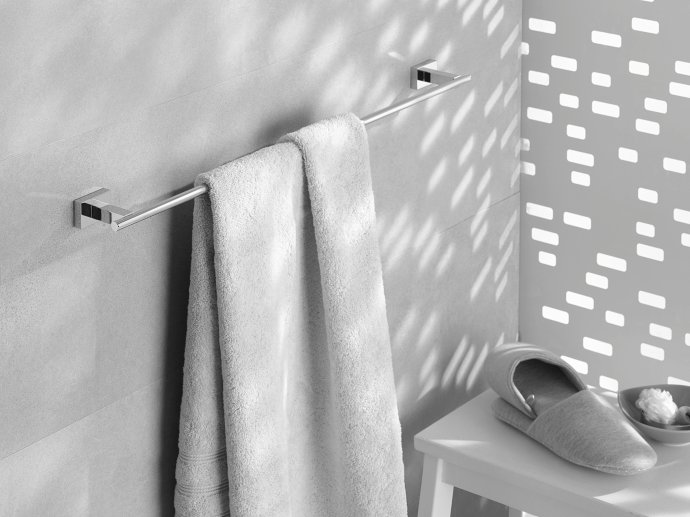 PLENTY OF TOWEL RACK OPTIONS TO CHOOSE FROM
In our bathrooms, we usually have multiple types of towels with different sizes and functions: a smaller hand towel next to the sink, larger towels for drying off after taking a shower, perhaps a mid-sized one for towel-drying our hair. That's why GROHE offers a wide variety of towel racks.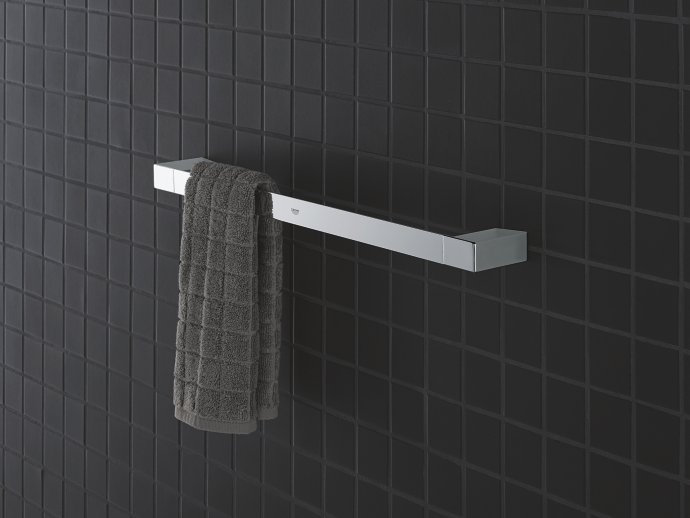 SELECT THE PERFECT SIZE
Because towels come in many sizes, so does GROHE's towel racks. From 250 mm for small hand towels to 600 mm to fit generously sized bath towels, and many sizes in between, finding the right ones for your bathroom is a sure thing. With such a range of options, it's also easy for you to mix and match towel racks of different sizes to create a cohesive and harmonious look in your bathroom.
BEAUTIFUL ARRAY OF COLOURS AND FINISHES
GROHE offers many different colour finishes as well. With matte, brushed, and shiny options, you can choose to make your towel rack blend in or stand out. A GROHE chrome towel rack like this Allure Towel Rail, for example, will beautifully reflect light all over your bathroom. In addition to beautiful colours, these products also benefit from the GROHE StarLight finish. This finishing technique involves a unique plating process, which ensures an immaculate and hard-wearing surface that will last for a long time to come.
A TOWEL RACK FOR ALL NEEDS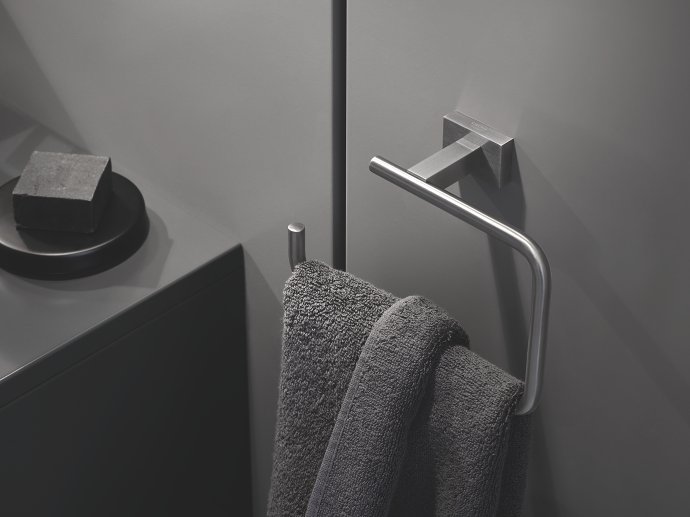 It should come as no surprise that GROHE's diverse range of towel racks is perfectly suited to take care of a wide variety of needs.
Small towel racks are great for having near the bathroom basin to hold hand towels, while larger models are better suited for holding bath towels. GROHE's range of models doesn't stop there, however. You can choose between towel rails with one bar (like this Essentials Tower Rail) or two bars (like this Essentials Double Towel Rail). Twice as many bars means twice as much space to hold your towels.
With GROHE's line of Multi Bath Towel Racks, you can get even more space. The top three bars can also function as a shelf upon which you can store folded towels, meaning a fresh towel is always within reach. The bar below makes it easy to hang the one currently in use.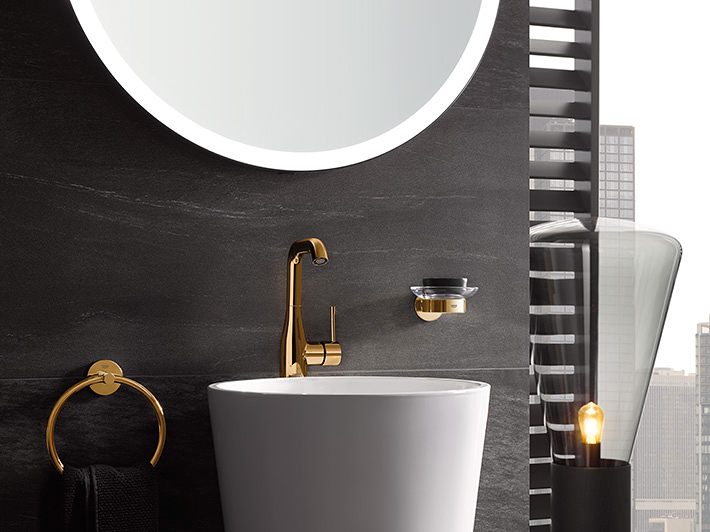 The Double Towel Bars included in GROHE's range feature arms that can swing for the ultimate in convenience and flexibility. Because these models are wall-mounted like the rest of GROHE's towel racks, you won't waste space as you would with a standing model. Wall-mounted towel racks also make it easier to keep your bathroom floor clean.
Of course, towel racks aren't the only way to hang up towels. Towel rings are another excellent option that can add some dimension to a sleek and modern bathroom, by incorporating further shapes into the design. Circular towel rings, like this BauCosmopolitan Towel Ring, can provide a chic softness, while models with cubic designs, like the Essentials Cube Towel Ring, will bring a minimalist and ultra-modern flare. GROHE also features models that incorporate rounded corners, like this Allure Towel Ring, and rounded edges, like this Grandera Towel Ring.
ACCESSORY SETS FOR A COHESIVE LOOK
GROHE's bathroom accessory sets offer a simple way to achieve bathroom designs that favour a more sleek, cohesive look. Each element matches perfectly, and each set can easily fit in with any bathroom. Aside from elegant towel racks, the accessory sets can also include robe hooks, toilet roll holders, and soap dishes, dispensers and crystal glasses with holders. Sets are made to suit master or guest bathrooms. With a GROHE bathroom accessories set, you'll have all the finishing touches you'll need for your perfect bathroom.
GROHE's many style options, from various colour finishes, sizes, and towel rack designs make it easy to find the towel racks that will suit your bathroom perfectly. GROHE towel racks do much more than simply hold your towels: they enhance the look and feel of your bathroom.