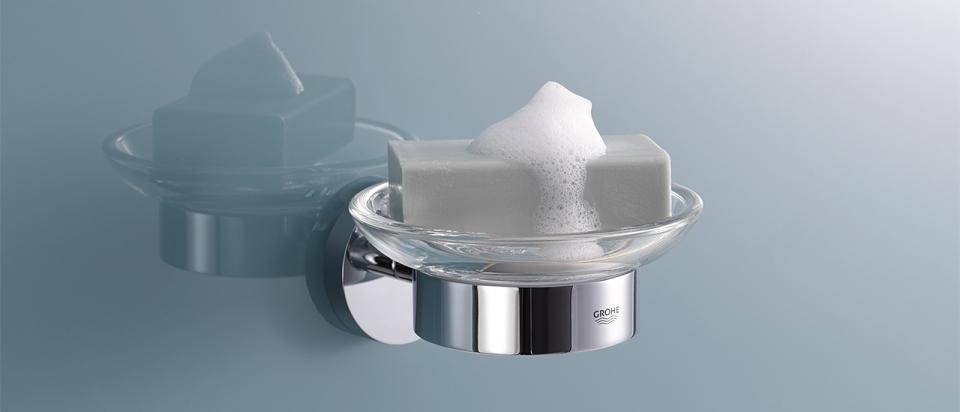 SOAP DISHES FOR EVERY BATHROOM
Soap is perhaps one of the bathroom's most essential toiletry accessories. Whether in the shower or by the sink, it won't go unnoticed if there isn't one to hand. For this reason, a soap dish is key to a furnished bathroom and should ideally be practical, durable, and pleasing to the eye. You might even want to match your soap dish to other bathroom accessories, so don't forget the glass, soap dispenser, toilet brush set, cosmetic mirror, and towel rails when you purchase your GROHE soap dish. However, you choose to style your space, picking the right soap dish can instantly improve your bathroom.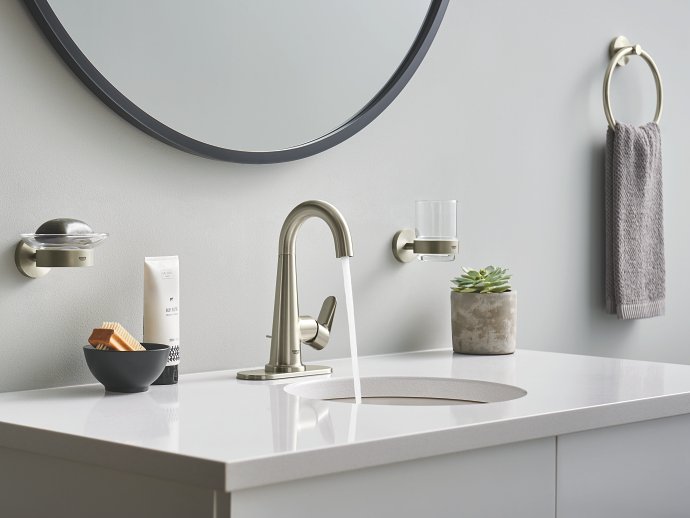 PRACTICAL DESIGN FOR A PLEASING BATHROOM EXPERIENCE
Slimy soap is never appealing, and yet opting not to wash your hands is even less so. Keeping your soap dry is possible with a well-designed soap dish – even if you opt for a small soap dish, you'll benefit from allowing it to dry. A simple soap dish with a holder such as the GROHE Essentials soap dish with holder has a curved shape to allow excess water to drain off the soap, extending the bar of soap's use by allowing it to dry.
Furthermore, this small soap dish can save you a lot of space. In fact, this is true of any GROHE soap dish. By creating a dedicated space for your soap, you'll clear the clutter around your sink, preventing the surfaces from becoming too slippery and the need for constant cleaning or wiping down.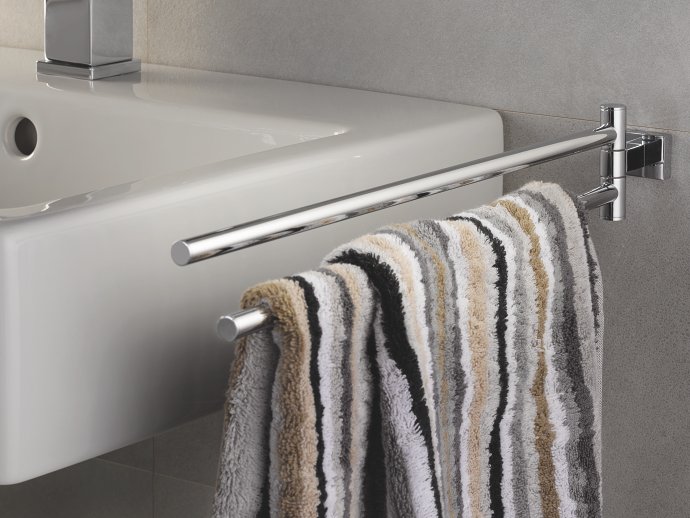 GROHE'S STARLIGHT FINISH FOR A LONG-LASTING, IMMACULATE ACCESSORY
Everyone is familiar with the marks that limescale, soap scum and even toothpaste can leave on bathroom fixtures, meaning that these fixtures often need to be cleaned frequently, which can lead to loss of shine. Thanks to the GROHE StarLight finish, GROHE's chrome soap dishes all feature a highly durable, long-lasting shine - this finish provides your soap dish with a dazzling, smooth exterior which polishes up to a beautiful shine after cleaning. Though GROHE's chrome soap dishes are each unique, they all share this one important feature. A product that is to be used every day should be highly durable to avoid its loss of shine from frequent cleaning.
Cleaning GROHE StarLight finished products is simple: all you need is a dry cloth to wipe down the surfaces to get them shining after everyday use. The shine isn't the only element protected in GROHE's fixtures, however, as the surfaces of GROHE StarLight products themselves are specially protected against wear and tear. GROHE StarLight products are scratch resistant meaning that your bathroom will look fresh for a long time to come.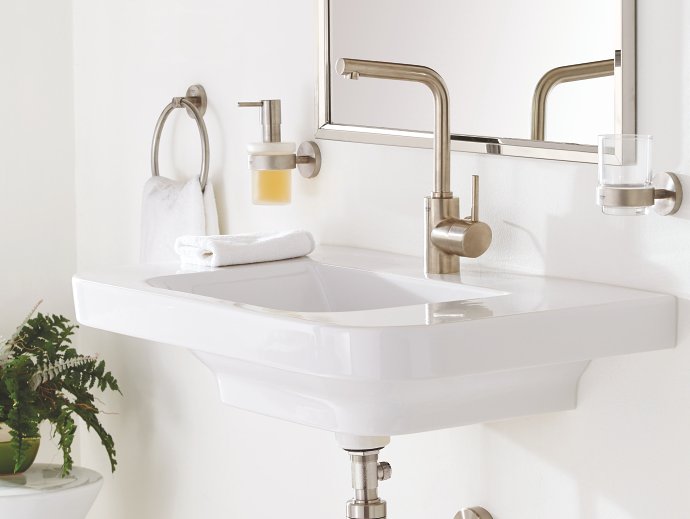 MANY DIFFERENT STYLES TO SUIT YOUR UNIQUE HOME
Whether you're looking to give your bathroom a sophisticated new style, or simply need to kit it out for the first time, you'll find a soap dish to suit your home at GROHE. There are several different styles of this bathroom accessory, and even the most essential lend a touch of class to your home. The GROHE Essentials Cube soap dish with holder is a simple and functional piece that doesn't compromise on style, helping to organise your space. It has a modern design with neat, crisp lines to create a soothing atmosphere in your bathroom.
A more luxe option is the Grandera Holder with ceramic soap dish, which combines classic ceramics with a modern chrome soap dish holder – of course with the StarLight finish. This soap dish holder has a concealed fastening, so your accessory looks sleek and fits in seamlessly with your bathroom. The combination between ceramic and chrome materials lend this soap dish a timelessly luxurious look.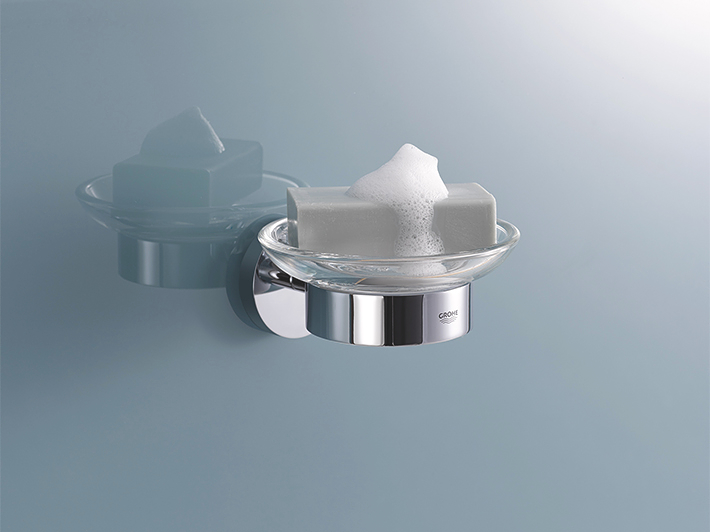 BENEFIT SUMMARY OF CHOOSING A GROHE SOAP DISH:
The soap dishes have been designed with everyday use in mind: Your soap will be kept dry and within easy reach.
The chrome soap dish holders have a GROHE StarLight finish, meaning that your product will have fewer scratches and be easy to clean. Not to mention they'll shine like a star!
The soap dishes and their holders come in many different styles so you can mix and match or stick to one style to kit out your bathroom.
The soap dishes can be easily fitted and have a concealed fitting for sleek installation.
Clearing the clutter by installing a soap dish means you'll have a more soothing bathroom experience.
EASY INSTALLATION FOR HASSLE FREE FITTING
If you're buying a soap dish to make your bathroom easier to use, the installation should not create a new issue in itself. The clear step-by-step instructions that come with every GROHE soap dish, means that you'll be able to install your dish easily and in the blink of an eye. Fitting your soap dish is as easy as 1-2-3 - it has never been easier to add a designer accessory to your bathroom.