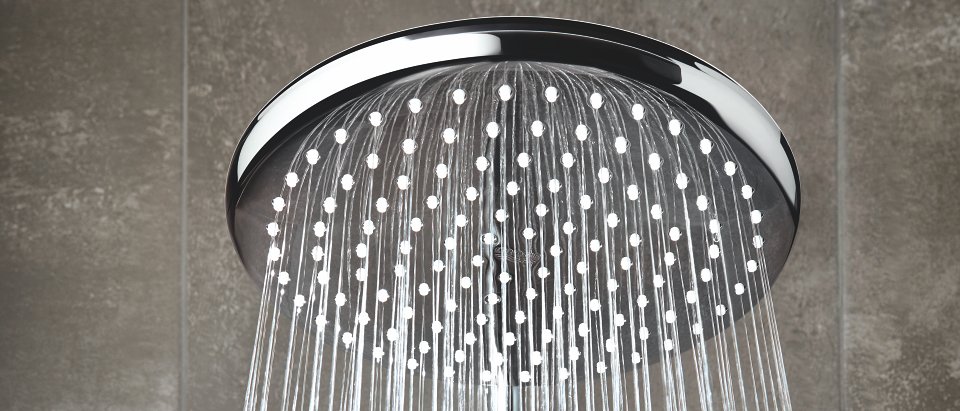 COMFORT AND VERSATILITY WITH TEMPESTA HEAD SHOWERS
Not only is a shower's aesthetic important, but also whether it fulfils your showering needs. This is why the head shower you choose is of the utmost importance. GROHE's range of head showers covers all avenues. For example, the Tempesta head shower range comes packed full of features and innovative technologies to make sure your shower experience is the best yet. And what's more, the range was created with every budget in mind, so you can enjoy the greatest performance and functionality without breaking the bank.
WHAT TO EXPECT FROM A TEMPESTA HEAD SHOWER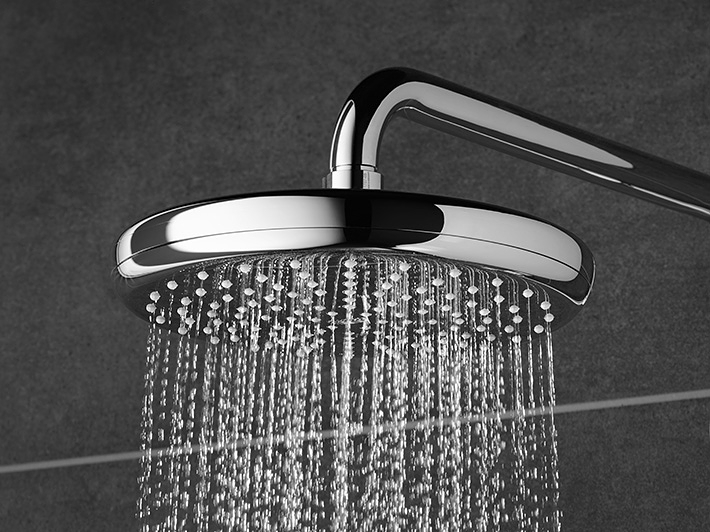 Not everybody has the same needs and that's why GROHE has made it possible for customers to buy the whole Tempesta shower system, a set consisting of just the shower arm and head shower, or simply purchase a Tempesta head shower separately in order to upgrade your existing shower. The head shower's universal connection makes it easy to install on all standard shower arms. You also have the option to decide if you would prefer a ceiling-mounted or wall-mounted model, depending on what fits your bathroom best. From the compact Tempesta Cosmopolitan 100 head shower boasting four spray patterns: GROHE Rain O², Rain, Massage, and Jet, to the slim-lined Tempesta 210 head shower with its contemporary design, to the award-winning Tempesta 250 head shower – there's a style to suit every taste and every bathroom aesthetic.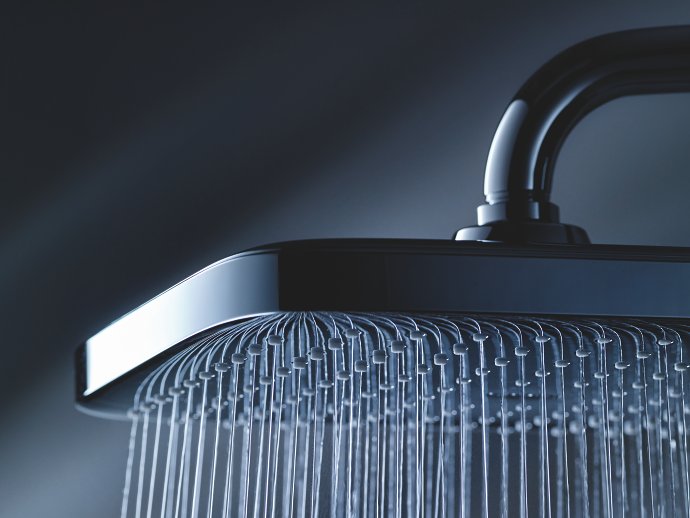 KEY FEATURES OF TEMPESTA HEAD SHOWERS
GROHE DreamSpray for utmost precision and consistent water distribution to each individual nozzle. For a perfectly balanced water distribution, all the while using less water and energy.
GROHE EcoJoy 9.5 l/min flow limiter, designed to save water and energy so that precious resources are conserved. You get the perfect showering experience without compromising on valuable resources.
GROHE Starlight finish means that surfaces are extremely resistant to dirt and scratches and their sparkle stays a lifetime.
SpeedClean nozzles are super easy to clean thanks to the integrated anti-limescale system. A simple wipe is all that is needed to remove any limescale residue from the flexible silicone nozzles.
Download PDF
THE INNOVATIVE TEMPESTA 250 HEAD SHOWER RANGE
GROHE's new Tempesta 250 range promises relaxation and revitalisation. After listening to its customers, GROHE has added and improved features for extra comfort and convenience. One of these new features is EcoJoy technology, a built-in technology that effortlessly saves up to 40% of water, while delivering all the features and performance you would expect from a GROHE shower.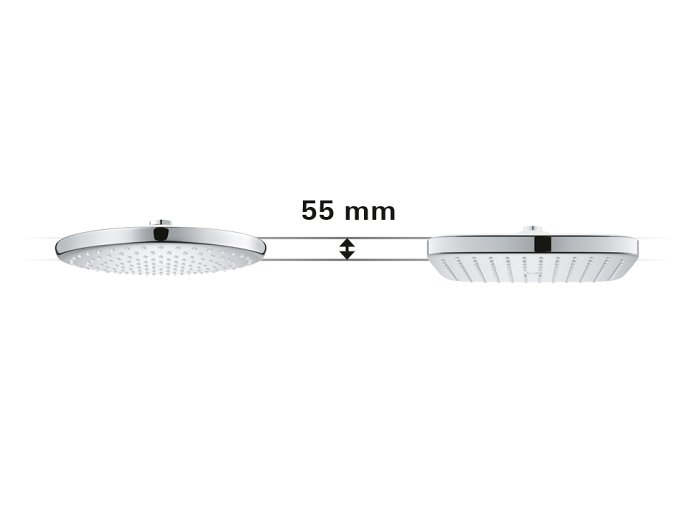 Tempesta 250 head showers are slim-lined at only 55 mm high and their minimalistic character means that they fit any modern bathroom. Where GROHE has saved on height, it's more than made up for on width. By extending the showerheads to 250 mm, the fuller coverage means you experience an even more authentic warm rain shower and lets you make the most of the Rain spray. Another advantage is that the head shower is attached with a ball joint, giving you +/- 10° rotatable flexibility when angling the head for better water coverage.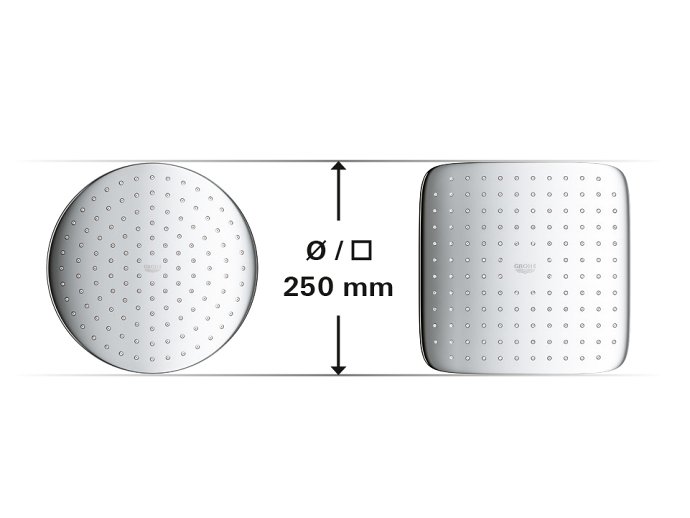 The Tempesta 250 round head shower is a ceiling-mounted model and consists of all the features that the Tempesta range is known for. GROHE has also introduced a new-shaped showerhead to join its usual round heads, and this can be seen in the Tempesta 250 cube head shower model with a square head. This particular model also differs from the aforementioned model in that it's wall-mounted, so decide before you buy which fitting would be more suitable for your bathroom. Of course, there is also the option of a round head for wall-mounted fixtures and a square head for the ceiling, so any combination goes. With so many different design and fitting options, one of the Tempesta 250 head showers is bound to be the one.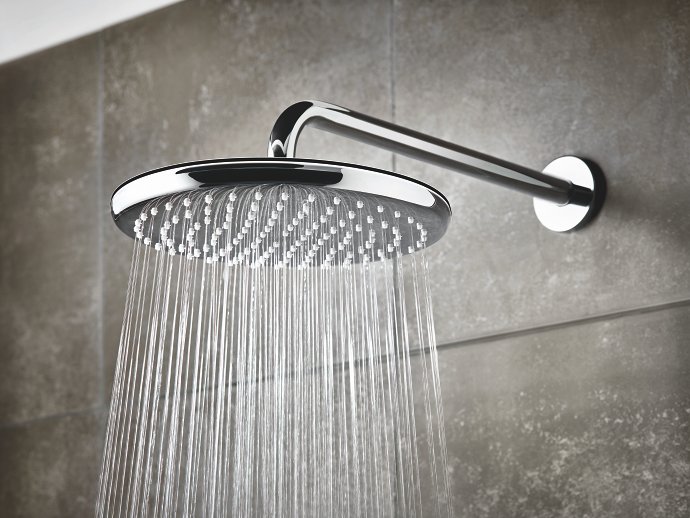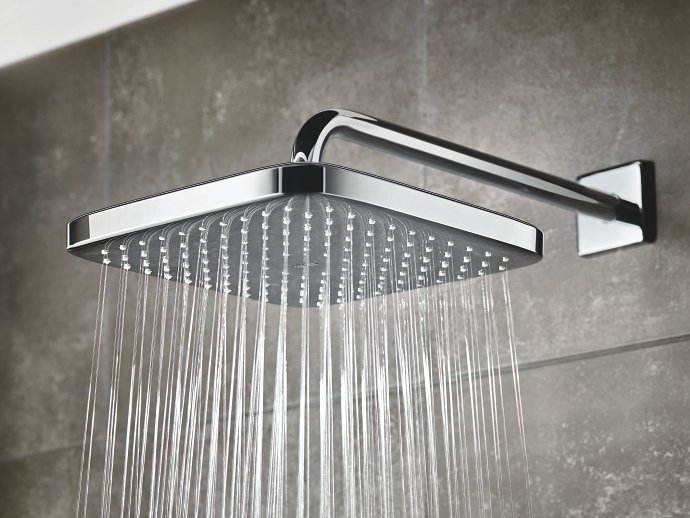 THE TEMPESTA 100 RANGE FOR EXTRA SPRAY PATTERN OPTIONS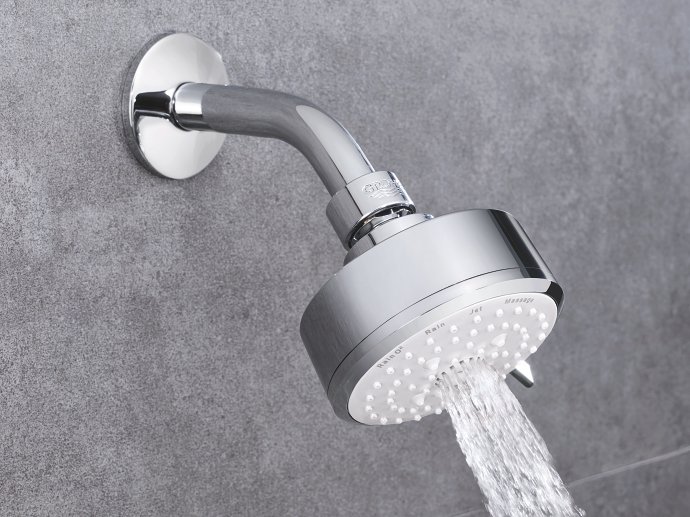 Each Tempesta 100 head shower offers four spray patterns so you can customise your shower experience depending on your mood. The Rain spray consists of a soft, delicate pattern to soothe the skin and be as calming as warm summer rain. The GROHE Rain O² spray is a wonderfully soft and smooth spray where air is mixed with the water to ensure every water drop is fuller. The Massage spray is a pulsating spray pattern that gets your senses buzzing with its stimulating massage, and the Jet spray is super powerful and great for stimulating the skin, awakening the senses and relaxing your muscles after sport.
Not only do you get the best value for money with a Tempesta head shower, you can also make use of GROHE's five-year guarantee. Give your bathroom the makeover it deserves and choose one of the innovative Tempesta head showers for a showering experience that can't be beaten. Comfort and joy for you, and sustainable and water saving for the environment.
GALLERY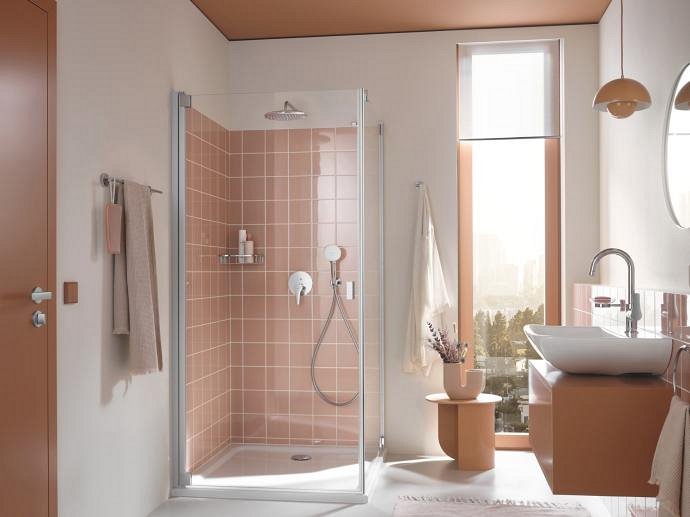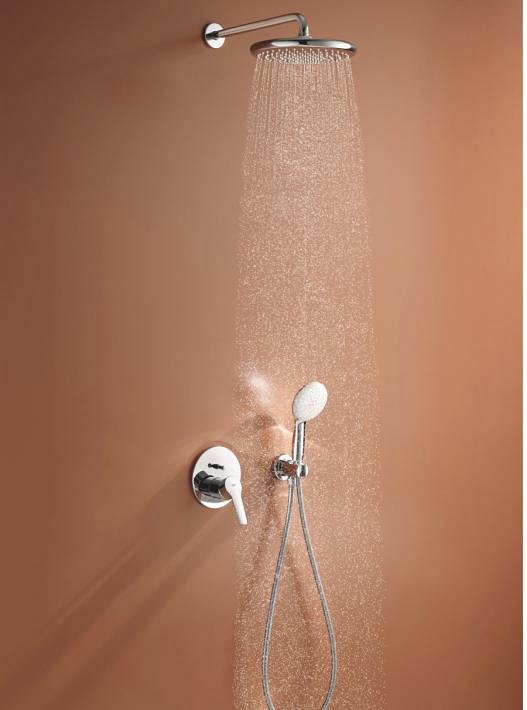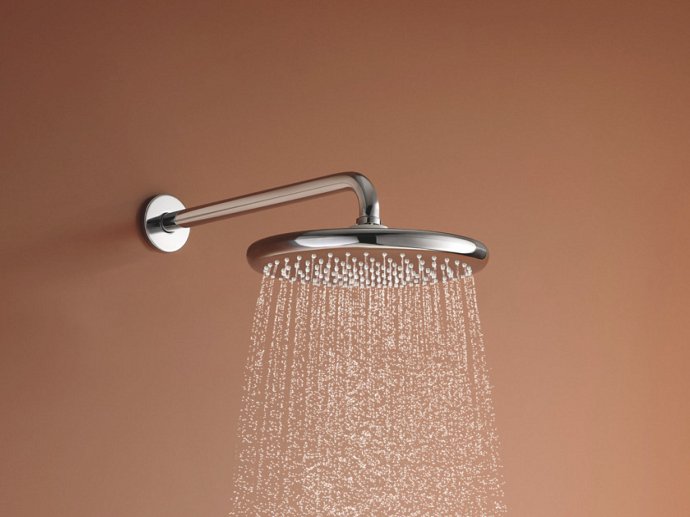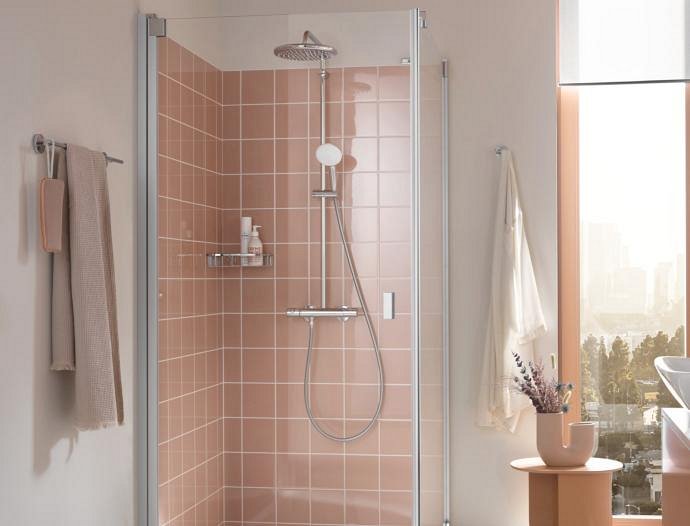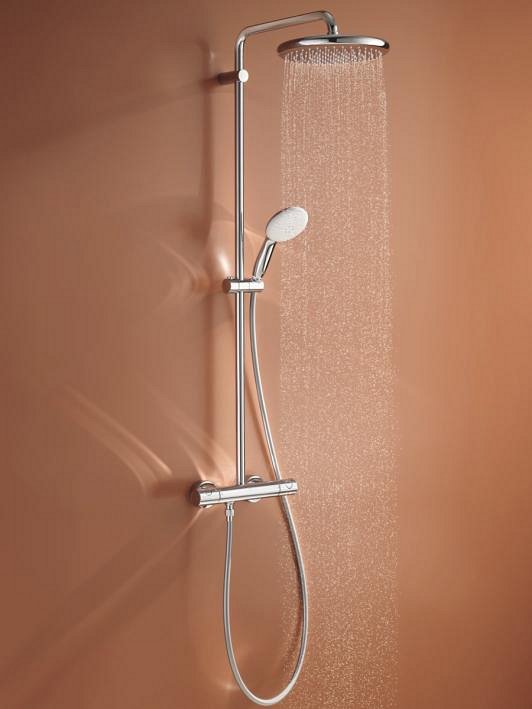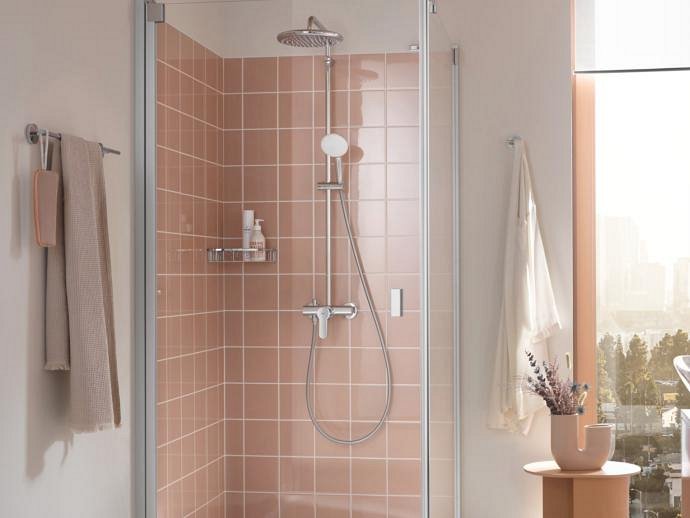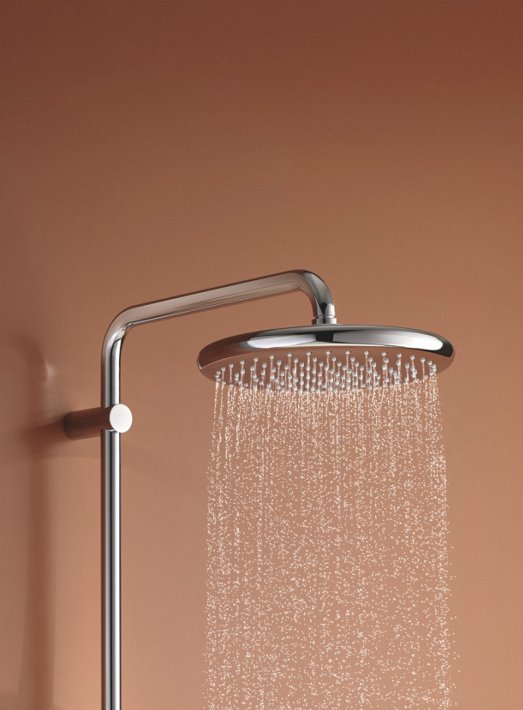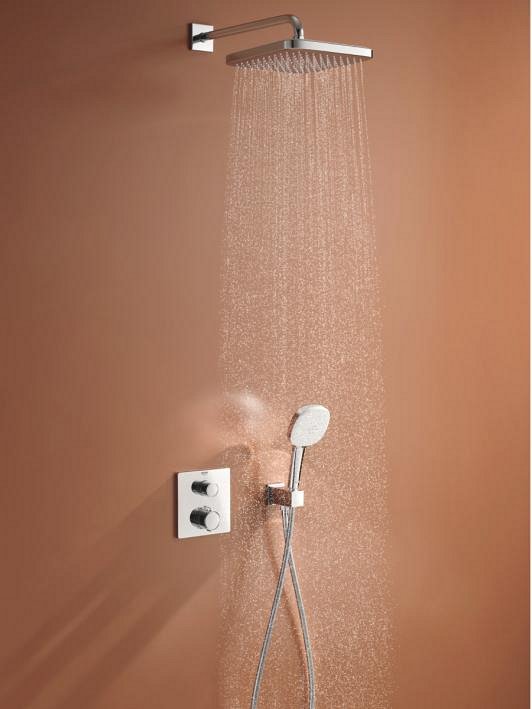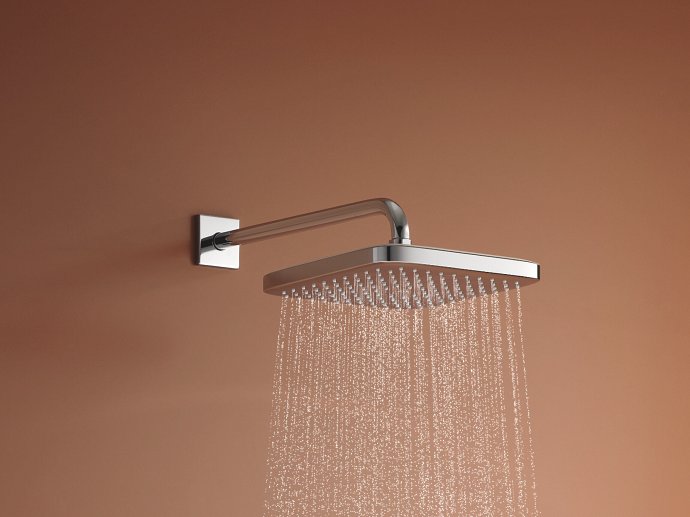 Headshowers
BROCHURE
DISCOVER THE TEMPESTA FAMILY