FIND THE BATH FILLER OF YOUR DREAMS
When we decide to take a bath instead of a shower, we set time aside for ourselves where we can truly relax and disconnect. Whether you use the time in the bath to read a good book, meditate, or listen to music, bath-time is you-time. Taking baths regularly can improve your health too. Not only can a nice warm bath help relax tired muscles and joints, but it can also help your body oxidise your blood and help it flow more easily, a result of you breathing more deeply and slowly when relaxed. Taking a bath isn't just for getting clean – it's a well-deserved hydrotherapy session. Add scented oils to your bath and your hydrotherapy session can be enhanced with aromatherapy as well. Baths are special. Shouldn't your bathtub fixtures be as well?
GROHE understands the bathtub as an essential part of a spa-like bathroom, with a purpose that is not only functional, but aesthetic and balancing as well. GROHE's wide range of bath fillers will take your bath experience to the next level. The bath filler is the centrepiece of your bathtub, providing a focal point that sets the tone for the entire design of your bathtub. The same attention to detail and quality engineering that GROHE prides itself on is reflected in the design choices made with regard to its bath filler spouts.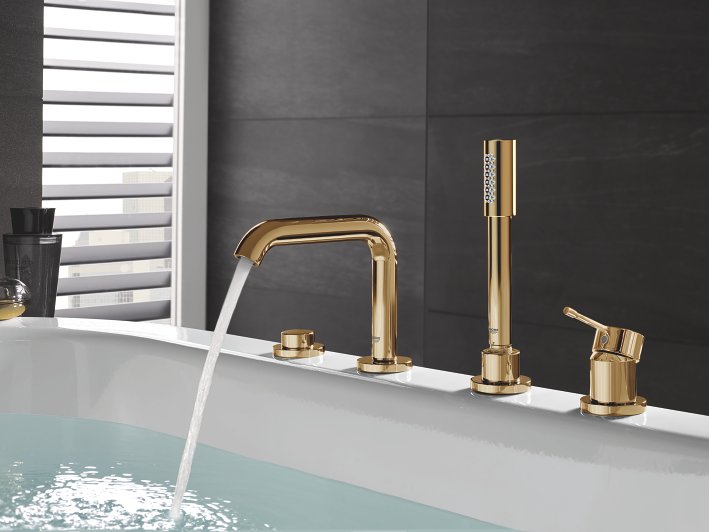 WHAT TO CONSIDER WHEN PURCHASING A BATH SPOUT
There are plenty of design options out there, so to help narrow your decision somewhat, there are a few things to keep in mind. The best bath filler option for your bathroom will depend largely upon your bathtub: how large and deep it is, where it is located in your bathroom, and how many walls surround it.
This will determine, for example, whether you should look for a bath filler that's floor-mounted, wall-mounted, deck-mounted, or mounted to the tub wall. Floor-mounted options, such as the Allure bath spout, are great for freestanding bathtubs. Wall-mounted spouts are, as they sound, mounted to the wall above the tub, whereas deck-mounted bath spouts require holes in the bathtub's edge. Two holes will be enough for a basic bath filler/mixer combo, but some deck-mounted options, like the Grandera 5-hole bath/shower combination, can require five holes. A final option is to mount your bath filler to the wall of your bathtub. The Talentofill models provide an elegant minimalist way to fill your bathtub, for example, and come in a variety of colours to match your décor.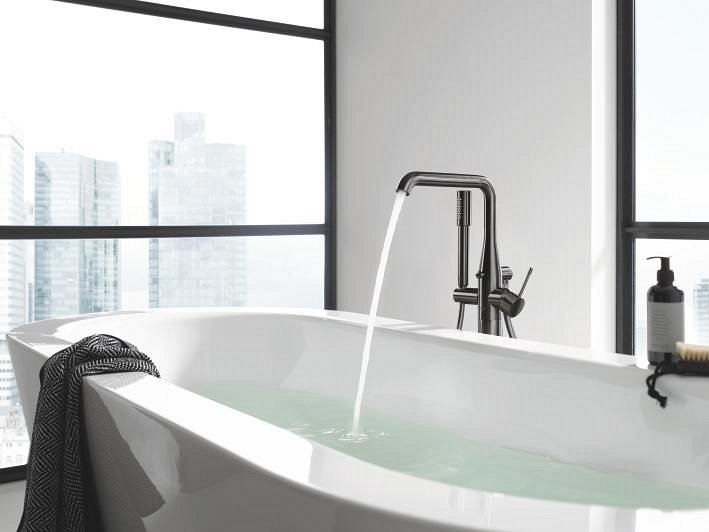 Whether a cast spout, swivel spout, or inlet system is most appropriate will also depend on the specifications of your bathtub. While a swivel spout can offer you more flexibility, a cast spout adds a modern touch to your bathroom's design scheme.
The other aspects of your bath filler that are important to consider have much to do with taste. There's whether you prefer a single lever or a tap with two handle fittings, and then, of course, you have to think about colour. Colours like cool sunrise, hard graphite, nickel, and warm sunset come in both brushed and shiny options. Additionally, chrome, chrome/gold, and supersteel options provide a metallic touch to your bathing experience.
Luckily, GROHE has plenty of options to suit your bathtub and bath filler needs.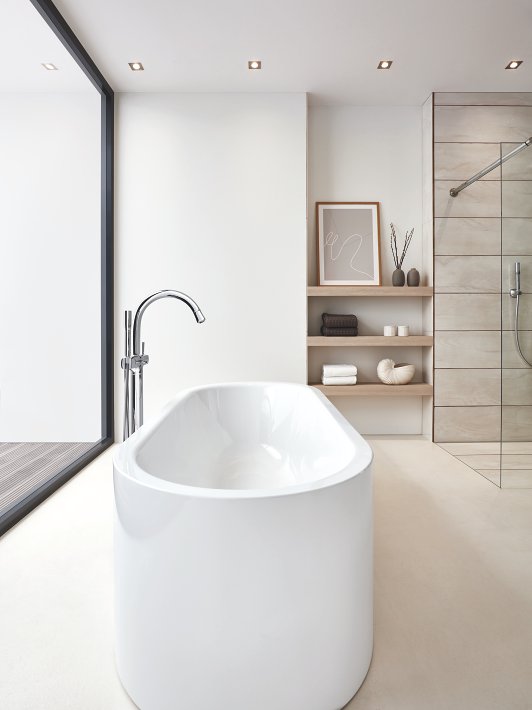 COUNT ON THE BEST WITH GROHE
No matter which type of bath filler you choose, you can be confident that it will have been designed to last. GROHE uses top-quality materials that, when combined with the precision of German engineering, result in absolute perfection, bringing harmony, balance, and style into your bathroom.
One element of GROHE's bath filler spouts that ensures long-term use is the innovative StarLight finish technology. Not only does this translate into a beautiful finish for years to come, it also makes it much easier to keep your tap clean. The StarLight finish just requires you to wipe it down with a dry cloth every so often and it will be back to its gleaming self in no time.
If, despite the broad range of style, size, and colour options, you cannot find exactly what you're looking for, GROHE will gladly work with you to provide you with a bath filler that fits the exact specifications of your unique bathroom. You might need a particularly high bath filler or one with a longer spout, or you might want to personalise the markings on the tap body. GROHE's Special Production options help you customise your projects so that you can make the ultimate hydrotherapy escape of your dreams a reality.