Product Description
The result of design excellence and the finest craftsmanship, the GROHE Atrio bidet mixer with two tactile cross handles offers subtle styling and complete reliability. Hand-assembled and engineered to offer premium performance and a real feel of luxury, this tap is a classic. For the handles, two sets of caps are included, one with subtle 'H' and 'C' markings, and one plain set. This tap is ideal for streamlined, minimalist spaces where design values are at a premium. Its comfortable ball-joint aerator allows you to adjust the water jet precisely. The tap comes with a smart pop-up waste set. Finished in dazzling but durable GROHE StarLight chrome this bidet mixer will stay looking pristine for years to come. GROHE Atrio – the icon of elegance and precision. GROHE Atrio – the icon of elegance and precision.
ceramic headparts 1/2", 90°
GROHE StarLight chrome finish
rapid installation system
ball-joint mousseur
bow spout
pop-up waste set 1 1/4"
flexible connection hoses
with cross handles
Two different sets of caps included. One set with
"H" and "C" marking, one set without marking.
Technical Information
CAD Data
Spare parts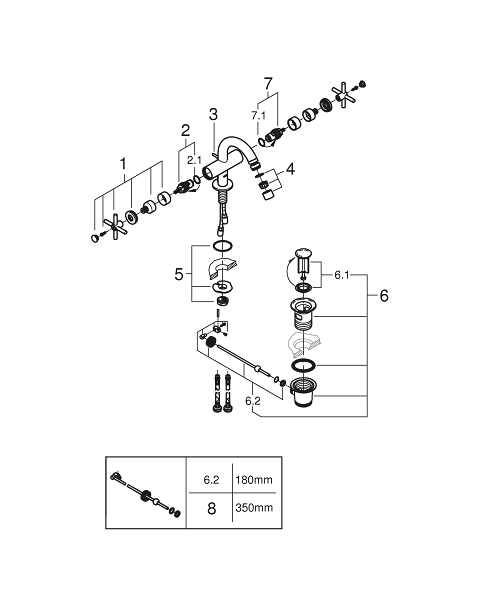 Pos.-nr.
Prod. description
Order-nr.
* Optional accessories

1

Cross handles

18026003

2

Ceramic headpart, 1/2"

45883000

2.1

O-ring Ø 18.2 x Ø 1.7

0392400M

3

Pop-up rod

65196000

4

Mousseur

06574000

5

Shank fastening assembly

48409000

6

Waste set 1 1/4"

28910000

6.1

Plug for waste set 1 1/4"

07182000

6.2

Eccentric rod

07052000

7

Ceramic headpart, 1/2"

45882000

7.1

O-ring Ø 18.2 x Ø 1.7

0392400M

8

Ball rod

07341000*