Product Description
GROHE Rapid SLX installation system for wall-hung toilets – sleek, robust and ready for the future.
To create the bathroom of your dreams complete with wall-hung toilet check out the GROHE Rapid SLX installation system. The Rapid SLX also supports GROHE's elegant and stylish new range of extra slim flush plates, which simply plug onto the drain valves using our EasyConnect system. Extra strong and versatile, Rapid SLX has an attractive powder-coated steel frame and guarantees understated performance you can trust – it's TÜV approved for a load of 400kg! Supplied with all the fixings you need, GROHE QuickFix makes installation (height 1.13 m) logical and fast, but also ready for any future changes you may wish to make. The unique flow manager means you can easily adjust the water flow so it can also be used with any new toilet, including rimless WCs, which use less pressure. The Plug & Play design includes an electric socket and water connection so you can easily add a shower toilet – the stylish GROHE Sensia Arena would look fantastic. And any upgrade is easy to make because the generous Direct Access Door gives you plenty of room to work. The GROHE Whisper technology of the dual-flush cistern helps stop sound travelling through walls – so you can enjoy peace and quiet. And GROHE EcoJoy cuts your water usage by up to 50%. Simply select a flush volume of either 3l or 6l and, if you prefer, stop a full flush before it's over. It is also fully insulated against condensation and comes with wall brackets for use with a brick or stud wall. GROHE Rapid SLX – strength and premium performance for an elegant and harmonious bathroom design!
with flushing cistern GD 2 , 6 l - 9 l
with integrated power socket
ready for shower toilets (water)
small revision shaft for small flush plates
for on-the-wall installations or studded walls
powder coated steel frame, self-supporting
for dry-cladding, completely pre-assembled
with fixed connections
quick adjustment, lockable
fixing material
TÜV approved
2 WC fixing bolts
fixing device for ceramic
distance of fixing bolts 180/230 mm
outlet bend Ø 90 mm
depth adjustable
reducer Ø 90/110 mm
inlet and outlet connecting set
flushing cistern GD 2, 3 - 6 l, containing following features:
factory set 6 l and 3 l
pneumatic discharge valve offering 2 modes of
operation: dual flush or single flush
water supply from right, back or top
low noise (group I acc. to
German Noise Specification)
fully insulated against condensation
½" water supply connection including integrated
angle valve and push fit flexible hose union
no tools required for the installation
of the inspection shaft incl. protection
during construction phase
for vertical use
including flow manager
reduces flow of the flush
prevents overspill in rimless toilets
easy flow regulation via inspection shaft without removing the valves
for on-the-wall installation please order wall brackets 38 558 00M (sold separately)
for mounting of flush plates 156 x 197 mm please order
revision shaft 66 791 000 (sold separately)
Technical Information
CAD Data
Spare Parts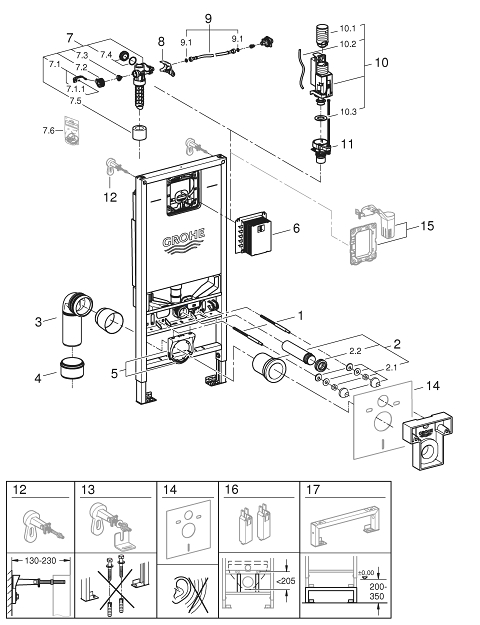 Pos.-nr.
Prod. description
Order-nr.
* Optional accessories

1

Threaded bolt

4276400M

2

WC inlet and outlet connecting set

37311K00

2.1

Basin fastening

43511SH0

2.2

Connector

37119000

3

PP-outlet bend Ø 90 mm

42327000

4

Reducer

42242000

5

Support for outlend bend

42243000

6

Revision shaft for small flush plates

40911000

7

Filling valve

42583000

7.1

Lever

43734000

7.1.1

Seal

4377000M

7.2

Valve head

43536000

7.3

Membrane

4375800M

7.4

Screw cap

43735000

7.5

Valve float, 5 pcs.

4379100M

7.6

Set of seals

43722000*

8

Support device

42246000

9

Connecting hose

42233000

9.1

Sealing washer

0319100M

10

Dual Flush discharge valve AV1

42320000

10.1

Extension for overflow pipe

42313000

10.2

Pneumatic hose

42319000

10.3

Seal

42310000

11

Valve seat

42593000

12

Wall brackets

3855800M*

13

Xtra wall brackets, flexible placing

38733000*

14

Set for noise protection

37131000*

15

Accessory

39607000*

16

Rapid SLX Heigth set 200-350MM

38629001*
Warranty Information
GROHE Guarantee
GROHE products are designed to be both visionary and innovative with quality always guaranteed. Purchasing GROHE products means your investment is perfectly balanced in terms of quality, technology and design with sustainable production.
The 10 years plus Manufacturer's Guarantee
GROHE shall grant guarantee services to the end consumer in accordance with the terms and conditions set forth below for all products supplied to the end customer under the GROHE brand, which are tagged as products to which the "Grohe 2 years plus Manufacturer's Guarantee" is applicable.