Rainshower SmartActive 310 Shower system with thermostat for wall mounting
Colour

Chrome
Download specification
Showering perfection guaranteed – the GROHE Rainshower SmartActive 310 shower system !
Showering happiness and luxury guaranteed! Packed with GROHE's cutting edge technology, this GROHE Rainshower SmartActive 310 shower system with thermostat adds sophisticated style and premium performance to any bathroom. The head shower comes with a 180° swivel arm and a generous 310mm shower head that is perfect for our soft and enveloping GROHE PureRain spray. The 130mm hand shower has three great sprays – pulsating GROHE ActiveMassage spray, which delivers a whole new level of massage power, focused Jet Spray and soothing Rain Spray – which can be selected with just a fingertip using the innovative GROHE SmartTip controller. When you turn the water off GROHE DripStop for the hand shower minimizes annoying drips from Rain and Jet spray. Both head and hand shower have GROHE Water Saving technology, which limits water flow to 9.5 l/min but also delivers pure indulgence. And thanks to GROHE DreamSpray, the flow from every nozzle is perfectly balanced for maximum satisfaction, while the SpeedClean anti-lime nozzles are extra easy to clean. Safety and comfort are guaranteed too. The GROHE TurboStat technology delivers a constant water temperature throughout your shower, GROHE SafeStop lets you set a maximum temperature of 38˚C and SafeStop Plus offers a further optional limit of 43˚ C. GROHE CoolTouch means the exposed thermostat will never be too hot to touch. The durable, easy-care GROHE Long-Life finish keeps the whole set looking stunning for a lifetime. And GROHE FastFixation makes fitting swift and easy as the upper bracket can be adjusted so you can reuse existing drilling holes. The GROHE Rainshower SmartActive 310 shower system – innovative design and luxury!
Product main features
Consisting of:
horizontal swivable 450 mm projection shower arm
exposed thermostatic showerwith Aquadimmer function
allows change between:
head shower Rainshower Mono 310
with ball joint
rotation angle ± 15°
hand shower Rainshower SmartActive 130
adjustable height via gliding element
including performance grip
Silverflex shower hose 1750 mm
GROHE Water Saving 9.5 l/min flow limiter
GROHE TurboStat compact cartridge with wax thermoelement
GROHE SafeStop safety button at 38°C ( calibration required )
GROHE SafeStop Plus optional temperature limiter at 43°C included
GROHE CoolTouch prevents scalding on hot surfaces
GROHE DreamSpray perfect spray pattern
GROHE SmartTip showering spray selection via push of a ring
GROHE Long-Life finish
GROHE FastFixation upper bracket adjustable
SpeedClean anti-limescale system
suitable for instantaneous heaters from 18 kW/h
minimum flow rate 7 l/min.
Technical Product Information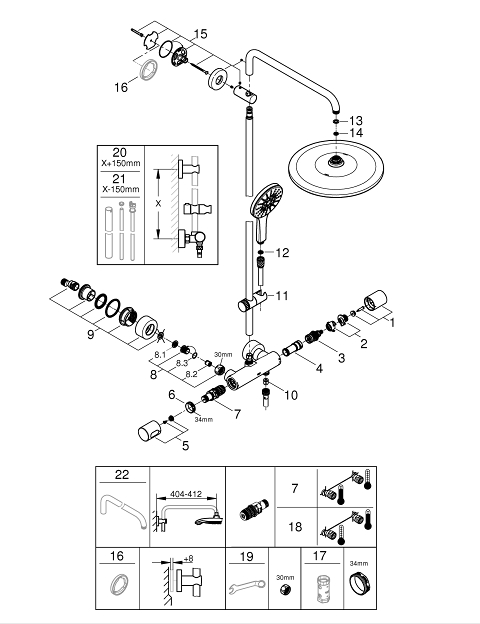 Pos.-nr.
Prod. description
Order-nr.
* Optional accessories

1

Aquadimmer handle

47804000

2

Temperature limiter

47723000

3

Aquadimmer

47364000

4

Water flow

47887000

5

Temperature scale handle

47811000

6

retaining ring

47743000

7

Thermostatic compact cartridge 1/2"

47439000

8

Non-return valve

47189000

8.1

Filter

0726400M

8.2

Non-return valve

08565000

8.3

O-Ring Ø17 x Ø2

0305500M

9

S-union

12693000

10

Non-return valve

08565000

11

Sliding piece

48424000

12

Strainer

0700200M

13

Fibre seal dia. Ø 18,5 x Ø 12 x 2

0138900M

14

Strainer

48007000

15

Outlet shower holder

48279000

16

Spacer

27180000*

17

Socket Spanner

19332000*

18

GROHE TurboStat cartridge 1/2"

47175000*

19

Special Spanner

19377000*

20

Shower system pipe for retrofitting

48053000*

21

Shower system pipe for retrofitting

48054000*

22

Shower arm for shower systems

14047000*
Products and accessories for the installation
GROHE Limited
World Business Centre 2
Newall Road
London Heathrow Airport
Hounslow
Middlesex
TW6 2SF
Customer service hours
Opening days
Opening hours
Monday - Wednesday
08:30 - 12:30
13:30 - 17:00
Thursday - Friday
08:30 - 12:30
13:30 - 16:00