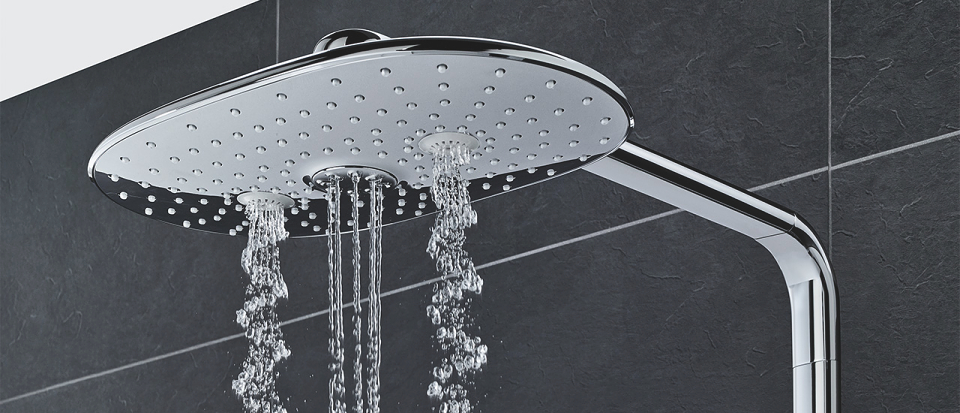 YOUR SHORT CUT FROM PLANNING TO ENJOYMENT
Exposed showers from GROHE let you turn your plans into reality more easily than you would believe possible. From planning to enjoying can be such a simple step.
GROHE thermostats with TurboStat technology lie at the heart of all our shower sets. It provides the correct shower temperature in a fraction of a second and keeps it constant – ensuring luxurious showering at a perfectly controlled temperature. GROHE thermostatic shower mixers come equipped with a SafeStop button set at 38° to prevent children from accidentally turning up the temperature. The ergonomic handles offer a good grip at all times, even with wet or soapy hands. Switching between hand or head shower is simplicity itself with the Aquadimmer or SmartControl.
RAINSHOWER SMARTCONTROL EXPOSED
ALL WILL BE REVEALED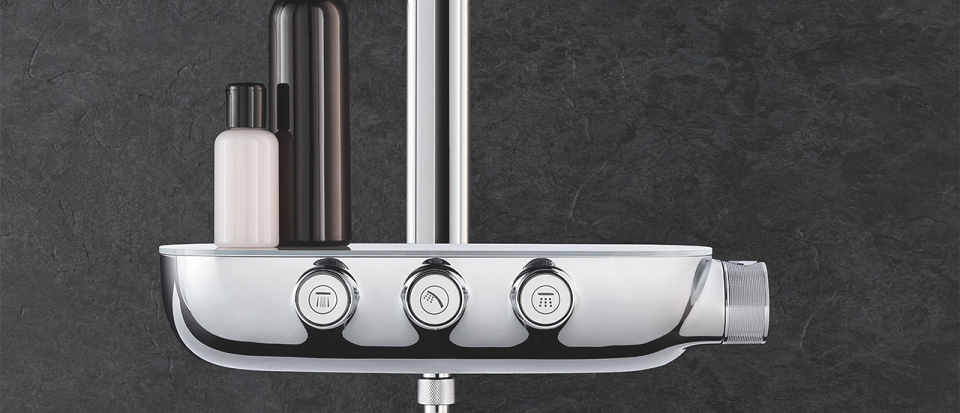 If you are planning a new bathroom or a renovation, GROHE SmartControl Exposed is an ideal solution. The wall mounted GROHE Rainshower SmartControl shower system makes fitting a simple matter – but the result is all the more stunning.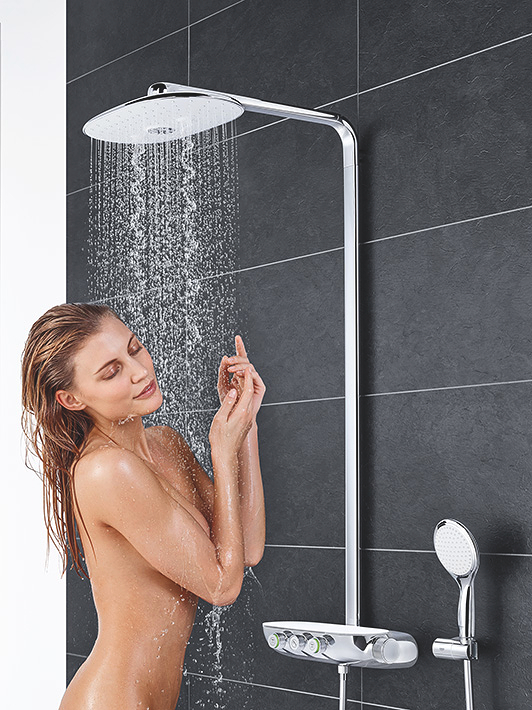 Available in two different versions, DUO with three SmartControl buttons, two head shower jets plus hand shower and MONO with two SmartControl buttons, a one-spray head shower and hand shower, the design of the GROHE SmartControl Exposed includes an integrated shelf that offers space for shampoo and shower gel. The many features of GROHE SmartControl – from the intuitive use of the SmartControl buttons, perfect volume and temperature control to a choice of finish for the shower heads - guarantee more pleasure under the shower.
Discover Rainshower SmartControl 360
Our Rainshower 360 head showers give you the choice of different spray types: from the wonderfully refreshing GROHE PureRain spray to the revitalising Bokoma spray and the Massage sprays.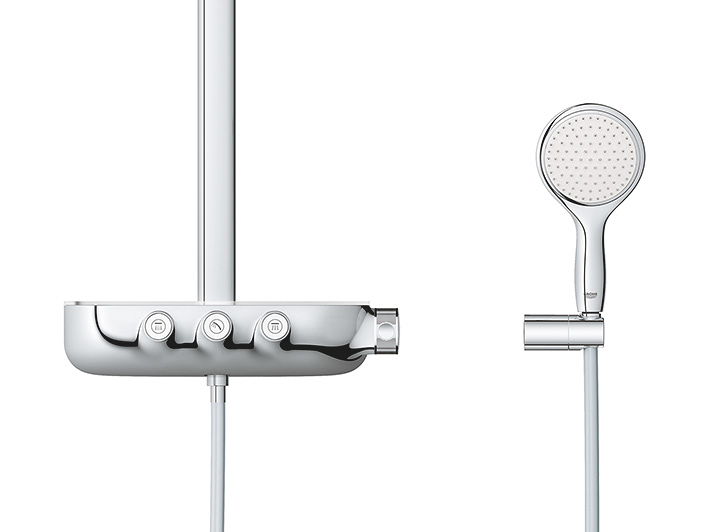 Designed to make a statement in your bathroom, GROHE SmartControl Exposed combines intuitive control with the ultimate shower pleasure. At the turn of a button, you can choose just the right volume and the ideal temperature. And at the push of a button, you can select the sprays that you wish to enjoy to create your individual shower experience.
Euphoria SMARTCONTROL
YOU'RE ONE STEP AWAY FROM A STUNNING SHOWER EXPERIENCE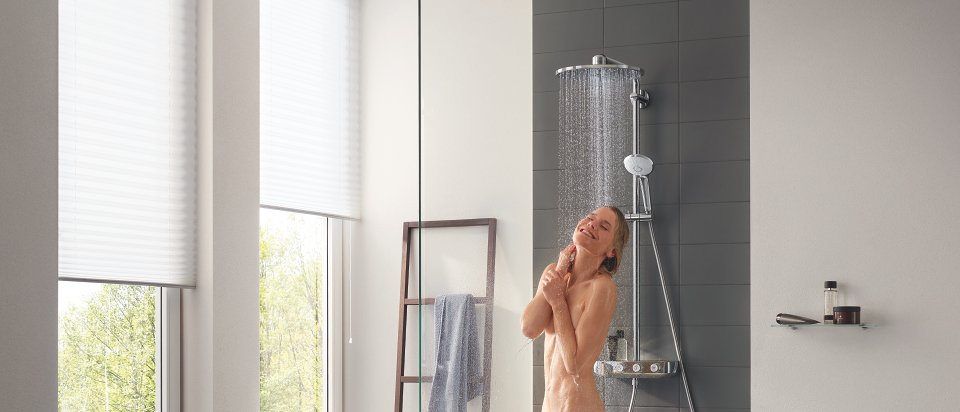 Whether you are looking for stylish design or functionality – or perhaps just ultimate control: the GROHE Euphoria SmartControl shower systems have it all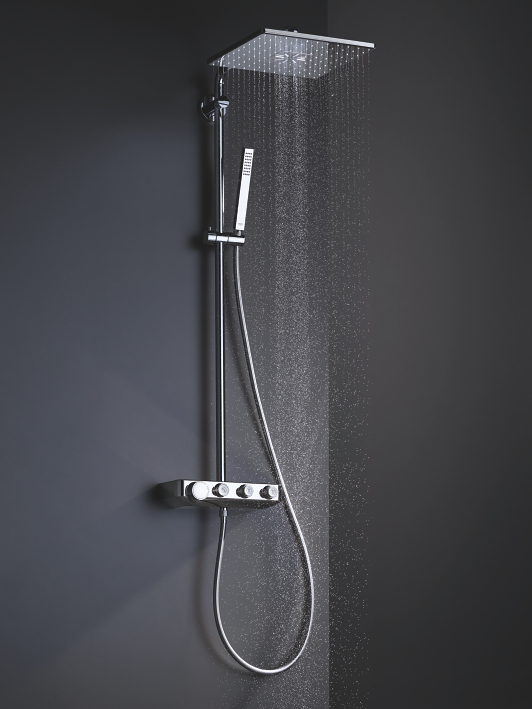 Its beautiful wide Rainshower 310 SmartActive showerhead in sparkling chrome combines a powerful jet spray with a soft, refreshing spray. The hand shower can be individually positioned to any height, thanks to the fully adjustable shower holder: ideal for taking a shower without getting your hair wet.
Perfect control comes with the Grohtherm SmartControl with its intuitive "push, turn, shower" operation. This makes it simple to switch between two different spray patterns and the hand shower – or choose two at once if you prefer.
Discover Euphoria SmartControl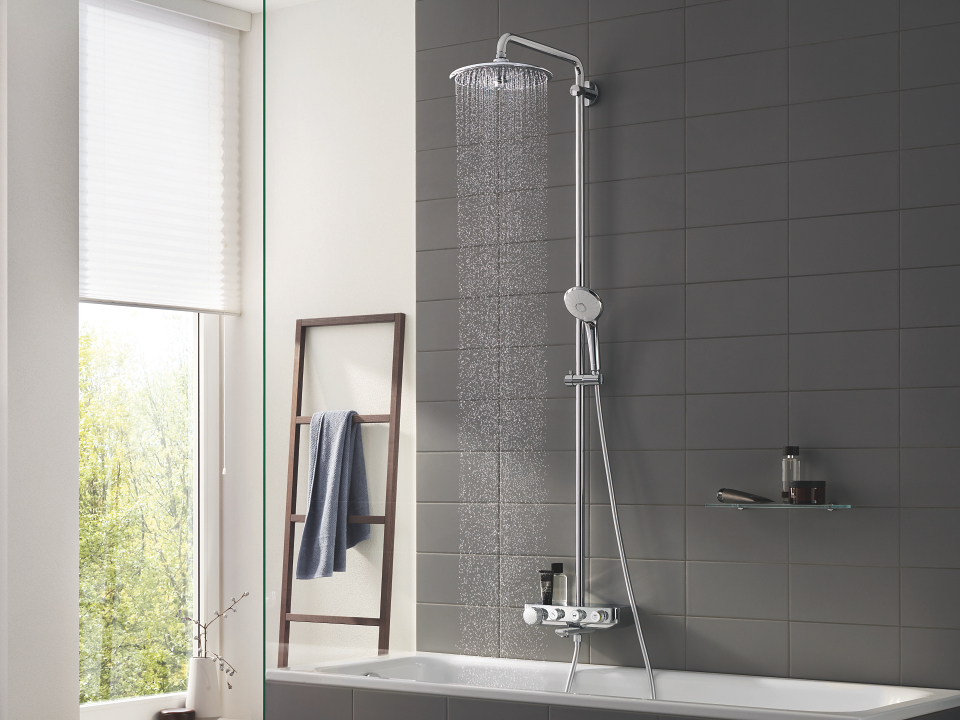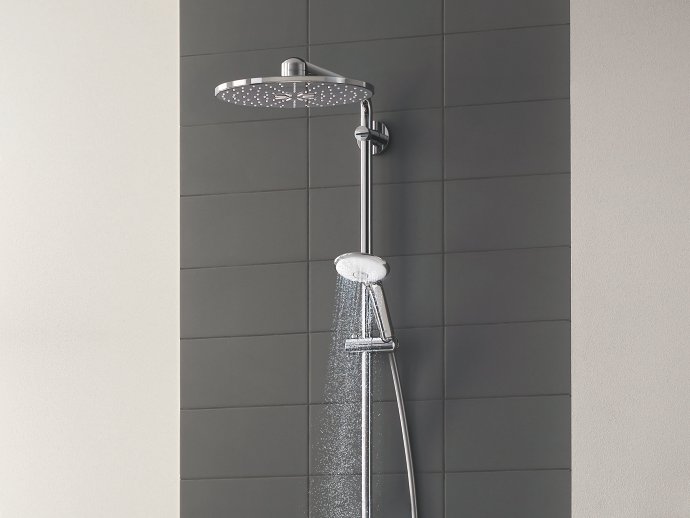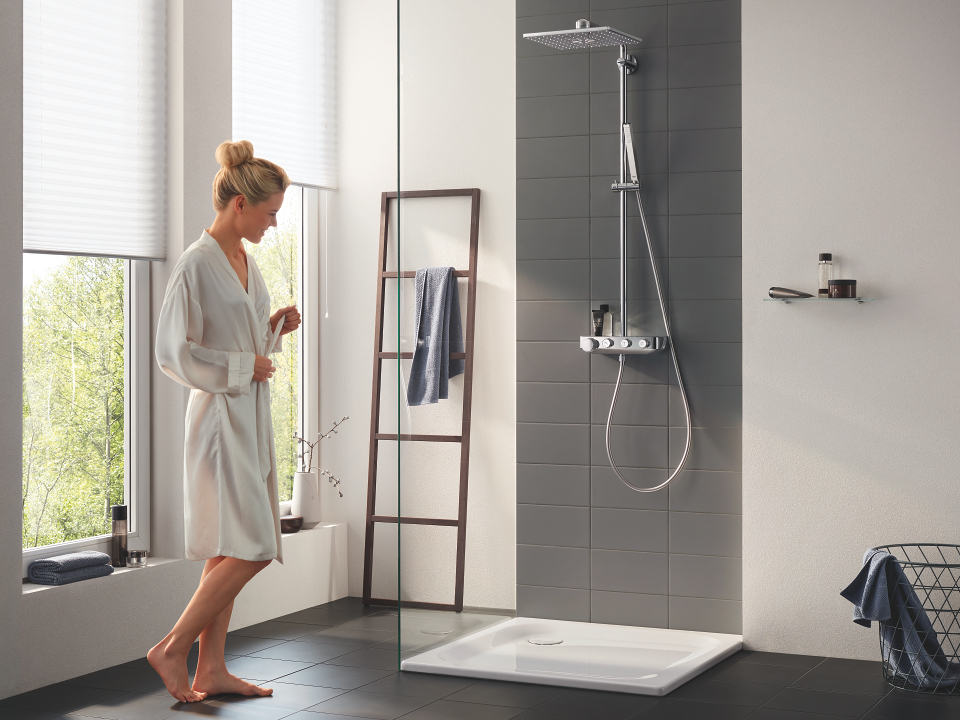 We've put a lot of thought into our new GROHE Euphoria SmartControl shower system: the result is a range of features that make the Euphoria more convenient and more enjoyable to use. The shower arm has a swivel function that allows you to rotate the showerhead through 180° to achieve the perfect angle. And the fully adjustable shower holder allows the hand shower to be positioned individually at the ideal height. We have made the sleek Grohtherm SmartControl body smaller and more compact to offer more space in the shower. And because we want you to enjoy your shower as quickly as possible, we came up with the GROHE QuickFix. This allows the position of the upper bracket to be altered during installation of the shower rail. The advantage: the upper bracket can be installedeasily and quickly by utilising existing drilled holes.
EUPHORIA 260
EVERYTHING FROM RELAXATION TO INVIGORATION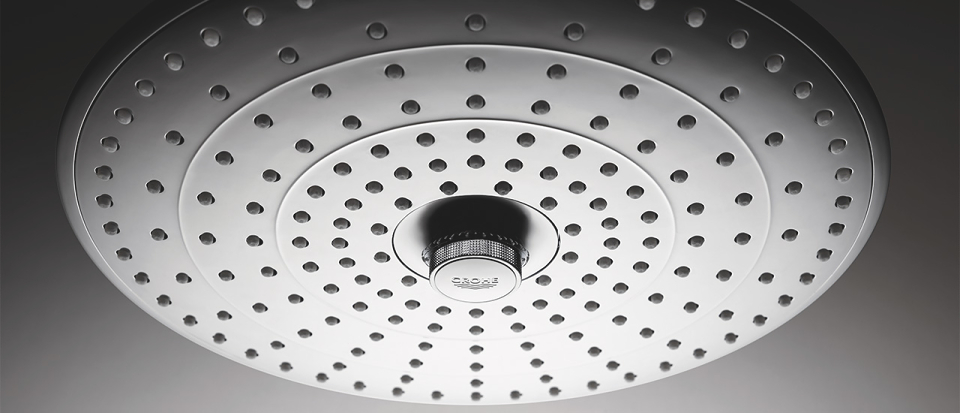 The Euphoria 260 earns its name every time you step under the shower. Centred in the middle of its shining chrome plated spray face is a special button. This allows you to select between different spray zones, adjusting the width of the spray and the power of the water flow. Zone 1 delivers a focussed jet spray for a revitalising shower, ideal for washing away tension – and shampoo. Zone 2 provides the best of both worlds – a wider spray that offers an energising yet relaxing effect. Zone 3 is the widest spray - for full body coverage and a soft refreshing shower effect.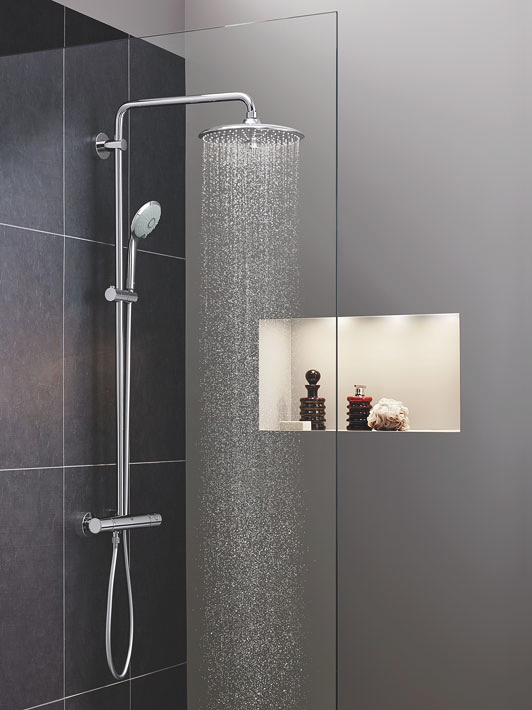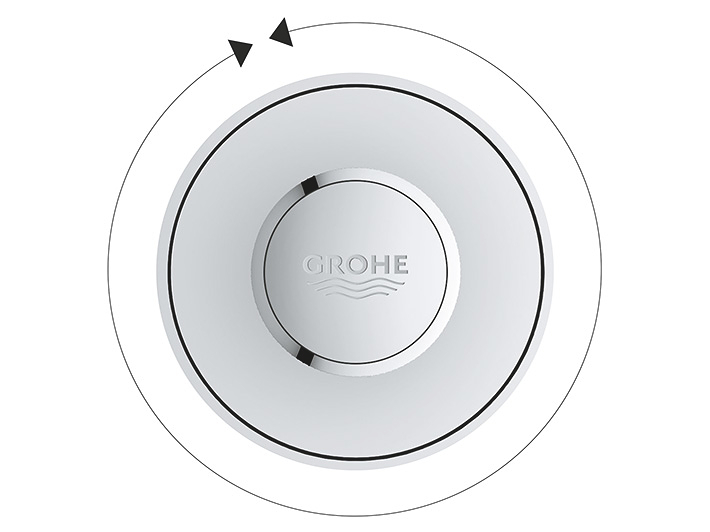 FROM L TO XXL AND BACK AGAIN
Three zones of showering pleasure at your fingertips. Transform from one to the next with a turn of the button. Simply by continually turning the button you can enjoy the powerful Jet spray, followed by the wider SmartRain spray for an energising yet relaxing effect and on to the full face Rain spray for a soft summer rain feeling. Continue turning to travel through all three zones again.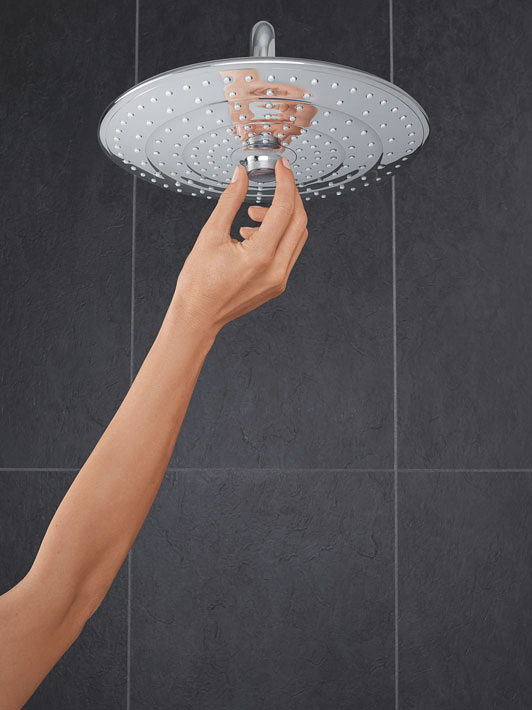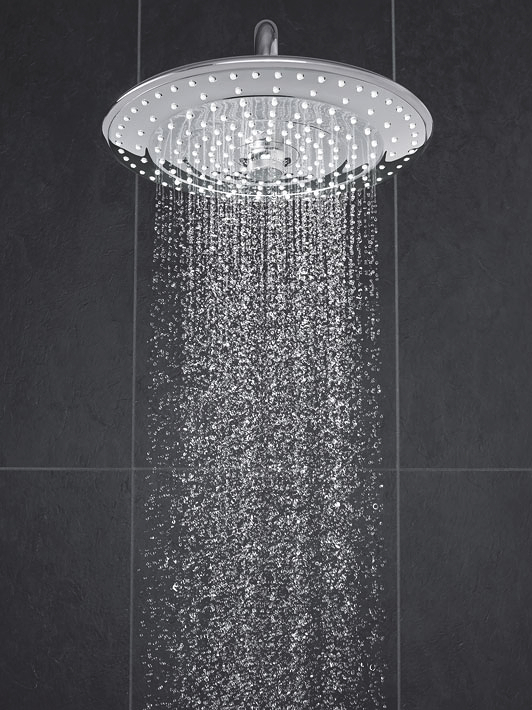 TEMPESTA 250
COMFORT AND JOY FROM START… TO FINISH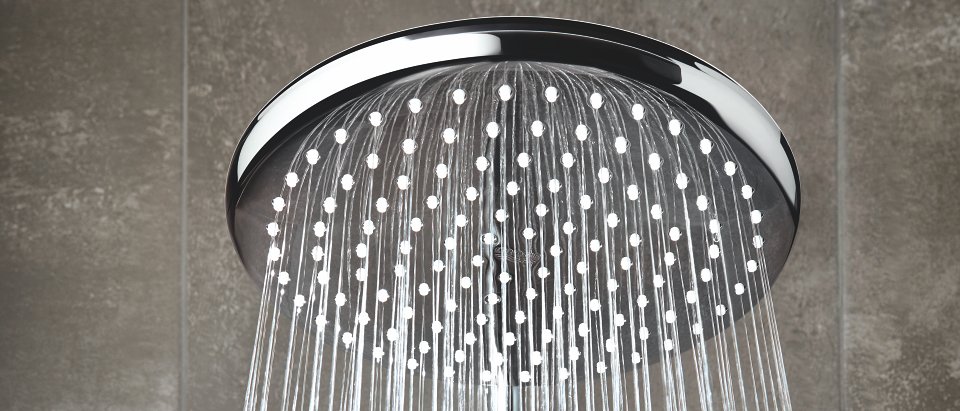 The sleek showerhead and cylindrical profile make Tempesta Cosmopolitan System the perfect choice for modern, architectural bathrooms. A shower system that is easy to install, Tempesta Cosmopolitan offers all the advantages of GROHE technology. The showerhead and shower arm can be swivelled to create the perfect angle. The shower rail features an inner water guide and the thermostat's GROHE TurboStat technology means you can take a luxurious shower that always stays at the preselected temperature.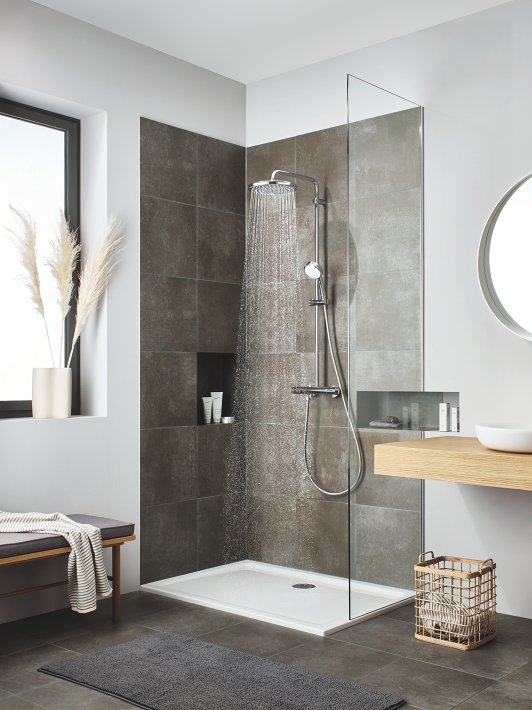 MINIMIZED AFTER-DRIPPING
The new Tempesta 250 head showers on our latest shower systems combine a modern, slim design, in both round and cube designs, with luxurious coverage and a full-face Rain Spray. And when the shower is finished, you can dry off in comfort, thanks to the innovative new GROHE DripStop feature, that minimizes after-dripping once you switch of the shower.
Discover Tempesta Shower System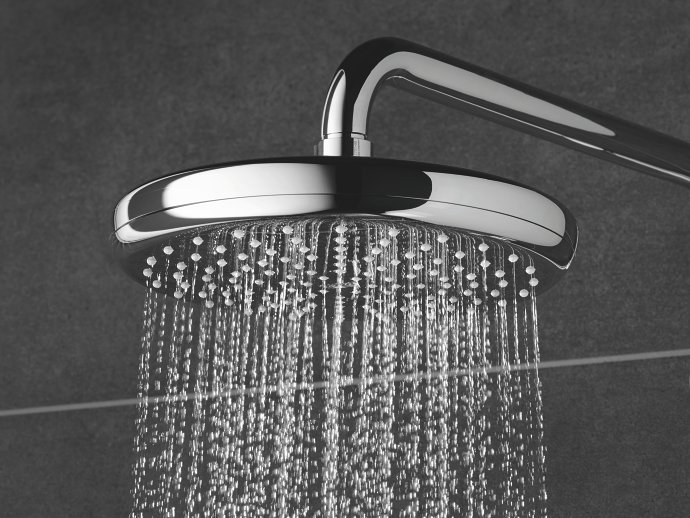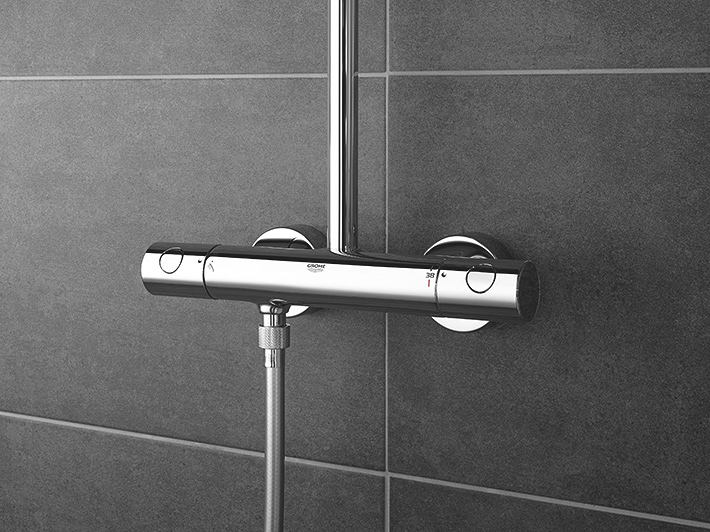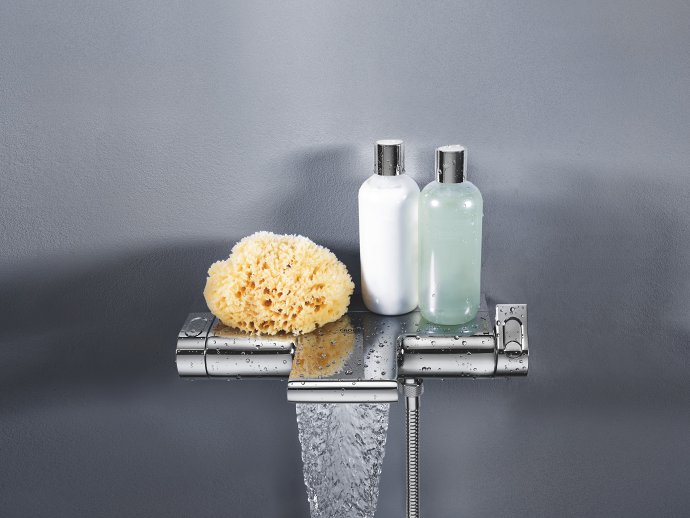 GROHTHERM 2000 100 % GROHE COOLTOUCH, ADVANCED ERGONOMICS & EASYREACH TRAY
The elegant design of Grohtherm 2000 ensures it will complement any bathroom design. Experience the beauty of the XL WaterFall from our exposed bath/shower thermostat. Enjoy the convenience of the GROHE EasyReach shower tray, with easy-to-clean integrated storage for your shampoo or soap. Featuring 100 % GROHE CoolTouch, the solid metal housing of Grohtherm 2000 remains cool and safe at all times. With GROHE TurboStat you will always enjoy your perfect water temperature, independent of any fluctuations in water pressure. Grohtherm 2000 is available as classic exposed shower thermostat and as a variant with GROHE EasyReach storage
Discover Grohtherm 2000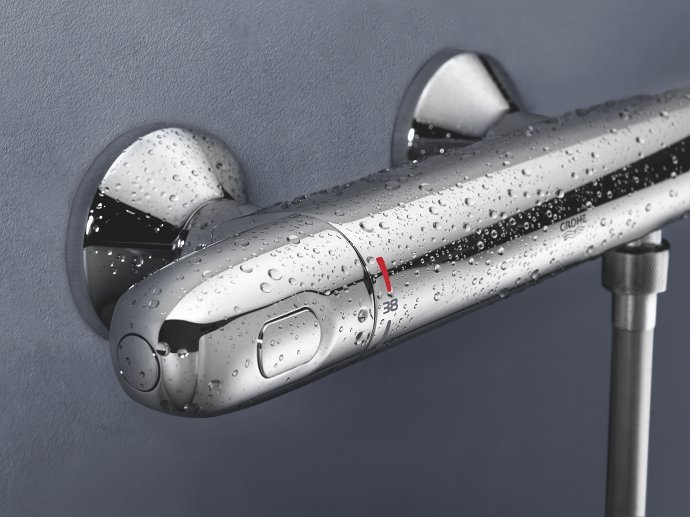 GROHTHERM 1000 GROHE COOLTOUCH, ULTIMATE COMFORT
Enjoy taking a refreshing shower more then ever before. The Grohtherm 1000 with contemporary design offers the GROHE CoolTouch compact body, ergonomically shaped metal handles, GROHE TurboStat technology and water-saving eco functions.
Discover Grohtherm 1000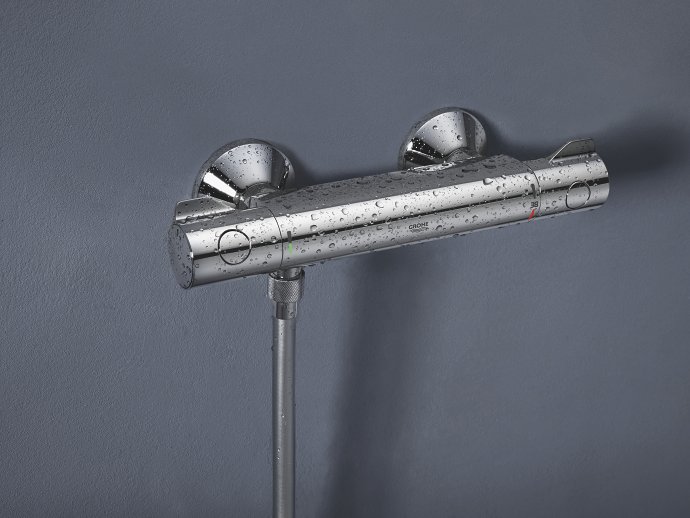 GROHTHERM 800 SAFE AND ERGONOMIC
Experience the benefits of a thermostatically controlled shower at an attractive price. Finished in sparkling GROHE StarLight chrome, Grohtherm 800 benefits from GROHE TurboStat technology, ensuring luxurious showering at a constant temperature. The SafeStop button, set at 38 ºC, prevents children from turning up the temperature, while the EcoButton allows you to reduce water usage. The ergonomic handles offer you a good grip at all times, even with wet or soapy hands. The Grohtherm 800 is available as an exposed shower thermostat or bath thermostat.
Discover Grohtherm 800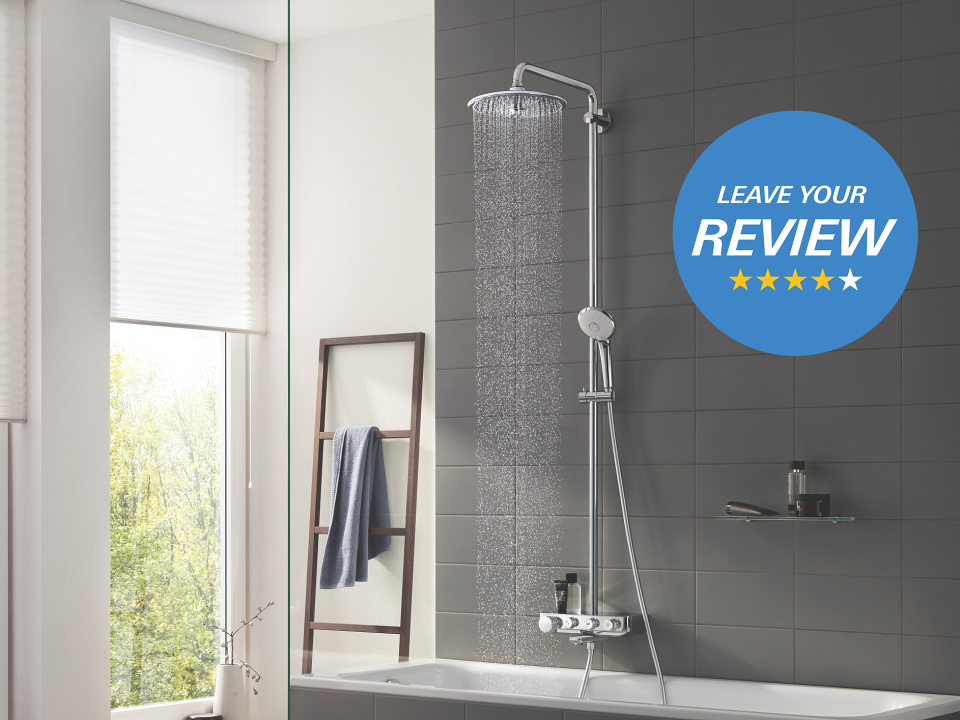 Your opinion is important to us!
Have you already used a GROHE Showersystem? We would love to get your feedback.
Leave your review