GROHE Euphoria SmartControl 310 Cube Shower system – smart looks and natural, tactile push-turn operation
You can have your dream shower, with a range of spray patterns to suit your mood and innovative, user-friendly features, by choosing the GROHE Euphoria SmartControl 310 Cube Shower system. The innovative GROHE SmartControl technology lets you choose and combine head and hand shower. It also lets you switch between or even combine the different spray patterns on the head shower and to vary the water flow via the push-turn control. Saving water couldn't be simpler – just switch the flow rate from full to EcoJoy. The 310mm swivel head shower with a slick cube shape has two spray patterns: the GROHE PureRain spray, gentle yet immersive like a fine rain, plus the new GROHE ActiveRain spray which is powerfully invigorating, perfect for rinsing your hair after shampooing. The Euphoria Cube stick hand shower offers the classic Normal spray. GROHE DreamSpray technology means each of the head's nozzles provides an identical flow, across all spray options. Cleaning the SpeedClean silicone nozzles is effortless – they will be free of limescale after just a wipe. Thanks to GROHE TurboStat you'll enjoy a constant water temperature for your entire shower. GROHE SafeStop allows you to cap the temperature at 38˚C, while SafeStop Plus gives you the further option of a 43˚C cap. An additional safety feature is GROHE CoolTouch, which guarantees that the exposed thermostat's surface won't become so hot as to be untouchable. There is also the practical convenience of the built-in EasyReach tray for keeping your toiletries where you need them. The long-lasting, gleaming GROHE StarLight chrome finish emphasizes the whole set's dazzling good looks. And fitting is quick and easy with GROHE QuickFix: the upper bracket adjusts allowing existing drilling holes to be reused.
Product main features
Consisting of:
horizontal 450 mm shower arm
upper bracket adjustable for minimal adaption to existing drilling holes
exposed SmartControl thermostat
allows change between:
head shower Rainshower SmartActive 310 Cube, spray plate moon white
2 spray patterns:
GROHE PureRain, ActiveRain
hand shower Euphoria Cube Stick (27 698 000)
adjustable height via gliding element
Silverflex shower hose 1750 mm (28 388 000)
GROHE DreamSpray perfect spray pattern
GROHE StarLight chrome finish
GROHE CoolTouch prevents scalding on hot surfaces
GROHE TurboStat compact cartridge
with wax thermoelement
GROHE ProGrip with knurl structure
GROHE EcoJoy technology for less water and perfect flow
- GROHE SafeStop at 38°C
GROHE SafeStop Plus optional temperature limiter at 43°C included
GROHE SmartControl push for ON-OFF, turn for volume adjustment from EcoJoy to full flow
integrated GROHE EasyReach shower tray
SpeedClean anti-limescale system
Inner WaterGuide for a longer life
Twistfree preventing the hose from twisting
suitable for instantaneous heaters from 18 kW/h
minimum flow rate 7 l/min.
Technical Product Information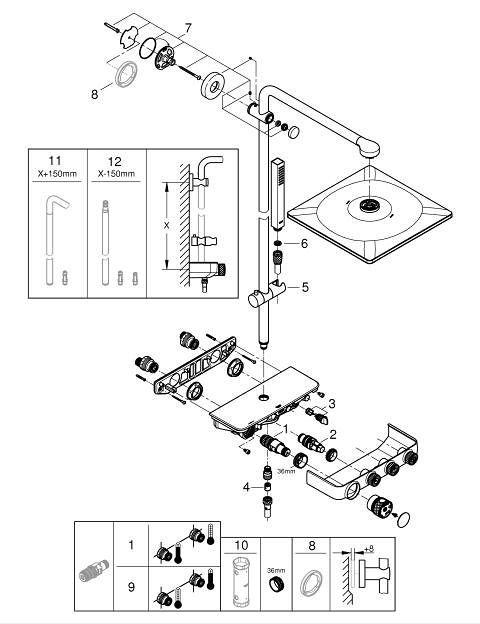 Pos.-nr.
Prod. description
Order-nr.
* Optional accessories

1

Thermostatic compact cartridge 1/2"

47439000

2

Cartridge

48297000

3

Non-return valve

49069000

4

Non-return valve

08565000

5

Sliding piece

48177000

6

Strainer

0700200M

7

Outlet shower holder

48279000

8

Spacer

27180000*

9

GROHE TurboStat cartridge 1/2"

47175000*

10

Socket Spanner

49059000*

11

Shower system pipe for retrofitting

48497000*

12

Shower system pipe for retrofitting

48498000*
Installation Instructions
GROHE Limited
World Business Centre 2
Newall Road
London Heathrow Airport
Hounslow
Middlesex
TW6 2SF
Customer service hours
Opening days
Opening hours
Monday - Wednesday
08:30 - 12:30
13:30 - 17:00
Thursday - Friday
08:30 - 12:30
13:30 - 16:00