WALK-IN SHOWERS: IDEAS FOR PURE LUXURY
Part of the delight of having your own bathroom is being able to create a haven of relaxation where you can wind down after a long day or kick off a new morning feeling refreshed. Either way, regardless of the time of day, your bathroom will likely be part of a daily ritual, and furnishing it with the right fittings in a style that suits you is key to creating a soothing environment to feel at home in.
Bathrooms are spaces dedicated to taking care of yourself and designing one with luxury in mind is only appropriate. A walk-in shower is a wonderful way to furnish your bathroom, a way of dedicating a bit of space to your personal time-out every day. Even in small bathrooms, a walk-in shower feels spacious and elegant.
WALK INTO YOUR PIECE OF PARADISE
The design of your walk-in shower can be largely left up to you. One idea for a walk-in shower is to make it modern and minimalistic, and this can be achieved with a large floor-level shower tray, such as the GROHE acrylic shower tray. Try pairing it with a glass screen to create a walk-in shower cubicle with a light, airy style that suits any bathroom, large or small. Another idea for a walk-in shower is to recreate the look and feel of a luxury spa. You can replace the shower tray with a tiled floor that slants to a central drain. This ensures you get flawless water drainage, but you have a seamless transition between your shower and the rest of your bathroom.
Whether the floor will be comprised of a shower tray or a tiled floor, whether the walls will be the bathroom walls or glass screens: All these options are available to you when thinking about how to design your walk-in shower. It is your choice of shower fittings or shower system that will make all the difference in your daily ritual. Take a look at the benefits of a walk-in shower, as well as the fittings at GROHE, which make it all possible.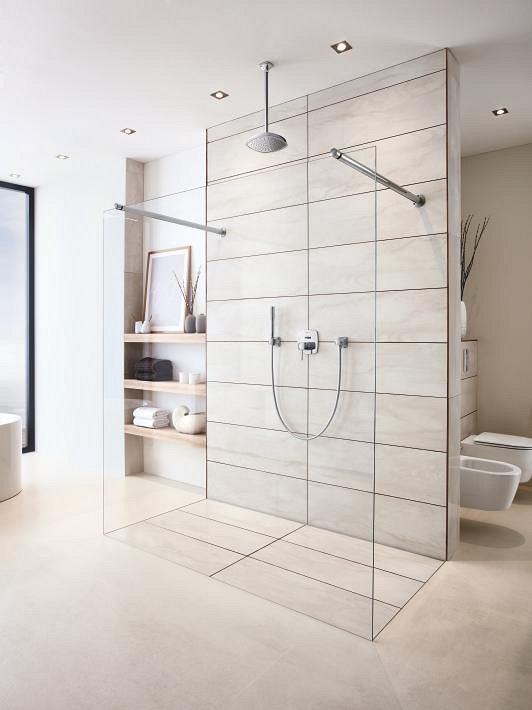 A quick summary of the benefits of a walk-in shower:
Spacious: Walk-ins feel bigger even in smaller bathrooms, and lend a feeling of true luxury to your home
Flexible positioning: Can be installed either with a shower tray or directly over tiled water drainage
Easy to clean: The spaciousness of a walk-in shower means that it is easy to clean. The nooks and crannies where dirt builds up in stand-alone or in-bath showers are cut down with a streamlined walk-in shower.
Accessibility: A walk-in shower is ideal for those with limited mobility, as it doesn't have the walls of a tub or stand-alone shower. This cuts out the risk of slipping when climbing in or out of the tub.
Unified style: Style is harmonious with the rest of your bathroom. You don't need to choose a different colour scheme if your tiling can be the same in your shower!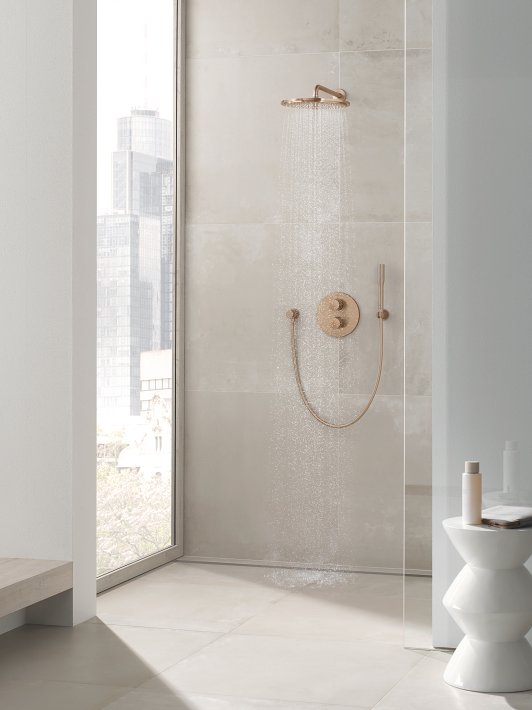 SHOWER FITTINGS AT GROHE: BUILT TO SUIT YOU AND YOUR HOME
There is a reason that world-class spas are so relaxing: Their appearance is designed to soothe the senses. At GROHE, the design is at the forefront of our products, both in their appearance, as well as their performance. Put your mind at ease knowing that GROHE's fittings are built to last and deliver delightful showering experiences for adding luxury to your daily life. Here are some ideas for you to create and fit a walk-in shower.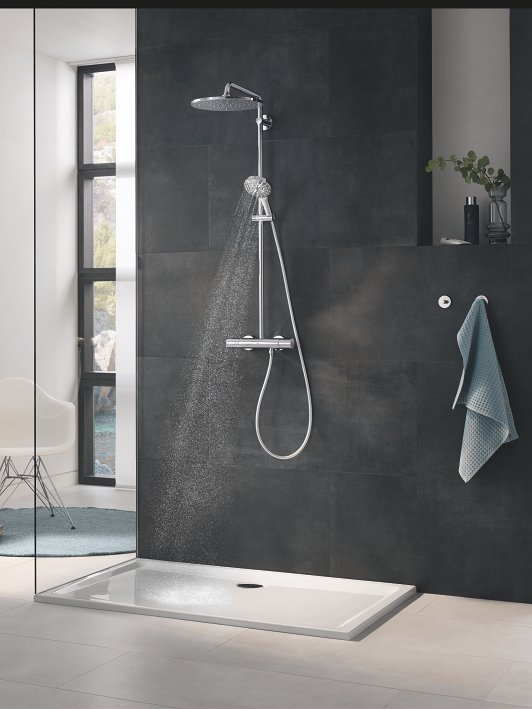 CUTTING EDGE TECHNOLOGY: THE PERFECT GROHE SHOWER HEAD
From the classic round, chrome shower heads of the Power&Soul Cosmopolitan line to the Euphoria Cube's latest modern square designs, the showerheads at GROHE have a variety of designs to suit every home. The ranges at GROHE include wall- and ceiling-mounted shower heads, hand-held showers, and body jets. The amount of designs mean that GROHE can offer a range of spray patterns as well, with several models even featuring the latest water-saving technology.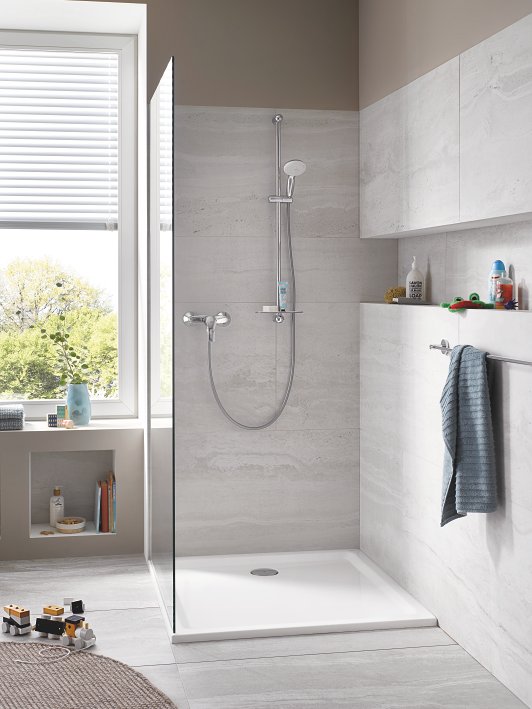 A UNIFIED LOOK: COMPLETE SHOWER SYSTEMS
A shower system, panel or tower combines all the essential elements of a perfect shower: an overhead shower, a hand shower and a thermostatic mixer valve or diverter. This means that in one shower system you get several different showering experiences, all of which are perfectly suited to walk-in showers. GROHE shower systems are wall-mounted meaning that installation is child's play. GROHE's rainfall shower system is designed to shower you in droplets of soft summer rain and the DreamSpray feature means you can wave goodbye to uneven water flow.
NOT TOO HOT AND NOT TOO COLD: GROHE'S THERMOSTATIC SHOWER VALVES AND TAPS ARE JUST RIGHT
Everyone is familiar with the feeling, but no one wants it: After finding the perfect shower temperature, you're suddenly blasted with icy cold or boiling water. Certainly not relaxing, this fluctuation could even be dangerous, especially for children. A thermostatic valve can help regulate this. The collection of thermostatic valves and shower mixer taps at GROHE includes concealed and exposed models. Not only does this give you more of a choice, but they are designed to complement the GROHE tap collections. A thermostatic shower valve is the preferable choice due to the added safety and comfort benefits.