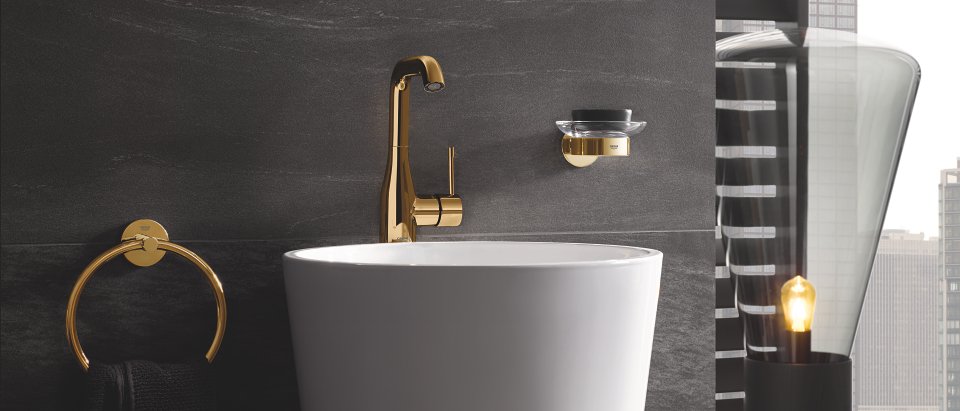 THE PERFECT TOWEL RING FOR YOUR BATHROOM NEEDS
A towel ring might not be that high up on your list of priorities after you've recently decorated your bathroom, but it is worth researching to make sure you get the perfect one. The days of placing your crumpled hand towel down the back of the radiator or hanging it over the side of the bathtub are gone. A towel ring will keep your towel out of the way whilst looking sleek and stylish at the same time. With so many different styles and finishes on offer from GROHE, you'll find the exact towel ring for your bathroom needs.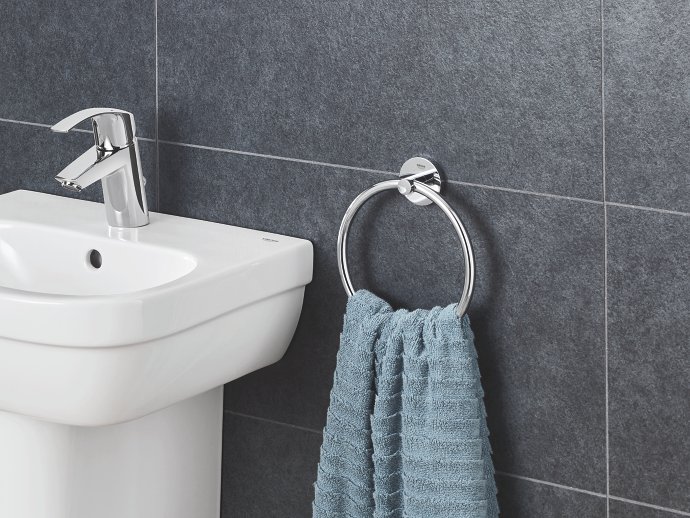 ADD A TOUCH OF CLASS WITH A BATHROOM TOWEL RING
Everyone's tastes are different and GROHE knows this, which is why we make sure to include lots of different designs in our ranges so that everyone can find the bathroom towel ring of their dreams. Sleek and elegant, GROHE's towel rings add that extra je ne sais quoi to the bathroom.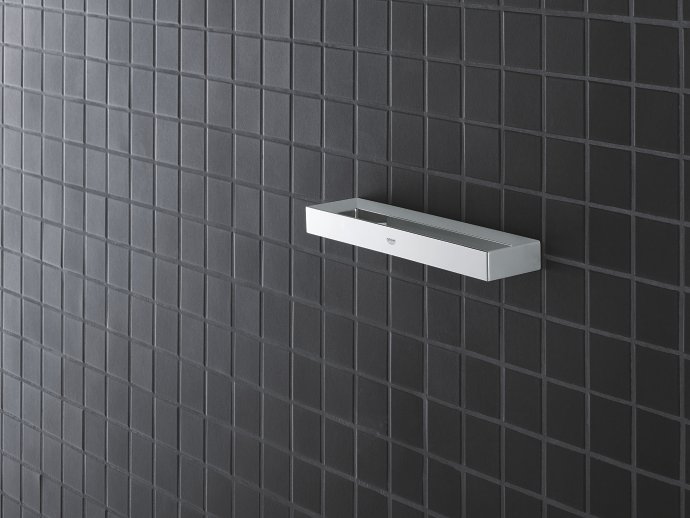 SPACE SAVING FOR SMALLER BATHROOMS
You don't have enough space in your bathroom for a towel rack or towel bar? This is where the towel ring comes in. It fits into the smallest of spaces so you don't have to give up on your wish of finding a stylish way to hang up your towels. Folding your hand towels through the ring keeps your bathroom looking more organised and tidier, and helps them to dry faster. This means that the next person coming into the bathroom isn't met with a soggy bundle of fabric to dry their hands on.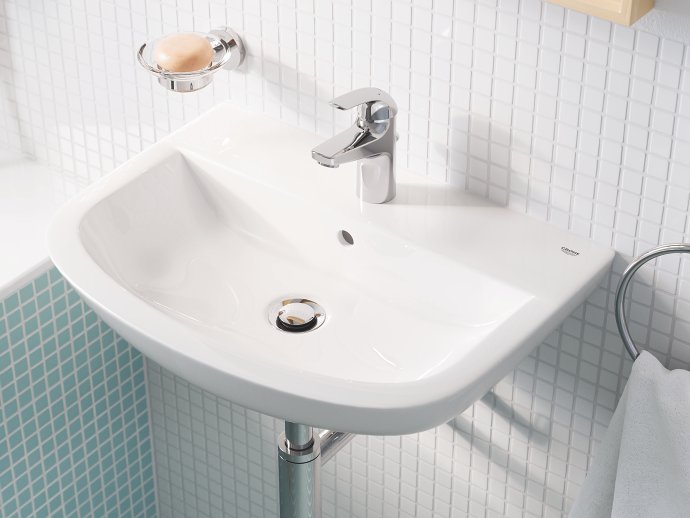 CHOOSE THE PERFECT STYLE
Towel rings come in various designs. Nowadays all kinds of shapes are available including rectangular, square, and circular rings. The most common options are the circular models. The Essentials Towel Ring might look very simple, but this no-frills approach also adds a touch of elegance and minimalism to a bathroom. Don't let its appearance fool you. Despite being thin, this small towel ring is very durable and will survive any rough handling that comes its way. GROHE's Essentials range comprises soap dispensers, towel rails, toilet brush sets, toilet roll holders and lots more, so it's easy to work out which colours and styles fit together to create a cohesive and harmonious look. Simply buy everything from the same range so you have a matching bathroom.
A GRANDERA Towel Ring is perfect for when you can't decide between circular or square: it incorporates both shapes as well as having two finish options. The futuristic appearance of the SELECTION CUBE Towel Ring will definitely be a talking point when guests visit your house. For more products with this angular style, check out the Selection Cube range.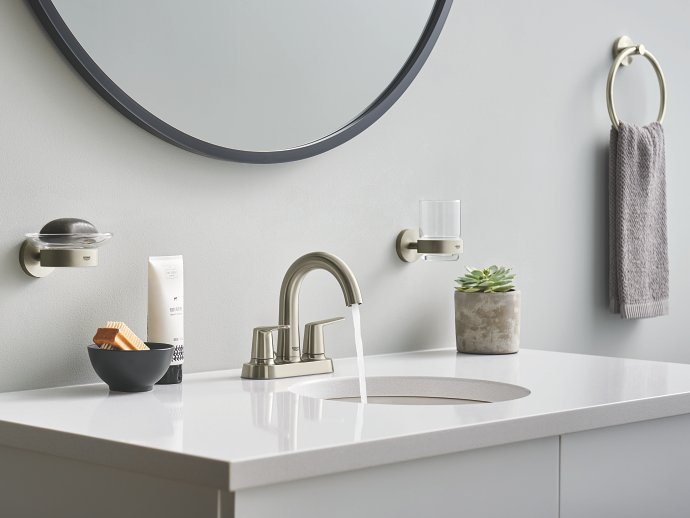 A COLOUR TO MATCH YOUR DÉCOR
GROHE's collection of bathroom towel rings also come in different colours and finishes, so no matter the theme of your bathroom, there's a towel ring to match it. Shiny colours such as chrome, warm sunset, and cool sunrise look striking in any bathroom, or opt for cool matt colours such as supersteel or brushed hard graphite (like this ATRIO Towel Ring) for a more refined finish. Your GROHE towel ring will continue to look as good as the day you bought it thanks to the GROHE StarLight finish, meaning it will sparkle for years and is resistant to scratches; you just need to give it a wipe now and again. This is especially useful for chrome towel rings, whose shine can easily bedulled thanks to grubby fingerprints.
INCREDIBLY EASY TO INSTALL
GROHE's quick fix installation system and step-by-step instructions make quick work of attaching the towel ring to the wall. The concealed fastening makes the finished product look even more polished and gives it a high quality finish. The towel rings can be easily screwed onto the wall, but for those who shy away from making holes in the wall, you will be happy to know that many of the towel rings in the range can be glued on instead. Choose whichever method suits you best.
Why just stop at one towel ring? If you have many towels or several people at home, it might be worth attaching a ring on either side of the sink so you have more hanging possibilities. Fix the towel rings in places where it's easy to grab after getting out of the shower or bath. Consider attaching them lower down if there are children in the household.
THE TOWEL RING: A MUCH NEEDED FINISHING TOUCH
With their various colour finishes and styles, GROHE's array of bathroom towel rings make it easy to find the towel ring that will suit your bathroom perfectly. GROHE towel rings do much more than simply hold your towels: they also give your bathroom a refined touch.