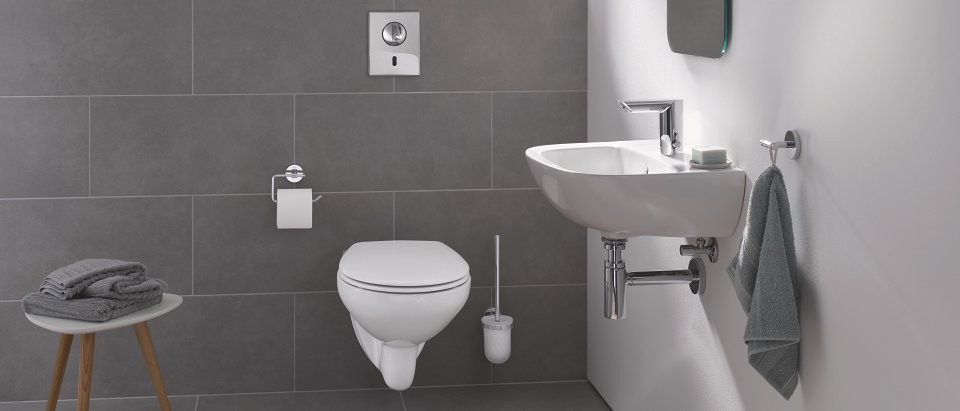 FIND A TOILET BRUSH SET FOR YOUR BATHROOM WITH GROHE
A bathroom redesign isn't over until it's over! You might have everything else crossed off your bathroom wish list, but there's one thing that you might not have thought about until now, and that's to buy a toilet brush set. What good is having a bathroom revamp if only 99% of the area is to your liking? We believe you should be happy with every single bathroom fixture and accessory, which is why GROHE offers a wide variety of toilet brushes for different budgets and style preferences. From chrome toilet brush sets to 3-in-1 wall-mounted sets that command your attention, it's only fair that every bathroom accessory deserves a chance to shine.
SEE THE DIFFERENCE WITH THE GROHE TOILET BRUSH SET
Just like everything should be, variety is the spice of life. We don't subscribe to the "one size fits all" model and prefer to give our customers as much choice as possible when it comes to completing a dream bathroom. Do you want a selection of different shapes, colours, and installation options when you buy a toilet brush set? You've got it with GROHE.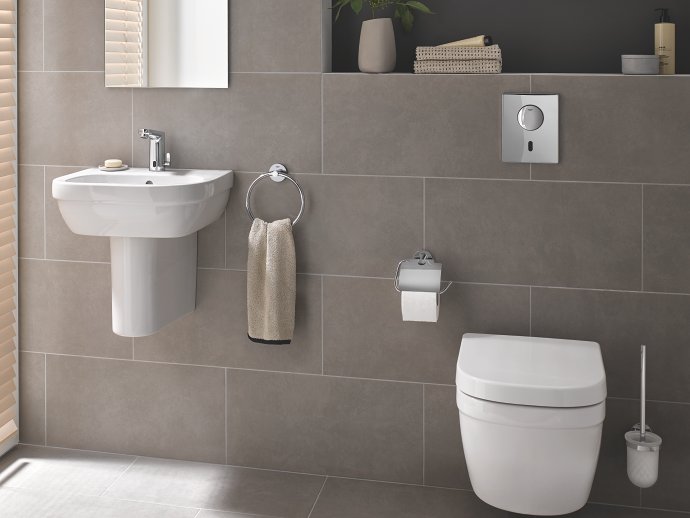 A STYLE FOR ALL BATHROOMS
Elegance and function are what GROHE stands for, and makes sure to apply these principles to every product with our logo displayed on it. Toilet brush sets are certainly no exception and have all the beautiful design and appeal you would want from a GROHE bathroom accessory. Featuring wall-mounted installation, our toilet brush sets contain a strong yet stylish glass brush holder and scratch-resistant and eye-catching chrome-coated handle with our StarLight finish. Easy to clean and use, our wall-mounted brushes mean that you're saving space, especially in a smaller bathroom, and the concealed fastening results in a neat and tidy look that is never intrusive or unsightly.
For a chrome toilet brush set that suits a multitude of bathroom designs and sizes, it's hard to ignore the GROHE BauCosmopolitan for its sleekness and price. The Allure Brilliant has a playful take on the typical designs we all know by going for a cube-shaped holder. The Selection toilet brush set is where things really become different and stand out: the cylindrical glass holder contains dashes of brushed cool sunrise on the top and bottom and an easy-grip long handle, all of which combine for an unforgettable accessory.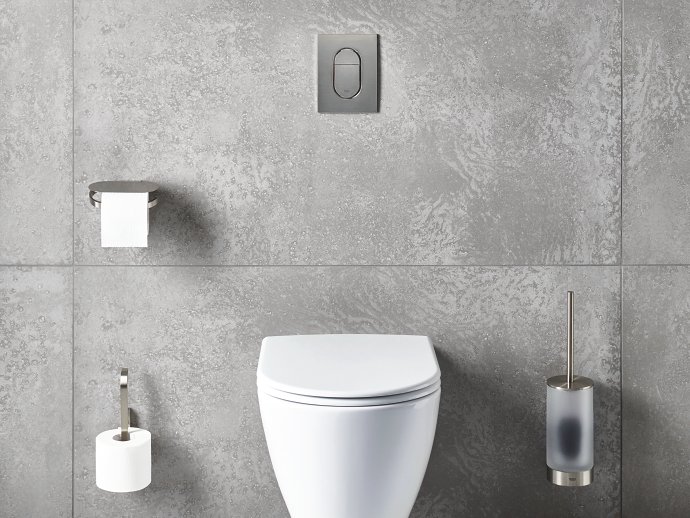 BUY A TOILET BRUSH SET AND START ACCESSORISING
You'll be glad to know that there are more toilet brush sets and accessories to explore within the GROHE range. What's particularly appealing for any new homeowner wanting to set up a bathroom is the 3-in-1 selections. The Essentials 3-in-1 WC setgives you three impeccable accessories that will last a lifetime, including a toilet brush, robe hook, and toilet paper holder that are simple to install. These three items all feature top craftsmanship, high quality materials, and the StarLight chrome finish for a shiny look that refuses to fade. All our accessories and toilet brush sets come in a range of designs and colours, so there's always something for everyone.
We build all our products to last and be used every day, but thankfully replacement parts can be ordered if anything should get damaged or lost during the course of life. In addition to the Essentials spare glass for a toilet brush holder, it's also possible to pick up another Essentials toilet brush head in either black or white. These items are necessary for a clean and hygienic bathroom and should be replaced every now and then to ensure sanitation is never forgotten.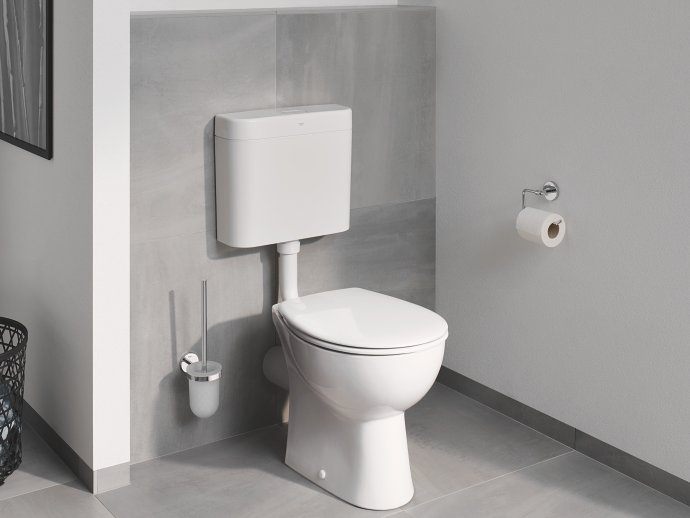 GROHE ACCESSORIES TO CONSIDER
After you buy a toilet brush set, there's always more to think about if your bathroom doesn't look complete just yet. The 3-in-1 sets are a great solution for any homeowners who wish for a quick and easy way to set up a bathroom, but there are many fantastic items in the full GROHE range. The Essentials spare toilet paper holder in a brushed cool sunrise finish is a sophisticated method to store any extra toilet paper, while the Essentials toilet roll holder provides your bathroom with a classy, polished chrome bathroom accessory that looks great in any home. To really take your bathroom experience to another level, it's worth considering the GROHE Sensia Arena shower toilet for a timeless design and incredible self-cleaning technology.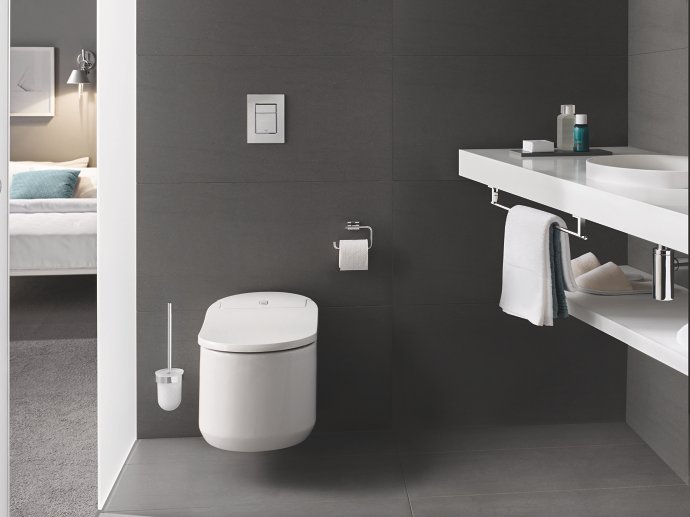 ALWAYS MADE FOR SIMPLE
INSTALLATION
You never need to worry yourself about how to install a toilet brush set or any other GROHE product for that matter, as step-by-step instructions and all the necessary pieces come included with the purchase. Every toilet brush can easily be attached with the wall-mounted sets and concealed fastenings, meaning that it looks great and is simple to set up. Those with more than one bathroom in their house also have the option to buy toilet brush sets that match or opt for a different design in each one.