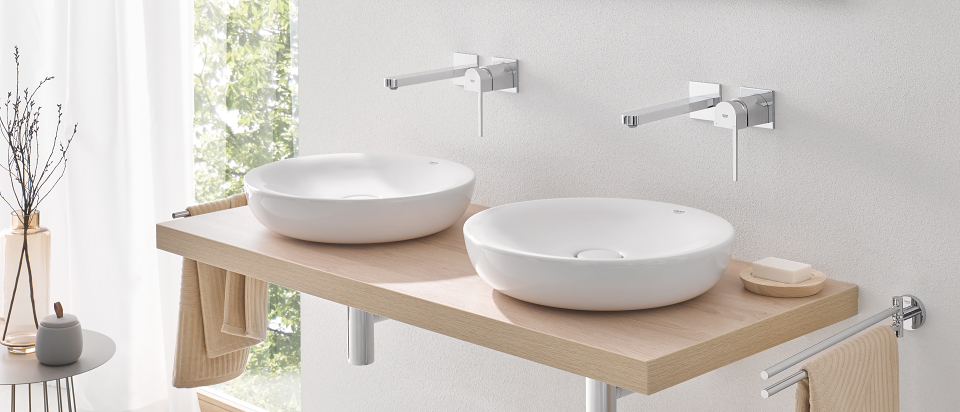 DISCOVER THE STYLE AND SUBSTANCE OF GROHE BASIN TAPS
The bathroom tap is something we all use every day, but that doesn't mean they have to be dull – far from it. At GROHE, we believe in bringing beauty to your bathroom without ever compromising on functionality. With our range of basin taps, we do just that. Browse through our collections and allow yourself to be inspired – your dream bathroom is just around the corner!
A VARIETY OF BASIN TAP TYPES FOR ANY APPLICATION
No matter what type of basin you have, your specific installation requirements, or your personal preference, we have an appropriate basin tap for you. From tall spouts and C-spouts to wall-mounted and small basin taps, we offer a wide array of bathroom sink taps to ensure you find the ideal product for your needs.
In the modern home, mono basin taps are quickly becoming standard. High quality and reliable, yet simple and easy to operate, GROHE single-lever taps like the Eurostyle Cosmopolitan are an excellent choice for virtually any bathroom. For a little extra stylish flair, we also offer two- and three-hole basin mixers, which combine the familiarity of separate temperature controls with the comfort and convenience of a modern mixer tap. Furthermore, we offer several infra-red operated basin mixers to give your bathroom a futuristic touch.
If you prefer the traditional approach of separate basin taps, or require them due to your house's plumbing, we have you covered. For example, the Feel Pillar Taps have a timeless look and come in a classically clean chrome finish.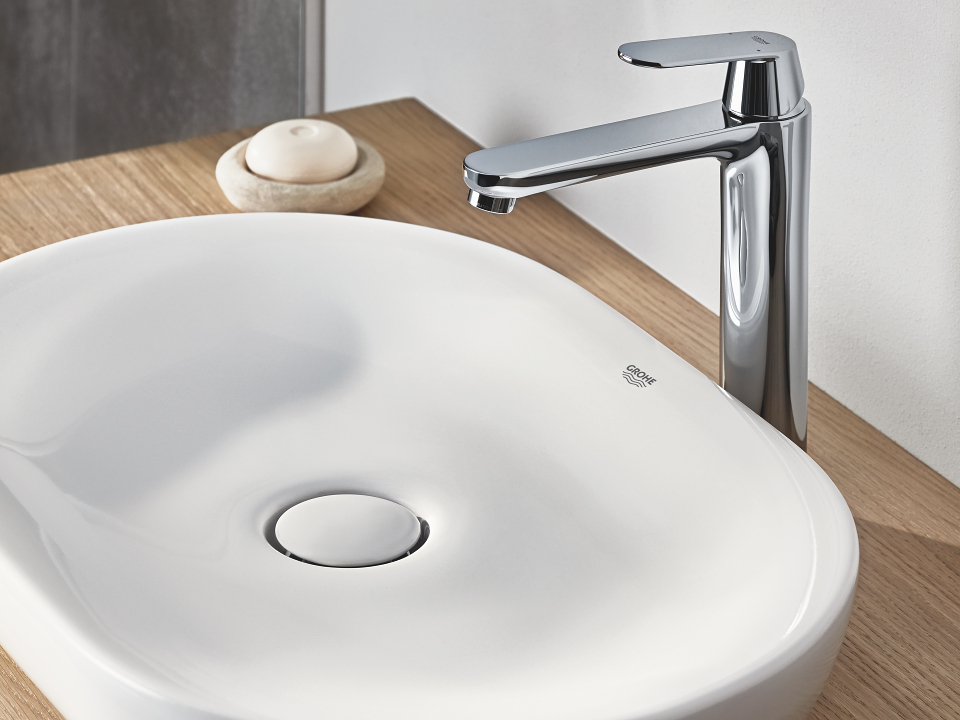 SELECT YOUR IDEAL AESTHETIC FROM OUR DESIGN COLLECTIONS
When it comes to bathroom fittings, we recognise that form is a crucial aspect alongside function. We therefore provide you with plentiful design collections to choose from when shopping for your new wash basin taps. Each one has its own distinct character and aesthetic, such as Cosmopolitan or Contemporary, helping you align your bathroom suite with your personal taste.
For example, fans of minimalist design are sure to connect with the Lineare collection due to its invitingly cosmopolitan vibe. These taps combine cylindrical bodies and thin rectangular forms to great effect. Meanwhile, the Grandera collection is more likely to appeal to those with a penchant for designs that blend timeless classicism with a touch of extravagance.
Small bathroom? No problem! Even if you have a small bathroom basin, or you simply prefer a petit design, you can still enjoy these stunning collections. You're free to choose the size of your tap, from an extra small basin mixer tap to extra large, giving you plenty of flexibility. Find out more about our sizing here.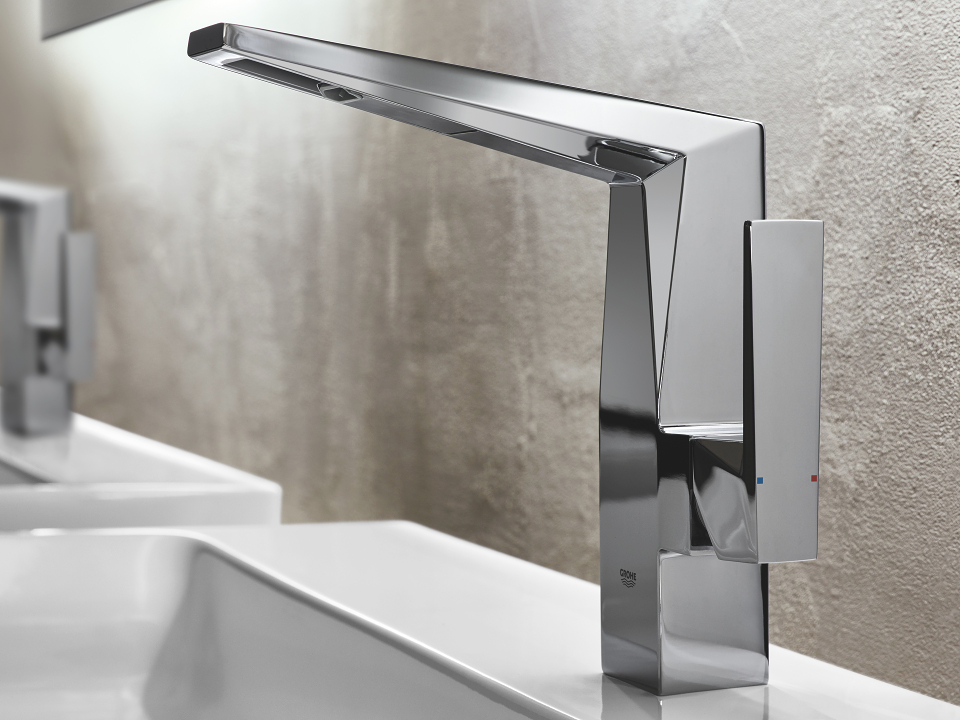 BENEFITS OF GROHE BASIN TAPS IN A NUTSHELL
Easy to fit thanks to the GROHE QuickFix installation system
Impressive variety of installation and sizes, suitable for virtually any application. Includes single-lever mixers, pillar taps, touchless infra-red, wall-mounted, 2- and 3-hole, and much more.
Available in various different design styles and colour finishes, helping you create your ideal bathroom aesthetic
A combination of industry-leading technologies ensures the superior operation of your basin tap for a long time to come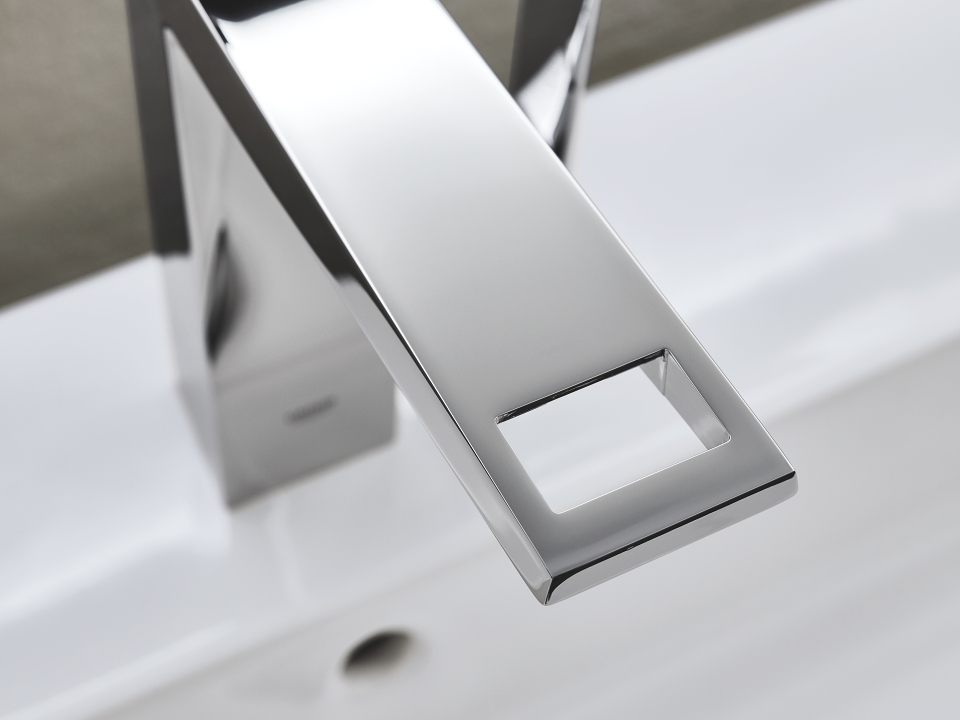 INDUSTRY-LEADING BASIN TAP TECHNOLOGY
Like all GROHE products, our basin taps are at the cutting edge of modern bathroom design. Right across our collection, you'll find a wealth of features and technologies to enhance your comfort, extend the lifespan of your tap, save water, and much more. GROHE's bathroom taps make it easier and more convenient than ever to set your preferred water flow and temperature, resulting in a truly hassle-free experience. Below are just some of the industry-leading technologies featured in our basin taps.
GROHE SilkMove
SilkMove features in our single-lever mixer taps and delivers a uniquely rich and smooth handling experience, which perfectly expresses the superior quality of our brand. Thanks to the GROHE SilkMove cartridge, you can control the water flow and temperature with the utmost precision. Made from a space-proven ceramic alloy and with Teflon technology, these cartridges guarantee the same smoothness of operation for 20 years.
GROHE EcoJoy
Less water. Perfect flow. Products featuring EcoJoy, such as the Eurosmart Basin Mixer, are specially designed to reduce both water and energy consumption. The best part? This doesn't involve any compromise on performance. In fact, GROHE technology reduces water consumption by up to 50% while still ensuring perfect water flow.
GROHE Starlight
The use of StarLight technology on our basin taps ensures that they preserve their beauty for years to come. StarLight is available across the spectrum of colours in the GROHE range, as well as in various finishes.
GROHE FeatherControl
Effortlessly control the temperature and flow from your tap. As with SilkMove, the GROHE FeatherControl cartridge offers you ultimate precision and control when using our joystick basin mixer taps, such as the Eurodisc Joy. Its state-of-the-art coated ceramic discs and innovative sealing guarantee silky smooth operation and a wider volume and temperature angle.