The GROHE Sensia Arena shower toilet: ultimate comfort and cleaning with smart self-cleaning technology
Why just wipe when you can clean with water? Combining the best of a toilet and a bidet, plus many extra features, this sleek shower toilet will change your daily cleaning routine for ever. This technologically advanced toilet has two separate self-cleaning spray heads that you can adjust for position, pressure and temperature, with oscillating and massage spray options and a warm air dryer function. Make visiting the toilet a pleasure with features designed for comfort, including automatic seat and lid opening and a powerful flush that cleans and covers the whole bowl. Designed to be 100% hygienic and easy to clean, the toilet uses odour absorption to clean the air while advanced ceramic finishes HyperClean and AquaCeramics are anti-stick, anti-limescale and anti-bacterial, banishing 99.9% of germs. The air-disinfecting technology PlasmaCluster* actively eliminates bacteria inside the bowl. The sleek, wall-hung toilet design looks perfectly at home in contemporary bathrooms and its smooth lines leave dirt nowhere to hide. Use the control panel on the side of the seat, the remote control or a smartphone app to control and programme, and let the GROHE Sensia Arena revolutionise your daily bathroom routine.
Product main features
GROHE Hygiene GROHE antibacterial glazing (SIAA Kokin Japanese standard compliant) and non-stick coating ceramic appliance with Aquaceramics technology
GROHE power flush: rimless wash down jet WC with GROHE Triple Vortex flushing technology
GROHE Skin Clean:
2 dedicated adjustable spray arms (1 for anal area, 1 for lady spray)
separate water way for lady spray
oscillating spray (automatic forward and reverse motion of the spray)
pulsating spray for massage
adjustable spray intensity
automatic pre- and post-rinsing of spray nozzle with fresh water
integrated instant heater provides unlimited warm water
adjustable temperature
Additional functions
warm air dryer with adjustable temperature
odor extraction with filter
PlasmaCluster function - ion technology
descaling function
Duroplast WC seat and lid with automatic opening/close function soft close
infra-red user detection
seat control operation
power switch
inside bowl night light
hidden water supply and power supply connection
remote control
smart phone app for iOS and Android
includes:
manual remote controller with wall-mounted holder
active carbon filter for odour absorption
water supply connection set for concealed cistern
nozzle guard
pressure 0.05 - 1 MPa (0.5 - 10 bar)
nominal voltage 220-240 V AC
main frequency 50-60 Hz
type of protection IPX4
complies with EN 1717
CE approved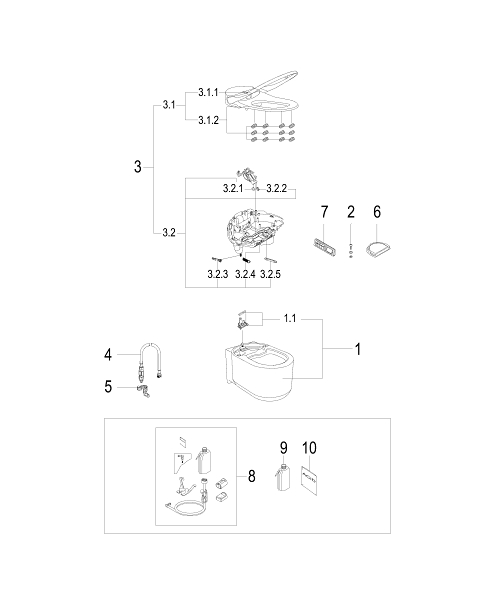 Pos.-nr.
Prod. description
Order-nr.
* Optional accessories

1

WC-ceramic

14937000

1.1

Fixing member rear

14969000

2

Anti-theft screw

14972000

3

E-bidet unit

14976000

3.1

cover

14979000

3.1.1

WC lid

14925SH0

3.1.2

WC seat

14924SH0

3.2

Base plate assembly

14978000

3.2.1

Spray

14929000

3.2.2

Spray

14928000

3.2.3

Filter

14927000

3.2.4

Air filter

14933000

3.2.5

Nozzle guard

14930000

4

Connection hose assembly

14974000

5

Hose clip

14971000

6

splash protection

14936000

7

Remote control

14926001

8

Descaling kit

46978001*

9

Descaler bottle

46979000*

10

Descaler

4697700M*
GROHE Limited
World Business Centre 2
Newall Road
London Heathrow Airport
Hounslow
Middlesex
TW6 2SF
Customer service hours
Opening days
Opening hours
Monday - Wednesday
08:30 - 12:30
13:30 - 17:00
Thursday - Friday
08:30 - 12:30
13:30 - 16:00
2+1 Guarantee extension
GROHE products guarantee long-lasting performance and excellence by combining high-quality materials and the newest manufacturing processes in the market. This is reflected in our 5-year product warranty - which can now be extended for an additional year when you register your product online.
We ensure that you can reliably count on our excellent product quality.
Should you encounter any repair or replacement needs, we and a specialised installer will be at your service.