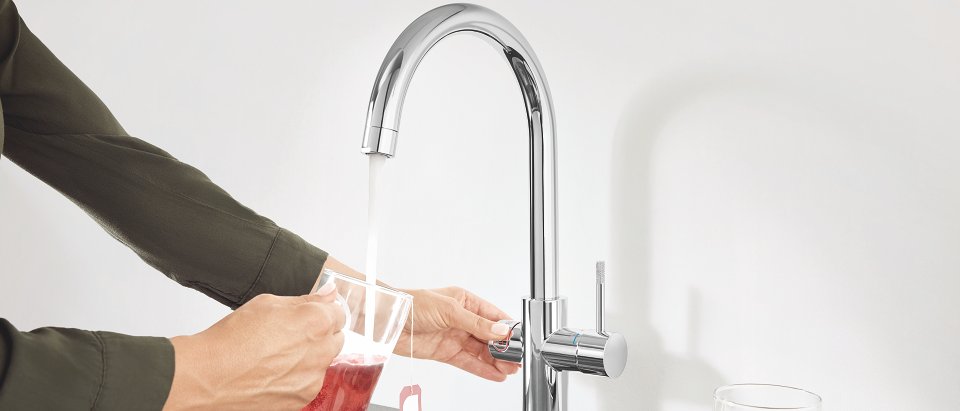 Convenient. Sustainable. Safe.
The design of GROHE Red includes a range of intelligent features that make life so much easier.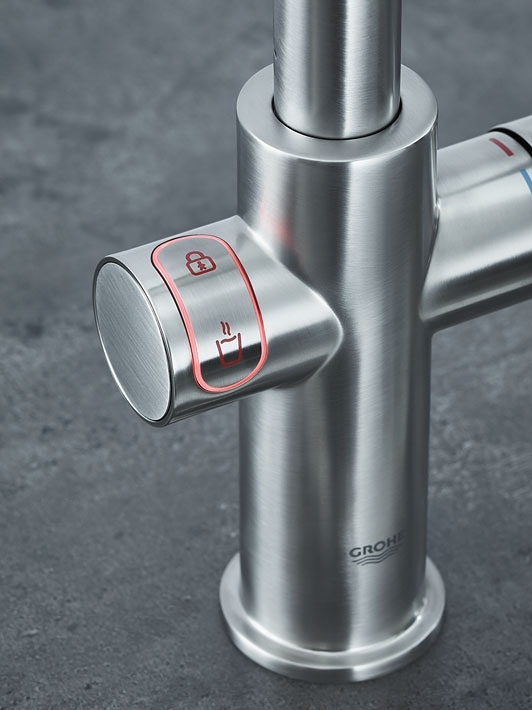 SAFETY FEATURES
The safety of your workforce is your top priority – and ours too. GROHE Red not only features a clever ChildLock but has also passed the German TÜV test, the independent body that confirms applicable safety requirements and quality standards.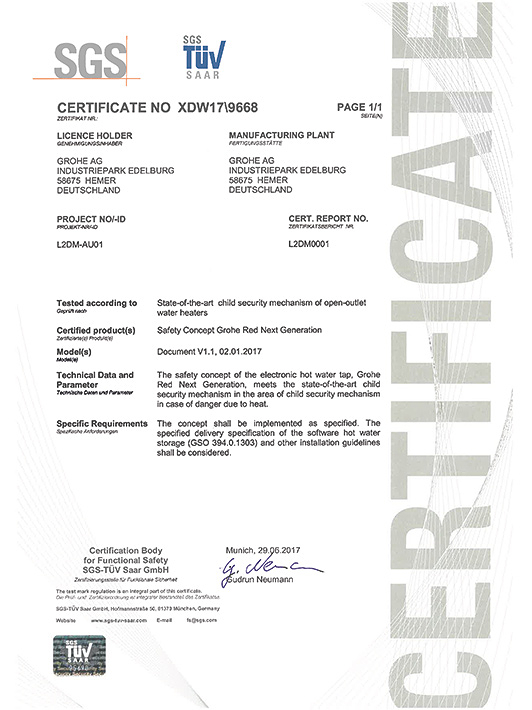 TIME-SAVING TECHNOLOGY
As we all know, time is money! With GROHE Red there's no waiting for the kettle to boil. The average kettle holds 1.7L, but with GROHE Red you have up to 5.5L of kettle-hot water ready to go at any moment. Enough for even the biggest tea round, with no need to queue.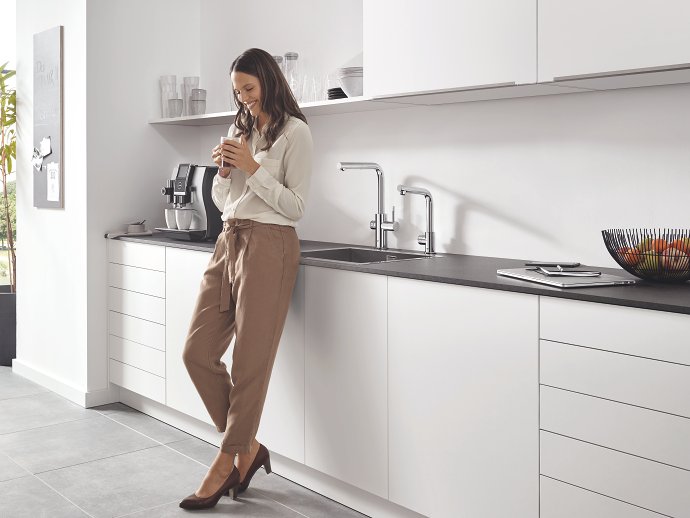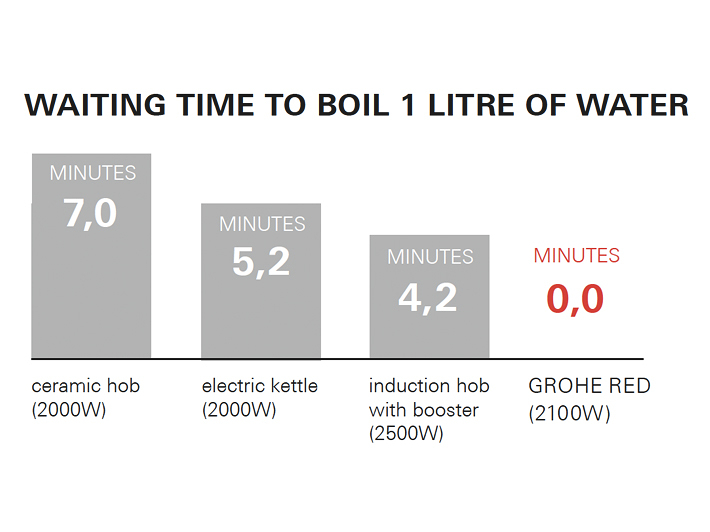 TIME SAVING
The average electric kettle can only boil a maximum of 1.7 litres at a time. Unlike GROHE Red allowing up to 5,5 litres of kettle hot water to be drawn off at once. No one has to wait.
AN ENERGY SAVING SYSTEM
There's more to GROHE Red than kettle-hot water.
Coldfill installation: Thanks to its mixing valve you can use GROHE Red to provide warm water in kitchens that only have a cold water supply. It mixes boiling water with cold water from the mains supply, to deliver warm water to the mixed water lever of your tap.
Hotfill installation: GROHE Red saves energy as hot water is available immediately.
The mixing valve is available as an additional accessory and can be combined with every GROHE Red set.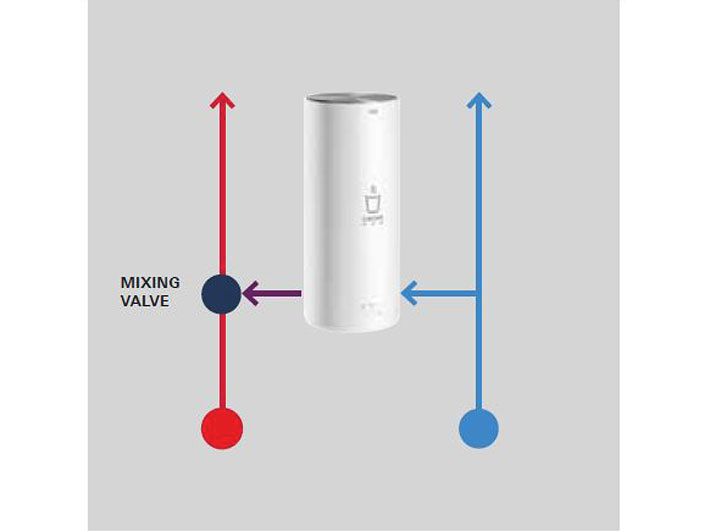 COLDFILL INSTALLATION
Kettle hot water is mixed with cold water from mains to supply warm water for the kitchen tap.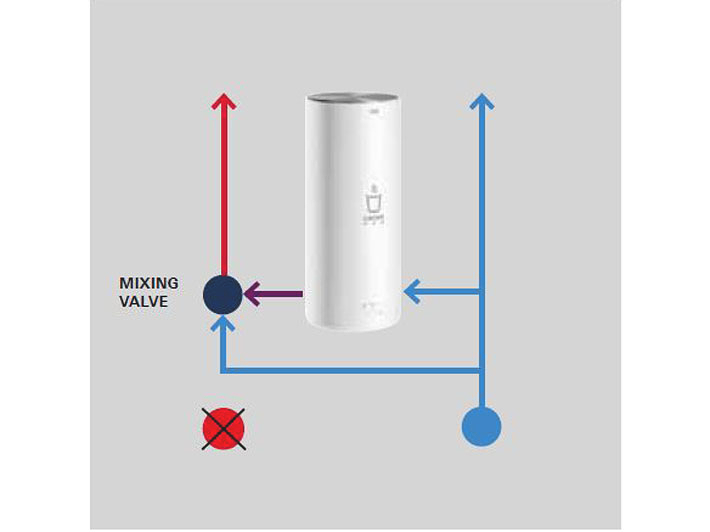 HOTFILL INSTALLATION
Instant warm water via the GROHE Red boiler with attached mixing valve.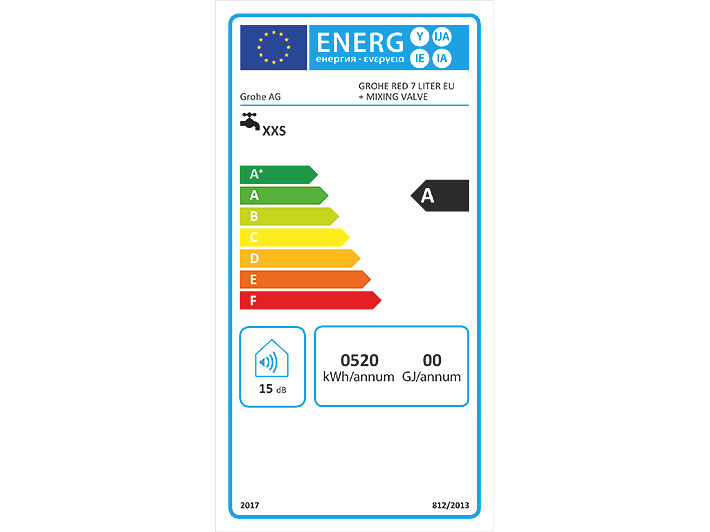 Energy efficient
Energy efficiency rating A when used with mixing valve 40841001 to generate warm water.
We put all our energy into saving energy
Can it really save energy to have water constantly on the boil? The answer is a definite yes. The GROHE Red titanium boiler's excellent insulation means that a minimum of energy is required to maintain the temperature, compared to the amount required by an electric kettle. Time saved, energy saved, leaving you to get on with the job.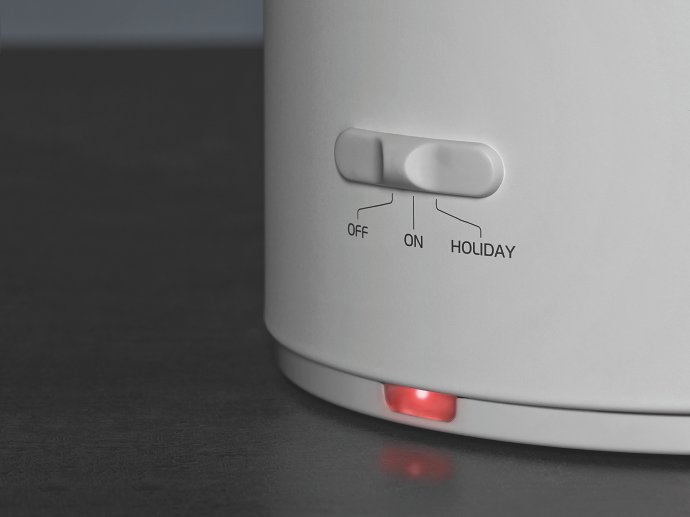 Holiday mode
When the office is empty – for example over the weekend - switch the boiler to holiday mode. The water is only heated to 60 °C, ensuring further energy savings.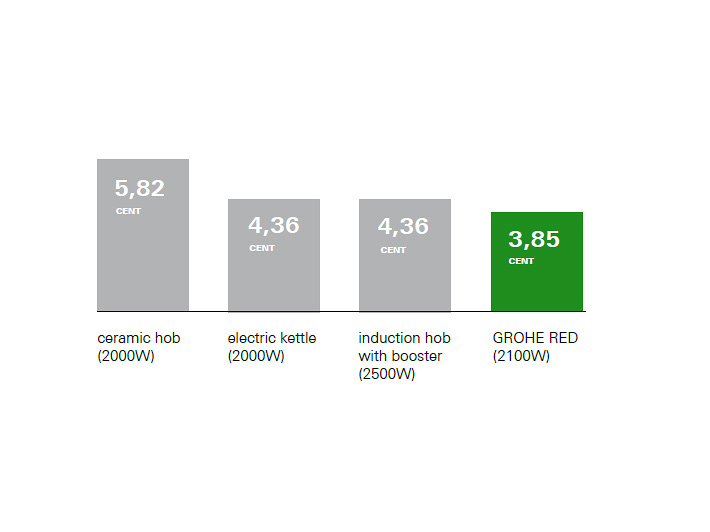 Energy costs to boil 1L of water.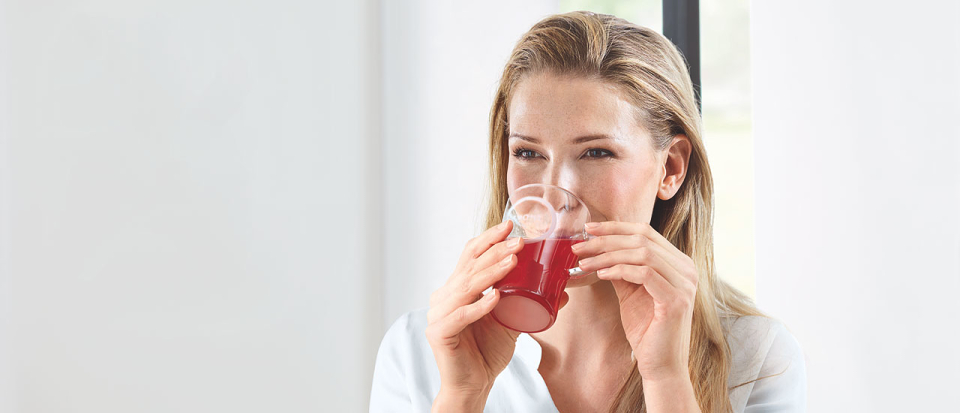 SUPERIOR FILTRATION
IT ALL BOILS DOWN TO THE FILTER
People are picky about the taste of their tea and coffee. With GROHE Red you just enjoy the great taste, thanks to the 5-stage filtration system that removes impurities while leaving valuable minerals in place. And by filtering out limescale you can also ensure many years of perfect performance from your GROHE Red boiler.
Learn more about the high-performance filters