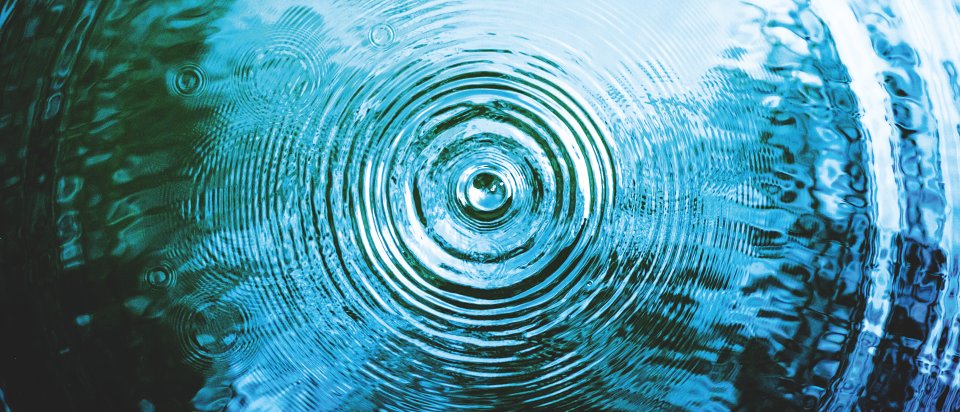 SAVE WATER AND MONEY WITH WATER-SAVING SHOWER HEADS
Taking a shower is an important part of our daily routine. Not only does it help us maintain good hygiene, it also gives us a well-deserved break from the stresses of the day, helping us relax and recharge.
However, showers use one of the world's most valuable resources: water. The average UK household uses 330 litres of water per day. That's a lot. What if you could enjoy your shower just as much whilst reducing your water consumption? GROHE's water-saving shower heads help you shower responsibly, save money and help the environment in the process.
A commitment to sustainability is at the core of GROHE's brand. Through innovative design, GROHE's water-saving shower heads let you reduce your water consumption by up to 40% without compromising your comfort and enjoyment. Using less water also means less energy is required to heat the water, so the benefits are twofold. If you've been thinking about switching to a water saving shower head, there's no better time than now!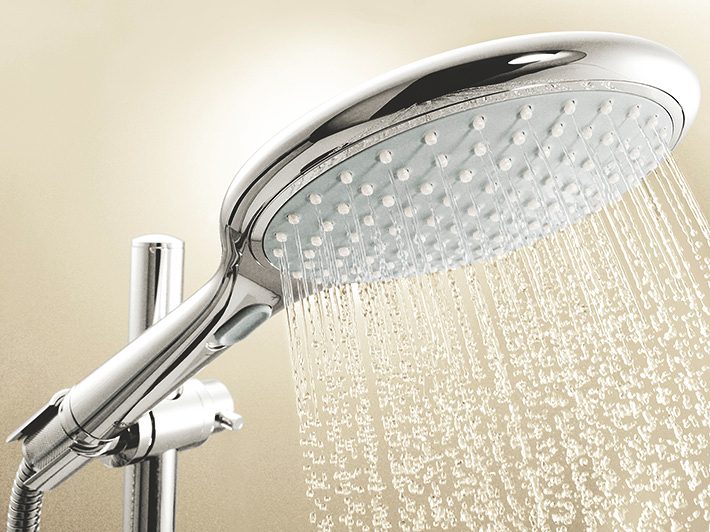 WHAT SHOULD YOU LOOK FOR IN A WATER-SAVING SHOWER HEAD?
Shower heads with the GROHE EcoJoy feature make its easy to use less water and energy. This is a result of innovative features like integrated flow limiters, Eco buttons and SprayDimmers. These features allow you to choose when you want to reduce your water consumption. You only have to do is slide the Eco button, which activates the water-saving features, or slide the SprayDimmer, which allows you to gradually reduce the volume of water used as well as switching between spray patterns.
GROHE's water-saving shower heads come with several options for limiting water consumption, allowing you to set the water consumption to 5.7, 7.5, or 9.5 litres per minute. To ensure the optimal shower experience with less water, the shower heads also feature designs that work to ensure full body coverage. For example, the Euphoria 110 Massage Hand Shower comes with the handy SprayDimmer feature, as well as three spray patterns, one being the eco-friendly SmartRain, which conserves water without taking anything away from the experience.
Features at a glance:

High-quality materials for prolonged use of your shower head
Water-saving technology that saves you water, energy and money
Luxurious design with many colour, size and shape options
Intelligent spray patterns for ultimate comfort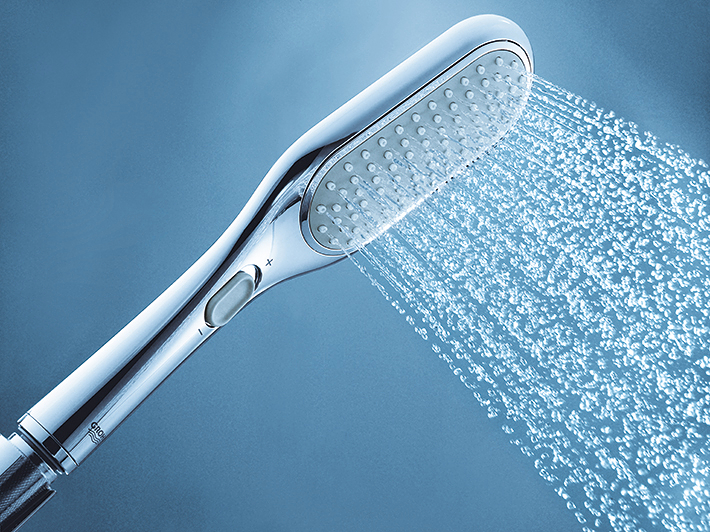 RECOMMENDED COLLECTIONS FOR YOUR WATER-SAVING SHOWER
Every GROHE product with EcoJoy technology also feature quality materials, first-class design and advanced engineering, which all play an important role in saving water.
Because of GROHE's focus on sustainable design, there are plenty of water-saving options to choose from. However, we especially recommend the New Tempesta, New Tempesta Cosmopolitan, Rainshower Eco, or Euphoria lines for your next water-saving shower.
The New Tempesta collection includes water-saving shower heads that feature a ShockProof silicone ring, preventing damage if it were to fall on the floor, perfect for the more clumsy amongst us! Its cosmopolitan cousin, New Tempesta Cosmopolitan, transforms the Tempesta's rounded features by adding a bit of edge to them, while maintaining the high standards of engineering and design.
SPRAY SETTINGS THAT MAKE IT EASY TO SAVE WATER
Plenty of GROHE's EcoJoy products feature multiple spray settings to provide you with the ultimate eco-friendly comfort.
The Rain setting uses a soft delicate pattern to create a wide and luxurious spray that soothes the skin like warm summer rain.
GROHE Rain O2 provides you with a soft, smooth spray that infuses water droplets with air for a wider, fuller spray.
The SmartRain spray delivers the benefits of the classic Rain spray with reduced flow.
GROHE's Bokoma spray uses eight nozzles to create a "breathing" effect, mimicking the tension-relieving sensation of a fingertip massage.
For an even more stimulating shower, the Jet spray offers a focussed circular burst of water.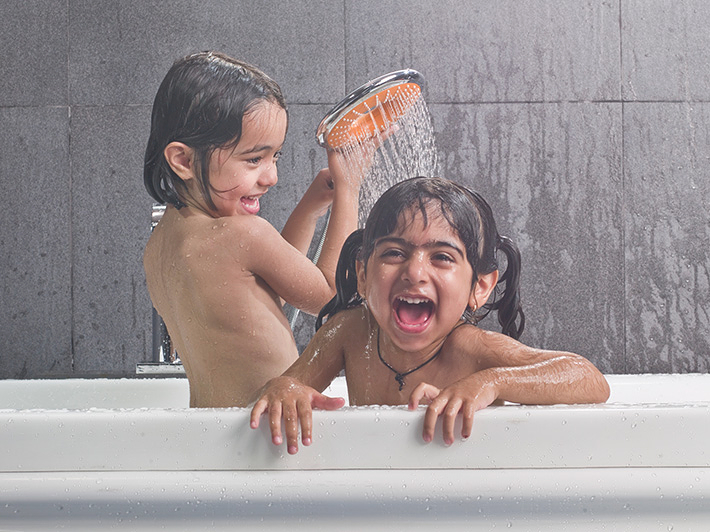 THER FEATURES OF GROHE'S WATER-SAVING SHOWERS
Keeping in line with GROHE's principles that sustainability doesn't have to come at the cost of comfort, its water-saving showers includes additional high-quality features that GROHE is known for.
The inner water guide protects you and your family from the possibility of the outer surface of the shower head getting too hot.
The SpeedClean anti-limescale system with silicone nozzles prevents the build-up of stubborn limescale.
DreamSpray technology ensures that the flow from every nozzle is just right, making your shower as comfortable and enjoyable as possible.
The durable GROHE StarLight chrome finish keeps the water-saving shower head looking pristine for a lifetime, which is another aspect of sustainability important to GROHE.