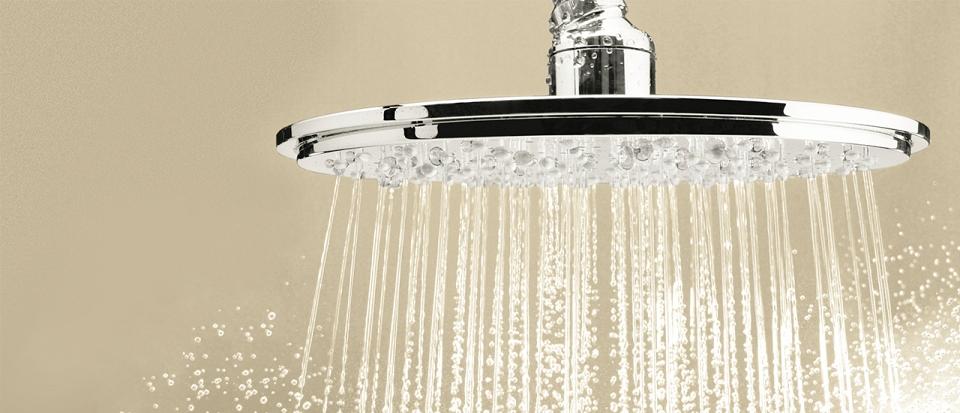 WALK-IN SHOWERS FOR THE ELDERLY
Another year older, another year wiser! Nevertheless, as we get older we might not be as supple as we once were. Therefore, it's important to take more care when performing routine tasks such as going to the toilet and taking a shower. This, however, does not mean that we have to lose our independence, but rather that a few adjustments have to be made.
If you need to take extra care in the shower to avoid slipping or falling, GROHE's walk-in showers for the elderly are the answer. GROHE's collection of showerheads, thermostatic shower mixers, and shower systems are practical as well as being stylish and modern. They are designed to put the ease, comfort, and independence back into showering. Mix and match to create your ideal walk-in shower for seniors.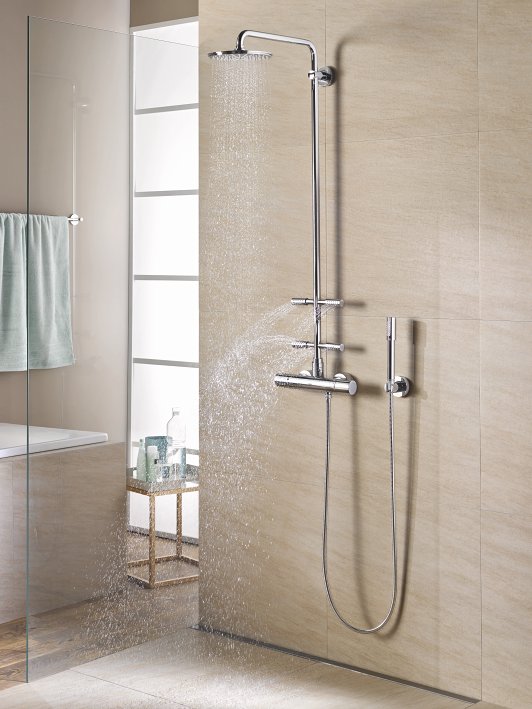 WHAT IS A WALK-IN SHOWER?
Walk-in showers are the cutting edge of modern bathroom design. Promoting a more open-plan style of bathroom, a walk-in shower is a fresh, contemporary and luxurious addition to the home. A walk-in shower is a stylish yet unobtrusive addition to the bathroom. Plus, it has a door-free design so it doesn't impact on other bathroom fittings.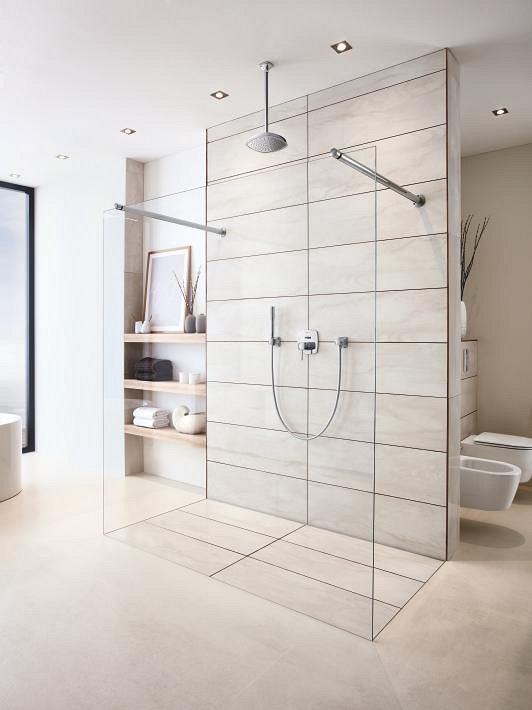 WHY IS A WALK-IN SHOWER FOR THE ELDERLY A GOOD IDEA?
Walk-in showers are very popular amongst those with mobility difficulties. Some of them do have a curb you have to step over to get in, but there are many designs without one, which would be recommended for those not so steady on their feet. A shower without a curb can also be used in conjunction with a wheelchair. Another characteristic of a walk-in shower is that there are no doors or curtains, which could be a potential hazard. With these obstacles removed, it eliminates the challenges posed when getting in and out of the shower.
Another major advantage is that these showers are easy to clean. Since it's made of glass, there are no metal pieces that need to be constantly cleaned. Moreover, there are fewer areas and corners where water can gather and fewer places where dirt and grime can gather so need to bend down to scrub the shower clean.
Due to the extra spacious showering area, it's also possible to attach a fold down seat – just one more reason why a walk-in shower for the elderly is a great idea. When creating a walk-in shower, you can decide which points are the most important to you and incorporate them accordingly.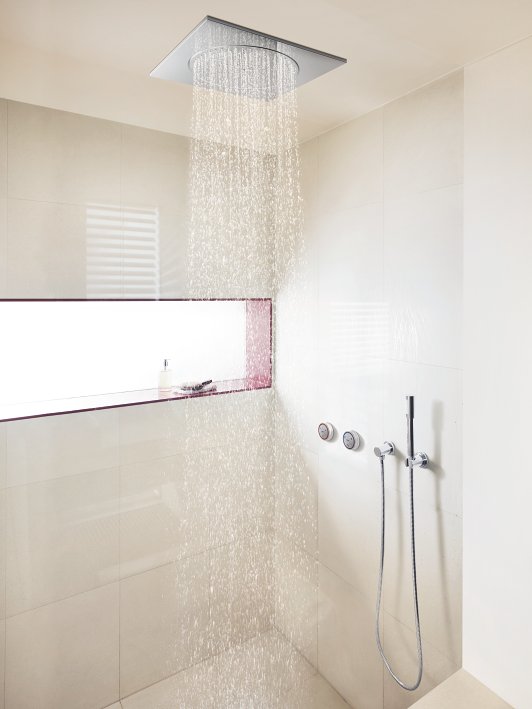 GROHE'S INNOVATIVE TECHNOLOGY FOR WALK-IN SHOWERS
At GROHE, we've incorporated lots of useful technology into our fixtures so you can easily design the perfect walk-in shower for seniors, with their safety in mind. Our shower systems are also extremely user friendly, so they're easy to get the hang of. No overly complex controls, just straightforward, quality functionality.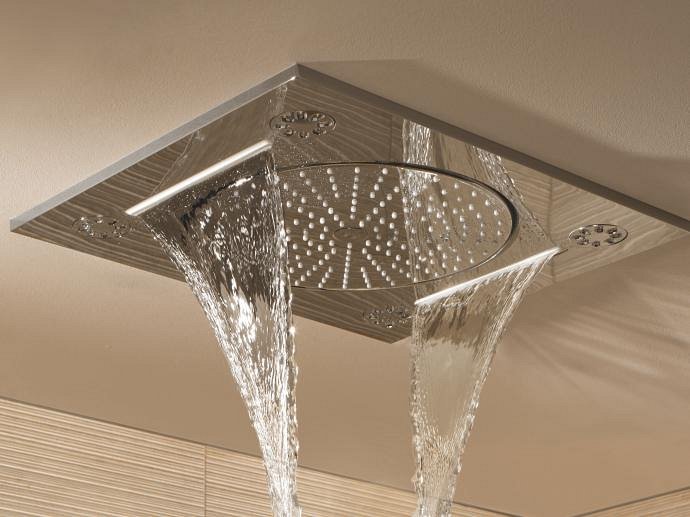 DESIGNED FOR SAFETY & COMFORT
We recommend thermostat fittings to ensure you and your loved ones can shower in comfort and safety. We've fitted our shower systems with GROHE TurboStat® technology which ensures that the water temperatures stays constant at all times. A sudden change in water temperature during a nice relaxing shower is not just unpleasant, it's even more important to avoid the risk of scalding. To this end, the technology recognises when the cold water flow is interrupted and the thermostats are programmed to stop the water flow straight away.
The SafeStop button also makes sure that the water temperature never rises about 38°C if you accidentally brush against the controls and turn them too high, for example.
Another helpful technology we offer is GROHE CoolTouch®, which coats any exposed metal such as pipes and the hand shower and guarantees that they stay cool so you don't burn yourself while hot water is flowing through them.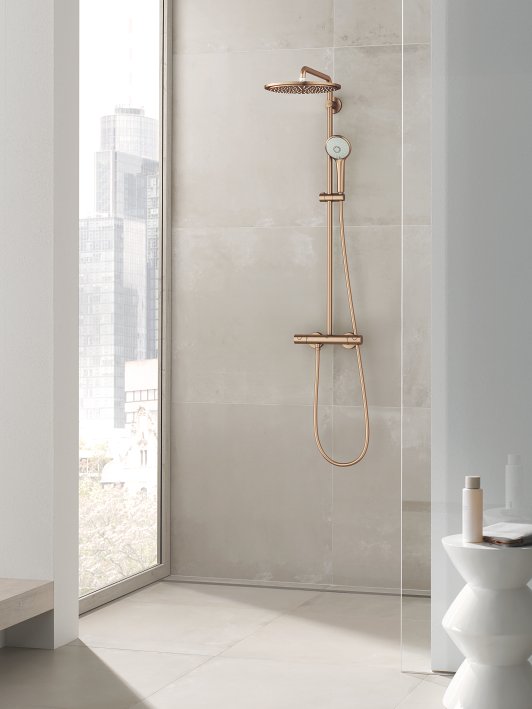 ADDITIONAL CONSIDERATIONS FOR THE ELDERLY
First of all, consider building a niche in the wall that shampoo and soap can be stored in when designing a walk-in shower for seniors. This prevents the user from having to bend down to pick up what they need off the floor, which could cause them to slip. Installing handrails in the shower is also highly recommended as a precaution in the event of a slip or fall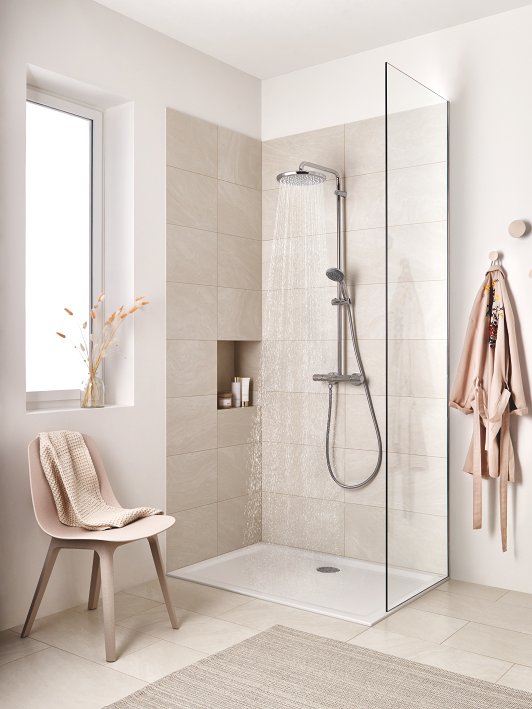 MORE INSPIRATION AND SOLUTIONS FROM GROHE
These are just some examples of how GROHE puts the customer first to make sure all generations are catered for. Perhaps now you're inspired to install a walk-in shower for the elderly, but need ideas for the whole room? Take a look at our bathrooms for the elderly section so you can get ideas for the whole room including single-lever taps featuring GROHE SilkMove® technology, high spout taps, and thermostats with Grohtherm Micro technology, providing temperature protection.
For even more peace of mind, check out our other inspiring accessories such as bath grips, making you feel safer when manoeuvring around the bathroom.