Product Description
GROHE Sense Guard - the smart water controller for enhanced water security
Welcome to GROHE Sense Guard – the innovative smart water control system that is a real life-changer. The German-made device monitors the flow, pressure and temperature of water in the pipes 24/7. One look at your smartphone tells you all you need to know! The Aquablock function shuts off the water automatically if a pipe bursts*. Even micro leaks** – which can go unnoticed for a long time and lead to lasting damage – are identified. That means total peace of mind even when you are away from home or on holiday!The smart Aqua IQ function learns your patterns of water consumption and detects anomalies*** and AquaTrack generates a comprehensive picture of your household usage. The risk of frost damage is reduced as GROHE Sense Guard also assesses water temperature and alerts you if it might freeze.The GROHE Sense app is the hub of the system. It takes seconds to download and gives you instant control, allowing you to monitor your water supply, customize your settings and also turn off the water manually.For a qualified installer, fitting GROHE Sense Guard is a simple job using the wall-mount set (22501000). Installation by one of GROHE´s Water Security Experts ensures reliable product operation.* GROHE defines a pipe burst as a complete hole or crack in the downstream piping system that results in an unintended release of water at close to maximum flow rate. Pipe burst detection depends on the general water usage profile so the time-lag to shut-off can vary significantly. During the delay water might escape. Achieve a higher detection speed by combining the installation with GROHE Sense at critical locations.** A micro leak test is conducted once every 24 hours. Pipe material, volume and other piping system characteristics can impact the result. Micro leak detection is limited to the cold water system in most cases. Combine with GROHE Sense to monitor potential humidity increases over time.*** Detection speed depends on the water usage profile of the house. Achieve a higher detection speed by combining the installation with GROHE Sense at critical locations.
for Wi-Fi, mains powered, 230 V
for single-family houses
detects pipe breaks, micro leaks, frost risk and unusual water flow
automatic, manual or remote shut off function to limit water damage
senses flow rate, water pressure and system temperature
tracks water consumption
receive notifications and customize settings via GROHE Sense App
status indication via LED light, buzzer and push notifications
Wi-Fi 2.4 GHz, WPA/WPA2 protected
for horizontal or vertical installation right downstream the water meter
including mounting nuts R3/4" and extendable power cable 0.7 m, plug type G
use of wall mounting set 22 501 000 with G1" connection recommended, sold separately
noise classification 1 in accordance
with DIN4109
to be installed on cold water pipes only
CE approved
Made in Germany
Technical Information
CAD Data
Spare Parts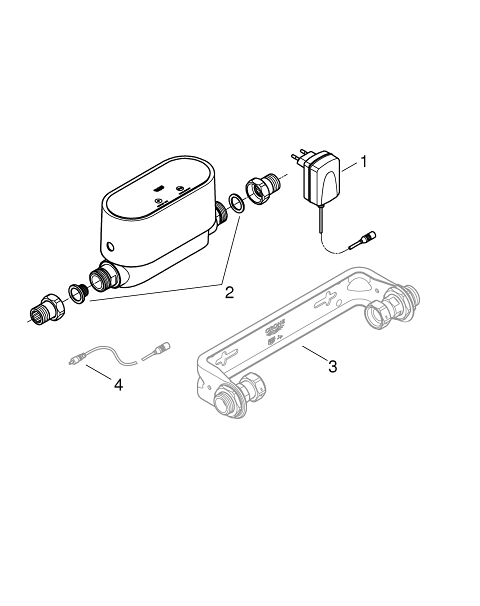 Pos.-nr.
Prod. description
Order-nr.
* Optional accessories

1

Mains adaptor

48374LN0

2

seal kit

48358000

3

Wall mounting set

22501000*

4

Power extension cable

22521LN0*
Warranty Information
GROHE Guarantee
GROHE products are designed to be both visionary and innovative with quality always guaranteed. Purchasing GROHE products means your investment is perfectly balanced in terms of quality, technology and design with sustainable production.
The 2 years plus Manufacturer's Guarantee
GROHE shall grant guarantee services to the end consumer in accordance with the terms and conditions set forth below for all products supplied to the end customer under the GROHE brand, which are tagged as products to which the "Grohe 2 years plus Manufacturer's Guarantee" is applicable.