GROHE Rapido T – concealed thermostat for total temperature control
The GROHE Rapido T concealed thermostat mixer guarantees perfect water temperature control. Designed for Grohtherm Special trim sets, the thermostat is suited to all applications: available with an integrated shower stop-valve, integrated GROHE AquaDimmer bath or hand shower diverter, or as a central thermostatic mixer for separate stop-valves (stop-valve/diverter is included in the respective final assembly set). Inside it contains GROHE TurboStat technology which ensures that water pressure or temperature fluctuations are balanced instantly for a reliable supply and no unexpected changes in temperature. Plus integrated GROHE EcoJoy system reduces water and energy consumption without compromising on great GROHE performance.
Product main features
for use with Grohtherm Special
without finishing trim set
flat installation depth 70 mm - 95 mm
GROHE TurboStat compact cartridge
with wax thermoelement
two top outlets 1/2", lockable
bottom outlet 1/2" - can only be used
with separate stopvalve
body of DR brass
built-in non return valve
and dirt strainers
min. recommended pressure 0.2 bar
10 years warranty editorial headline
GROHE products are designed to be both visionary and innovative with quality always guaranteed. Purchasing GROHE products means your investment is perfectly balanced in terms of quality, technology and design with sustainable production.
The 10years plus Manufacturer's Guarantee
GROHE shall grant guarantee services to the end consumer in accordance with the terms and conditions set forth below for all products supplied to the end customer under the GROHE brand, which are tagged as products to which the "Grohe 10years plus Manufacturer's Guarantee" is applicable.
Technical Product Information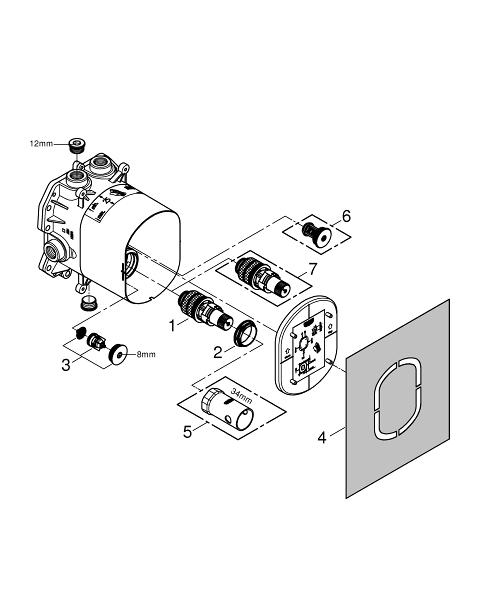 Pos.-nr.
Prod. description
Order-nr.
* Optional accessories

1

Thermostatic compact cartridge 3/4"

47483000

2

retaining ring

47765000

3

Non-return valve

47753000

4

Replacement kit for seal

48263000

5

Socket Spanner

19332000*

6

Safety combination (EN 1717)

29007000*

7

Thermostatic compact cartridge 3/4" for reversed supplies, left:cold/right:hot

47186000*
Products and accessories for the installation
GROHE Limited
World Business Centre 2
Newall Road
London Heathrow Airport
Hounslow
Middlesex
TW6 2SF
Customer service hours
Opening days
Opening hours
Monday - Wednesday
08:30 - 12:30
13:30 - 17:00
Thursday - Friday
08:30 - 12:30
13:30 - 17:00