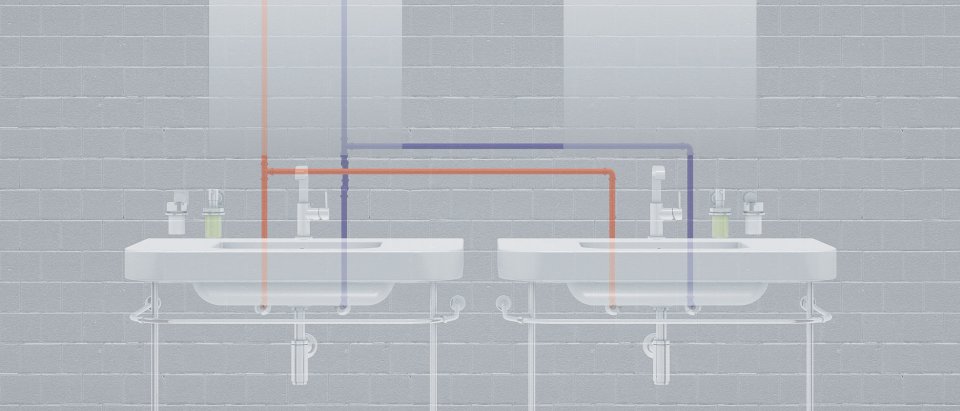 Two wash basins with one-hole basin mixer
Practical information
Comfortable - the ceramic cartridge with GROHE SilkMove® technology guarantees the smoothest handling within an extra generous operating angle of the lever that creates effortless precision and ensures a lifetime of maintenance-free comfort.
Economy - Flow Volume and Temperature (optional Temperature limiter) Adjustment: saving up to 50% of water.
Safe - Temperature Adjustment: An optional Temperature limiter prevents scalding especially around children.
Installation information
To avoid the faucet from damages flush pipes thoroughly!
Fit pop-up waste set (28 915), Seal plug-hole rim!
For this purpose the side valves must be connected to the supply lines.
Open cold and hot water supply and check connections for water tightness.
Water quantities
Operation with low-pressure displacement water heaters is not possible!
Requirements to ensure good functioning of this basin solution:
Min. 0.5 bar flow pressure
recommended flow pressure 1-5 bar
Max. 10 bar operating pressure
Test pressure 16 bar
If static pressure is greater than 5 bar, fit pressure reducer.
Avoid major pressure differences between cold and hot water supply.
Flow rate at 3 bar flow pressure: approx. 13 l/min per basin mixer
Hot water inlet max. 80°C
Recommended: (energy saving) 60°C