Product Description
Install a GROHE Blue Home Mono – the perfect partner to your existing tap provides pure and refreshing filtered, chilled and sparkling water
If you love having sparkling water for the table, or enjoy the great way filtered water tastes in tea or coffee, then why not do away with the hassle of bottled water and get it on tap instead? The affordable GROHE Blue Home Mono starter kit has everything you need to enjoy the pure pleasure of filtered, chilled or carbonated water whenever you want it. Its sleek, slim design has been created to fit perfectly next to your existing kitchen tap with a minimum of disruption. The kit combines a GROHE Blue pillar tap and a low-energy home cooler unit, containing the filter and CO2 bottle for carbonisation. The cooler unit fits into any cabinet over 30cm wide – making it a perfect fit for any kitchen – and both the filter and 425gr CO2 bottle are easy to remove and replace. It's simple to control with filtered, chilled or sparkling water selected by pressing the illuminated LED handle. It's as easy to use as your smartphone, and the LED display will also let you know when to change the cartridge. The high C-shaped spout is perfect for filling carafes and coffee pots with ease. Created with GROHE's distinctively sleek lines, this pillar kitchen mixer tap also features a long-lasting matt GROHE SuperSteel finish. Plus with no external piping needed and everything in the kit ready to go, it's swift to install, taking just 30 minutes!
Consisting of:
GROHE Blue Home single-lever sink mixer with filter function
monobloc installation
C-spout
touch operated for 3 types of filtered and chilled water
still, medium, sparkling
GROHE StarLight finish
swivel tubular spout
swivel area 150°
GROHE Blue Home cooler
delivers 3 liters of chilled water per hour
180 Watt cooling unit, 230 V, 50 Hz
type of protection IP 21
CE approved
requires ventilation holes in the bottom of the kitchen cabinet
adjustable for GROHE Blue filter S-Size, GROHE Blue activated
carbon filter and GROHE Blue magnesium + zinc filter
GROHE Blue filter S-Size, filter head with flexible
water hardness adjustment
for regions with water hardness of more than 9° dKH
for regions with water hardness below 9° dKH please order activated carbon filter 40 547 001
GROHE Blue 425 g CO2 bottle
Technical Information
CAD Data
Videos
Spare Parts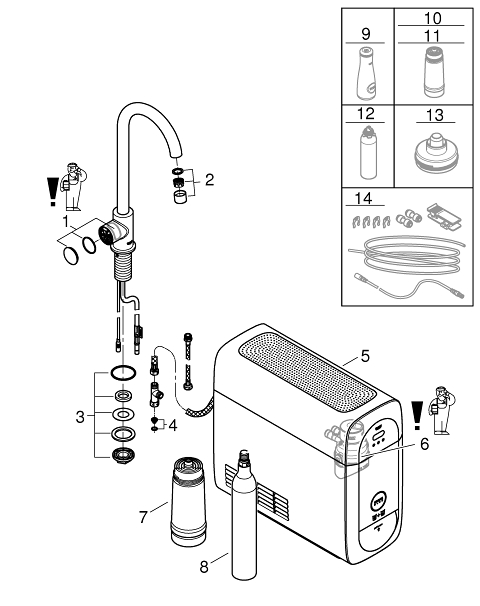 Pos.-nr.
Prod. description
Order-nr.
* Optional accessories

1

Operating unit

46958DC0

2

Mousseur

46895DC0

3

Screw coupling

48201000

4

Dirt strainer

47576000

5

Cooler

40711000

6

Filter head

48344000

7

Filter S-Size

40404001

8

Starter kit 425 g CO2 bottles (4 pieces)

40422000

9

Glass carafe

40405000*

10

Activated carbon filter

40547001*

11

UltraSafe filter

40575001*

12

Cleaning cartridge

40434001*

13

Cleaning cartridge adapter

40694000*

14

Extension set

40843000*
Warranty Information
GROHE Guarantee
GROHE products are designed to be both visionary and innovative with quality always guaranteed. Purchasing GROHE products means your investment is perfectly balanced in terms of quality, technology and design with sustainable production.
The 2 years plus Manufacturer's Guarantee
GROHE shall grant guarantee services to the end consumer in accordance with the terms and conditions set forth below for all products supplied to the end customer under the GROHE brand, which are tagged as products to which the "Grohe 2 years plus Manufacturer's Guarantee" is applicable.