Product Description
GROHE Blue Professional – fresh, filtered sparkling water from your kitchen tap
The GROHE Blue Professional kitchen tap performs as a normal kitchen mixer, but with the added benefit of providing filtered, chilled, sparkling water too – no more lugging, storing and recycling, you can enjoy great drinking water without the inconvenience of bottled. The tap also provides unfiltered water for washing up, but the real beauty is in the pure drinking water options. Select your preferred carbonation level – still, sparkling or semi-sparkling – and take confidence from the GROHE Blue five-stage filter technology which removes undesirable substances that might cause odor or impair taste, while leaving in beneficial minerals. Plus the filter reduces the lime content of the water, extending the life of household appliances like coffee machines. The sleek design includes a high 180° swivel spout, ideal for filling tall carafes and tackling large items in the washing-up with ease. Plus the GROHE SuperSteel matt finish is scratch-resistant for a stylish, durable surface that will last and last.
Consisting of:
GROHE Blue single-lever sink mixer with filter function
monobloc installation
U spout
separate handle for 3 types of filtered and chilled table water
still, medium, sparkling
headpart 1/2"
GROHE StarLight finish
GROHE SilkMove 35 mm ceramic cartridge
adjustable flow rate limiter
swivel tubular spout
swivel area 180°
separate inner water ways for filtered
and non-filtered water

flexible connection hoses

GROHE Blue Cube
270 Watt cooling unit, 230 V, 50 Hz
type of protection IP 21
CE approved
requires ventilation holes in the bottom of the kitchen cabinet
GROHE Blue size S filter, filter head with flexible adjustment
for regions with water hardness of more than 9° dKH
for regions with water hardness below 9° dKH please order activated carbon filter 40 547 001
GROHE Blue 425 g CO2-carbonization bottle
Min. recommended pressure 2.0 bar
this product contains built-in LED lamps, which
cannot be changed: energy efficiency class: A+
This product includes an article which is declarated as a hazardous substance. Find more information in the safety data sheet. You can download the safety data at: www.grohe.com/safety-data-sheets/
Technical Information
CAD Data
Videos
Spare Parts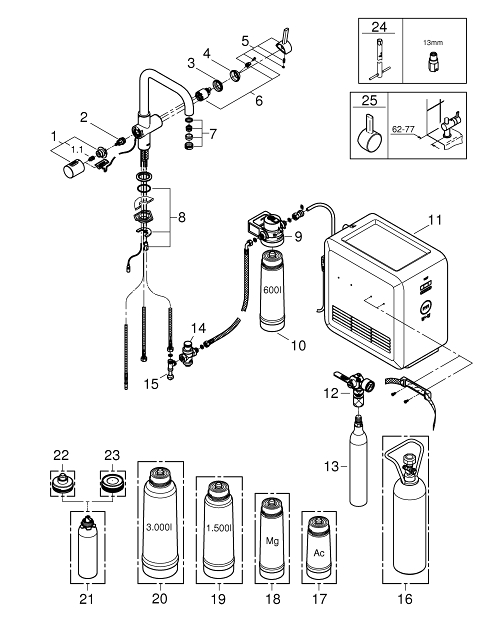 Pos.-nr.
Prod. description
Order-nr.
* Optional accessories

1

46652DC0

1.1

Snap insert

0538600M

2

46713000

3

46460000

4

46116DC0

5

46653DC0

6

46374000

7

64374DC0

8

46249000

9

Filter head

64508001

10

Filter S-Size

40404001

11

40554001

12

46717000

12.1

CO2 adapter

40962000

13

Starter kit 425 g CO2 bottles (4 pieces)

40422000

14

40452000

15

41007000

16

40423000*

17

40547001*

18

Magnesium+ filter

40691001*

19

Filter M-Size

40430001*

20

Filter L-Size

40412001*

21

Cleaning cartridge

40434001*

22

Cleaning cartridge adapter

40694000*

23

Cleaning cartridge for adapter set

40699000*

24

Mounting wrench

19017000*

25

40621DC0*
Warranty Information
GROHE Guarantee
GROHE products are designed to be both visionary and innovative with quality always guaranteed. Purchasing GROHE products means your investment is perfectly balanced in terms of quality, technology and design with sustainable production.
The 2 years plus Manufacturer's Guarantee
GROHE shall grant guarantee services to the end consumer in accordance with the terms and conditions set forth below for all products supplied to the end customer under the GROHE brand, which are tagged as products to which the "Grohe 2 years plus Manufacturer's Guarantee" is applicable.