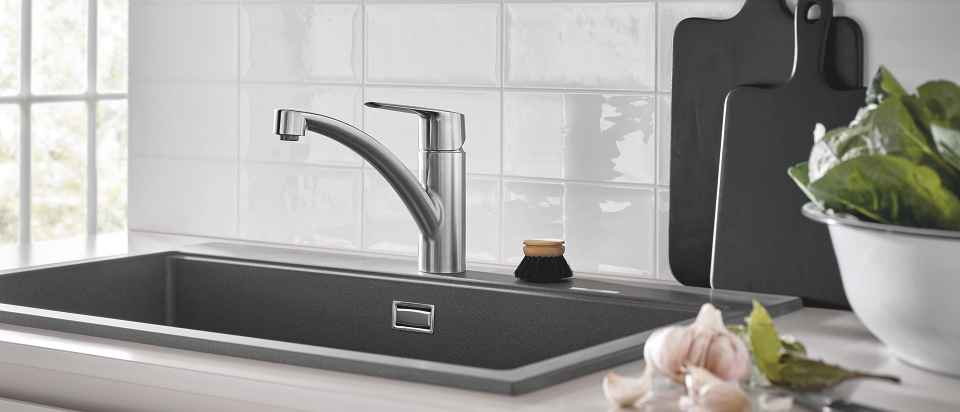 MADE TO MATCH IN FORM AND FUNCTION – INTRODUCING GROHE KITCHEN SINKS
Filling pots, preparing vegetables, washing up after a big meal: You use the kitchen sink countless times each day, so why not choose one that exceeds your expectations?
You need look no further than GROHE's range of luxury kitchen sinks. GROHE designer kitchen sinks fit every type of kitchen design scheme, with a wide array of innovative, modern designs that are perfect for your space.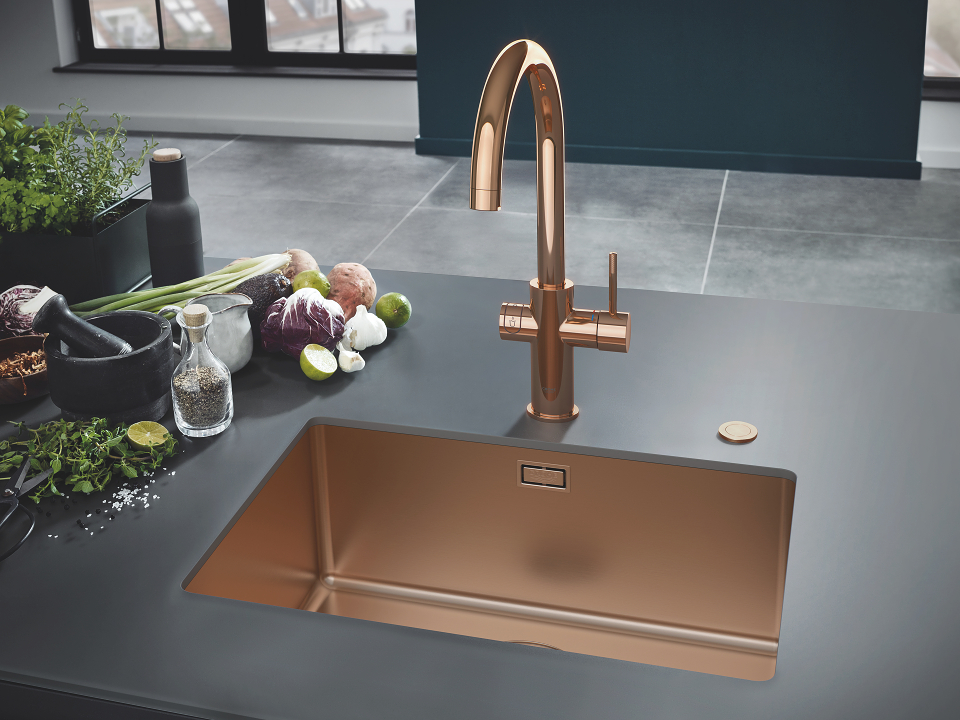 COMBINING STYLE AND FUNCTION
GROHE sinks offer a wealth of durable design options. Choose from 1, 1.5, or 2-bowl sinks depending on how much space you need to prepare dinner or wash up afterwards.
Select between a top-mounted, flush-mounted, or undermounted sink with the latter being the perfect fit for minimalist modern kitchens. Consider purchasing a kitchen sink with a drainer so you have somewhere to place your pots and pans after washing them – no more ruining your worktops from all that excess water.
GROHE has you covered when it comes to colours and finishes as well. Stainless steel is the most popular kitchen sink material, but if you want to stand out from the crowd, take note that composite models come in two contemporary colour choices – Granite Black and Granite Grey.
GROHE PVD models are available in three colours – Brushed Hard Graphite, Brushed Cool Sunrise, and Brushed Warm Sunset. Here's the K700 UNDERMOUNT STAINLESS STEEL SINK in Brushed Warm Sunset. With several colour options available, you'll find the right finish to match the rest of your kitchen.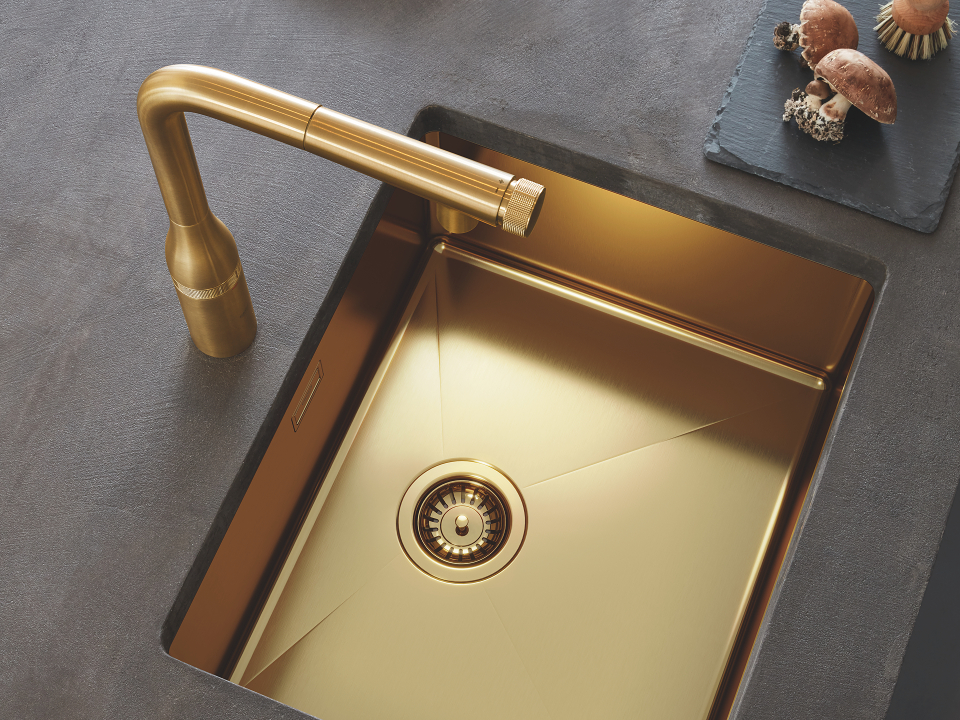 INSTALLATION MADE EASY
The GROHE QuickFix system means you can have your new GROHE sink installed in minutes with no fuss or hassle and without the need for tools.
Each sink comes with an under-sink siphon and automatic waste fitting for an even quicker and hassle-free installation.
Many of the kitchen sinks with drainers have two pre-drilled tap holes, meaning that they are fully reversible so you can decide which way round to mount them. Drainer to the left, or drainer to the right? With so many possibilities for customising your kitchen to your exact requirements, you'll be glad you chose GROHE.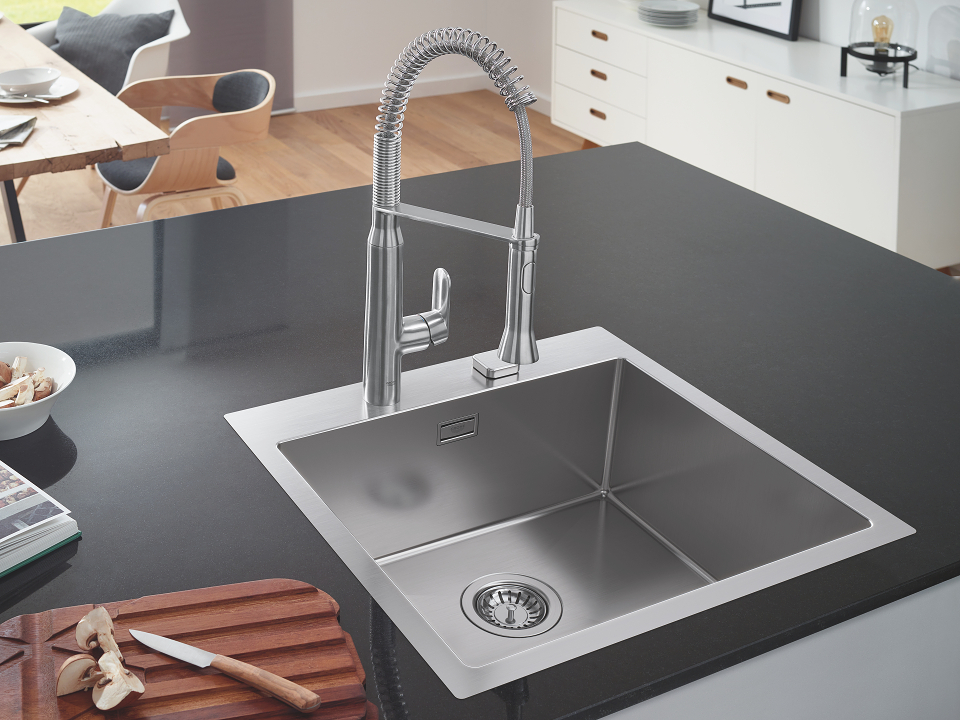 DISCOVER GROHE KITCHEN SINKS
NO. 1 KITCHEN SYSTEM BRAND – GROHE COVERS IT ALL
As the No. 1 kitchen brand, GROHE covers it all – our kitchen taps, water systems, sinks, accessories, and waste systems make creating an innovative, comfortable and practical kitchen easy. We are also confident that you will love the special features GROHE sinks have to offer:
Automatic waste fitting with remote control, which enables you to pull the plug without having to put your hand in the dirty water. No more touching gooey, slimy bits of food while you search around for the plug.
GROHE StarLight chrome finish made from above-standard stainless steel. The durable surface of your luxury kitchen sink will look great and work perfectly for years to come. Just wipe every so often with a cloth and the material will look like it did on the first day.
GROHE Whisper technology makes our sinks the quietest you've ever heard – for composite sinks, the material itself reduces the noise from water flow, and for stainless steel sinks, special integrated insulation is used that achieves the same effect.
You'll notice the difference with a sink from GROHE, making every time you use your sink less of a chore.
QUALITY YOU CAN SEE & FEEL
The quality of both our stainless steel and composite sinks is second to none. With patented surface technology making cleaning easy, GROHE stainless steel kitchen sinks guarantee durability and strength. Dependable and resilient, GROHE composite sinks use quartz, the hardest part of granite, to create a seamless sink that is resistant to scratches, dents, heat, stains, and even fading from UV light. A GROHE sink is a beautiful kitchen centrepiece yet still tough enough to handle any job.
GROHE SINKS BUNDLES – THE ALL-IN-1 PACK
GROHE has made sink purchasing even easier than ever with all-in-1 bundles – 4 sink and tap models that are sold together to ensure perfectly matched performance and effortless style. Choose from the following high-quality designs that bundle kitchen sinks and taps:
Eurosmart
Concetto
Minta
Bau
COMPLETE PORTFOLIO ACROSS ALL PRICE SEGMENTS
An option for every kitchen – our sink ranges cover every style, size, and price point so you're sure to find the perfect model without breaking the bank. GROHE's modern range includes compact models, perfect for cosy kitchens, as well as large double sinks if you need more room to spread out pots and pans. This means you can choose between sleek, hardwearing stainless steel models such as the K500 STAINLESS STEEL SINK, super-durable composite such as the K500 COMPOSITE SINK, or unrivalled, scratch-resistant PVD (Physical Vapour Deposition) like that of the K700 UNDERMOUNT STAINLESS STEEL SINK.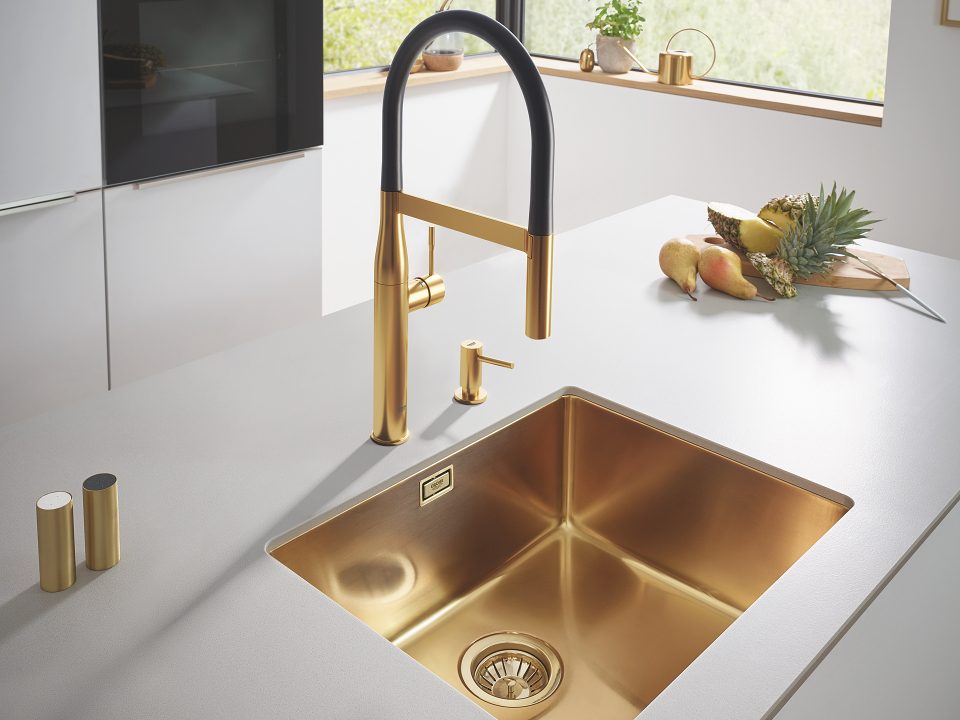 GROHE COMPOSITE SINKS COLLECTIONS
Complete product overview
Find your perfect composite kitchen sink with GROHE. The GROHE K-series of sinks has size and style options for every type of kitchen.
1, 1.5 or 2-bowl sinks
Two colours of composite material
Top-mounted or undermounted sinks
Product features
We are confident that you will love the special features on offer, including:
Noise-reducing GROHE Whisper
Automatic waste that means never plunging your hand into dirty water again
Spacious bowls (at least 20cm depth), giving you more space to manoeuver
Heat resistant up to 280°C
Scratch proof for more durability
Stain-resistant so your sink looks its best for longer
Won't fade under UV light, meaning that the colour is retained for longer
100% food-safe so you can hygienically prepare food at the sink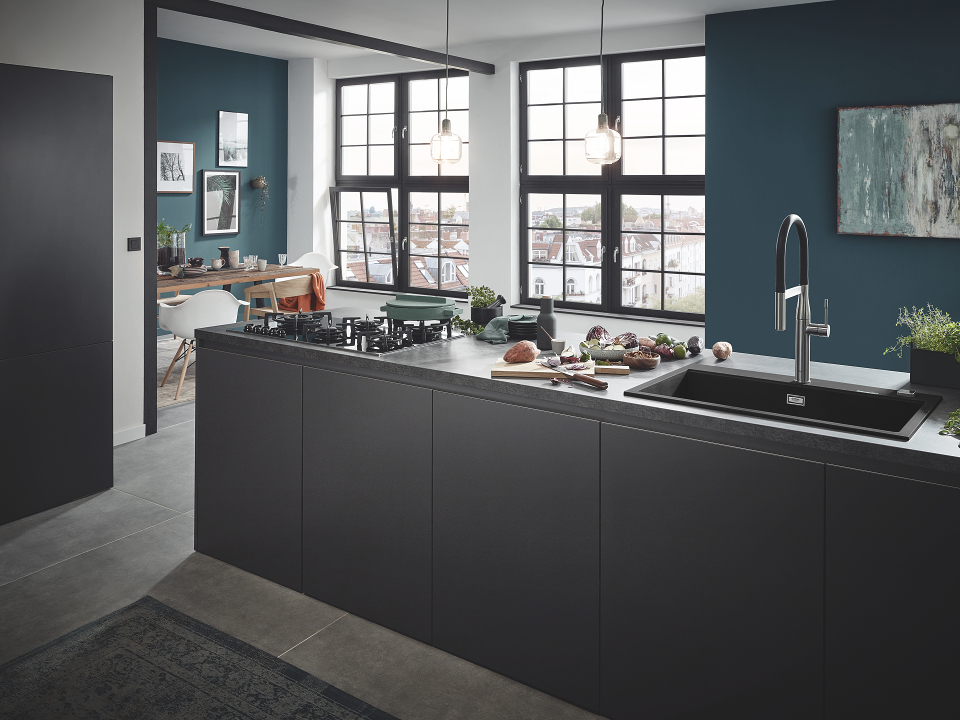 GROHE STAINLESS STEEL & PVD SINKS COLLECTIONS
Complete product overview
Find your perfect stainless steel or PVD kitchen sink with GROHE. The GROHE K-series of stainless steel sinks has size and style options for every type of kitchen.
1, 1.5 or 2-bowl sinks
Flat-edge, top-mounted, flush-mounted or undermounted sinks
PVD colours in Brushed Hard Graphite, Brushed Cool Sunrise and Brushed Warm Sunset
Product features
We are confident that you will love the special features on offer, including:
GROHE Whisper insulation
Automatic waste lets you release the plug remotely
GROHE QuickFix for easy installation
GROHE StarLight for a sparkling, long-lasting surface
Spacious bowls (at least 16cm depth), for more capacity to move around