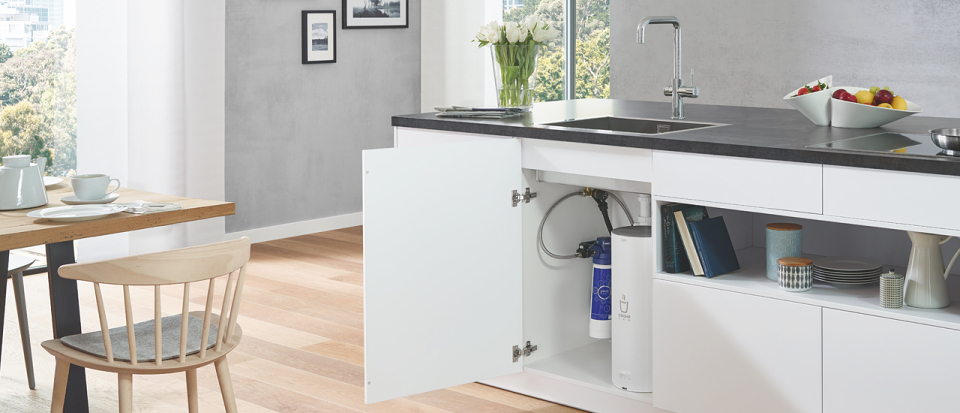 IS INSTALLATION AVAILABLE IN MY AREA
Installation is currently only available to the UK mainland and excludes the Scottish Highlands and Islands, Northern Ireland, The Isle of Man, The Isle of Wight, The Scilly Isles and the Channel Islands.
HOW MUCH SPACE IS REQUIRED
GROHE RED
3L boiler requires 50cm height clearance width 16cm
7L boiler requires 50cm height clearance and width 16cm
GROHE BLUE
Chiller requires 50cm height, 58cm depth and width 22cm
We recommend the GROHE Blue Professional for offices and other work premises.
Please Note: If you believe there is anything unusual about your installation check the terms and conditions (at the bottom of this page) and please discuss with the install team when booking your appointment.
IMPORTANT PRE-INSTALL CHECKLIST
You must check and complete the below questions before you can proceed.
TERMS & CONDITIONS
TERMS & CONDITIONS: GROHE UK INSTALLATION SERVICE (1ST MARCH 2018)
1. INTRODUCTION
The terms and conditions on this page, together with our Privacy Policy (GROHE) (collectively, the "Terms") apply to your participation in using the GROHE Installation Service ("The Service").
1.1 Please read these Terms carefully as by submitting a form on the registration page of the GROHE installation website you will be deemed to have accepted and agreed to be bound by them.
1.2 We recommend that you print a copy of these Terms for future reference. You can contact us in relation to the Service or request a copy of these Terms by writing to us using the contact details at the end of these Terms. If you would like to receive a copy of these Terms by post, you will need to provide us with a stamped self-addressed envelope.
1.3 Any complaints regarding this Service should be sent to Customer Service, GROHE Ltd, World Business Centre 2, Newall Road, London Heathrow Airport, Hounslow, Middlesex, TW6 2SF
2. ELIGIBILITY AND PARTICIPATION
2.1 To be eligible to use this Service you must:
2.1.1 have purchased the product to be installed
2.1.2 Have a product listed in the qualifying product list
2.1.3 Be organising installation at an Address listed in the qualifying location list
2.1.4 Have a cupboard under the sink with the space cleared for the boiler
2.1.5 Have functioning water isolation valves, inside the property.
2.1.6 Have an active power supply is accessible for the boiler within 1.5m
2.2 By agreeing to these terms, you promise that all information submitted by you is true, accurate, current and complete. We reserve the right to verify your eligibility to use the Service.
2.3 the Provider ("Provider");2.3.1 any company or organisation involved in or connected to the Service
2.3.2 any advertising agency or digital media or web services provider connected with the Service
2.3.3 any affiliate or group company of the companies in this paragraph 2.3
3 OUR LIABILITY
3.1 We do not accept any responsibility for any damage, loss, injury or disappointment suffered by you as a result of you using the Service. We are not responsible for any interruption or disruption to or technical malfunctions of any telephone network or lines, electronic devices, systems, servers, providers, websites or computer equipment or software, failure of any email or entry to be received due to technical failures or traffic congestion on the internet, on telephone lines or at any website, or any combination of these, including any injury or damage to your or any other person's device related to or resulting from participation or downloading any materials in the Service.
3.2 Nothing in these Terms shall exclude our liability for death or personal injury as a result of our negligence or for fraud or fraudulent misrepresentation or for any other liability that cannot be limited or excluded by applicable law.
4 PUBLICITY AND YOUR PERSONAL DATA
4.1 As a result of your participation in the Service, we will collect certain personal data relating to you. Please see our Privacy Policy for information regarding the personal data we collect online and the purposes for which we use that data. We will process the information about you in accordance with that policy. By entering the Service, you consent to such processing including the sharing of your personal data with our suppliers assisting with the conduct of the Service, fulfilment of the Service.
4.2 You have a right to access your personal data held by us or to request that we cease to use such data. Any request for this should be made in writing to Marketing, GROHE Ltd, World Business Centre 2, Newall Road, London Heathrow Airport, Hounslow, Middlesex, TW6 2SF
4.3 All personal and other data relating to entrants will be retained by us for a reasonable period after the Service has been completed to assist us to operate competitions in a consistent manner and to deal with any queries on the Service.
5 OTHER IMPORTANT TERMS
5.1 Service cancellations and appointment changes made by you must be made at least 48hrs before the appointment is scheduled to take place. Cancellations and appointment changes within the 48hrs prior to an appointment may be subject to charges.
5.2 The Provider reserve the right to cancel the installation Service at any time if we are aware or have reasonable grounds to believe that you were ineligible to use the Service.
6 CHANGES TO THE SERVICE OR THESE TERMS
6.1 We may modify, suspend or terminate the Service, make any other changes to the Service or Terms at any time.
6.2 Where reasonably possible, we will notify you of such changes in advance or at the time we make such changes by posting amended Terms on this page.
7 GOVERNING LAW AND JURISDICTION
7.1 The Service and these Terms are governed by English law and any disputes are subject to the jurisdiction of the courts of England.
7.2 We make no representation that materials relating to the Service are appropriate or available for use at other locations. Access to those materials from territories where their contents are illegal is strictly prohibited. If you access the Service from outside of the United Kingdom, you are responsible for compliance with all local laws.
8 COMPANY AND CONTACT INFORMATION
8.1 The Provider of the Service is GROHE a company incorporated in UK whose registered office address is: GROHE Ltd, World Business Centre 2, Newall Road, London Heathrow Airport, Hounslow, Middlesex, TW6 2SF
This is our legal registered address and also the address for general correspondence too.
Privacy and cookies
While visiting our website, personal details such as name, company, address, phone number, fax number or e-mail address are not collected, unless you provide us with such data voluntarily (for example when filling out contact details).
Providing us with personal details, we use it for the technical administration of our website and to respond to your requests and inquiries. Furthermore we may use your personal details for market research purposes. We do not sell or pass or any personal details to any third parties.
You can obtain information about the personal details which we have about you. If you no longer want your details to be used by us or wish them to be changed or deleted, please contact us under info@grohe.co.uk. If you have any questions about this privacy statement or access to this website, please do not hesitate to contact us.