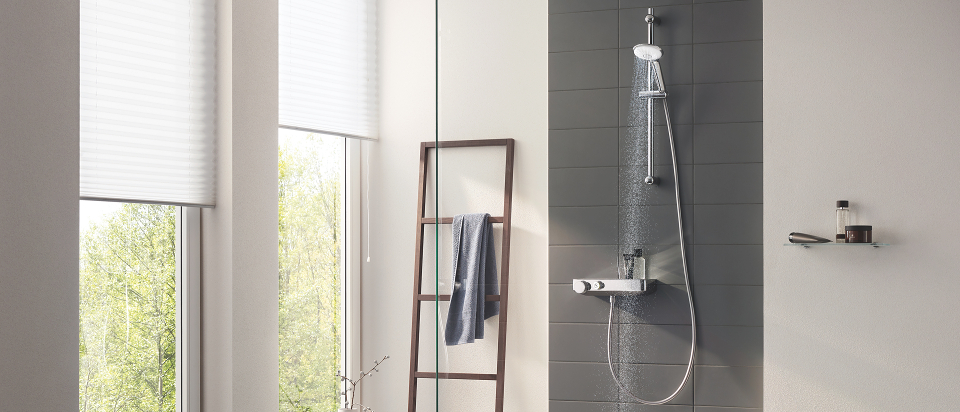 SHOWER THERMOSTATS FOR BETTER COMFORT AND CONTROL
GROHE thermostatic mixer valves are designed with the world's most sensitive thermometer in mind: your skin. Made from the highest-quality materials, our thermostatic shower mixers feature industry-leading technologies to ensure maximum showering safety and comfort. A number of styles are available to match your design and installation requirements.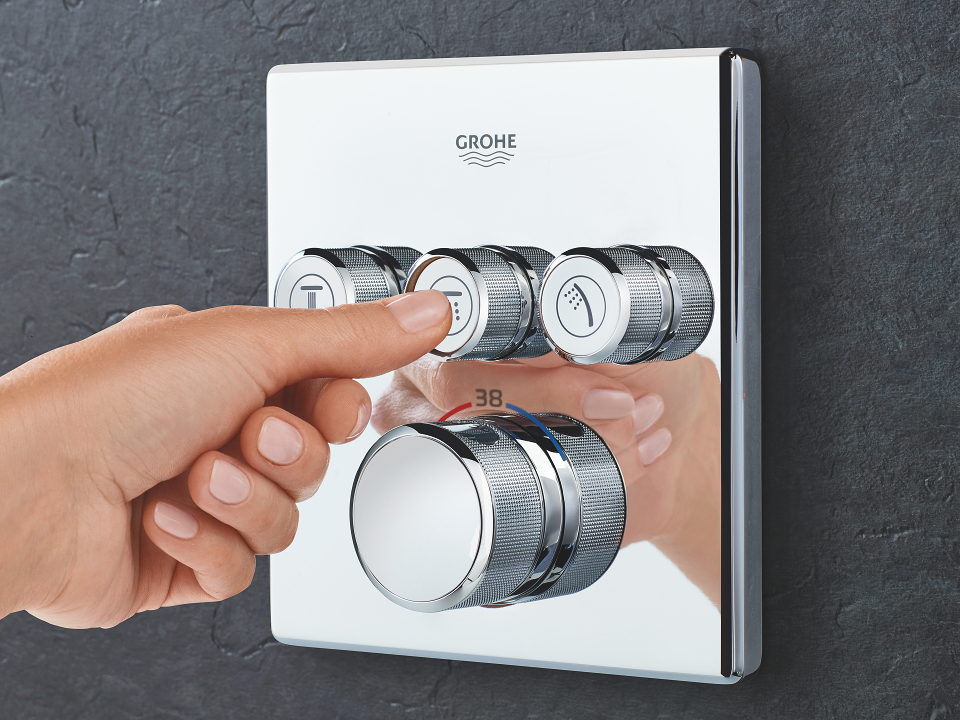 WHAT ARE THERMOSTATIC SHOWER MIXERS EXACTLY?
We all know how annoying it is when the water temperature changes in the middle of a shower. What should be a relaxing get-away can turn into an unexpected ice bath or end up searing your skin with boiling hot water. That's where shower thermostats come in: these allow you to set the water temperature precisely and ensure that the desired temperature is maintained. Thermostatic shower mixer valves work by blending the hot and cold water supplies to the temperature of your choosing and are specially designed to handle any sudden changes in the water supply. If the temperature of the water supply changes, the thermostatic valve adjusts the balance of hot to cold water. This ensures the water temperature remains constant for the duration of your shower, so you and your family are protected from the risk of scalding or sudden bursts of cold water.
GROHE shower thermostats are expertly designed to deliver a superior shower experience, and include the following features:
Fast response time: If someone elsewhere in your home turns on a tap or flushes the toilet, the thermostat reacts extremely quickly, meaning your shower water remains unaffected.
Pause the water mid-shower: Stop the water to shampoo your hair, for example, and then simply restart the shower at the same temperature.
Easy temperature selection: Premium Carbodur ceramic discs inside the valve handles ensure smooth control and an extra-wide angle of operation.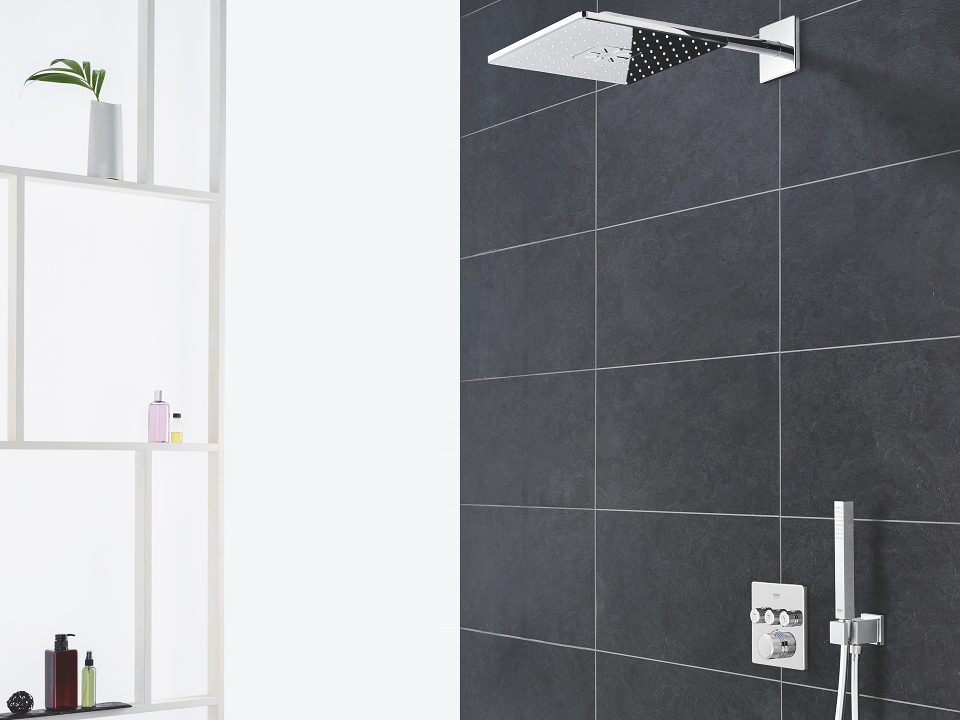 BENEFITS OF GROHE'S SHOWER THERMOSTATS
Choosing a GROHE shower thermostat will bring the best of innovative design technology into your bathroom. Below are just a few of the industry-leading features that set GROHE's thermostats apart.
SAVE WATER AND ENERGY
Save water and energy, and reduce your household bills thanks to the first-class engineering inside our thermostatic valves. Many of our thermostatic shower mixers feature an EcoButton, which when activated reduces the flow rate of water by 50 percent. The speed with which the thermostats adjust the water temperature also means you won't waste any water by waiting for it to reach your desired temperature.
DESIGNED FOR HIGH PERFORMANCE
A truly high quality showering experience ought to be relaxing and stress-free. As experts in thermostatic shower technology, we continue to invest in new technologies to enhance the convenience and comfort of this experience.
For instance, innovative technologies such as GROHE TurboStat® guarantee the performance of our thermostatic shower mixer valves. The TurboStat® is the most advanced and precision-made cartridge in the industry, which reacts to water temperature and pressure fluctuation twice as quickly as before. As a result, you can select your ideal water temperature faster, with less water wastage. In addition, products featuring GROHE StarLight® are made using a unique plating process, resulting in a simultaneously sparkling yet robust surface that lasts for a long time to come.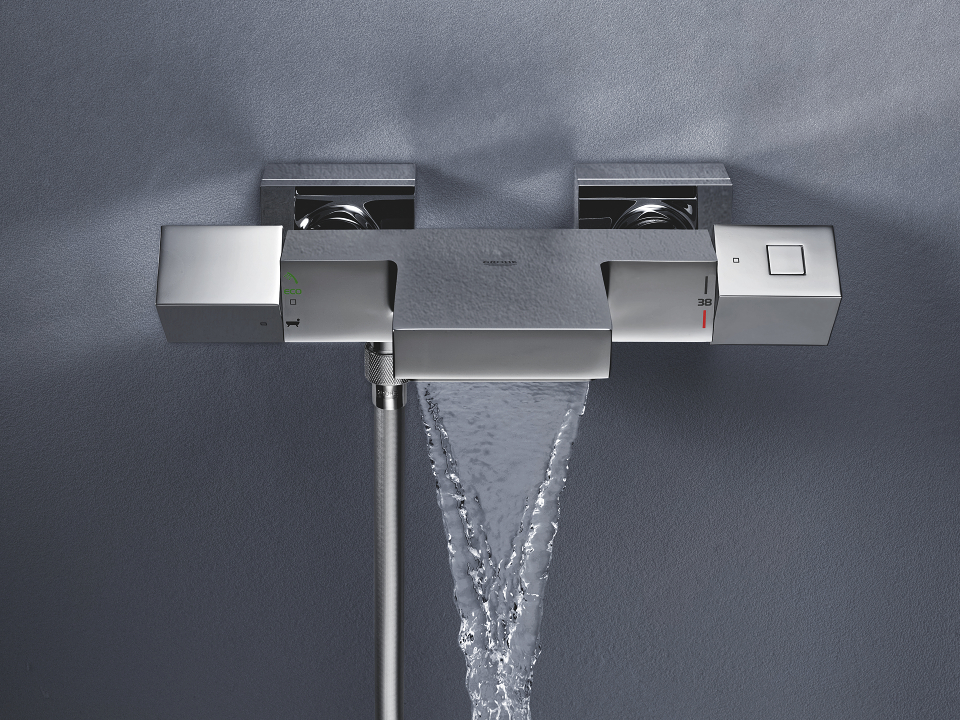 CHOOSE A GROHE THERMOSTATIC MIXER FOR A SAFE SHOWER
GROHE thermostatic shower mixers also include several industry-leading technologies created with your safety in mind:
GROHE TurboStat®: This technology is not just about performance – it is equally important from a safety perspective. Our thermostats react to water supply fluctuations extremely quickly – within a fraction of a second – and re-adjust the mix of hot and cold water accordingly. This way, there's no risk of your shower water suddenly becoming dangerously hot, such as when a family member runs a tap elsewhere in the home.
GROHE CoolTouch®: GROHE shower thermostats feature an innovative cooling channel, which creates a channel between the hot water and the outer surface of the thermostat. This ensures the surface is never too hot to touch and protects you from scalding.
SafeStop®: Must be activated to raise the temperature above the safe temperature of 38° Celsius. SafeStop Plus limits the maximum temperature to 43° Celsius.
Finally, our thermostatic mixers shut down automatically if the cold water supply fails.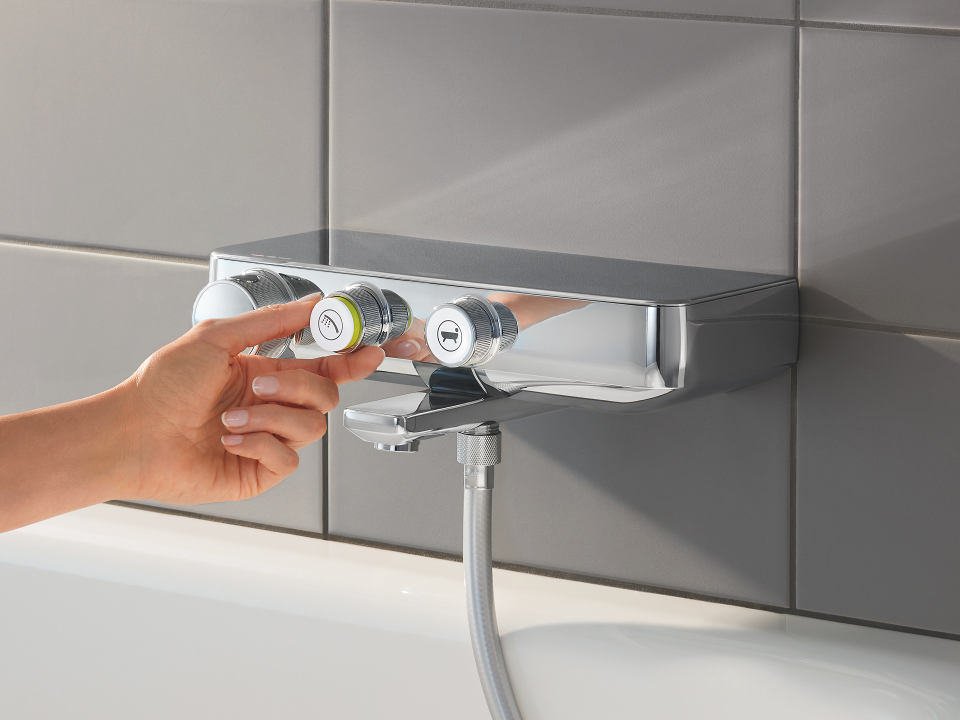 THERMOSTATIC VALVES TO MEET ALL YOUR INSTALLATION NEEDS
Our extensive range of thermostatic shower valves ensures there is a product to match your installation requirements and preferences.
Our range includes:
Surface-mounted thermostatic shower valves: For use with a handheld shower only. Simple, practical, and easy to install with existing water connections, even in older buildings.
Surface-mounted thermostatic bath/shower mixers: Features a bath spout and connection for a handheld shower, making it the best of both worlds. Ideal for small bathrooms, where you may not have the luxury of a separate bath and shower.
Concealed thermostatic shower valves: Set into the wall so that the thermostat controls don't protrude. Perfect for a sleek and modern look, as well as to save space in your shower, allowing you to enjoy more freedom of movement.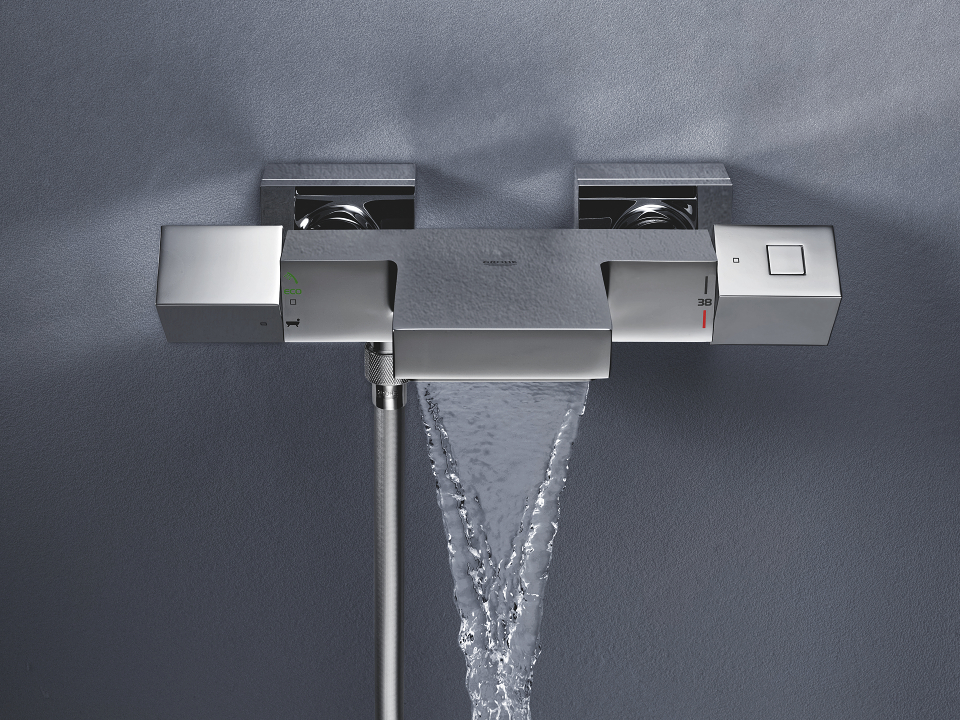 AN ARRAY OF STYLES TO SUIT YOUR INDIVIDUAL TASTE
At GROHE, we recognise the importance of design to help you make your house a home. Therefore, our shower thermostats are much more than just functional; they also come in a wide range of stylish designs to cater to individual tastes and bathroom design trends and themes.
The GROHE design styles groups – Cosmopolitan, Contemporary and Authentic – reflect three different interior design preferences, helping you determine which shower thermostats will suit your design scheme. For example, a model from the Authentic style group is perfect if you're looking for a timeless and traditional look, while the Cosmopolitan Grohtherm Cube range offers a clean-cut modern look.