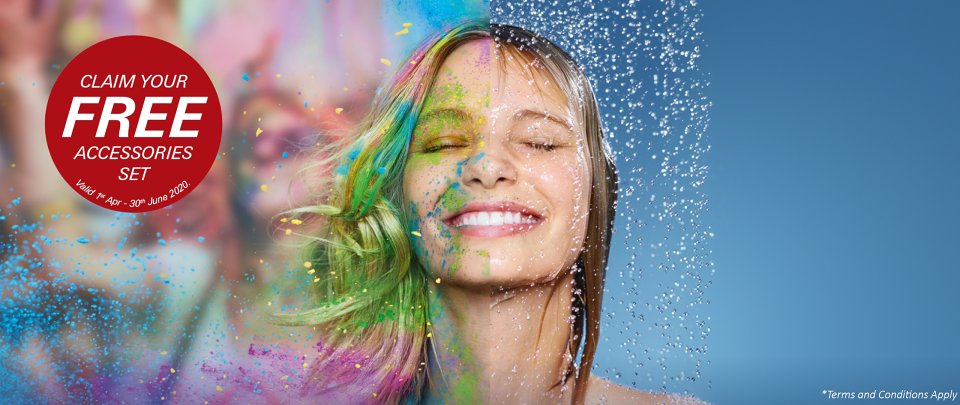 SPECIAL OFFER : FREE ACCESSORIES SET WITH SELECTED SHOWER SYSTEMS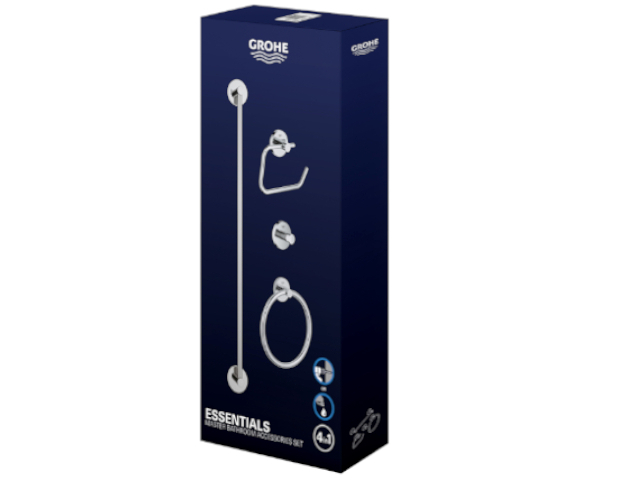 We are now offering a FREE Accessories Set- all you have to do is purchase a GROHE Shower System and complete the claim form on our website. Proof of purchase is required. You will then receive your free gift. All claims must be made by 31st July 2020.
GROHE SHOWER SYSTEMS : EVERYTHING YOU NEED FOR YOUR PERFECT SHOWER
Experience the shower you always dreamed of in your bathroom with GROHE shower systems. Our range offers great flexibility, incorporating powerful body jets with innovative engineering and technology for added safety, performance and control.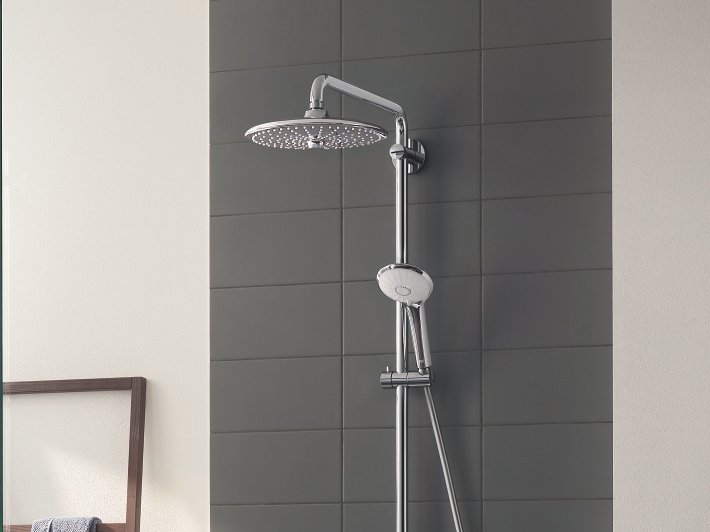 REVITALISING SHOWERS
Incorporating Grohe Dreamspray technology with multiple spray patterns to give you an unparalled showering experience.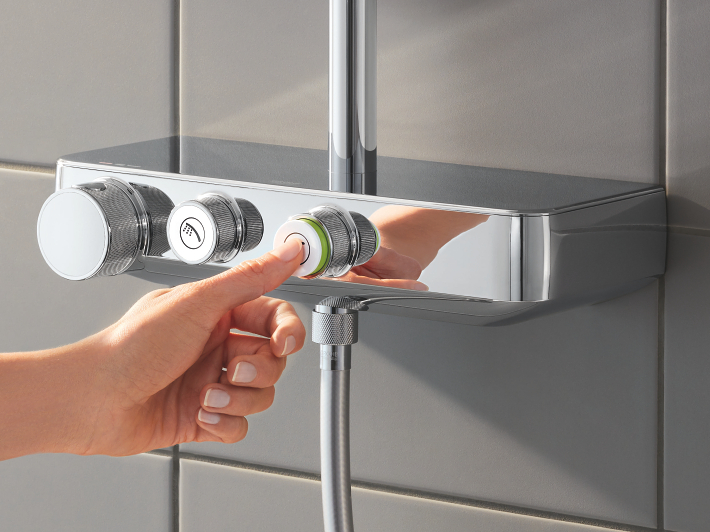 CHOOSE YOUR TEMPERATURE
Grohe TurboStat technology maintains your chosen water temperature for the duration of your shower for comfort and safety.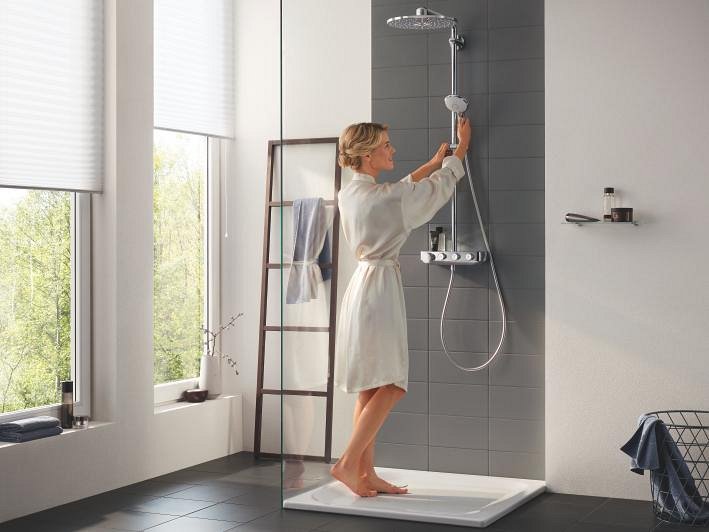 HELP THE ENVIRONMENT
Many of our shower systems with Grohe EcoJoy feature hand-held showers and head showers integrated with water saving technology.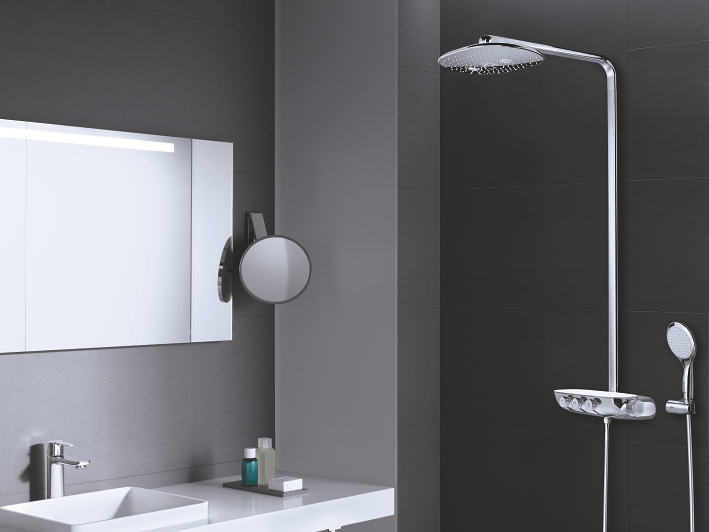 ENHANCE YOUR BATHROOM
We offer a choice of stylish designs to match all bathroom interior schemes whatever your design preference and budget.
Product
SKU



Euphoria SmartControl 310 shower system
Euphoria SmartControl 310 shower system THM Cube
Euphoria SmartControl 260 shower system THM
Euphoria SmartControl 310 shower system THM
Euphoria SmartControl 310 shower system THM Cube
Euphoria SmartControl 260 shower system THM bath
26507000
26508000
26509000
26507LS0
26508LS0
26510000
View Product
View Product
View Product
View Product
View Product
View Product
Rainshower SmartControl 360 shower system THM
Rainshower SmartControl 360 shower system THM
Rainshower SmartControl 360 Mono shower system
Rainshower SmartControl shower system THM
Rainshower SmartControl shower system THM
Rainshower SmartControl shower system THM
Rainshower SmartControl shower system THM
Rainshower SmartControl shower system THM
26250000
26250LS0
26361000
26361LS0
26446000
26446LS0
26443000
26443LS0
View Product
View Product
View Product
View Product
View Product
View Product
View Product
View Product


Grohtherm SmartControl THM bundle square 3SC
Grohtherm SmartControl THM bundle round 3SC
Grohtherm SmartControl concealed THM bundle square 2S
Grohtherm SmartControl concealed THM bundle rd 2SC
Grohtherm SmartControl concealed THM bundle rd 2SC
Grohtherm THM set shower round
Grohtherm THM set shower
Grohtherm THM set shower square
Grohtherm THM set shower round
Grohtherm THM set shower round
Grohtherm THM set shower square
Grohtherm THM set shower round
Grohtherm Cube Bundle
34706000
34705000
34742000
34743000
34744000
34727000
34729000
34730000
34731000
34732000
34734000
34735000
34741000
View Product
View Product
View Product
View Product
View Product
View Product
View Product
View Product
View Product
View Product
View Product
View Product
View Product