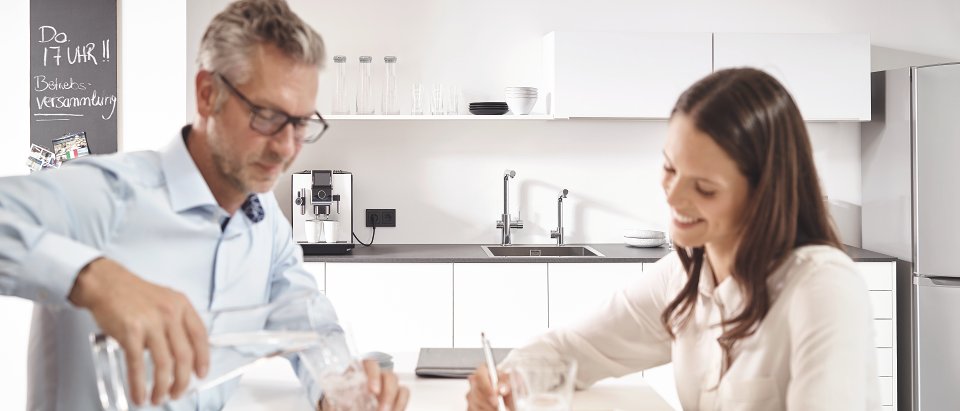 Delicious filtered, chilled and sparkling water on tap in your workplace, 24/7, with GROHE Blue Professional
The GROHE Blue Professional water system offers so many benefits to both employers and staff. Great-tasting drinking water with no waiting keeps your staff happy and hydrated. While the reduced waste and easy reordering system means providing drinking water at work is no longer a headache. Less hassle, no more storage issues, no more wasteful plastic – and all at a reduced cost compared to bottled. Is your office in the blue?
Find a showroom near you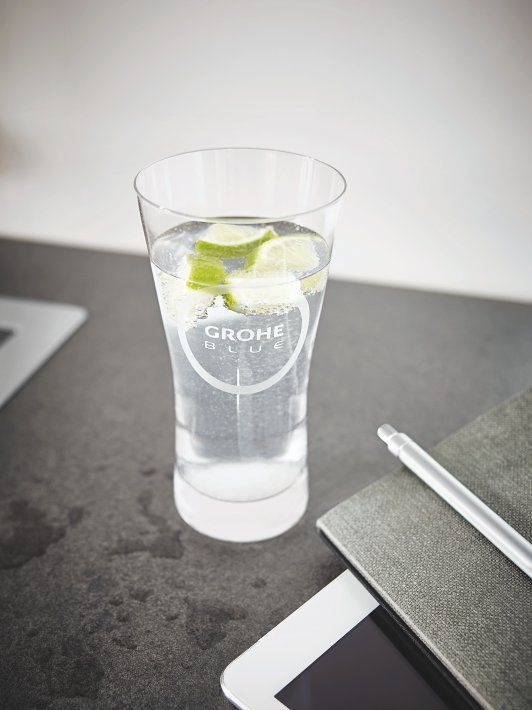 TASTE TAILORED TO EVERYONE
The GROHE Blue Professional water system uses a 5-stage filtration system to remove impurities for an odourless, great-tasting pure water experience.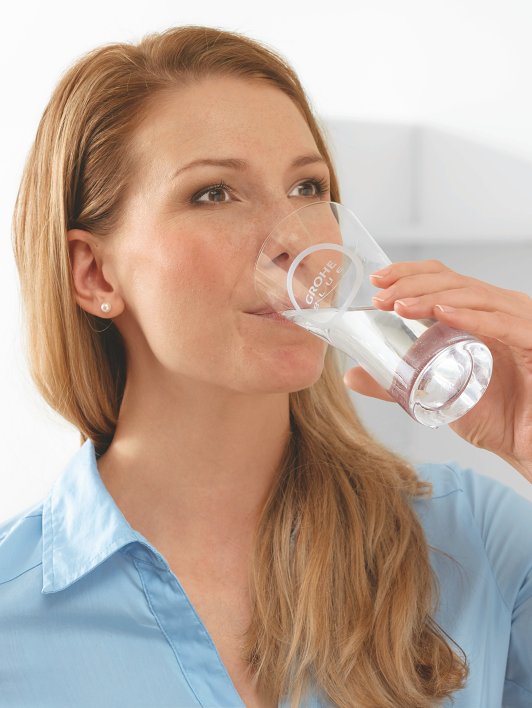 VITAL, HYDRATED STAFF
Productive humans are hydrated humans! Experts recommend we drink 2L of water a day. With a GROHE Blue Professional system there is no wait for great-tasting water, encouraging everyone to drink more. Plus our optional Magnesium+ filter provides more of this important mineral in every glass poured.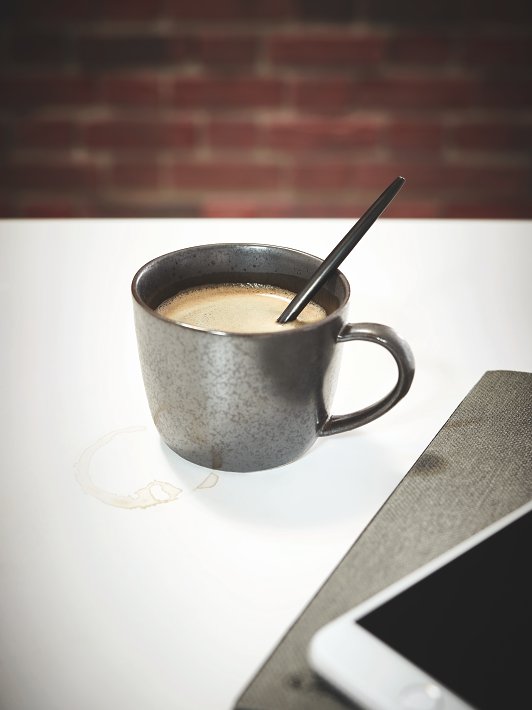 THE ULTIMATE TEA AND COFFEE!
Every office includes a few coffee connoisseurs. Keep everybody happy with water from GROHE Blue Professional – its pure, filtered water makes the ideal basis for great-tasting tea and coffee.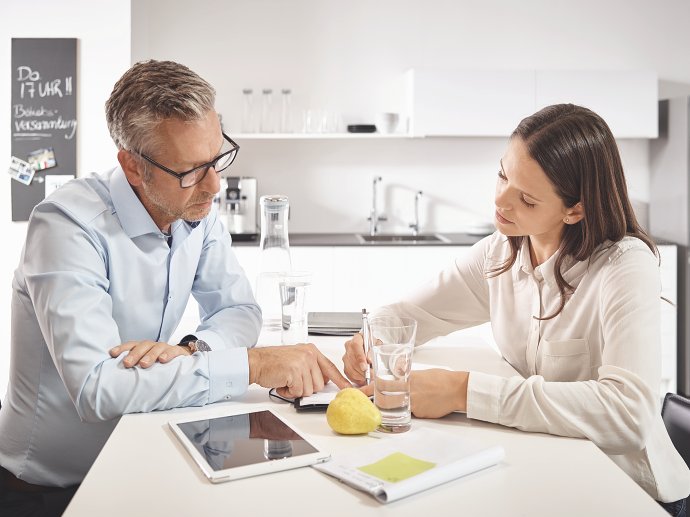 COMFORT & CONVENIENCE
Everybody wins with GROHE Blue – access to delicious filtered water keeps employees motivated and productive, which the no-waiting technology minimises time wasted in the kitchen.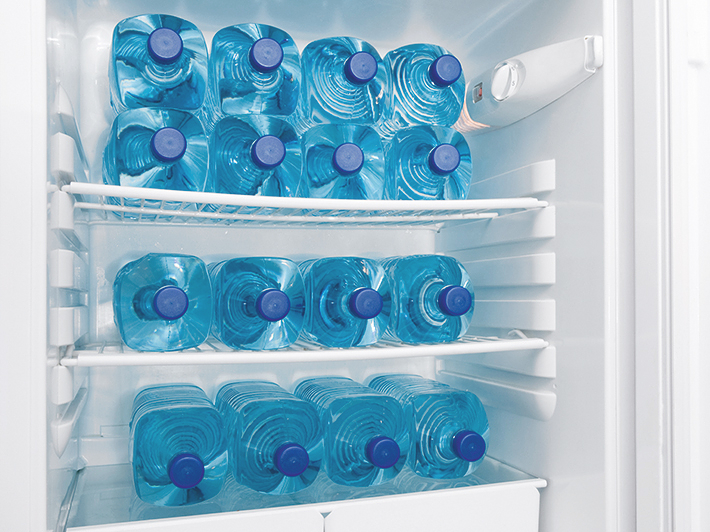 SPACE SAVING
Say goodbye to the headache of storing and maintaining stocks of bottled water – use the space for something more useful instead!
GROHE BLUE saves you more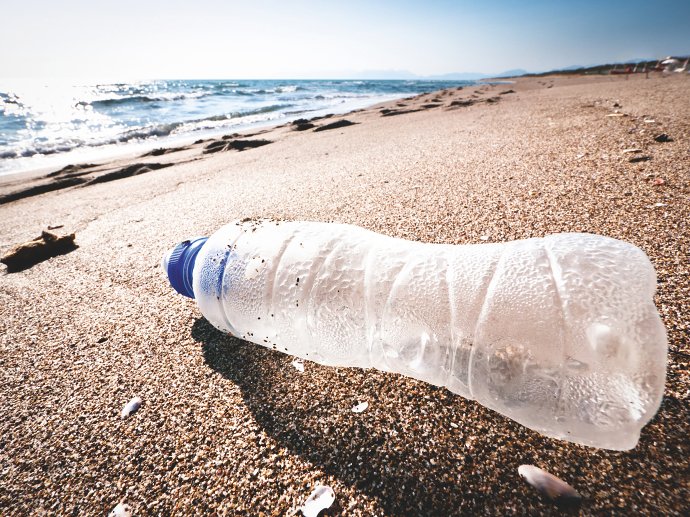 CLEANER AND GREENER
Up the green credentials of your workplace effortlessly. It takes up to 7L of water to produce 1L of bottled water*. And all that plastic has to be recycled too. GROHE Blue Professional can reduce the carbon footprint of your office drinking water needs by an impressive up to 83% (30 employees, 1 liter per person and workday over 5 years)**.
SAVE RESOURCES
As well as the reduction in plastic waste you can introduce to your workplace with a GROHE Blue Professional water system, you can also save money and energy. No more time and money spent of recycling and transport – it all adds up.
* "The real water consumption behind drinking water: The case of Italy", Journal of Environmental Management 92 (2011); "Recent impact on ancient well – the calculation of the Water Footprint of bottled natural mineral water", Maria Kalleitner-Huber, Christian Pladerer, Austrian Institute of Ecology (2014)
** "Product Carbon Footprint for drinking water supply through a Grohe Blue faucet system compared to mineral water", Tim Schroeder, Prof. Dr. Jutta Geldermann, Georg-August University of Göttingen (2014)
SAVE TIME AND MONEY
Investing in GROHE Blue Professional is money well spent. With low maintenance costs compared to the price of bottled you see very quickly this switch will pay off quickly, bringing benefits for the whole company.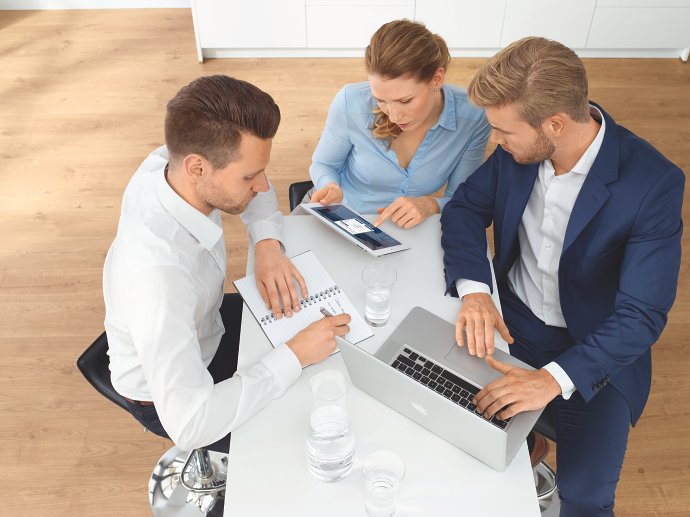 Investing in GROHE Blue Professional is money well spent. With low maintenance costs compared to the price of bottled you see very quickly this switch will pay off quickly, bringing benefits for the whole company.
Start GROHE Blue Calculator
Connectivity = easy maintenance
Stay in control with WLAN
Keeping track of your workplace water needs couldn't be simpler. Control and monitor your GROHE Blue Professional products all in one place via smartphone app and online control desk. Not only will you see when supplies are running low but an integrated reordering function keeps water flowing at all times. One more thing to tick off your to-do list.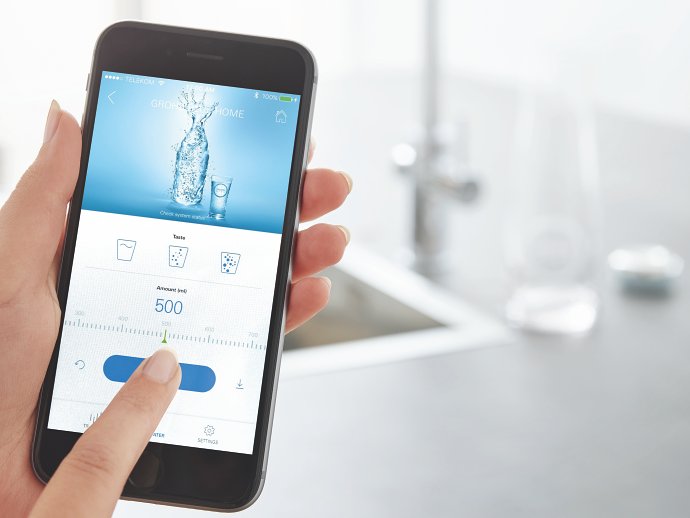 GROHE ONDUS APP
Cooler connects to local WLAN
Sets-up software parameters
Automatic reordering of filters and CO2
DISCOVER GROHE ONDUS APP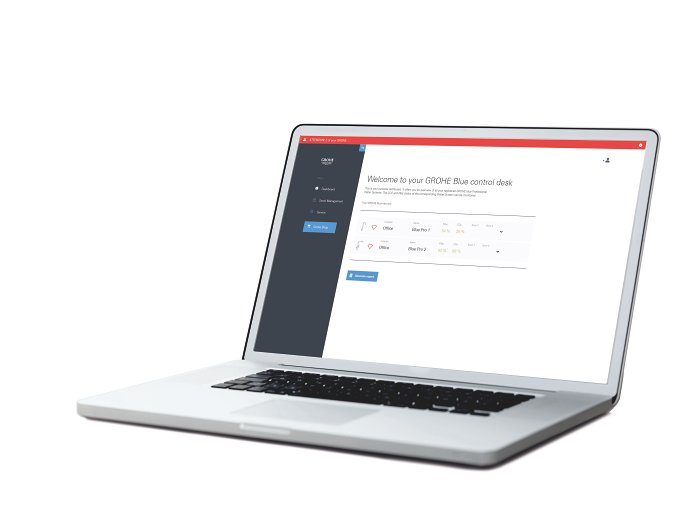 GROHE BLUE CONTROL DESK
Live monitoring of all GROHE Blue products on one screen
Sort by installation area and building
Push notifications of low capacities
Easy reordering via the webshop
24/7 support
DISCOVER GROHE BLUE CONTROL DESK
System requirements
WPA2 encrypted and password protected network, MAC address filters are not supported.
iPhone with iOS 9.0 or higher / smart phone with Android 4.3 or higher
Mobile devices and GROHE Ondus App are not included in delivery and have be ordered separately via an authorised Apple store/store/iTunes or Google Play store.
The Bluetooth® word mark and logos are registered trademarks owned by Bluetooth SIG, Inc. and any use of such marks by Grohe AG is under license.
Other trademarks and trade names are those of their respective owners.
Apple, the Apple logo, iPod, iPod Touch, iPhone and iTunes are trademarks of Apple Inc., registered in the U.S. and other countries. Apple is not responsible for the function of this device or its compliance with safety and regulatory standards.
Find a showroom near you