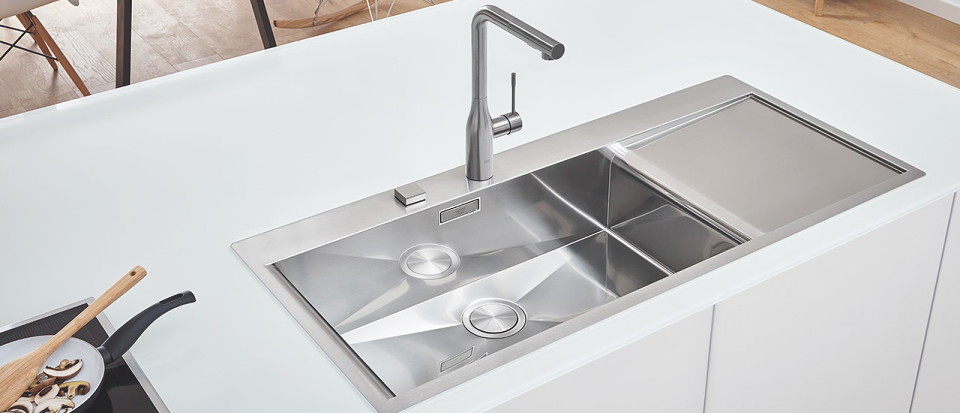 STAINLESS STEEL SINKS: SLEEK, STURDY, STYLISH
A kitchen is often the heart of the home and when designing it you'll want to think about both the functionality and the style of your space.
Stainless steel sinks offer an all-in-one solution, true to their minimalistic, sophisticated design.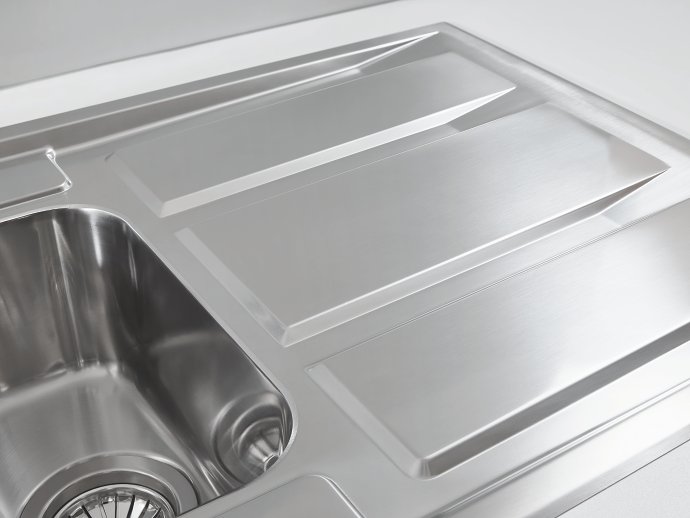 SINK DESIGN 101
Everyone knows that a sink needs to be designed well because it will be used daily. As well as needing a generously sized basin, the drainage system needs to work flawlessly, and sinks should be easy to clean and durable. You may be surprised at how many innovative features a sink can have to make the daily chore of washing up a little easier, and a little more pleasant. A sink's aesthetic may be a secondary consideration for many, but at GROHE it is also a big part of the design process. Sleek, crisp lines are united with fantastic material quality, which in a steel sink means a pleasing shiny finish.
Spacious basins: A spacious bowl means that you'll be able to wash up big pots and pans and soak that Sunday Roast oven dish without cluttering your counters. Even with more compact one bowl sinks such as this K700 Stainless steel sink, will let you wash up your pots and pans without issue because all of the stainless steel sinks at GROHE have a minimum depth of 16 cm.
Water drainage: To prevent blockages and to help keep your sink clean of old water, GROHE steel sinks have been designed with good drainage in mind, with many sinks having diamond-shaped creases at the bottom of the bowl to ensure perfect waste-water flow.
All-in-one delivery: Once your new sink arrives, you won't want to spend ages installing it, only to realize vital elements are missing. Every sink comes with an under-sink siphon included, so you can be sure of a frustration-free installation.
Overflow: An important safety feature of any sink, an overflow needs to be designed to prevent flooding or spills, but you should still be able to fill your sink enough to use it. Selected models have a perimetric overflow design, so that your sink keeps its elegant look without compromising on safety.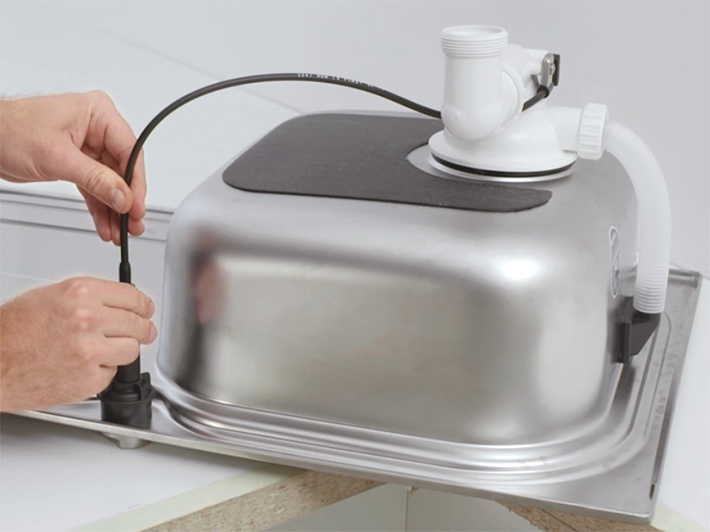 GROHE'S UNIQUE DESIGN BENEFITS
As well as excellent technical design, GROHE stainless steel sinks benefit from certain features which make them a good choice not only when they are new, but also for years to come.
The noise of clattering pots and pans is something no one finds pleasant and the sound of water thundering from the taps into a sink isn't much better; it certainly disrupts a calm environment. Thanks to GROHE Whisper insulation, you could enjoy a much more soothing kitchen environment. The insulation softens the noise of water flow and drainage, as well as the sounds of pots and pans clunking together as you wash them up.
Installing a stainless steel sink can be a hassle, but with the GROHE QuickFix installation system, it is a breeze. Many sinks come with two pre-punched faucet holes meaning that most of the sink installations are easily reversible and you can pick your sink without having to compromise on your favourite design.
A sink should be where you clean your dishes or wash vegetables without having to worry about the cleanliness of the sink itself. Luckily, GROHE StarLight steel is extra durable, meaning that your sink will always shine, even after years of use and frequent exposure to cleaning products.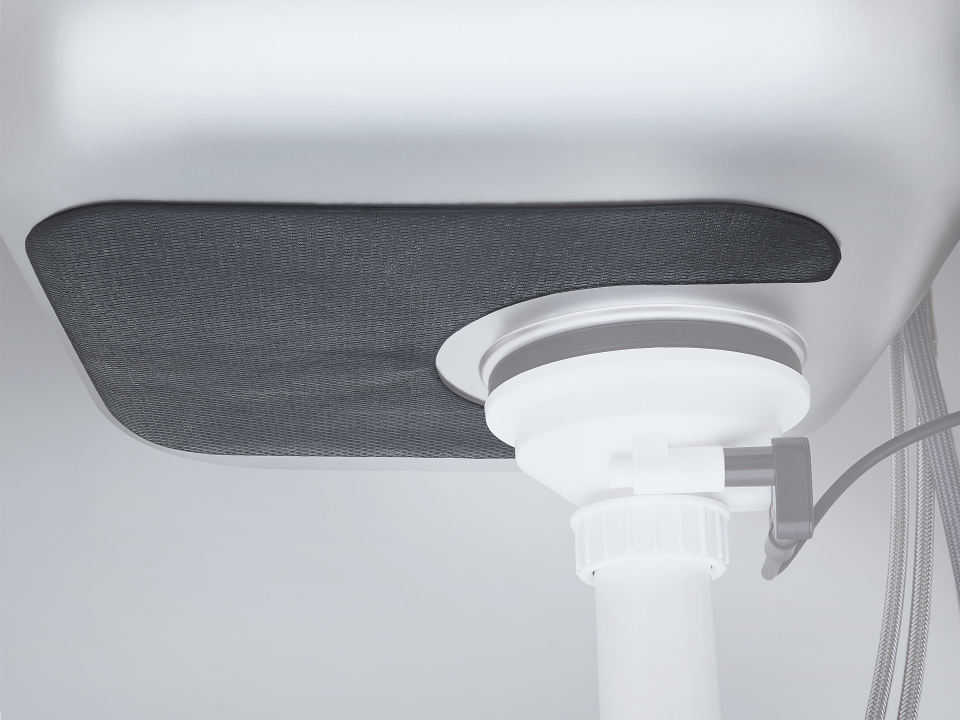 QUALITY STEEL AND EXCLUSIVE FINISHES
There are a variety of different materials to choose from when considering which sink best suits your needs. Easy to clean, scratch resistant, and Durable, stainless steel is the timeless classic for any kitchen.
A steel sink creates a sophisticated atmosphere in any kitchen, and the GROHE steel sinks have been designed with precise, crisp planes, giving the whole product a balanced and elegant appearance.
Stainless steel is one of the highest quality materials for kitchen installations, so regardless whether you opt for a two bowl sink or a sink with a drainer board, you can be certain that the materials used at GROHE exceed the standard of the industry. Let's take a look at the types of steel used at GROHE.
AISI 304
Boasting a beaming shine, AISI 304 is a particularly high-quality steel. It has high levels of chrome and nickel, meaning that it is resistant to rusting and corrosion – which really would be no good in a product that by nature needs to be exposed to water daily!
AISI 316 (MARINE STEEL)
The sinks from GROHE's K400+ series are manufactured using AISI 316, commonly known as marine steel. This steel is even more durable than AISI 304, and is perfect for kitchens based in damper environments or homes close to the sea – salty air can increase the damage on metals. This steel is known for its high percentages of chrome, nickel and molybdenum, meaning that it is resistant to damage from chemical cleaners.
PATENTED BRUSHING TECHNIQUE (GROHE SATIN FINISH)
The sink series K300 – K1000 all have GROHE's satin finish, which means they have been treated with special vegetable fibres. These fibres give GROHE sinks their characteristic silky-smooth satin finish that is both pleasant to the touch, as well as easy on the eyes. Not only that, but these sinks are less porous due to this satin finish, meaning that your sink will be durable and easy to clean.
Short summary of the benefits of choosing a GROHE stainless steel sink:
Spacious basins offer easier washing-up, even of bigger pots and pans
Perimetric overflow: a safety-must revamped to look great
These sinks are sturdy! The top class steel used in GROHE sinks make them a hard-wearing, stylish choice for your kitchen
Pre-punched faucet: Easy installation thanks to GROHE's QuickFix installation system
Peace and quiet aided by GROHE's Whisper technology