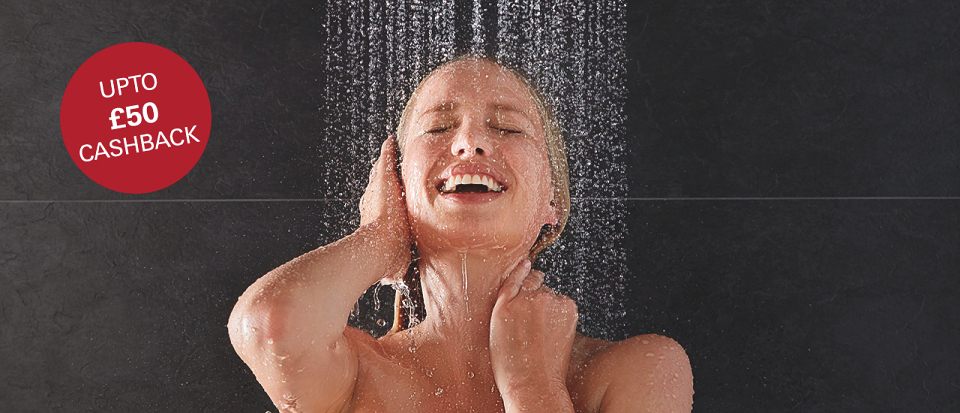 Cashback on GROHE SmartControl Showers
GROHE SmartControl is the innovative shower control which lets you adjust the volume and temperature effortlessly, as well as selecting your preferred spray and switching between head and hand shower. Simply turn the GROHE ProGrip handle to increase the volume - from Eco to Full Flow - and turn down to reduce it.
Purchase your qualifying GROHE SmartControl shower from a retailer and complete the cashback claim form below.
Offer on purchases made from 1st January 2019 until the 31st May 2019. All claims must be made by the 30th June 2019. Proof of purchase is required. A list of qualifying products is available below the form on this page. Terms and conditions apply.
| £50 Cashback Products | Code |
| --- | --- |
| RSH SmartControl 360 DUO shower system T | 26250000 |
| RSH SmartControl 360 DUO shower system T | 26250LS0 |
| RSH SmartControl shower system THM | 26446000 |
| RSH SmartControl shower system THM | 26446LS0 |
| GRT SmartControl THM bundle round 3SC | 34705000 |
| GRT SmartControl THM bundle square 3SC | 34706000 |
| £40 Cashback Products | Code |
| --- | --- |
| RSH SmartControl 360 MONO shower system | 26361000 |
| RSH SmartControl 360 MONO shower system | 26361LS0 |
| RSH SmartControl shower system THM | 26443000 |
| RSH SmartControl shower system THM | 26443LS0 |
| GRT SmartControl conc. THM bundle squ 2S | 34742000 |
| GRT SmartControl conc. THM bundle rd 2SC | 34743000 |
| £35 Cashback Products | Code |
| --- | --- |
| EUPH SmartCtrl 310 shower system THM | 26507000 |
| EUPH SmartCtrl 310 shower system THM | 26507LS0 |
| EUPH SmartCtrl 310 shower system THM | 26508000 |
| EUPH SmartCtrl 310 shower system THM | 26508LS0 |
| £30 Cashback Products | Code |
| --- | --- |
| GRT SmartControl conc. THM bundle rd 2SC | 34744000 |
| EUPH SmartCtrl 260 shower system THM | 26509000 |